Newly pregnant to husband Evan Spiegel, Miranda Kerr is one of our most successful exports. She's beautiful, yes. But, there's something extra about Ms Kerr - a seemingly eternal youth to her look. While genetics can be attributed to her natural beauty, her dedication to a healthy, holistic lifestyle has certainly shown to be a fruitful pursuit - and one that has allowed her to build two widely admired brands - both that of Miranda Kerr - and of course, her skincare and supplement line Kora Organics. In our exclusive interview the expectant mother, model and mogul, she reveals the special morning routine she's developed with son Flynn, working around school drop-offs, and the beauty products she uses every single day.
WAKING UP:
What's your bedroom vibe?
I love tranquil natural light during the day, but at night I keep it blacked out. In the day time, I use sheer curtains. and then pull over heavier once when I go to sleep. At the moment I have crystals in my room, amethyst for sleeping and rose quartz for encouraging love.
Tell us about your sheets and bed…
I love the simple white, I think the best sheets are from Frette.
When do you wake up and how much sleep do you get?
Evan wakes up early, like 5:30am. While he's in the shower shaving etc, I meditate for half an hour. By about 6am Flynn is up. I try to get 8 hours of sleep every night. I have an app Sleep Well that has ocean sounds, I hook it up to a speaker system we have through the house so that we all go to sleep with the sound, it has little subliminal affirmations. And I always put my phone on airplane mode overnight.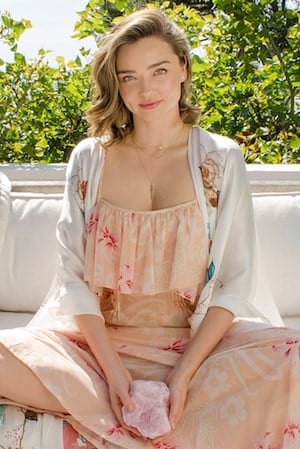 DAILY RITUALS:
Do you exercise in the morning?
I try to do yoga. Flynn does it with me, he's very in tune and meditates too. He sits in this little folded leg position and thinks it's full lotus pose. It's half lotus but very cute.
Do you do any meditation or mental prep for the day?
I feel like meditation is a good way to start the day. I also have this new little book next to my bed, a gratitude journal. I write down one thing I'm grateful for.
Do you select your outfit the night before or wing it in the morning?
I like to organise my outfit the evening before. When I wake up I generally go for one of those options. I put Flynn's clothes out the night before too.
BREAKFAST:
What do you usually eat?
My morning changes daily. I'm so funny in the morning, I often start with hot water and lemon but lately I've been having plain hot water. Before I eat I go and do tongue scraping so I can get rid of the toxins from my mouth. Then I'll use Skinny & Co coconut oil with a little peppermint to do some oil pulling. I usually have a fresh green juice and some freshly cut fruit like papaya, watermelon and pineapple,  a smoothie or gluten free toast with avocado and eggs.
Tea or coffee?
I love tea – I love rooibos with milk and honey. I like dandelion tea too, I started drinking that when I was 18 and living in Bondi.
Any supplements?
I carry Noni Glow Skin Food Supplements in my handbag, then I'll have one ready at the end of the arvo. I wanted to create a noni supplement that was palatable, so I decided to do the powder – it makes it easier to travel with too. I also take Progurt Probiotic Sachets and HMF Forte.
GAME FACE:
What are your daily must-have makeup essentials?
I use tinted moisturiser and some powder down the centre of my face, and then just some glowing lip to cheek tint – I use RMS Un-Cover Up Number 22.
A good hair day tip?
I like to wash it in the evening and leave it overnight to give it volume. I also use a hair mask every week, Davines Natural Tech Nourishing Vegetarian Miracle Conditioner.
What time do you start work?
It changes. I'm in the office by 8:45am/9am, after I do school drop off. When Flynn is with his dad, that's when I schedule in photoshoots. I love to take him to school and pick him up. My office is right near his school which is great.
Story by Rikki Hodge-Smith