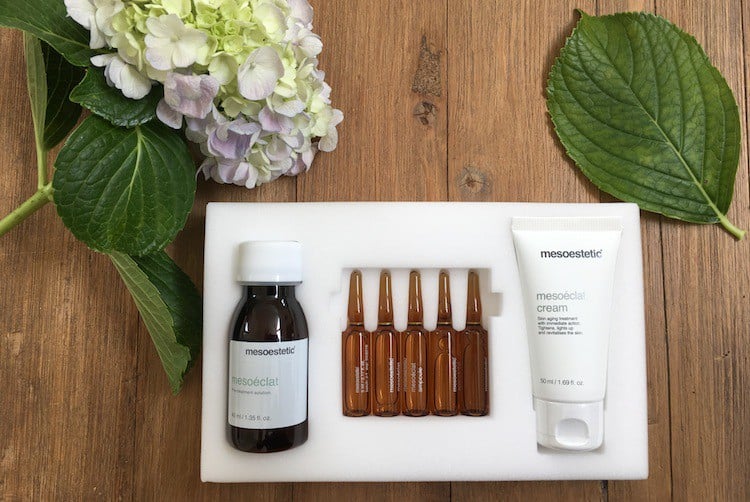 Perth-based Beauticater Lucy Searle is no stranger to the perennial search for a super-hydration boost to dry skin. In fact, she has tried (almost) everything. Finally, she found herself at Dr. Anh's glamorous medispa on William Street in Perth and in the process submitted to an intense, radiance-inducing medifacial – the Mesoestetic Mesoeclat Treatment. Complexion prayers: answered.
"In my opinion, there is nothing better than the feeling of a really good, deep clean. A beautiful deep purification is something my skin always seems to be crying out for. No matter how hard I try, attempts to bring back some vitality to my often dehydrated complexion can feel futile. I've tried it all; scrubs, masks, facial steaming and microdermabrasion. So it's with high hopes that I approach my mesoéclat facial; an innovative skin rejuvenation treatment by medical skincare company, Mesoestetic Pharma Group, based in Barcelona, Spain.
I book in for the treatment at Dr Anh's stylish medispa (see the GO-TOs review here) and upon arrival I am greeted by my therapist Charmaine, who has been working with the Mesoestetic products for nearly two years. She seriously knows her stuff. While I fill in a client form, she hands me a detailed description of the treatment so I know what to expect. Be warned, it's not the most relaxing of treatments, but it sure does deliver.
Charmaine reassures me that although I may experience some slight discomfort with the treatment, it's over very quickly and the benefits far outweigh a moment of tingling. She explains that the Mesoéclat treatment was developed to help fight signs of skin ageing because it encourages cell renewal, which restores vitality and elasticity to the skin. Lifestyle and environmental factors can have such a damaging effect on the skin including dullness and dehydration and the Mesoéclat treatment works to fix those factors. The treatment is made up of three steps to brighten the skin: exfoliate the outer skin layers, deeply nourish and help smooth small facial wrinkles.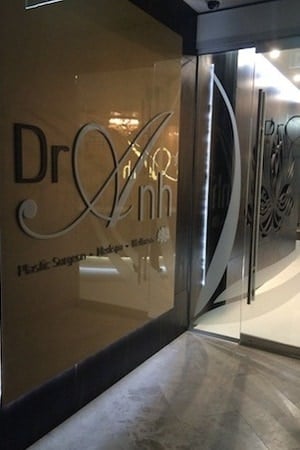 LUXE FROM BEGINNING TO END: DR. ANH MEDISPA, WHERE LUCY EXPERIENCED THE MESOÉCLAT TREATMENT
Charmaine begins by cleansing with the Mesoestetic Hydra Milk Cleanser and applying the Mesoestetic Hydratonic. Next up, she applies the pre-treatment solution – a highly potent exfoliant which smells slightly alcoholic and contains active ingredients such as salicylic acid, dioic acid, allantoin and urea to stimulate cell renewal. Initially the solution got quite hot on my face, but it was bearable and subsided within a minute.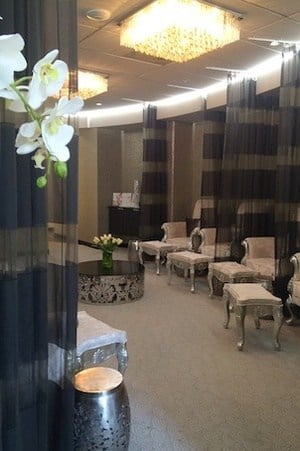 The next phase of the treatment is the application of the Mesoéclat Ampoule, an intensive formula that is massaged onto my face and décolletage. I notice another strong, almost medical smell and like the pre-treatment, it feels quite hot for about 20 seconds. The ampoule contains active ingredients for regenerating, moisturising and anti-oxidising, which are left on my skin to absorb until dry.
My skin breathes a sigh of relief when Charmaine applies the Hydra Vital Face Mask, a beautifully cooling treatment, during which I'm given a sublime hand and neck massage. After removing the mask, there's a final application of Mesoéclat and Mesoestetic Dermatological Sun Protection SPF 50+. Then, I'm sent back out into the hustle and bustle of the city – armed with post-treatment products.
I notice immediately how plump and healthy my skin looks and, I'm happy to report, a couple of weeks post-treatment it's still the case. I have maintained application of the Post-Procedure Fast Skin Repair and the Anti-Stress Face Mask overnight to keep hydration levels up.
A week following the treatment I notice my skin developing some dry, flaky patches around my nose and cheek area (something I had been forewarned would happen due to the cell renewal), so I'm looking forward to seeing what lies beneath.
I think my skin would benefit from having the Mesoéclat facial again and I would recommend to anyone wanting a good thorough clean.
To see the full effect of the treatment, it's recommended to have five Mesoéclat facials at 10-day intervals. Click here more information.
CONTACT
Level 1, 88 William Street
Perth, WA 6000
(08) 9322 2659
www.dranh.com.au