Celebrating Christmas with fresh prawns and a cold swim is not a bad option, but it can be hard to get to this time of year and not pine (see what we did there?) for the festive image of colder climes. Not only do the Brits have snow, twinkling lights and general cosiness going for them at this time of year, but they are leading the charge in forgoing advent calendars full of stale gold chocolate coins, and instead choosing the type that really matters – gorgeously presented boxes full of anywhere from 12 to 25 beauty treats. Luckily, these delightful gifts are slowly making their presents (sorry, we can't help ourselves) more clearly felt Down Under. And thank goodness for that. Beauty advent calendars often represent excellent value for money, give you a chance to try a mix of both beloved and brand new products, and are, honestly, a very tangible way to build joy all through December in the sometimes-stressful lead up to Christmas. 
BEAUTICATE LOVES THIS PHOTO OF ELIZABETH TAYLOR
This year, rather than do a general roundup of all of the options available, we've thought long and hard about who exactly is on your gift list, and proudly present our edit of the very best available that will suit each person. And of course we do mean person – these are not just for the women in your life. Now, get reading and then get purchasing – December 1st is but moments away.
BEST FOR – YOUR WORK BESTIE (WHO LIVES IN A TINY APARTMENT BUT DREAMS OF THE FINER THINGS IN LIFE)
Palm Beach Collection Christmas Advent Calendar, $79.95, available online at Palm Beach Collection and Myer.
The emerald green and candy pink packaging may not be traditional, but we'd expect nothing less from this stylish yet relaxed Aussie brand, that has really delivered this year on producing a lovely gift at an excellent price point. The book-style box has twelve doors each hiding an adorable 50g candle in a combination of pink or green frosted glass, and the entire Palm Beach fragrance collection is represented, as well as the two new 2019 Christmas scents. And miniature though these candles may be, the quality is there – even without any of the doors opened, let alone candles lit, the throw of the treats inside is powerful enough to start scenting the room. Anyone a little uncoordinated is going to have some difficulty removing each candle from their protective foam pouch hidden behind each door, but it's worth being able to wrestle them out in the end (and good to know your gift will arrive with all that glass intact). The last door opens to reveal a Balsam & Fir candle – just the thing to light on Christmas Eve.
BEST FOR – YOUR MAKEUP MAVEN FRIEND (WHO KNOWS HER BAKING WITH POWDER FROM HER BAKING WITH FLOUR)
Charlotte Tilbury Glittering Galaxy of Makeup Magic, $295, available online at Charlotte Tilbury.
The navy and sparkling rose gold box is very 'Christmas but make it fashion', and the products inside are the ideal choice for someone who knows their stuff to make the most of. As usual this calendar features travel size versions of some of makeup artist to the stars Charlotte's most well-known products, such as Magic Cream and Wonderglow, but the standouts are this year's full-size products. Matte Revolution in Pillow Talk has become the industry's go-to nude for any skin tone, but the real star has to be Eyes to Mesmerise in, appropriately enough, Star Gold. Originally released as a limited edition shade, the golden bronze is ideal for summer celebrations and best of all, once applied, won't budge, even as the temperature rises.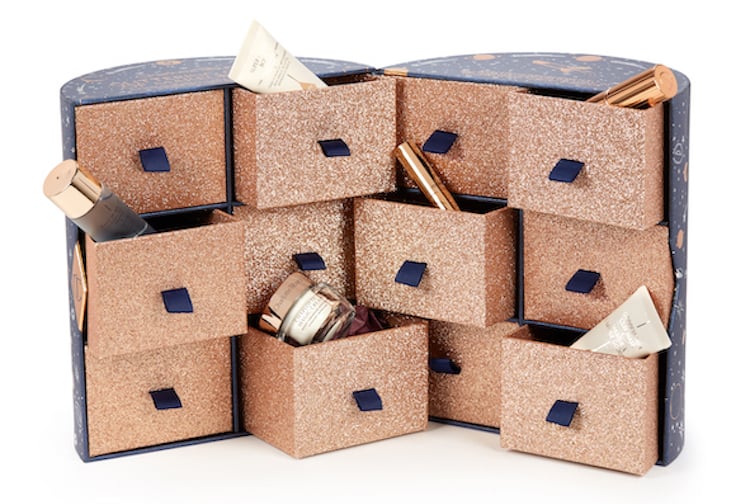 BEST FOR – YOUR MAKEUP-CURIOUS FRIEND (BAKING WITH WHAT, NOW?)
Mecca Max Beauty Within Advent Calendar, $60, available online at Mecca.
You might have to take them foundation shopping first, but once their base colour is sorted these twelve makeup products will give them everything else they need. Containing everything from bronzer, and illuminator to eye and lip colour, this selection will work whether they want to learn to create a full face or just feel groomed and tidy. Pleasingly, the whole kit is vegan and cruelty-free.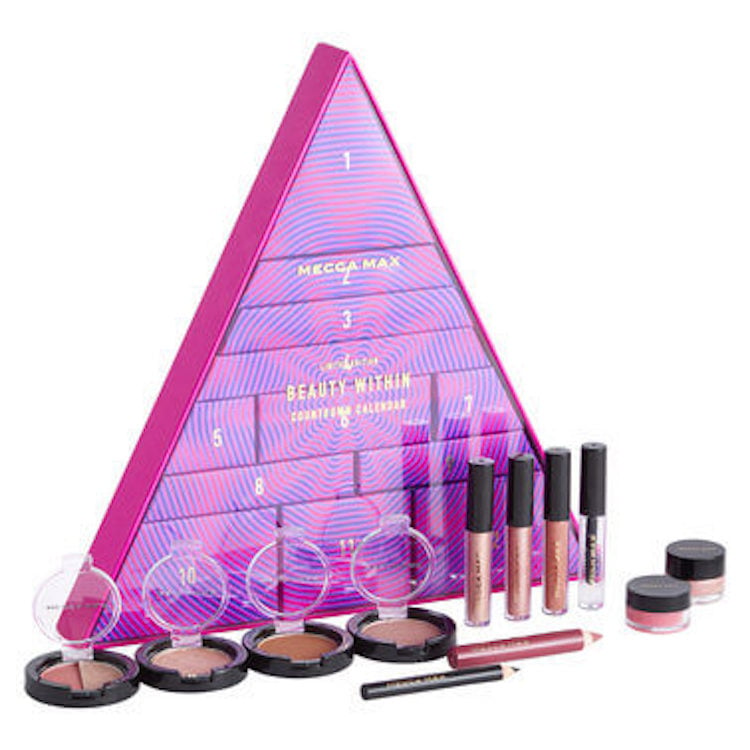 BEST FOR – SPLITTING UP AMONGST YOUR BARISTA / MANICURIST / OTHER LOVELY PERSON YOU WANT TO THANK (FOR GETTING YOU THROUGH THE YEAR)
OPI Hello Kitty Advent Calendar Mini 25 Gift Set, $89.95, available online at David Jones.
Ok, so your recipients here won't get the joy of Miss Kitty's cutesy packaging or of opening a new item each day, but sometimes at Christmas we have to be practical. This calendar gives you the chance to buy fun, useful beauty gifts at an excellent price. (Yes, we did the maths – at $3.60 per polish, you can gift eight sweet trios costing you $10 each but packing much more of a punch… and then there's one left over for you, as a well-deserved treat for being such a clever beauty shopper.)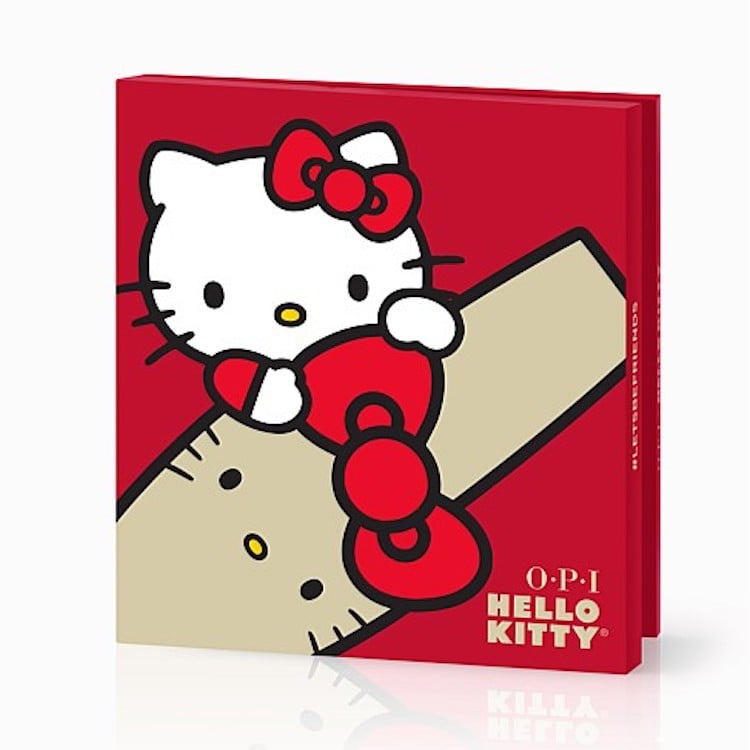 BEST FOR – YOUR ARE-WE-DATING-YET PERSON (WHO YOU REALLY WANT TO BUY SOMETHING FOR, WHILE CLEVERLY AVOIDING THE CRINGE FACTOR IF THEY DON'T RECIPROCATE)
ASOS Face + Body Advent Calendar, $140 available online at ASOS, or ASOS Grooming Advent Calendar, $70, available online at ASOS.
Whether you choose the one designed for men or for women, you'll have a fun pick that offers products they won't have tried before, as well as true skincare and grooming staples. Both housed in faux-chipboard boxes designed to be reused, the men's version contains twelve days worth of products, like the classic American Crew hair paste and a cleanser from the seriously cool Skyn Iceland. The prize probably has to go to the women's box, though, which has twenty-five products, some of which are from proven British skincare brands Oskia, This Works, Elemis and Emma Hardie, as well as more playful options –  Crayola face crayon, anyone?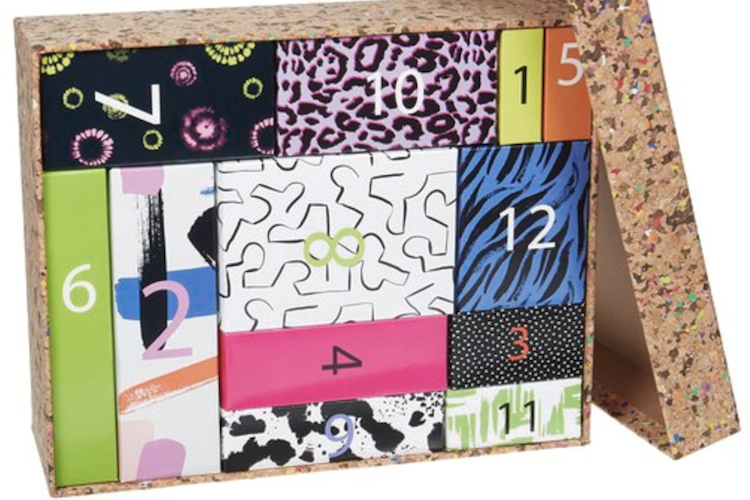 BEST FOR – YOUR GYM BUDDY (WHO LIKES TO FEEL AND LOOK PRESENTABLE, AS QUICKLY AS POSSIBLE)
24 Days of Clinique, $175, available online at Clinique, David Jones and Myer.
This is a great lineup from an always reliable brand. Standouts from the twenty-four products include not one but three separate items from their Moisture Surge range (use the mask as a moisturiser on very dry skin days and prepare to be seriously soothed), the iconic and very wearable Black Honey lipstick, and their Lash Power mascara – an underrated tubing mascara you should prepare to fall in love with. Conveniently-sized cleansers, exfoliators, moisturisers and both eye makeup remover and eye cream round out what would be a dream pre- or post-work gym kit.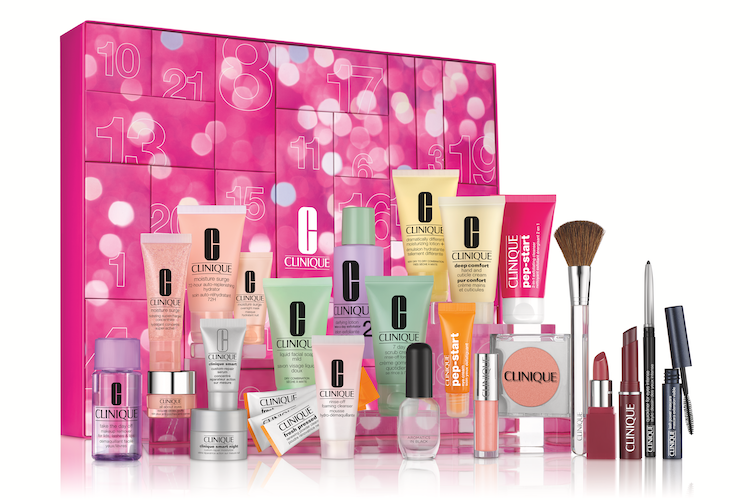 BEST FOR – YOUR MOTHER-IN-LAW (WHO YOU WANT TO IMPRESS IN AN EFFORTLESS WAY)
Clarins 12-Day Christmas Advent Calendar, $120, available online at Clarins.
When it comes to the top advent calendars, packaging matters. This twelve day offering is deceptively small (ideal for the woman who doesn't like her decor to make a fuss, darling) but really makes an impact, housed in a neat, chic white box with magnetic doors printed with a display of red and gold Christmas ornaments. The contents are even better, including beloved brand staples like the soothing Toning Lotion and reviving Beauty Flash Balm, as well as a Christmas Day treat of a full size eye mask from the suits-all-skins Hydra Essentiel range.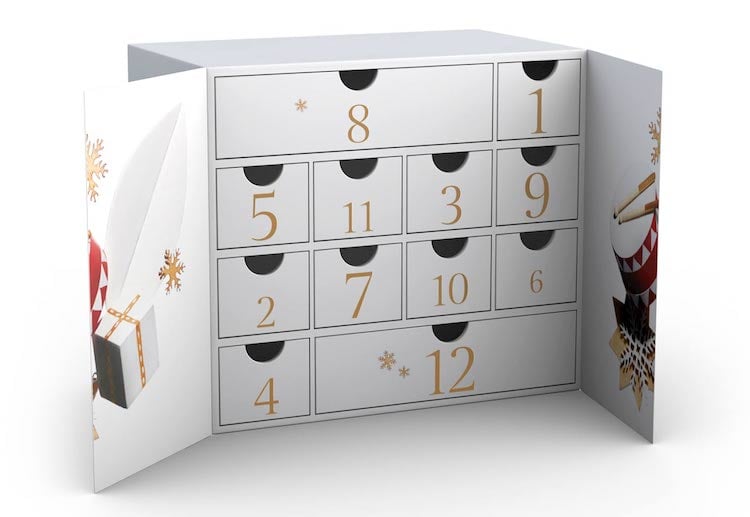 BEST FOR – YOUR NIECE (WHO WILL SOON BE A WOKE YOUNG WOMAN, AND ALREADY KNOWS GIRLS CAN DO ANYTHING THEY PUT THEIR MINDS TO)
The Body Shop Dream Big Deluxe Beauty Advent Calendar, $150, sold out online but available in-store.
Out of all the calendars in our edit, this is the one that will charm your socks off even as its giver, let alone as its recipient. Formative beauty moments for so many of us happened in The Body Shop stores, staring with longing at the glossy, boiled lolly-esque coloured soaps or choosing our first perfumes. As a company, it focused on cruelty-free products and eco concerns decades before both movements have been taken up by the rest of the industry, and it is heartening to see that, after all these years, The Body Shop still has the ability to enchant, and to make an important statement while doing so. First of all, the huge red box features a gorgeous illustration of a snowy Christmas Eve, as families of all types and various races look out to see Santa riding her (yes, her) rocket ship. It opens up to reveal a puzzle (thoughtfully, there's a map included on the back should you struggle to put it back together again) made up of twenty-five differently-shaped boxes, each featuring a beautiful illustration and descriptions of inspiring women. The products inside each box cover off on current crazes, like bath bombs and sheet masks, and there are nostalgia-inducing appearances of body butter and white musk. This calendar isn't about getting rid of acne or smile lines, but rather about having fun and enjoying yourself – after all, that's what both beauty and Christmas should be about. A brilliant choice.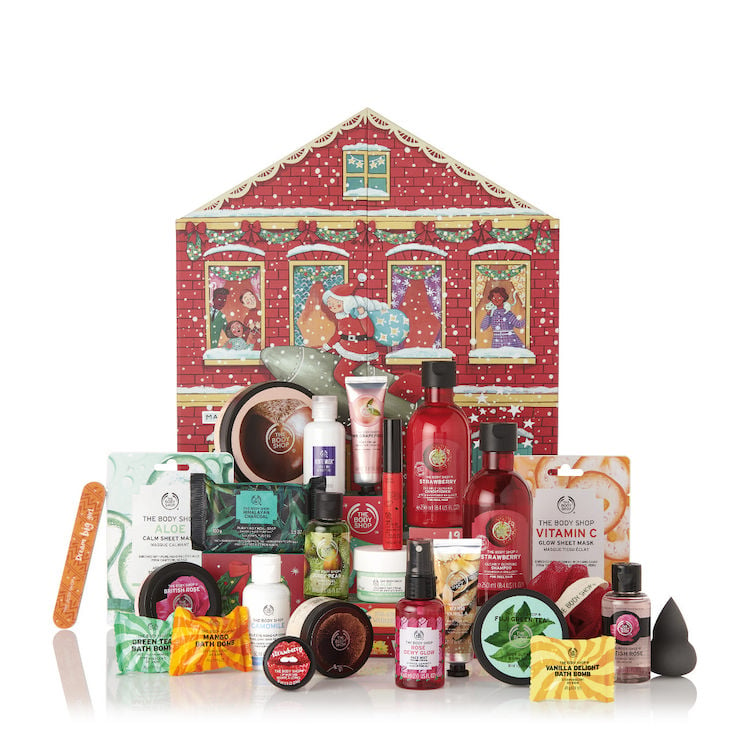 BEST FOR – YOUR PARENT (WHO WOULD RATHER CANCEL CHRISTMAS THAN ENTERTAIN WITHOUT THE HOUSE LOOKING PERFECT)
We have to 'fess up here that this one isn't exactly an advent calendar. And the perennially lovely Jo Malone does make one (if you have many, many pennies saved, you can see it here). However, this beautiful cream and black London townhouse in box form is such an ideal choice for your mum or dad who is host/ess with the most/ess that we just had to include it. Open its doors to find linen spray, room spray, hand wash and two candles, including one in the legendary Lime, Basil and Mandarin fragrance. Their house may be immaculate on Christmas Day (and all days, let's be real), but these products will elevate even the most put together room, no matter their taste in décor or scent.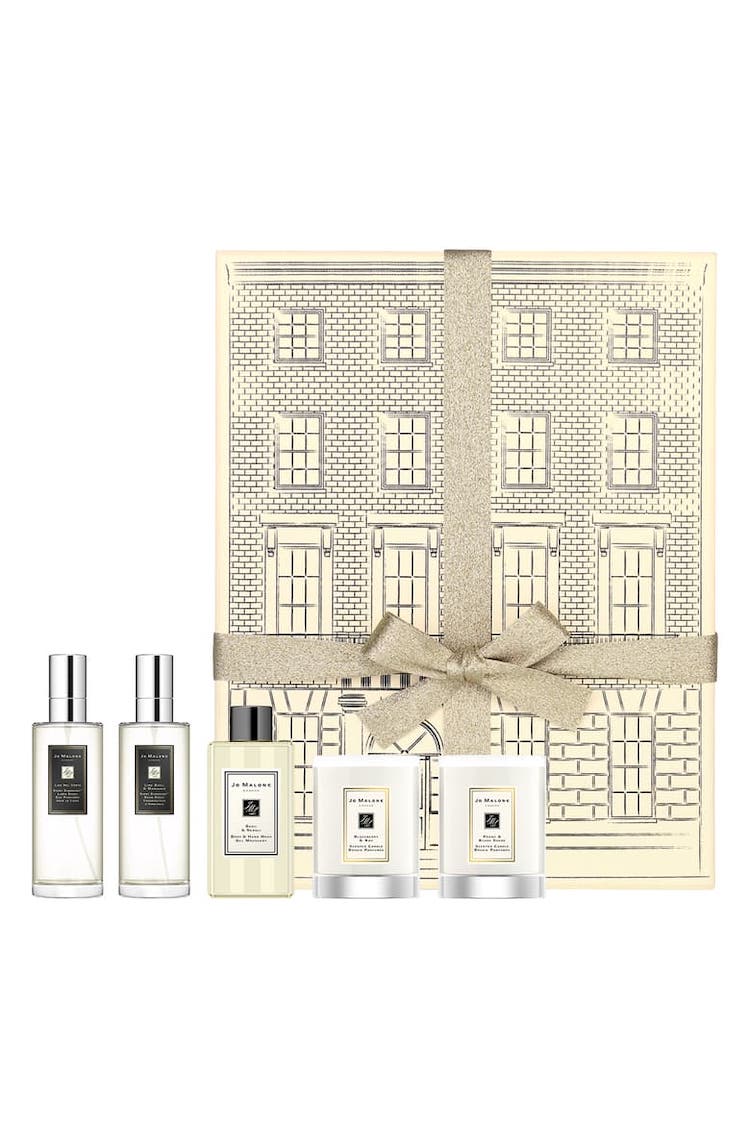 BEST FOR – YOUR WIFE (WHO IS QUITE WONDERFUL, AND DESERVING OF SOMETHING SPECIAL)
Net-A-Porter Beauty 25 Days of Beauty Advent Calendar, $461.59, available online at Net-A-Porter, or Estée Lauder Holiday Countdown 24-Day Beauty Advent Calendar, $380, available online at Estée Lauder.
Alright, so this is the only category this year that is tied for our best pick. Both are serious investments and gorgeous to look at. Which will it be? First up, we have Net-A-Porter's offering. There are twenty-five products in the beribboned black box the brand is known for – hair, makeup and skincare are all covered, and party season will be made easier with products like Votary's Blemish Rescue Oil (gets to work on late-night-induced spots without drying out the skin) and Tan Luxe's face tanning drops, which give glow as well as hydrating skincare benefits. The competing option is Estée Lauder's Holiday Countdown, which just might take out our 2019 award for most stunning packaging, thanks to the black, red and gold illustrations by the talented Megan Hess. There are twenty-four miniatures from their skincare, makeup and fragrance lines, and rest assured, the beloved Advanced Night Repair makes an appearance (put this on before and after your office Christmas shindig and thank us later).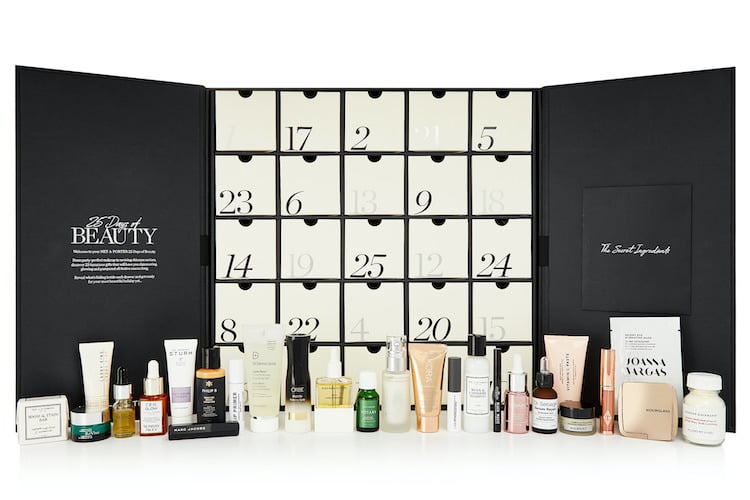 NET-A-PORTER BEAUTY 25 DAYS OF BEAUTY ADVENT CALENDAR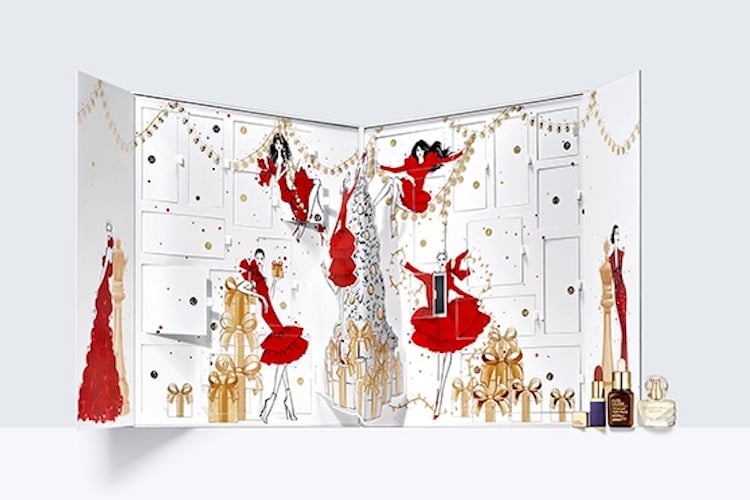 Estée Lauder Holiday Countdown 24-Day Beauty Advent Calendar
BEST FOR – YOUR HUSBAND (WHO IS GLORIOUS, AND DESERVING OF SOMETHING SPECIAL)
Kiehl's Advent Calendar, $100, available online at Myer and in-store at David Jones.
Designed as an old-fashioned suitcase complete with little red handles, this calendar has been illustrated by artist Janine Rewell and features colourful, geometric scenes of Kiehl's Mr Bones travelling through a snowy NYC on his way home for Christmas Day. The dazzling colours and fact the 'suitcase' includes a pop-up illustration and a Where's Wally-style 'can you find Mr Bones' adventure will absolutely delight anyone with an inner child, while the twenty-three unisex skincare and body products are all grown up. There's not one 'filler' item among the lineup, but some of the most exciting days of December will include opening up the doors which reveal Kiehl's cult avocado eye cream, and two of its perennially underrated, genderless products from categories often designed with women in mind – lip balm and hand cream.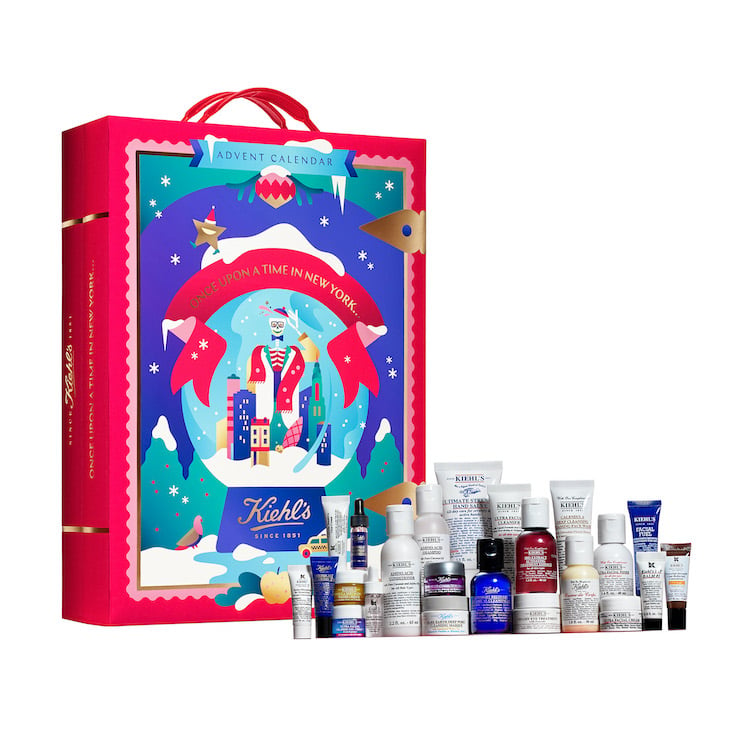 BEST FOR – SOMEONE YOU JUST REALLY WANT TO SPOIL (NOTE: THIS DEFINITELY CAN, OR EVEN SHOULD, INCLUDE YOURSELF)
The Beauty Advent Calendar, $235, available online at The Beauty Advent Calendar.
Yes, we've saved the best all-rounder until last. As a Brit living in Australia, founder Lynn McGuinness knew all about the joys of beauty advent calendars, but could see the gaping hole in the market of one designed just for a summer Christmas (think the inclusion of zinc sunscreen and shimmering body oil). The twenty-five products are all Australian, all natural, and all cruelty-free. Classic brands we know and love like O&M and Endota are included, but the best part about this calendar is that's it's a great introduction to lesser known Aussie brands that are properly luxurious and efficacious – the Precious Sea hand cream and HEBE facial oil are standouts. My only neat-freak gripe is that some of the products are so generously sized they don't quite fit into their little drawers and come packaged separately or with their boxes a little squished, but that's a small price to pay for avoiding yet another tiny sample, right? Besides, they really couldn't make the spectacular box any larger. Clocking in at nearly half a metre wide, it features a gorgeous Australian beach scene, and its excellent quality gave Lynn the chance to make a clever eco decision we hope to see more of from bigger brands. For a discounted price, you can buy a kit containing the products themselves and reuse the same box year after year. Truly, this is your can't-go-wrong choice.