Whether you're happily lapping up the sunny blue skies and budding blooms of spring, or dreaming of warmer days from the depths of a chilly Northern autumn, a spring-inspired scent will never go unappreciated. So no matter where you are in the world, may we suggest a spritz of spring with one of these beauties…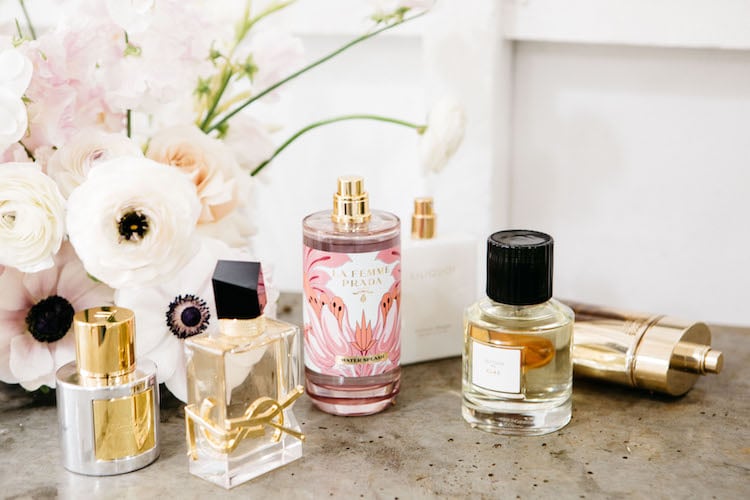 Metal Magic
Bright and brilliant, Tom Ford's Métallique is, as its name hints at, uncannily like metal and in the chicest way imaginable. Sharp aldehydes, pink peppercorns and zesty bergamot make for some seasonally appropriate spring freshness; it's all then rounded out by a bouquet of soft white florals for a little softness and warmth.
A Touch of Glamour
Not to read too much into a name, but there is something about spring that feels liberating, isn't there? So YSL's Libre fits the bill perfectly. (Libre translates, of course, to free). It's probably got something to do with casting off that coat you've worn everyday for the last four months and it finally being warm enough to open the windows and let some fresh air in… Well, the clever noses at YSL have somehow managed to bottle that feeling of freedom in their latest perfume launch. It's a high octane offering – lavender is rendered achingly cool when paired with heady orange blossom and musk. It's sexy and the perfect scent for a springtime soirée.
Make A Splash
A spritz of Prada's La Femme L'Eau Water Splash is a dive into the fabulous tropical holiday of your dreams. Sweet frangipani, lily of the valley and magnolia create a fragrant floral garden, while sandalwood adds some balmy warmth. The addition of mandarin oil brings juiciness – and the whole thing becomes a delicious cocktail of summery scents, evocative of the sizzling heat that's just around the corner.
Green Gorgeousness
If you're looking for a natural perfume, Vanessa Megan's Liliquoi is a beauty. It's composed of a bevy of botanical oils like rose absolute, geranium and immortelle, which supposedly also possess aromatherapeutic benefits (more inner confidence and tranquillity, among others) which we're definitely excited about. All in all, it's the scent of a gorgeously lush spring garden.
Heady Elegance
Elae is a recent launch from the hallowed perfume house, Cire Trudon, and is as refined as you would expect from the former purveyor to French royalty. Potent jasmine and neroli blended with warming ylang ylang – it's soft, sensuous and sexy, while remaining a picture of perfect elegance.
Cool and Carefree
Sometimes you just want to spritz on something fun and joyful, that doesn't take itself too seriously while remaining totally sophisticated. In which case, may we suggest Michael Kors's Wonderlust – a delicious mix of exotic blossoms set against almond cream and gorgeous spicy sandalwood. It's very much a 'tropical holiday in a bottle vibe'.