Parading around in bikinis for job interviews, salaries lowered for gaining weight and outright employment rejection for being unattractive. No, these aren't snippets from the modelling industry, this is the reality for some flight attendants. Read on, as we share the cut-throat recruitment process and sky-high physical requirements that a select group of flight attendants must adhere to.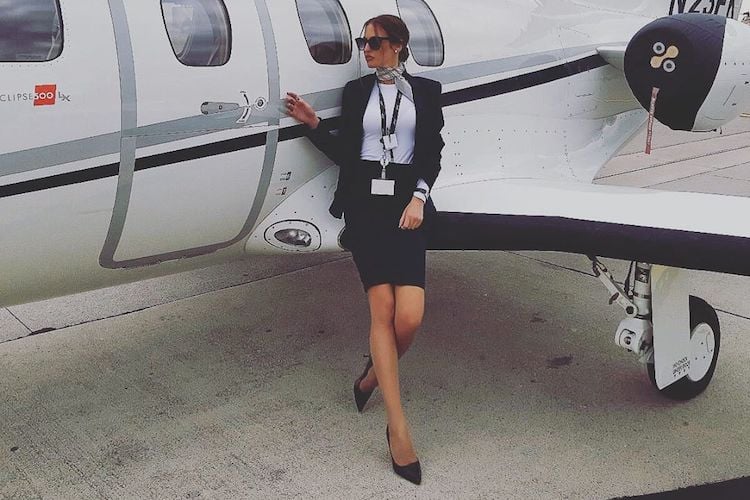 BEING A FLIGHT ATTENDANT IN SOUTH KOREA: YOU'RE TREATED LIKE A LOCAL CELEBRITY
In South Korea, becoming a flight attendant is a highly coveted and elusive career path. Jihye Park, a South Korean native, explains: "They're considered a cultural icon of beauty and intelligence." Part of the reason is the legendary requirements demanded from many Korean airlines and the notoriously competitive acceptance rate. For example, on average, Korean Air annually accepts 150 flight attendants out of more than 20,000 applicants. And the requirements for Korean Air are stringent: they will only recruit stewardesses who hold a bachelor's degree with excellent academic performance. But there's more: Pablo Lee, the director at a flight attendant training academy, told The Korea Herald, "They have to be physically perfect – weighing more than 132 pounds (59kgs) is kind of overweight," he said.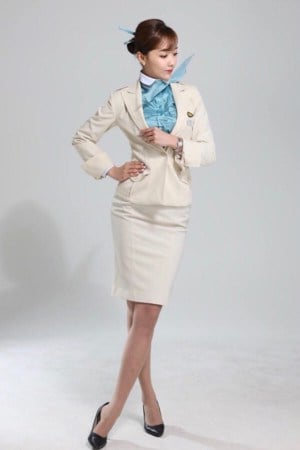 Many aspiring applicants turn to plastic surgery and flight attendant preparatory academies, to increase their competitiveness. University graduates often undertake additional study at these academies, to learn key communication and deportment skills. The pressure to be beautiful is so pervasive that flight attendant academies have also partnered up with plastic surgery clinics to provide student discounts on procedures. Jihye Park reports, "There's lots of plastic surgery clinics that have special programs called 'get the perfect flight attendant face'."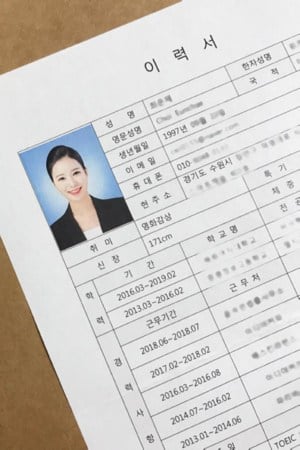 HEADSHOTS ARE MANDATORY FOR FLIGHT ATTENDANT APPLICATIONS. SOURCE: @EUNCHAE_OO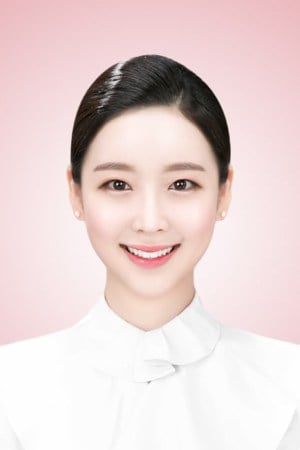 THERE ARE PROFESSIONAL PHOTO SHOPPING SERVICES FOR FLIGHT ATTENDANT APPLICATIONS. SOURCE:@V7MASTER
CV head shots are a key determinant in whether applicants are invited for an interview, so as a result 'flight attendant photo shopping' services have surged in popularity. Prior to getting CV headshots taken or attending an interview, many applicants get their hair and makeup professionally done. Capitalising on this demand, makeup and hair salons have introduced 'stewardess hair and makeup' services. "Increasing people's chances of scoring a flight attendant job is a fully-fledged industry in Korea," Jihye explains.
THERE ARE HAIR AND MAKEUP SALONS THAT TAILOR SERVICES FOR FLIGHT ATTENDANTS. IMAGE: INSTAGRAM @SUNGHEE_ARTIST
THE IDEAL KOREAN FLIGHT ATTENDANT MAKEUP LOOK IS FRESH FACED, SUBTLE BUT STILL POLISHED. IMAGE: INSTAGRAM @SUNGHEE_ARTIST.
AEROFLOT RUSSIA: FLIGHT ATTENDANTS' WAGES ARE LOWERED FOR GAINING WEIGHT
In late 2016, Russian airline Aeroflot measured, weighed and photographed their flight attendants, in a bid to monitor their appearance. Those who were deemed unattractive were placed in the 'old, ugly and fat' categories. Anyone over 40 or larger than a size medium were taken off prestigious international flights. Their salaries were drastically lowered, and rightful employee bonuses were not paid.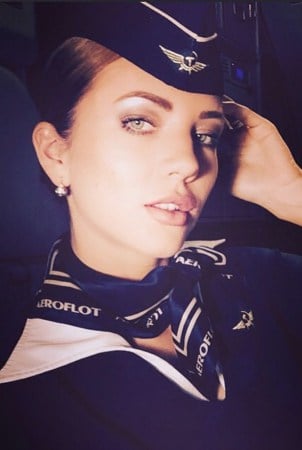 AEROFLOT BEAUTY GUIDELINE: A NUDE LIP IS THE RECOMMENDED MAKEUP LOOK WHEN WEARING THE NAVY WINTER UNIFORM. SOURCE: @KEIDARYA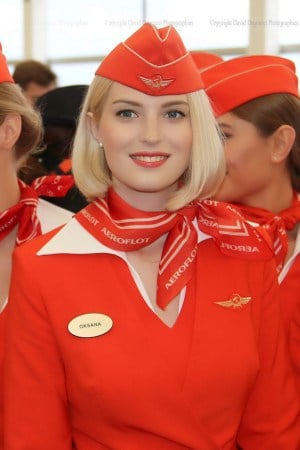 AEROFLOT BEAUTY GUIDELINE: A STAND OUT RED POUT IS ESSENTIAL WHEN ACCOMPANYING SUMMER UNIFORMS. SOURCE: PINTEREST
Aeroflot flight attendant Yevgenia Magurina's decade long dedication at the airline was deemed worthless, as soon as her weight increased. A few days after Yevgenia asked human resources for a larger uniform size, she discovered she had been demoted from senior stewardess to junior flight attendant. Aeroflot flight attendant Zhenya Magurina, told Russia's Radio Liberty that she also faced weight based discrimination. She was informed by her boss: "You know your cheeks are too big for international flights."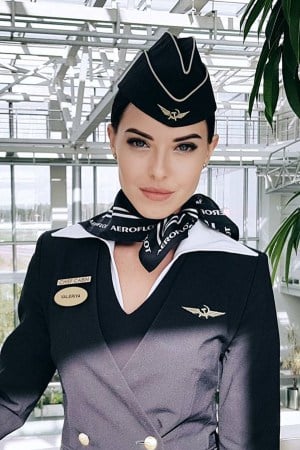 DURING AUTUMN/WINTER AEROFLOT FLIGHT ATTENDANTS DON THE NAVY UNIFORM. SOURCE: @VALERY_SKYLOVER95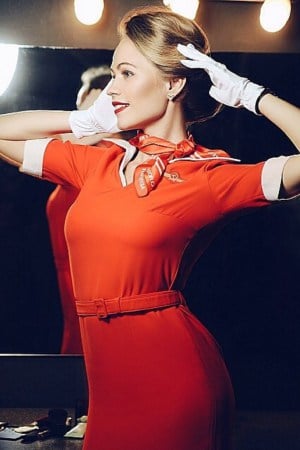 DURING SPRING/SUMMER, THE UNIFORMS SHIFT TO A FIRE ENGINE RED. SOURCE: @TOPSTEWARDESS
An Aeroflot representative said a passenger survey revealed that 92% of respondents prefer attractive flight attendants. The airline justifies their strict employee requirements as simply a strategic reflection of what consumers demand. "Aeroflot is a premium airline, and the staff's looks are definitely one of the things the clients pay for," Pavel Danilin, Aeroflot public council member, said at a press conference.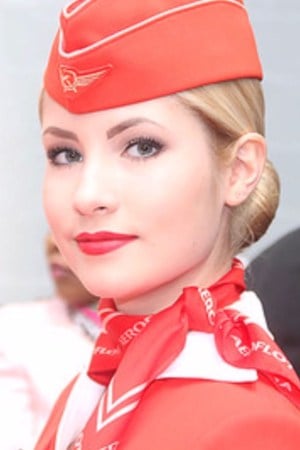 SOURCE: @WORLDS TOP CABINCREW SLIDESHOW/YOUTUBE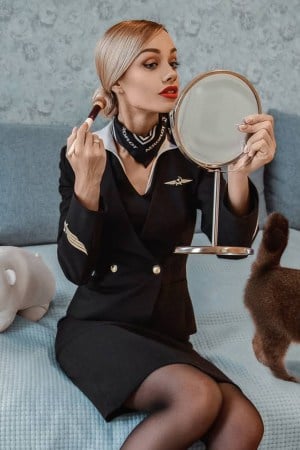 SOURCE: @ELENA.KAZAKOVTSEVA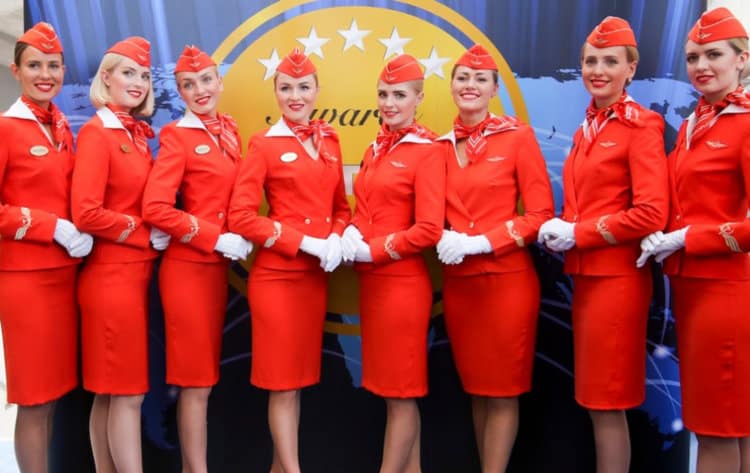 AEROFLOT EMPLOY THEIR FLIGHT ATTENDANTS AS BOTH CAMPAIGN MODELS AND AMBASSADORS AT EVENTS. SOURCE: PRESSFROM.INFO
PERCEPTION OF FLIGHT ATTENDANTS IN CHINA: THERE'S BIKINI CONTESTS AND BEAUTY PAGEANTS USED TO RECRUIT STEWARDESSES.
In China, being a flight attendant is considered as glamorous as being a model and their recruitment process and requirements certainly reflect this mentality. It isn't uncommon for airline recruiters to source talent from bikini competitions and beauty pageant contests. In fact, promotional agencies often host exclusive bikini parades for an audience of modelling agencies and aviation executives.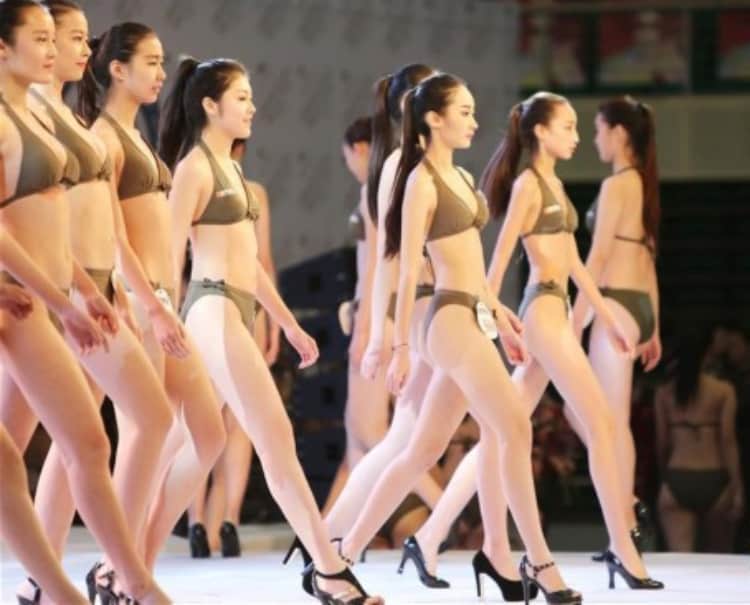 FLIGHT ATTENDANTS FREQUENTLY GET RECRUITED THROUGH BIKINI CONTESTS. SOURCE: BRAINDINGINASIA
"Airlines generally have a marking guideline for each applicant's appearance," Dalena Yu, a former flight attendant recruiter, explains.  The marking criteria is categorised into certain 'benchmark requirements' for specific physical features. Individual features are awarded separate scores; your face, physique and overall grooming are thoroughly inspected. The categories for individual grading include: hair, skin, eyes, nose, legs, weight and height.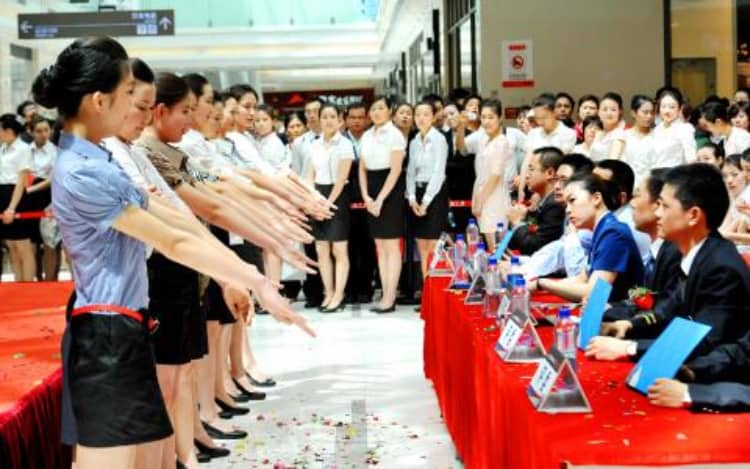 FLIGHT ATTENDANT APPLICANTS ARE GETTING THEIR ARMS EXAMINED, TO SEE IF THERE ARE ANY SCARS OR HYPER-PIGMENTATION. VISIBLE SCARS OR PIGMENTATION DISQUALIFY YOU. SOURCE: TAIPEITIMES
And it's not just appearance that is scrutinised: China Eastern airlines, for example, require applicants to hold a bachelor's degree, with strong academic credentials. Additionally, there is a series of written and verbal entrance examinations that applicants must score highly in — these examinations test both english, arithmetic and critical thinking. Those who receive the highest cumulative scores will progress onto the next round.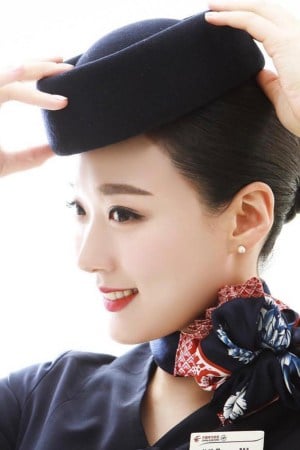 SOURCE: CHINA EASTERN AIRLINES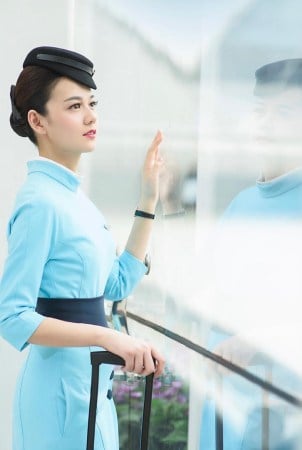 Wendy Yang, an international Chinese student tells us: "Even after the entrance exams, you have to pass airline training exams, like pharmacology and anatomy, because you job is passenger safety – so I think it's more than just looks," Wendy Yang explains. However, she adds, "If you're ugly you can't be a flight attendant in China."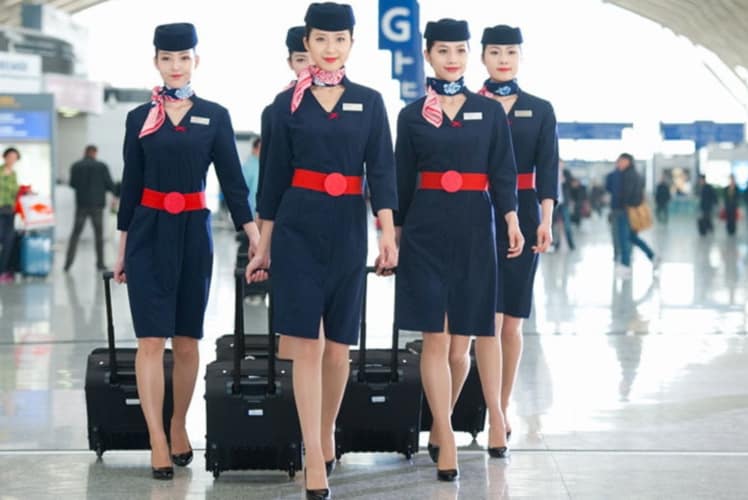 SOURCE: CHINA EASTERN AIRLINES
AIR FRANCE: "IT'S NOT A BEAUTY CONTEST, THE COMPANY EMPHASIZES CUSTOMER SERVICE FIRST, BUT PRESENTATION IS STILL IMPORTANT."
Air France is hailed as one of the most elegant and sophisticated cabin crews in the world: their look is refined, a binary between the powerful corporate trailblazer and the polished aristocrat. So how do they do it? In pre-flight briefings, your cabin manager may conduct uniform and makeup screenings, to ensure your grooming aligns with Air France's standards. Those who deviate from the grooming requirements may be told to "fix" their presentation. Additionally, according to former Air France flight attendant, Colinoue, a written report may be filed about you if your presentation isn't on par. However, Colinoue states that presentation requirements are not stringent, "We have a list of approved hairstyles and makeup looks we can choose from. We are not restricted to one look and they are quite relaxed."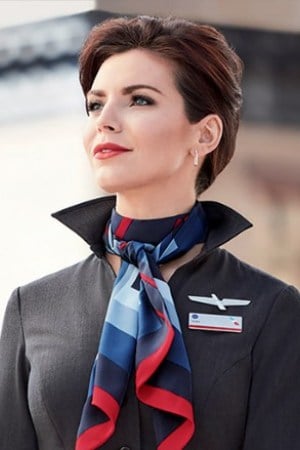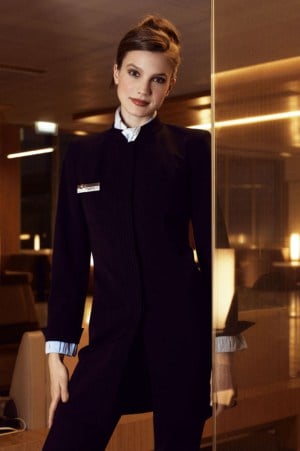 Seasonal Air France flight attendant Mathilde, says Air France recruitment isn't the equivalent of a beauty contest. She emphasises that Air France have never discriminated against people's physical appearance during recruitment. "There are stewardesses of every shape and form in Air France, there's so much diversity. You don't have to be tall and beautiful. The most important part is our personality, kindness and customer service experiences."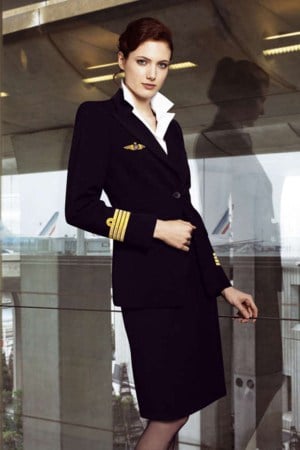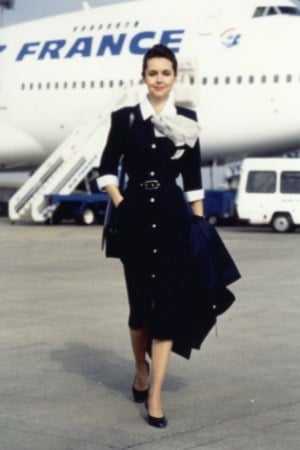 Despite this, presentation is still important and Mathilde says cabin crew can't look tired because having a fresh face is a form of customer service. She explains, "We have to check our face pretty often in the restroom, to make sure everything is okay."