What is a young singer to do when she is too broke to afford her own microphone? For Rose-Marie Swift, the answer was obvious – she became the go-to makeup artist in Canadian strip clubs (as you do). She has since painted seemingly every face the celebrity stratosphere has to offer, and created her namesake brand RMS Beauty, beloved for its organic ingredients and eco-conscious values. She told us about the health challenges that drove her to launch her brand back in 2009, well before the current clean beauty craze, and how she turned her health around, without compromising on looking as good as she began to feel.
"I don't use the term 'non-toxic', because anything can be toxic if it is in excess or misused. I prefer to say RMS is clean, green, natural and organic.
In my late thirties I was in NYC and became very sick. I suffered from a multitude of mysterious symptoms and traditional doctors didn't know what was happening with me, so I took it into my own hands. I paid out of pocket for some extremely expensive, very advanced blood, urine and hair analyses. My true wakeup call was when the lab handed me back my results, which indicated that my system was full of heavy metals and toxic chemicals, and the technician asked, "do you work in the cosmetic industry?" I found that many of the chemicals that appeared in my tests were in the products I'd been working with daily for years.
It's important to note that I am not blaming, nor have I ever blamed, my health issues on the cosmetic industry; however, it is definitely a contributor.
I did a ton of research, and in 2004, I created a website called BeautyTruth to expose some of the myths about ingredients found in cosmetics. I became overwhelmed by the response from my blog readers, all asking me to recommend brands that were cleaner and healthier. The sad truth was that I didn't feel comfortable making any recommendations at that time. So, once again, I took matters into my own hands and formulated the ultimate organic and natural colour cosmetics that appealed to the person conscious of both their health and of fashion – RMS Beauty.
I had always loved goofing around and creating looks on my sisters and myself, from cutting hair to doing makeup, and even making clothes. It all came naturally to me. I guess you could say I have an 'eye'.
I actually never even thought about being a makeup artist, let alone actively wanted to be one. When I was in my late teens, one of my sisters became an aesthetician, and she decided I should become a makeup artist. I thought, sure, why not? After all, I loved fashion and beauty, and I knew I could fake my way – so I did. I never went to makeup school, and to this day I don't recommend it to anyone. In my experience, makeup schools tend to have teachers who aren't familiar with editorial makeup and teach a very dated approach to application. You tend to lose your creativity and your natural eye.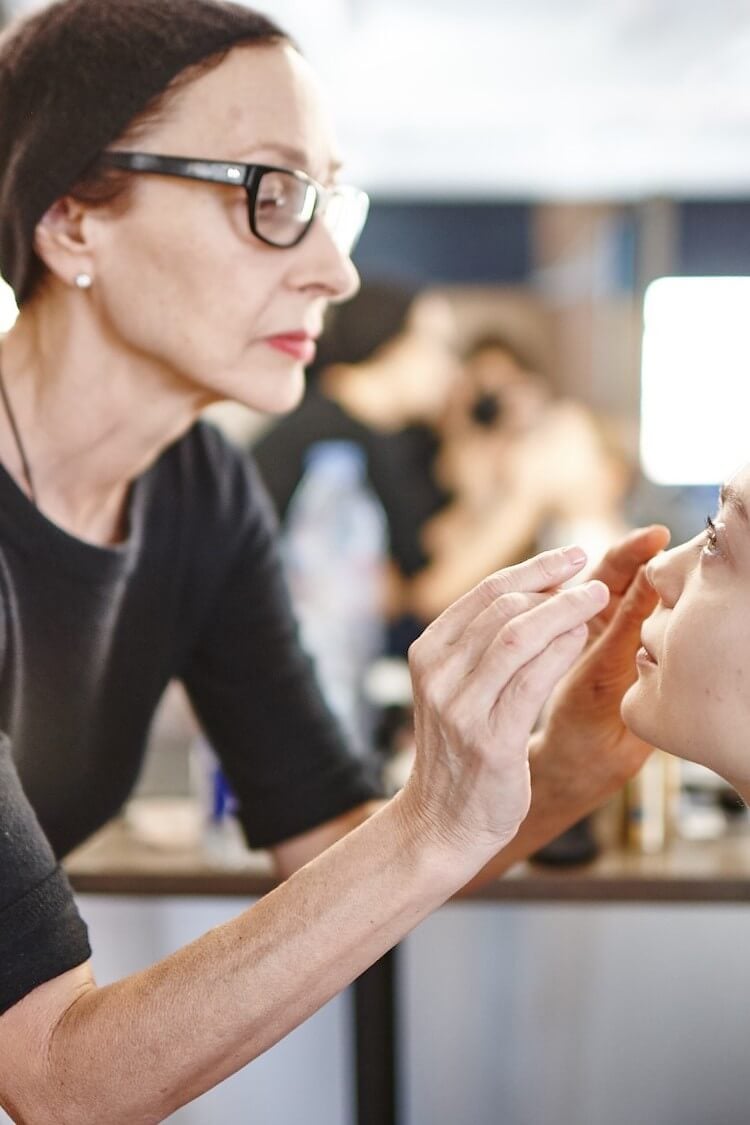 I am very fortunate to have worked with some of the biggest names in the industry and to have travelled all over the world, but in some way, to be honest, I never really took makeup artistry seriously.
The work of making young, gorgeous models appear even more beautiful took me from Vancouver to Toronto in my twenties, where I did all that I could do, career-wise, in Canada. From there I went to Europe and lived in Hamburg, Paris, Berlin and London. It was fun to be creative and it paid nicely, but didn't seem to quite satisfy some mysterious inner discontent I had. Now, with RMS, I really love the opportunities it allows me to create, travel, and educate.
If we look back in the day, I have to say Audrey Hepburn is my biggest beauty influence, hands down. I favour simplicity and elegance, and she was so chic.
My inspiration for the RMS packaging was how pared-back and zen Japanese products are. I knew I wanted the overall look to be minimalist. Given I had created the brand with the idea of it being skincare-meets-colour, I wanted to do colour cosmetics in white packaging, and I was the first to do that. At the time, white was only associated with skincare.
I started developing the products themselves over my years doing makeup for Victoria's Secret, so I was always testing them out on the models such as my dear friends Miranda Kerr and Gisele Bündchen, as well as all the other beautiful creatures I worked with on photo shoots.
I am quite straightforward in my approach to beauty, and just like to look like myself.
Your skin is a mirror to your gut and I believe in healing and beauty from the inside out, so my idea of a beauty treatment is basically a full body detox. If I get to go for a facial it is with my wonderful friend Ildi Pekar in NYC.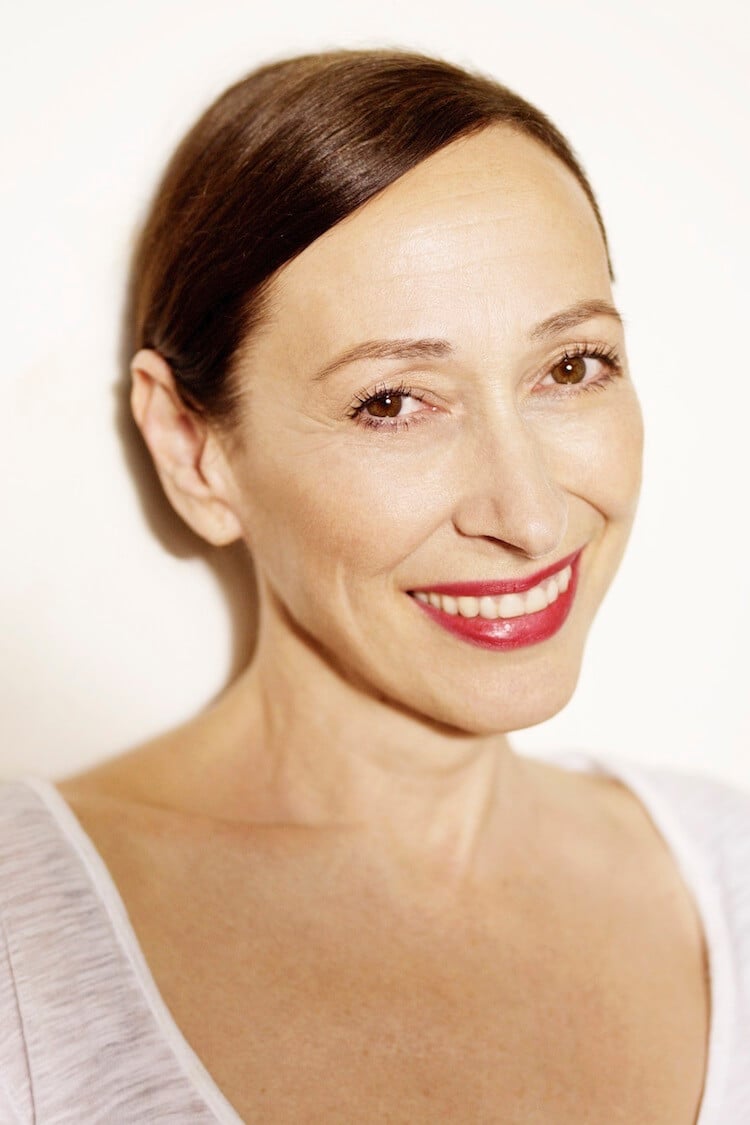 My mother instilled in me two lessons when it comes to beauty – less is more, and to eat healthily.
I do organic green juices every morning, salads and smoothies, and as many healthy vegetables as possible. I haven't eaten lamb, pork or beef in over 35 years, but I sometimes sneak a piece of organic chicken. I used to eat fish but I'm concerned about its toxicity nowadays. I also take lots of chlorella to detox from heavy metals and twice a year, I do a series of homeopathy and intravenous detoxes and cleanses. I also use many herbal therapies.
I am lucky as I can eat like crazy and not really put on weight. I move about town exceptionally fast, including running up all escalators and stairs two at a time. I don't care who stares at me! I don't have an exercise routine. I used to do tons of Kundalini yoga (hands down my favourite) as it isn't repetitious. Repetition bores the hell out of me. Although I do meditate every morning to calm and help balance me. I have seemingly endless energy, but I have to watch it because I do crash. I also am an astrologer, so reading clients helps to centre me. And the great joys of my life are dogs – I am completely obsessed.
ON SET WITH ACTRESS ZOE SALDANA
Even after decades in the industry I still love beauty products, but I dislike the myth that all beauty products are safe for you.
My favourite RMS products are definitely my Raw Coconut Cream (as a makeup remover, it gets off every single bit of makeup regardless of what it is), Beauty Oil, and my Living Luminizer, which is my hero product. The simple purity of the ingredients gives me the confidence and security that I am wearing a healthy, fashion-forward brand without any of the potential side effects of some beauty products. And in addition to their high-quality ingredients, they are super user-friendly.
It's hard to say where I see the brand going in the future. I plan to just keep organically creating what I like, and what I think is needed, and see."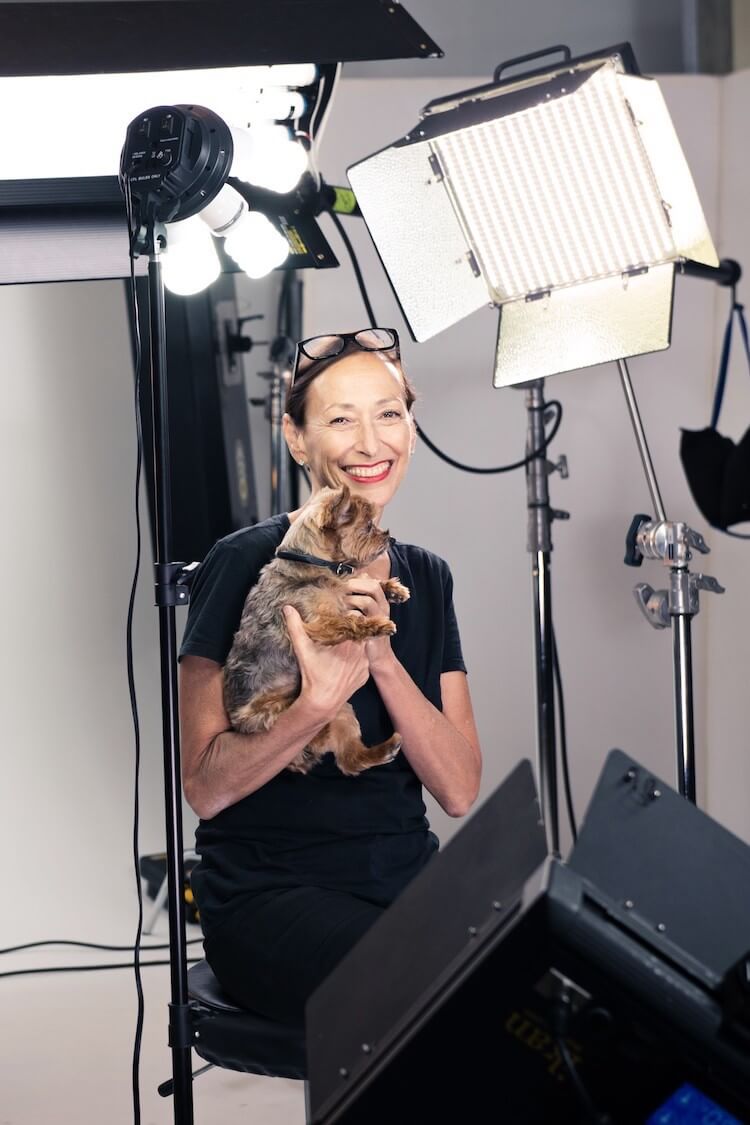 WITH HER BELOVED LATE DOG FRANKIE, THE ORIGINAL RMS BEAUTY MASCOT
Interview and story by Zoe Briggs. Hero shot by Coveteur. Photography and styling of still images by Kristin Rawson. Select images from Instagram.