We all love the look of BB cream – it gives poreless, naturally dewy, perfectly even skin. If only we could #WakeUpLikeThis everyday. You probably thought there was no getting around those occasional blotchy skin days - but thankfully, technology has advanced. The latest innovative treatment to hit our shores is called the BB glow facial, which promises perfect skin 24/7. Skeptical? We asked the experts to give us the lowdown on this new facial - the pros, the cons and real life results.
IMAGE: INSTAGRAM @REALBARBARAPALVIN
What is it?
BB Glow is a skin treatment that places semi-permanent light-reflecting pigments underneath the skin, to replicate the radiant, dewy and smoothing effect of BB cream. It rejuvenates your skin and adds a soft blur to the skin, effectively tightening pores.
Although BB glow is marketed as a semi-permanent foundation, Jacinda Mckay, director of Platinum Face and Body clinic, explains that this sets the wrong expectation for clients. She prefers to market it as a "treatment for luminous skin with a touch of cover that may be built up cumulatively with multiple treatments." While the procedure provides an overall radiant complexion, the coverage is sheer and therefore may not adequately conceal dark spots.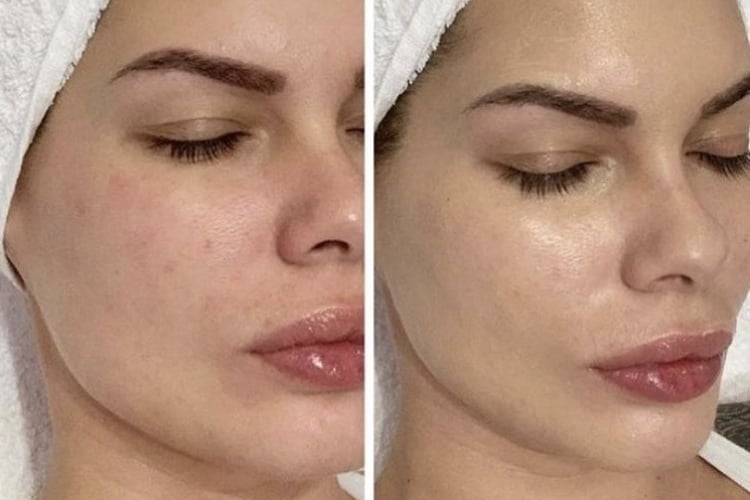 BEFORE AND AFTER. IMAGE: CARDIFF BEAUTY CENTRE.
How the treatment is performed
Your skin is first cleansed, and then a light peel is applied to the skin. Following the peel, a peptide serum is microneedled into the skin to nourish and hydrate. The type of peel and serum your aesthetician uses is customised according to your skin condition and needs. The peel aids in the smother distribution of pigment, while the vitamin-infused serum enhances the illumination and softness of the skin.
Just like the serum, the pigment is dispensed underneath the skin via microneedling. This specific technique helps encourage the skin to regenerate and produce more collagen, leaving the skin plumper. Microneedling is also an excellent treatment to reduce wrinkles, discolouration and scars, so the treatment actually improves the quality of your skin overtime.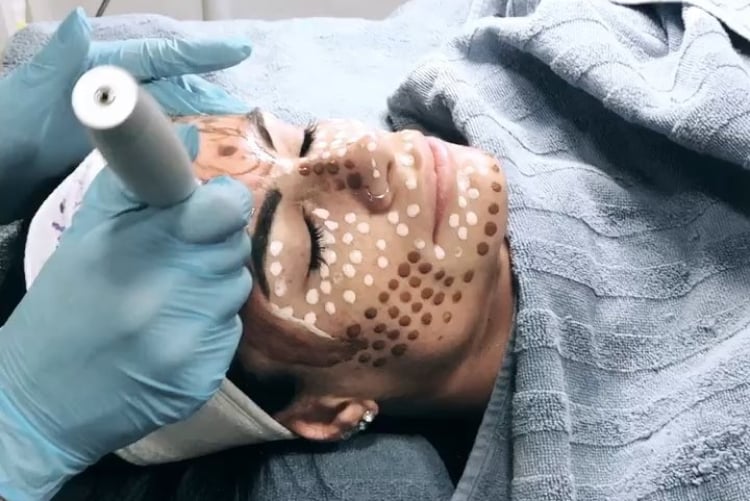 This client has selected a fairer pigment to brighten the skin, and a darker pigment to contour the skin. Image: Women Talk.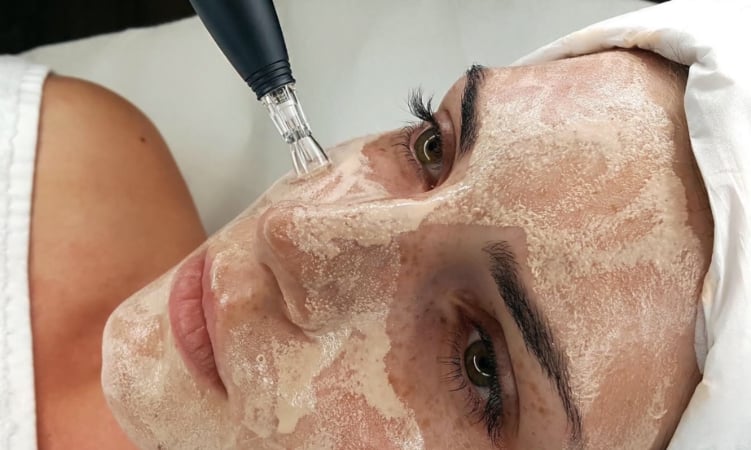 THE INK IS APPLIED ON THE SURFACE, THEN MICRONEEDLED INTO THE EPIDERMIS.  IMAGE: PHYSIOLAB COSMECUETICALS.
It's not a tattoo
People often mistake this for a tattoo, but according to Jacinda, it's an "intensive skin care routine, not tattooing." The ingredients are not made of tattoo ink, but micro pigments, combined with vitamins and plant extracts, as well as an "epidermal growth factor" that aids in accelerating skin healing. According to Jacinda, most people need four consecutive treatments (every two to three weeks) for the results to last four months.
Jacinda says the treatment is in its infancy but she hasn't dealt with any adverse side effects. "There are no known risks when using the correct protocol," she explains. "A patient may experience some temporary redness after treatment." Post-treatment, you are not to wash your face or apply any makeup for 24 hours. Heavy duty sun protection is recommended for the first week, as new skin cells are forming, due to the rejuvenation effects of microneedling.
The actual BB glow pigment will not clog pores, as the particles are fine and are easily absorbed by the skin. This is because the pigment is placed below the skin, whereas usually cosmetic ingredients clog pores because they sit above the skin – weakening the skin's ability to shed dead skin cells.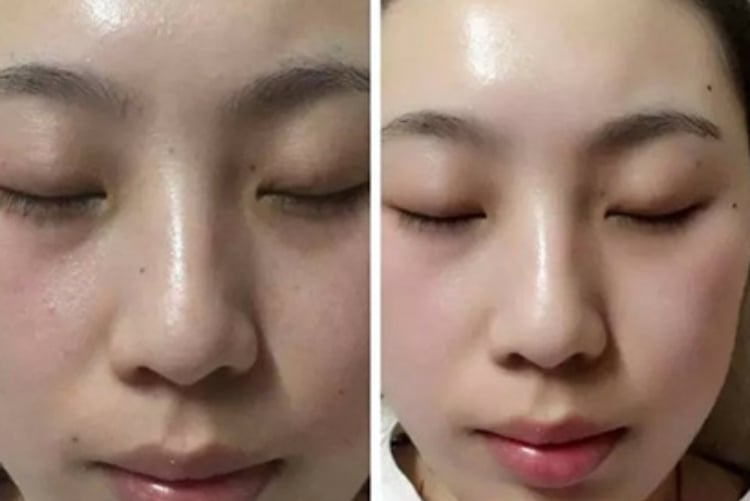 BEFORE AND AFTER. IMAGE: SAUBHAYA MAKEUP.
Real life results
TheSocialBrooke says it's the perfect treatment for those who want to amp up their glow and look polished with minimal effort, but don't expect groundbreaking coverage after the first treatment. "I definitely see a glowing effect to my skin. It evened out my skin tone and helped neutralise the pink in my skin. Some of my pores are completely gone, my skin just feels very hydrated. It's great for people who don't want to wear foundation, but still want a my-skin-but-better-effect. I did see a little bit of coverage, but they did say the first treatment is just your base layer, so I will need to build it up," she says.
Zoe Weiner of SpotLyte was a little worried about how thick the pigment initially looked, but notes that it gradually became more natural and eliminated long-time scars she had. "When I first walked out of the treatment, I was quite stressed about the fact that my face looked like it was coated in foundation. But after a few hours, my skin seemed to absorb the serum and I was left with a radiance that looked like it was coming from beneath the surface. The acne scarring that has lived on my cheeks since high school became nearly invisible, which is a total game changer," she explains.
Natural Kaos performed the procedure on herself, using the same method and tools aestheticians in salons use. The treatment gave her dewy glass skin, and she noticed that her skin felt tighter and brighter. She also says the treatment gave her incredible moisture and is good for fine lines.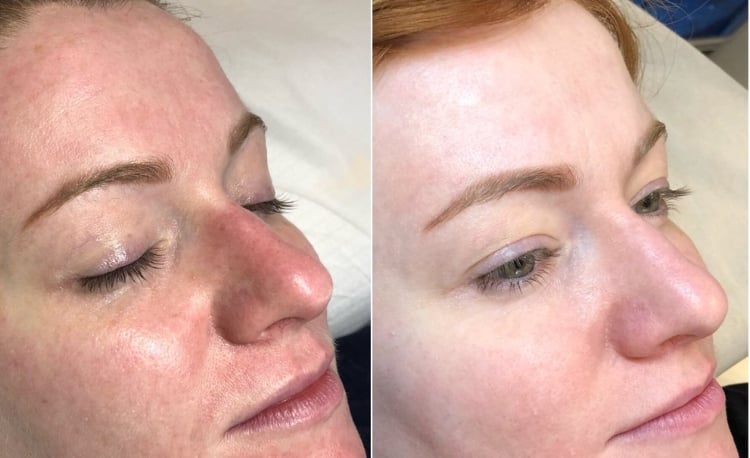 BEFORE AND AFTER. IMAGE: ASKCARES.
Despite the positive results, some experts have concerns. Sydney based aesthetician Lisa Goodin says people with acne prone skin should be wary of the procedure, as microneedling can cause the spread of acne bacteria.
Meanwhile New York City-based board certified dermatologist Dr. Joshua Zeichner warned in an interview with SpotLyte that potential side effects could include "skin allergies, irritation, and significant skin inflammation, which in some cases can become a chronic problem."
Other dermatologists say it's the uneven fading of the pigment that they're concerned about. "There is also the possibility that the shade may not be right or it fades in some areas faster than in others and you have to wait three to four months for it to fade completely," Dr. Sabrina Fabi, a San Diego-based board certified dermatologist, told Brit+.