Before embarking on this experiment, I was sceptical. There have been many failed attempts at 'fixing' that pesky (and very common) body annoyance: cellulite. If previous science wasn't able to crack what alleviates these embarrassing skin dimples, why should we think that recent studies can do any better? With warmer weather around the corner, it was about time to give anti-cellulite products another go, this time hopefully with more promising results...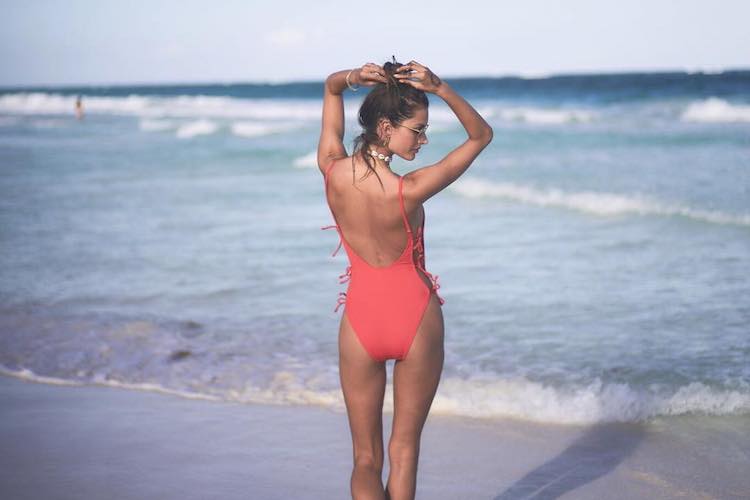 CELLULITE: WHAT'S THE DEAL?
Before you angrily take off to the comments section, let me clarify a few things. First, I know that nothing replaces a healthy diet, consistent exercise, and adequate hydration. I am a trainer, so these are the top three things I recommend to clients daily. Secondly, all women should strive to love all the curves, bumps, and 'imperfections' that we are given (btw, there is no such thing as imperfections). But sometimes, a girl can't help getting curious about new science-backed products, and just wants to feel a bit more confident in a bikini…
If you're unsure about what causes cellulite, here's a quick rundown. Cellulite is classified as lumpy, dimpled flesh (ew) on the thighs, hips, buttocks and stomach, and is caused by fat deposits beneath the skin tugging on fascia (a.k.a. connective tissue). It is extremely common and affects approximately 90% of women and 10% of men. A common misconception is that weight loss will dramatically diminish the look of cellulite. For those who are already at their ideal bodyweight, lead a healthy lifestyle, or are genetically predisposed to the condition, the bumps may only reduce slightly after weight loss. While it's nearly impossible to completely eliminate cellulite, there are a few ways to decrease the severity of it – even if only temporarily. We all know that summer skin is made in the winter, so for four weeks I trialled different anti-cellulite products – here are the products that made me look twice in the mirror…
Bondi Beach is practically synonymous with toned, tanned bikini bodies. The beautiful Bondi-based day spa, Biotyspa, recently released a certified organic 'slimming' oil. Used with a vacuum cup, the two work together to stimulate the skin and smooth the layer of fascia underneath. The oil contains ingredients like coffee, lemon, juniper, and macadamia nut, which help promote lymphatic circulation, while simultaneously toning and moisturising the skin. Instead of massaging the oil on the affected area with your hands (a.k.a. the boring, normal way), use the vacuum cup to further boost circulation and firm the skin.
Out of all the products on our list, this one has been on the market the longest and deserves OG cult status (Google it and you'll find thousands of glowing reviews). So why does it receive such great praise? For the simple reason that it really works. Body Fit claims to target three types of cells that store energy as fat, and to reduce fat storage within the body. While I can't vouch for what was happening on a cellular level, the gel-like lotion did remove a few of my little dimples, and helped sooth tired-looking skin. Warning: you may want to hold off on this product until summer if you're sensitive to the cold. The cooling effect feels very similar to what I imagine taking a flash bath in menthol is like. Great for the balmy summer heat, but not the loveliest surprise on a biting cold winter night.
Another natural option for those who aren't too keen on chemicals. I found this oil not only tones and invigorates the targeted area, but it's also just a great all-round moisturiser. The Weleda Birch Cellulite Oil consists of a regenerating blend of birch leaf extract, Butcher's Broom, rosemary, and apricot kernel. Apply the oil in a circular motion from head to toe and savour the delicious orange scent.
If you're like me and get a bit slack with using products consistently, add dry brushing to your pre-shower routine instead. The process does tack on about five minutes to your shower time, but it's an oh-so-satisfying ritual that sweeps away dry skin, stimulates the lymphatic system, and leaves the skin with an enviable glow. Use an all natural bristle brush (handle or not) to brush the body in an upward motion, starting at your toes and ending at your heart.