IMAGE: INSTAGRAM @ALESSANDRAAMBROSIO
Q. I'm going on a holiday soon, and plan to spend a lot of time in the pool. However, when I go for a swim in a pool full of chlorine my hair becomes an utter mess. Even though I braid it, it becomes straw-like and ragged. I don't have time to shampoo and condition my hair every time I get out of the pool, so what can I use on my hair to temporarily stop the chlorine affecting it?
– Emily
---
A. Hi Emily! Ok, so full disclosure: we have exactly the same problem with chlorine wreaking havoc on our hair. So, we went straight to the expert – Hairstylist Sarah Castillo (with 20 years experience behind her). who was more than happy to give us all a lesson in taking care of tresses stressed by harsh chlorine…
"Achieving that 'effortless, holiday chic' is far more challenging than the title suggests, especially when it comes to your hair! Don't let that ruin your swim time though. I've learned a thing or two whilst traveling myself over the years, and I've helped many clients understand exactly how and why chlorine is having such a negative impact on their tresses. Armed with understanding, as well as the very best products and application techniques, you WILL be able to take poolside holiday selfies with 'beach waves' worthy of their own hashtag.
Hair is naturally lubricated by sebum, which is sadly eroded away by harsh chlorine when you swim. It's pretty simple really, the more you swim, the more the shaft of your hair will drink up the chlorine, causing it to become increasingly dry and often splitting from the ends upward. One simple and natural way to fight against this is to wet your hair down with unchlorinated water prior to taking your first dive, which loads your hair up with safe liquid, meaning that the nasties find it harder to gain access to your hairs' cuticle. If the 'wet look' pre swim isn't exactly what you had in mind, then get your hands on one of my absolute must have lifestyle products Aqua Seal by Kerastase which sits in the Soleil range. It contains a combination of ceremides and cationic polymers that increase the strength of the cuticle (the outer layer of each strand of your hair). This simple spray in protector also hosts B5 which promotes water retention and protects the internal structure of your hair. The bonus is that its built in UV filters also fight against photo degradation, which has an ill effect on colour and the integrity of your hair. Apply from roots to ends and either braid or assuredly leave your hair out to swim.
Once you've decided to retire from the pool and require your hair to look somewhat ready to venture onto your next destination without needing to rush for a shower, reach for your Kerastase CC Cream, also part of the Soleil range. A lightweight leave in essential that mimics the defensive ingredients of its previously mentioned sister product, replenishing any lost moisture and injecting enough love back into those ends that they will shine and bounce up in all the right ways as they casually air dry. Encourage the tousled effect by twisting a few larger sections this way and that as you stroll.
There are some cute swimming caps out there currently. I love the Speedo silicone caps – they all have a micro grid texture on the inside of the cap which provides more comfort and less snagging of your hair. But there are also some DIY hair rescue alternatives, like a slathering of olive or coconut oil teamed with a sleek ponytail pre-swim. This keeps your hair moisturised and repels the water. Once tucked up in bed later on, mash an avocado and liberally apply to washed, towel dried hair and let it release it's oily goodness for 10 minutes before rinsing thoroughly.
Tool selection always plays a pivotal role in caring for and achieving the desires you have for your hair. When damaged or brittle hair is wet, and sometimes even dry, a plastic or wooden wide tooth comb will assist in detangling without putting too much stress on your hair, causing further breakage. Also, be sure to select gentle elastic hair fasteners that do not have a metal piece, which will create friction activated by natural movement which often results in hair breaking off.
A gentle, nourishing shampoo such as Kevin Murphy's HYDRATE_ME.WASH  is packed with antioxidants which gives the hair a healthy glow and stops the hair from losing any more moisture. Massage this onto your scalp post swim twice over and be sure not to scrub too hard. Follow this up with an appropriate conditioner or mask that preferably contains a balance of protein (which will strengthen your hair) and moisture (for that cosmetic suppleness we all long for after we have experienced the negative impact that chlorine has on hair). I adore Shu Uemura Ultimate Remedy Mask, which not only smells so good you could eat it, but it will intensely repair, nourish & rebuild your hair without weighing it down. Leave it on your hair for up to 10 minutes wrapped in a hot towel or whilst in a steam room for best results."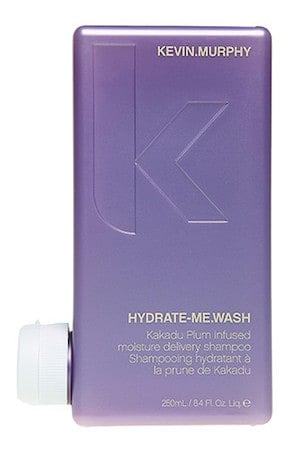 KEVIN MURPHY'S HYDRATE_ME.WASH
KERASTASE AQUA-SEAL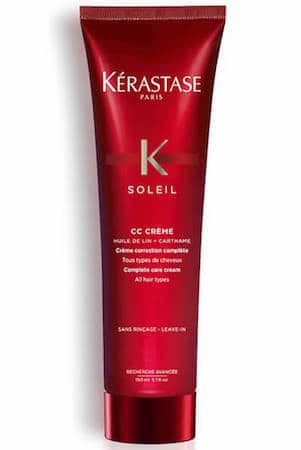 KERASTASE CC CREAM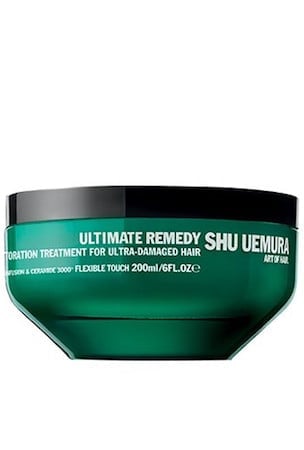 SHU UEMURA ULTIMATE REMEDY MASK
Answered by Hairstylist Sarah Castillo, Owner of Aesthetic Artisan Group