At 44 years old, Abigail O'Neill may be beyond what some in the fashion industry consider the ideal age for a working model - but you'd be hard-pressed to guess her true age just by looking at her. In fact, with the chef and mother of three starring in campaigns for Trilogy and Myer and making her debut at MBFWA earlier this year, her career continues to go from strength to strength. But her youthful looks aren't just down to her (admittedly fantastic) genes - Abigail also swears by a strict hydrotherapy routine to stop ageing in its tracks. Keen to give it a go? Read on for more on Abigail's secret anti-ageing weapon...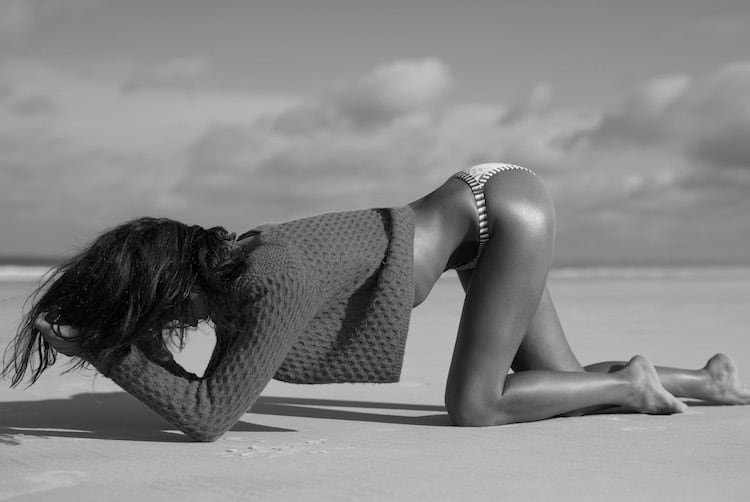 I don't just like hydrotherapy – I love it. For me, it is a daily life tool that, like exercise or eating well, has delivered powerful results to my overall wellbeing. These are my go-to hydrotherapy treatments for toning and rejuvenation, which can easily be done in your own home – leaving you feeling like you've just come back from the day spa.
ICE ICE BABY
This is kind of like a mini cryotherapy session and takes next to no time. Cold water therapy, implemented correctly, decreases inflammation and pain, and increases metabolism and blood flow. It's my favourite because of its simplicity – it's easy to incorporate into any busy schedule, practically anywhere, with proven results.
Everyday at the end of a hot shower or bath, I always conclude with a refreshing, toning and strengthening blast of cold – 30 seconds of full-jet undiluted water, all over your body. I've done this for almost 30 years now and I have no doubt it has contributed to my youthful appearance, which is why it's one of my top tips. Summer through winter, no matter where I am in the world or how cold the water temperature gets, it's always part of my daily beautifying routine.
Follow with a vigorous towel rub all over, moisturise with a little pure cold-pressed coconut oil and pop on some warm clothes to balance the body temperature. This hydrotherapy treatment is accessible to all, yet super powerful in its effect upon the immune system and circulation.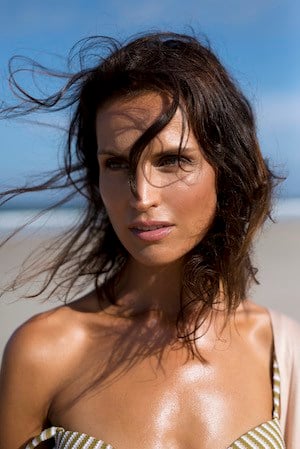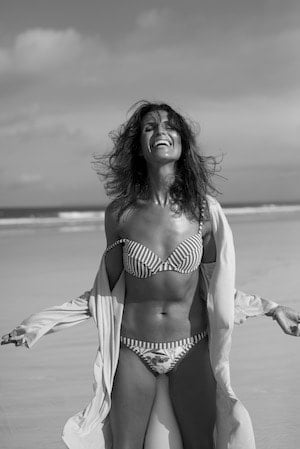 12-MINUTE MIRACLE SHOWER
This is my go-to treatment for plumping the face, relieving body and mind tension, and toning the body. I try to do this every other day or at least once a week, as it only takes 12 minutes (even with my favourite optional extras). The basic routine is: 3 minutes of hot, 30 seconds of cold. Go as hot and cold as you can bear. Repeat x 3.
Optional extras:
1) Pop coconut oil all over the face and body before beginning, and then during the first three minutes of hot water application use a Gua Sha tool to break up cellulite and tension – especially over the stomach, bottom and thighs, or anywhere that is needing some extra love and detoxification.
2) While the skin is moistened, slow the water flow before the last cold blast and scrub the body top to toe with a simple salt scrub, made of 50/50 epsom salts and sea salt.
MODEL CHOCOLATE BEAUTY BATH
I have this simple bath salts recipe in my book, Model Chocolate, based on cacao butter, epsom salts, and lavender, which leaves you feeling incredibly moisturised, rejuvenated and relaxed. Allow 30 minutes to soak and enjoy after a long day or stressful week.
Lavender Cacao Bath Salts
40g cacao butter shavings
500g epsom salts
500g fine sea salt
8 – 12 drops of lavender essential oil
2 tablespoons raw cacao powder
2 tablespoons dried lavender flowers
Mix altogether in a food processor or by hand.
Variations
Add any other essential oils of your choosing, powdered kelp or dulse flakes for an at-home thalassotherapy sesh. Add 2 cups of mixture per bath, soak as long as desired, rinse with tepid or cold water, towel dry and slip off to cacao-beautified heaven.