Break out the tequila, it's Cinco De Mayo! The annual celebration (that's held on May 5th) is observed to commemorate the Mexican Army's victory at the Battle of Puebla. Reasons we love Cinco De Mayo: rhythmic Mexican music, colourful costumes, and the encouragement to eat as many Mexican dishes and drink as many margaritas as our stomach allows. Seeing as it's only four months into the year, we haven't given up on our 'healthy living' new year's resolutions just yet. And since not partaking in today's festivities was out of the question, we've put together a collection of our favourite deliciously nutritious recipes, that won't leave you feeling greasy or guilty.
IMAGE BY JAR OF LEMONS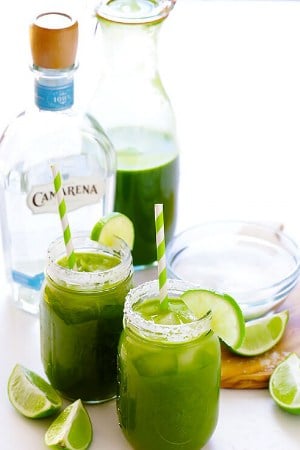 RECIPE: GIMME SOME OVEN
Nix the hangover headache and tummy troubles by substituting premade margarita mixes with a fresh green juice. Naggy mum tip: Chase your drinks with water to decrease your chances of a nasty post-fiesta hangover.
–Beautifying Ingredient: Green Juice. Your skin will drink up the antioxidants from the dark leafy greens. The vitamins and minerals work to replenish your skin, as they simultaneously remove toxins from the body.
Whether you have a large family or rely on your neighbourhood takeout joint to get through the week, this recipe is quick, easy, and requires minimum cleanup.
Beautifying Ingredient: Red Capsicum. Red capsicums (aka, peppers) are high in Vitamin A, C, and anti-inflammatory minerals. All of which work together to leave you looking and feeling muy caliente.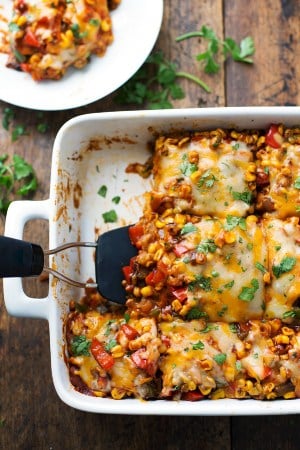 RECIPE: PINCH OF YUM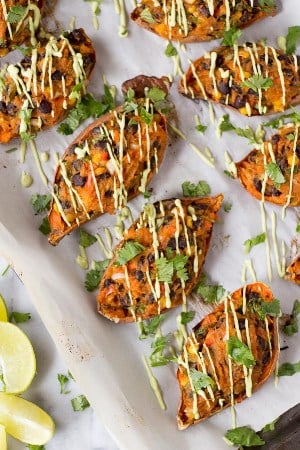 RECIPE: GLUTEN FREE VEGAN PANTRY
It's like a baked sweet potato, but even better. Though sweet potato may not be the first ingredient that comes to mind when you think of Mexican food, the sweetness from the potato works beautifully with the spicy and smoky flavours that are stuffed inside.
–Beautifying Ingredient: Sweet Potato. This starchy superfood is filled with beta-carotene, vitamins C, B, K, and minerals that improve skin texture, appearance and pigmentation.
This one is for our Paleo friends. Mexican food is notorious for containing refined carbohydrates, which isn't very conducive with the Paleo diet. Swap your normal taco wraps to a lettuce cup, for a lower carb meal thats high in protein and veg.
–Beautifying Ingredient: Protein. Your hair and nails consist mostly of protein. Getting an adequate amount means strong and shiny hair, and nails that will leave people questioning if they're real.
RECIPE: GIMME DELICIOUS
RECIPE: COOKING CLASSY
This recipe may be inspired by warmer weather, but in Australia we're headed towards the cooler seasons. When the day seems too cold to fathom the idea of eating a salad, enjoy sipping on this warm, broth-based soup. The avocado adds an unexpected creamy texture that's both filling and surprisingly light.
–Beautifying Ingredient: Avocado. An anti-aging and skin-plumping superhero, avocados nourish and hydrate the skin via a healthy dose of monounsaturated fats like oleic and linoleic acids, A, B, C and E vitamins, and minerals like potassium, phosphorus, and calcium.