With the beauty market seemingly saturated, where new start-ups and industry heavyweights are constantly jostling for the attention of consumers, founding your own brand might appear an increasingly impossible feat. But that's exactly what these three entrepreneurs have done – and they are thriving. We sat down with the founders of Ayu, Garbo & Kelly and SALT By Hendrix, who shared their secrets to building a beauty brand in the current climate. Prepare to be inspired.
IMAGE: INSTAGRAM @THEFRUGALITY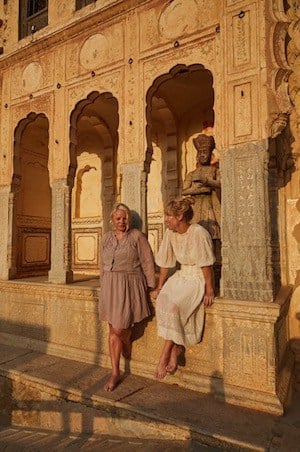 ALANNA QUIN FROM AYU
Inspired by the founders' studies of Ayurvedic medicine, Ayu's perfumes blends – which are handmade in India – have already established a cult following with celebrities and beauty lovers alike.  
What's the concept behind your brand?
Our brand is built around the philosophy of Ayurveda – hailing from India, it's believed to be one of the world's oldest holistic healing systems. The word 'Ayurveda' translates from Sanskrit to mean 'science of life' and it's based on the belief that health and wellness depend on a delicate balance between the mind, body and spirit. Essentially, Ayurveda teaches you about prevention and maintaining good health, rather than waiting for sickness to happen.
How did you start it?
My business partner Madeleine Whitter studied Ayurveda and I was really intrigued by it. After travelling to India and becoming so immersed in it, I came back home and began my studies in it as well. We both knew that we wanted to somehow create and bring to life what we'd been taught, and from a mutual love of creating our own scents stemmed the idea of incorporating ayurvedic principles into a perfume, which is now Ayu.
What surprised you or was most difficult about starting a beauty brand?
We work with a number of suppliers in India for essential oils, absolutes and herbs, and this can be quite challenging. We have very different ideas on timing which has definitely taught us patience. They also have so many religious holidays every month which can add to the many delays we can never plan for.
What would you differently next time?
I don't think there's anything we'd do differently – everything that's happened to us has been a good learning curve to move us forward to the next chapter. I can honestly say I've enjoyed every moment.
What's been your biggest breakthrough moment?
Launching Souq as our first scent – the response was extremely positive and the catalyst for great things that lay ahead. We've been picked up by some amazing and really supportive retailers including My Chameleon, Orchard Street, Newrybar Merchants and Splice.
Anything else you want us to know about the brand?
We've just returned from a trip to India where we've been working on developing new products and expanding our range into other categories of beauty as well, which you will start to see over the coming months.
What's the star product from the range?
Souq is definitely very much loved by everyone – we receive so much great feedback and stories of people being stopped in the street to ask what they're wearing. That honestly makes our day!
Named in honour of the classic beauty of two Hollywood icons, Garbo & Kelly deliver makeup products that work for every woman. They've recently been awarded Australian Makeup Brand of the Year at the Makeup Artist Guild Asia Pacific Awards 2018.
What's the concept behind your brand?
Garbo & Kelly offer vegan products that specialise in perfectly shaped brows, chiselled cheeks and defined lips to create a look of urban glamour. We believe that every woman deserves the highest quality products and tools to create, correct, camouflage and enhance our beauty, and go from desk to diva in minutes. This gives us the confidence to conquer all elements and expectations of our day.
IMAGE: GOLD COAST BULLETIN
How did you start it?
After working with Anastasia Soare [of Anastasia Beverly Hills] for many years, I was so inspired by her that I wanted to make the most of the knowledge I had gained, and to create a brand that was about classic and timeless looks. I wanted to keep the brand tight without too many confusing shades or fad colours.
What surprised you or was most difficult about starting a beauty brand?
Everything has surprised me. Creating Garbo & Kelly is the hardest thing I have done in my life. I have learnt a lot about ingredients and I am still listening to my customers about which ingredients they want. I think this was the most overwhelming area and one I want to improve in.
What would you differently next time?
I have thought about this so much and I don't think there is anything I would change. There are items I would like to add in the near future, such as mascara to complement our award-winning Femme Fatale Duo Eyeliner (recently awarded Best New Eye Product at the Pure Global Beauty Awards). Garbo & Kelly only started 18 months ago and I am so excited to continue building the range.
What's been your biggest breakthrough moment?
Working with Anastasia for 13 years and being her Australian distributor gave me an insight into what is important to Australian women. Time is of the essence and life is so fast that we need to go from work to wow as quickly as possible. I have also developed products that are waterproof or water resistant where possible to withstand the Australian climate and the demands of the day.
Anything else you want us to know about the brand?
Our lip collection is nut free. A girlfriend of mine has a severe nut allergy and I would have been nervous sending her products that could affect her.
What's the star product from the range?
I never want Garbo & Kelly to have products in the range that are not necessary, so this is a hard question. Our biggest seller that everyone seems to love is our Master of Illumination Highlighting Kit – it has two matte shades that are great to use on top of the brow and between the eyes to make the brow pop, and four shimmer shades for red carpet looks.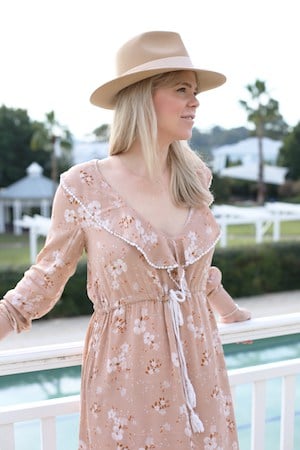 SALT By Hendrix's range – offering skincare, bath and home fragrance – deliver premium products with plant-based ingredients, created to leave you feeling beautiful both inside and out. 
What's the concept behind your brand?
A beautiful plant-based beauty range that is a sensory delight. Our products must offer incredible performance yet smell and feel amazing on the skin. We didn't want a product that you wanted to hide in your cupboard – our range looks and smells as amazingly as it performs.
How did you start it?
It essentially started in my kitchen at home, where I built formulations for my son who had incredibly sensitive skin and eczema as a baby. I was concerned about using harsh, synthetic ingredients to improve his skin sensitivities and the line evolved from this point when I could see the improvements in his skin.
What surprised you or was most difficult about starting a beauty brand?
The amount of time and effort it takes to perfect a formulation – so much thought, time, planning and playing to get products just right. The product looks so simple but hiding behind this simplicity is crazy amounts of complexity, from packaging to formulations to getting them market ready for our buyers and customers. I find that people underestimate the intricacies of a beauty brand.
What would you do differently next time?
I'd have more confidence in our line from the start. When you bring a product to market you always dream and hope that it is going to be loved, but it is also very daunting – especially with so many amazing brands out there. Thankfully I have always had an awesome family and team to instil confidence in me.
What's been your biggest breakthrough moment?
Receiving emails and phone calls from major retailers around the world has been amazing. We have always been passionate about our face range but it is also a complicated market and consumers are incredibly educated. The positive feedback that retailers and customers have for this part of our line has been a long-term goal and hearing it has been lifechanging for us.
Anything else you want us to know about the brand?
Our brand is what it is today thanks to our incredible team. We are so fortunate to have a team of amazing ladies (and mummas) that work with us; without them, we wouldn't be where we are today. We always hire on aptitude and attitude, making sure new team members are right for our brand and bring the sparkle we love has been imperative and will continue to be as we work towards our goals.
What's the star product from the range?
Mermaid Oil. She is the little baby people are addicted to – she is hydrating, great under makeup or at night and is super gentle. Being able to create a product that has such loyalty and repeat purchases has been a game changer. She is the inspiration for our newest line of products coming out soon.
Story by Tess Schlink; Images from brand founders