Trinny Woodall has spent a good part of the past few decades dedicated to making women look, and consequently feel, great - and the advent of social media has made reaching and interacting with women much easier, as her immensely popular live broadcasts on Facebook and Instagram, and legions of fans dubbed the 'Trinny Tribe', attest to. Her latest venture, makeup line Trinny London, can fairly be seen as an extension of the same philosophy and set of principles she's applied in making women over sartorially - that is, the interaction of your skin, hair and eyes dictates the makeup that suits you best (we're also big fans of the easy-to-apply cream formulas and clever and convenient stackable pots). Features Editor Tess was lucky enough to chat to Trinny, where she shared the four beauty rules you need to swot up on - plus, her thoughts on how Australian women dress…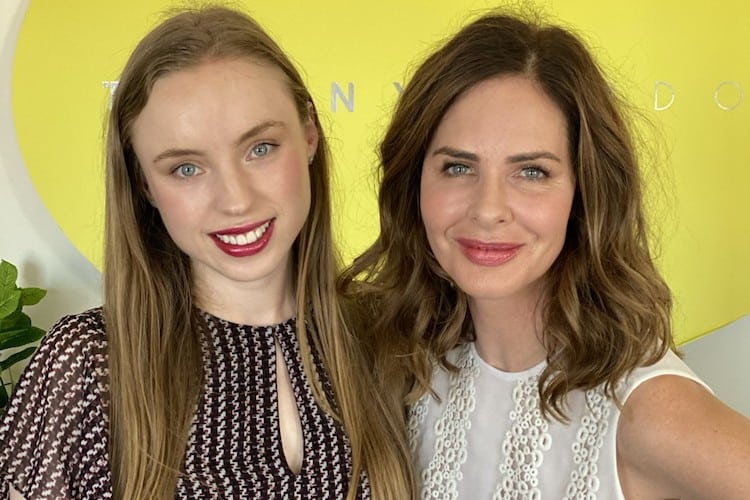 1.    Don't forget to update your routine regularly
A common misstep Trinny sees a lot of women do is sticking to the same makeup routine they first adopted in their teens, and not adjusting things as they age and fashions evolve. "There are some very definable eras of makeup," Trinny shares. "Like the 80s – I can tell an 80s face in a flash, whereas a 2000s face might be more timeless. There are certain faces that really feel they're defined by an era more than others." So, make sure to continually reassess to ensure your routine still works for you – Trinny suggests every decade as a good guideline for a routine rethink.
Take using too much powder, for instance. "We should position our shine and oiliness where we want it," she explains. "If we spend a lot of time doing our skincare, we don't want to cover it with a lot of powder."
"A lot of women have had a bad skin in their teens and they get to their twenties and they're still (overpowdering) – they don't realise that they don't need it."
2.    Find your perfect makeup matches
Before you even think of sitting down to do your makeup, it's vital to first curate the perfect edit of makeup: the foundation that's a seamless match to your skin, the eye and lip products that enhance (not clash with) your features… you get the picture.
One of Trinny London's USP is a very clever online tool called Match2Me: users input their hair, skin and eye colour combination and Match2Me whittles down the whole range to the products that will suit them perfectly. It features 83 models from the Trinny Tribe, aged 16 to 81, which streamlines things even more – you simply pick the person who looks most like you to find your pick of products.
Our top tip for finding your personal best makeup matches? It's a lot to do with your skin's undertone – whether you're cool, warm or neutral (a mix of both). An on-the-spot trick to determine this is to look at the colour of your veins – if they're blue-hued, you're probably cool-toned; if they skew more green, you likely have warm undertones. You're probably neutral if it looks like a mix of both. Armed with this knowledge, you can select the makeup products with the corresponding undertones – I promise it will make all the difference to your makeup.
3.    Applying your blush in the right place is vital
According to Trinny, applying your blush perfectly is a bit of a fine art. For my (very pale) face, for example, it's a tricky affair: "You really need blush," she explains to me. "But you also have a broad, heart-shaped face, so where you apply blush is not so easy to work out." Watch on for Trinny's fail-safe tips to get it right each time…
4. There's a bright lipstick for every woman
I quiz Trinny about that eternal beauty conundrum: does red lipstick suit everyone? She says yes, but more so that there's actually a bright-hued lip for everyone. She then undertakes a forensic analysis of my face to illustrate her point. "You live in sort of 'neutral', because you have a bright green eye, you've got a peaches-and-cream skin, and a tiny warmth to your hair," she explains. "If you had a cool hair, you'd then be cool-toned, and you when go towards Lip Luxe in Pookie. You can wear Pookie, but a cool woman would really wear that well."
"If you go for something like Lip2Cheek in Cha Cha, which is more warm, it would look weird on you because it would be too much skin tone fuzziness, whereas Valentina, which is this true red, is just amazing on you as there's this sharpness and brightness…"
She pops on a little Lip Love in Valentina – a sparkly, gorgeous red – and like magic, it makes my eye colour pop and the whites look brighter.
So as you can see, finding your perfect bold lip is a little more complex than plucking out your favourite hue from a lineup of reds, but again it all boils down to finding one that matches your undertone. If it makes you look a bit blah, you've probably got a dud shade for you; you know you've nailed it when you slick some on and feel instantly prettier.
And she's got a handy tip for pairing blush with red lips – dab a little of the same lipstick on as blush. She applies a little Valentina on my cheeks, explaining: "I need to introduce that colour to your face gently, otherwise you'll be hit by a lip. You'll notice it makes your lips sit beautifully."
Trinny's thoughts on Australian style
Finally, I was curious as to what Trinny made of the way Australian women dress – basically, we're more lowkey than our British counterparts, but things are changing. "There's that real naturalness amongst Australian women," Trinny says, "But there's much more sophistication than what there was 10 years ago. I'm seeing women wearing more glitz, wearing more colour, wearing more makeup, less Crocs and fake tan. For me, that's a great transition". Sounds good to me.
Story by Tess Schlink, videography by Emma Trimbur. Photography by the Trinny London team.