Growing up, Beauticate writer, Maria was one of the many of us who suffered from acne. It came in all shapes, sizes and colours; some days breakouts would be small, annoying bumps. Other days though, they would be angry, swollen and downright ugly (so ugly, she felt, that she confesses to barely being able to stand looking at herself in the mirror). In her quest to achieve clear skin, she tried a wide range of products, from cheap drugstore brands to more expensive ones, even trying medications and DIY recipes. Yet the stubborn bane that is extreme breakouts would just not budge. Just as she was at the point of throwing her hands up in defeat, her sister suggested that she try a Korean beauty brand (plus a secret complementary product) and something a bit extraordinary happened. Here she explains...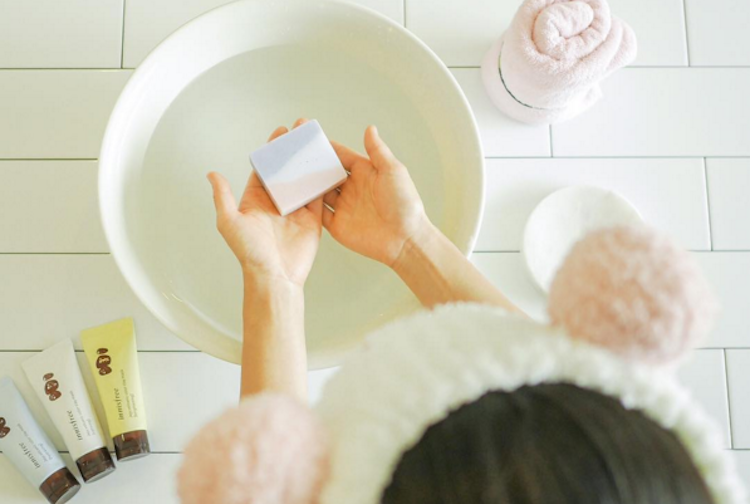 IMAGE: INSTAGRAM @INNISFREEOFFICIAL
First off, I would like to preface this with saying I'm not in any way, shape or form an expert on Korean products, or acne for that matter. And, this is not an ad. I just feel compelled to share my experiences and what worked for me. What made these products such a game changer for me was the fact that they used natural ingredients, some of which I would have never considered helpful in relieving my problematic skin before (such as snail mucin and orchids, who would've thought?). It was exactly what my sensitive skin needed after years of trying out harsh chemicals. You might have also seen a few other articles stating that the Korean Beauty routine consists of 10 or more steps (one of the main reasons it took me so long to give it a go). While there are days when I do need to do the full routine, with some experimentation and time, I was able to narrow down my everyday routine, morning and night, to just four essential steps that suited my combination type skin. And, let's be honest, who really has the time for the whole shebang on a daily basis? Massive kudos to those who make the time for it though.
THE CLEANSER
Innisfree Jeju Volcanic Pore Cleanser is my go-to holy grail. I can't even begin to describe just how much I love this product. This foaming pore cleanser contains volcanic scoria from Jeju, a tropical island in South Korea that contains (basically magical) natural ingredients for your skin. Volcanic scoria is a type of rock that absorbs sebums, while clarifying and tightening your pores. It also does an amazing job of removing makeup, something that I found most cleansers don't do very well. First, wet your face with warm water. With this cleanser, a little bit goes a long way so squeeze only a tiny amount on your fingertips. Then, apply the product and rub it around your face in small circular motions for about a minute or two. For that extra glow, wash it off with cold water.
THE TONER
For this step, I actually use a non-korean brand to do the job. Mario Badescu's Seaweed Cleansing Lotion is a non-alcohol toner that cleans and disinfects your pores, removing any extra gunk using seaweed extract, witch hazel and aloe vera. Since it doesn't contain alcohol like most toners do, it's more soothing and non-drying. Pour a few drops on a cotton ball and wipe away. There's nothing more satisfying than seeing all the dirt gone off of your face and onto the cotton.
THE SKIN TONER
Yes, it does say toner again. Korean toners are used to balance your skin's PH level, instead of the extra cleanse I use Mario Badescu Seaweed Cleansing Lotion for. Innisfree White Toneup Skin ( I promise this isn't sponsored, I just really love their range!) uses the rich amino acids and minerals found in green tea leaves, berry extract and tangerines to nourish and brighten dull looking skin. It is a must after using cleansing products that can strip your face of the bad oils as well as the lovely natural oils that your body makes. Simply put a few drops on the palm of your hand (carefully though, as it is runny!) and quickly pat on all over your face until the product has been fully absorbed.
THE MOISTURISER
Hydrate, hydrate hydrate. If there's anything that you can take away from this, it's that keeping your skin moisturised and hydrated is the key to getting the beautiful clear skin that you dream of. Initially, I was extremely reluctant on all the steps that involved keeping my face slathered with so many different products, especially with the oily parts of my skin, but I figured that my face couldn't possibly get any worse that it already was so I dove right in. Turns out that it was a life changing decision that I wish I could tell my younger self to do in the first place (so much time, money and tears would've been saved!). I use about a pea sized amount (sometimes more on dry, cold days) of Innisfree's Green Tea Balancing Cream and apply it all over my face. This ensures to seal and lock in all the products used in the previous steps as well as keeping your skin moisturised. If I feel like my skin needs some extra loving, I use Innisfree's Green Tea Seed Serum before applying the cream.