When people ask me what the most 'worth it' beauty treatments are I can rarely go past hair removal. Why would you continue to coat your tender bits in hot wax and savagely rip the hair out on a monthly basis when technology has given us much more permanent hair reduction methods? Usually, I'd cite the blow-your-mind effectiveness of laser or IPL treatments and then go on to list several clinics where you'd have to go and commit to a pricey and lengthy treatment schedule.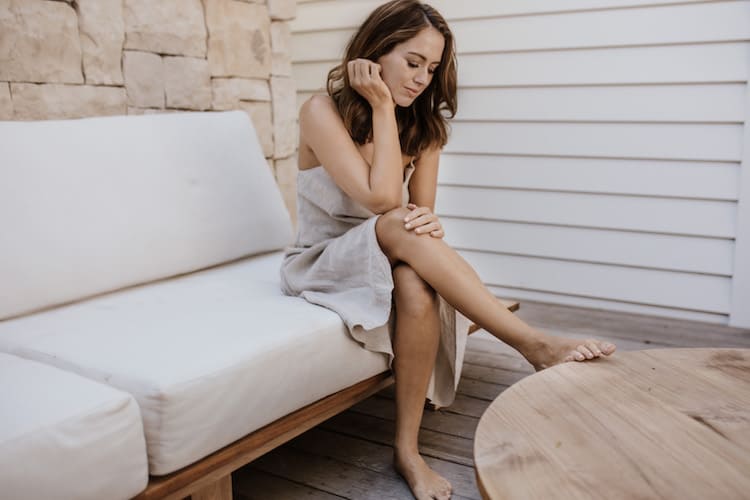 Apart from the costs, there's the annoying part of having to fit it into your day and also the mild to major embarrassment (depending on what kind of hair we're talking about) of stripping down to have someone blitz your fuzz for you.  But – hold the phone – all this is about to change. A little device has launched that will finally put the powers of hair removal firmly in our own hands. Remington's i-LIGHT Smooth Sense is an at-home IPL device that you can use in the comfort of your living room, and I was floored to find that it actually works. I was given one to test over a period of eight weeks, here's what I thought…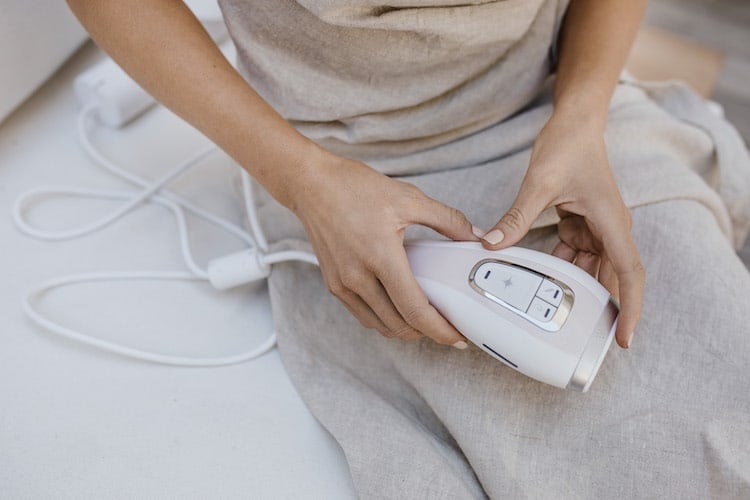 I have to admit, going into the trial, I was a bit skeptical. Surely you can't get clinic-comparable results from a device that's not much bigger than a shoebox? However the press release claims it will achieve on average 94% fewer hairs in just three treatments! Eager to put this thing through its paces, I diligently read through the pages of instructions and contraindications. It warns against having had sun exposure which rules out my initial testing on the legs as we are just back from holidays. I ask the company if fake tan is okay and it's not recommended so I decide I will test it on my underarms (I have some sparse hair from having IPL several years ago) but to really give it a go, I will need to find a suitably hirsute guinea pig.
TREATMENT TIME
Enter my wonderful husband, Damien. We've been meaning to get his back and arms lasered for years, but we can never quite find the time. And after checking the skin tone chart discover he's more than a suitable candidate for this. He has a medium skin tone with a pretty good covering of black hairs on his shoulders and upper arms and then some more sparse hairs down his back. I feel pretty nervous attempting this without any formal training but after reading the instructions again, I feel a bit better – it says that the hand piece contains an integrated skin tone sensor that continuously reads the colour of your skin 100 times per second, adjusting the power of each flash and ensuring its safety.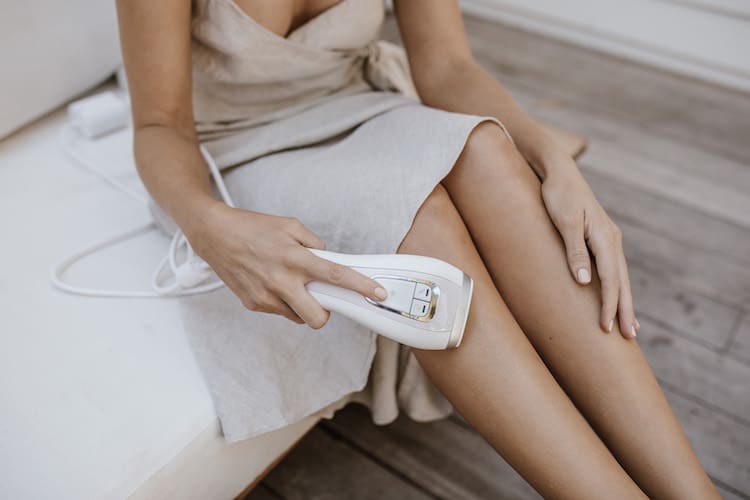 I shave his back carefully and then sit him on our balcony where the light is good and start working in a grid-like pattern down his back. I use my left hand as a guide to see out where I've zapped before. He jumps a bit the first few times but it's just the shock of the light and zap of heat that gives him a little jolt. It's slow going at first but as I reach the end of one side, I switch to express mode where the flashes are emitted every .9 seconds. Then for some of his more sensitive areas like the bony bits of his shoulders I switch to the sensitive mode, which has a three second flash rate and provides a less intense treatment. His skin is a little red when we finish up so we pop a soothing aloe vera gel moisturiser on which calms it down, and I put a reminder in my diary for two weeks time for the next session.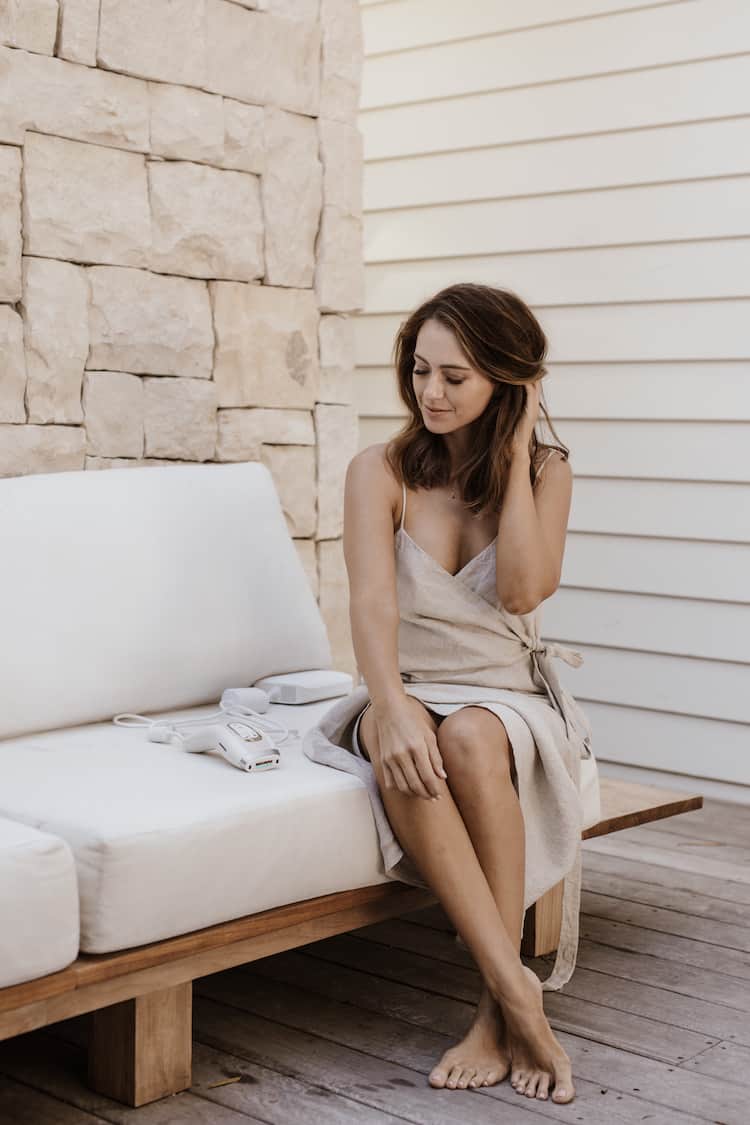 TWO WEEKS LATER
I can't believe what a difference just one treatment has made. It's probably a 40% reduction. They recommend at least three treatments, so I'm confident. We're much quicker this time and I whip down his back and upper arms in about 20 minutes. He's used to the sensation too now, so isn't as jumpy and this time, I decide to give my underarms a go, so I can see what the sensation is like.
It's definitely less painful than the laser hair removal I used to get and it's so quick. I also love that I can administer it myself. I'm so impressed that I decide to zap my bikini line, which I also had treated professionally a few months ago but have since had a few random hairs regrow. By now I'm totally trigger-happy and so excited that Damien has to physically restrain me from doing his chest. (I think I'll get him to come around – eventually!)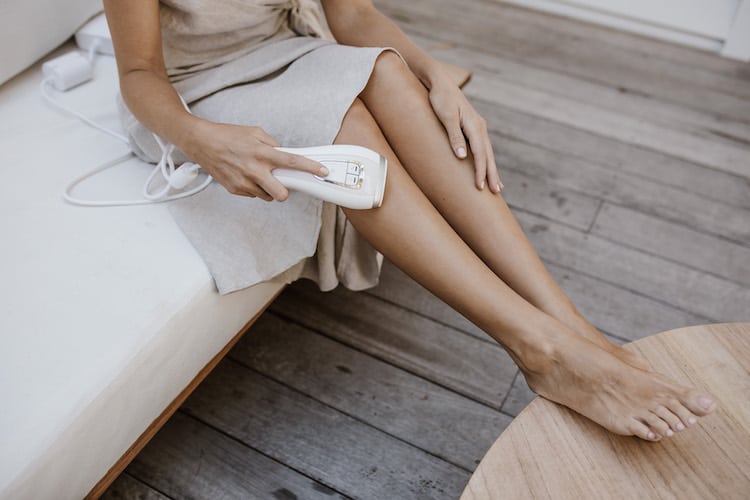 I'm wondering who else I can de-fuzz in my family. This is so much fun! I tell my friends (only half joking) that I'm setting up an IPL clinic in my living room.
ANOTHER TWO WEEKS AFTER THAT
Right before we head to Fiji I give Damo his third treatment and, again, it's pretty quick and easy. Over the next few weeks I admire my handiwork on my husband in various states of undress. Finally, he is smooth-shouldered – which is coinciding quite nicely with his new gym routine and resulting in some very pleasant viewing. It certainly shows off his commitment nicely.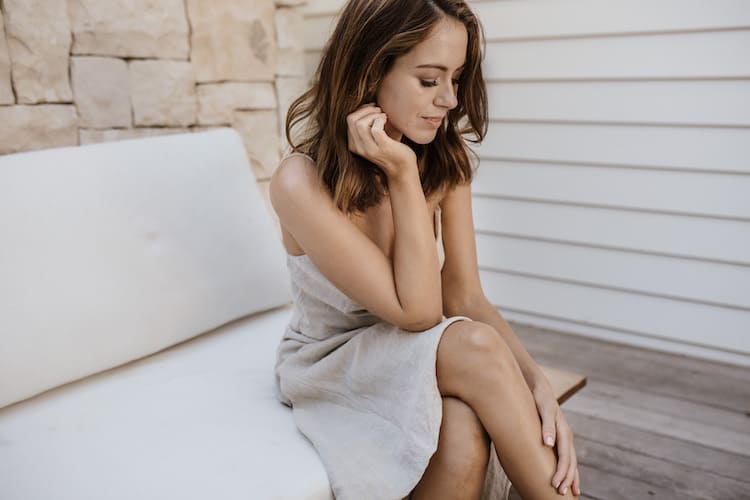 I go to treat my underarms again but there's nothing to treat – the single session has got rid of any regrowth. I'm finally a lighter shade on my legs so I give it a tentative go on my calves. It's easy and not too painful – I can't wait until summer is over so I can attack my legs bi-weekly and really get rid of the hair for good. Can't wait to kiss my razor goodbye.
THE VERDICT
I'm very impressed with this device and will recommend it to anyone who is willing to roll up their sleeves and give some DIY beauty a go.  It does require a bit of reading and being very careful to follow instructions but if you're careful to do all that then you can feel confident in its safety. At $599 it's an investment, but when you compare that to the cost of treating full legs, Brazilian and underarms six times – on average that would cost you around $1200. Plus you usually have to have a few touch ups a year as hair does regrow sporadically. I also love that you can loan this to your friends and family members (just make sure they've read all the info that goes with it) – so that's a further saving. All in all it's a winner. I love it when new technology launches that does what it claims.