After realizing we have been locked into a turn-taking cycle of frenetic work engagements and kid-juggling this year, Damien and I made a commitment to try and take more mini-breaks (cue Bridget Jones, "A Mini-Break means True Love!"). If we don't have time for a full-blown holiday, at least we can escape for a few days to somewhere within driving distance to reset with the kids. For years we have been meaning to visit Bells at Killcare on Sydney's Central Coast - it's known for its stylish Hamptons vibe, excellent restaurant (led by Dean Jones) and fabulous spa. What more could we possibly need for the perfect weekend away?
WITH THE MAS; WEARING J BRAND DENIM, BODEN BLAZER AND GUCCI PRINCETOWN SLIPPERS
Well… maybe just a gorgeous car to drive there. The Maserati Levante is a good start. Damien, as I think I mentioned before when we were lucky enough to test drive a Ferrari, is a total car enthusiast, so when Maserati offered us their new SUV, it was a no-brainer. Okay, I'll admit it. I'm also very fond of cars – particularly those of the luxury, leather-lined persuasion. It's like buying a really beautiful handbag – a big investment that you treasure every time you use it.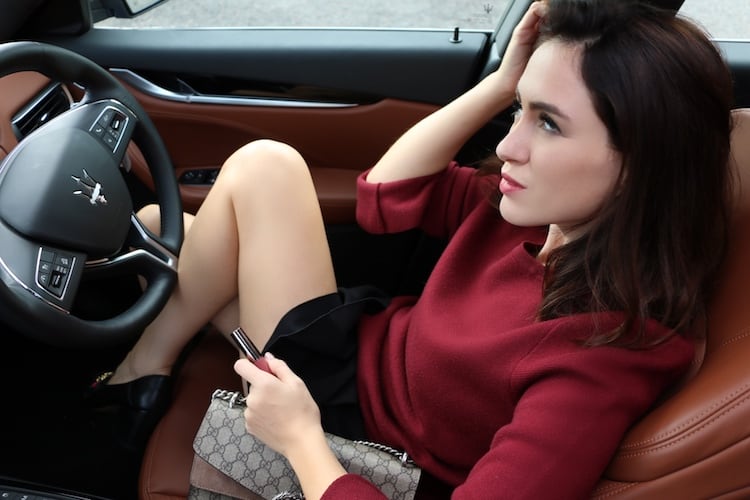 LEATHER LUXURY INSIDE THE MASERATI LEVANTE. KNIT BY IRIS AND INK ON THE OUTNET.
I particularly love thinking about the beauty products to bring on a road trip. For me, packing is always nearly as much fun as the trip itself. I imagine myself in various situations and match the perfect fragrance, makeup and skincare – conjuring various heroines in every situation. Bells at Killcare has me imagining some kind of Hamptons Kate Hudson come Diane Keaton-esque character – cable knits, white linen and espadrilles. (Although my hair is about eleven shades too dark currently – I'm missing my balayage.) For this trip I packed white J Brand jeans, cosy Boden cashmeres and fur-lined slippers along with a bottle of Aerin Lauder Amber Musk, a tube of IT Cosmetics CC Cream (the best no-makeup makeup) and Stila Convertible Colour in Magnolia for lips and cheeks. All American coastal beauty is simplicity at its best.
THE PRETTY SURROUNDS OF BELLS FEATURES CONIFERS AND GROOMED GARDENS
And so we find ourselves piling into the Levante on a Friday morning – planning to make a long weekend of it. Instead of taking the most direct route, we avoid the motorway and wind our way up to Killcare on the Old Pacific Highway, enjoying its leafy bends and pretty views of the Hawkesbury River. The car handles beautifully with the Driver Assist function – whenever I start to drift out of my lane, it nudges me back onto the straight and narrow (a bit like having my back seat driving husband always there to guide me but much less annoying). It can also hit the brakes in case the car in front suddenly stops. It's kind of crazy and feels like it's one step shy of a driverless car. It even warns you when you take your hands off the wheel for a few seconds, as Damo recklessly demonstrated! It's an exhilarating combination of sports car pedigree and family-mover practicality.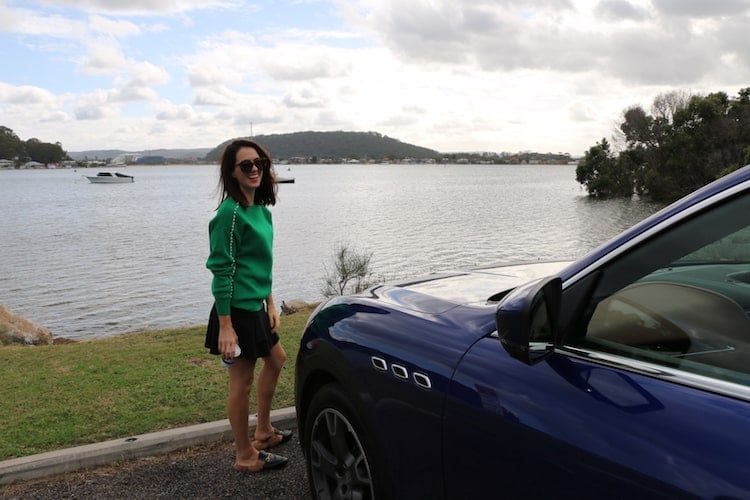 SUNDAY DRIVE. PEARL-LINED KNIT BY MAJE.
After only an hour and a half we find ourselves turning into the pretty, gravel-lined driveway of Bells. We'd booked the Friday Fish lunch and so enjoy a beautiful meal on the heated balcony with a lovely glass of Montepulciano. It's a little chilly so we end up retreating to our cottage and cook or order room service for a few of our meals, because it has a full service kitchen, dining table and three lovely fireplaces.
COASTAL LUXE WITH FRENCH DOORS THAT LOOK OUT ONTO THE GARDENS
I could write a paragraph alone just on breakfast. So I will. If you manage to get past the delectable buffet of house-baked breads and pastries, tissue-paper prosciutto, plump heirloom tomatoes and wedges of avocado drizzled with fruity olive oil, then you might want to try the à la carte menu. Damien and I share the twice-baked cheese soufflé with smoked salmon and an incredible labne with chilli oil and poached eggs. No need for lunch.
Back in the room, we snuggle in front of the gas fires (there's one in every room) and work our way through the extensive (and free) movie menu. The cottage features rough hewn furniture, linen-swathed couches and sun-trap balconies that look out onto the manicured gardens. The beach is apparently a short walk away, although I was nursing a sprained ankle so never made it there. I do however manage to emerge from my hibernation long enough to check into the spa for one of the best massages I've enjoyed in a long time. For dinner, we check out Safran Turkish restaurant in Ettalong with a delicious five course tasting menu which we were able to enjoy with our own special bottle of wine as they are BYO – always a bonus.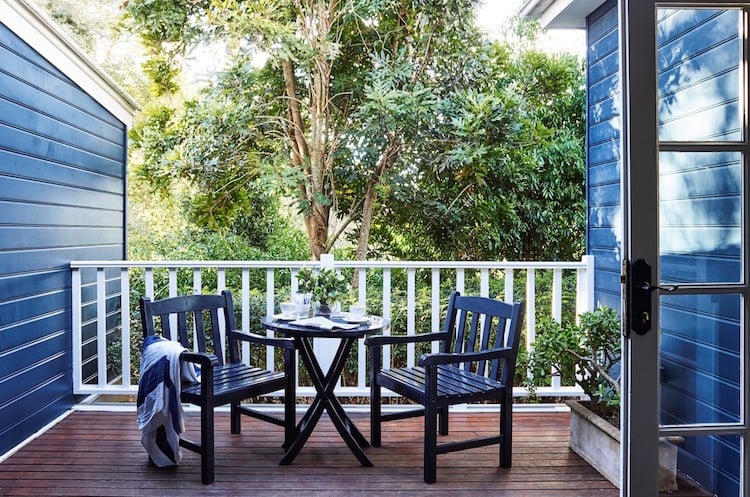 A SPOT TO WHILE AWAY THE HOURS
Now, we did take our kids, because Bells recently opened up an option for families with three of the two bedroom cottages that are earmarked to cater for children, so it's possible, but probably not the best way to enjoy this amazing and peaceful property. On reflection, this experience would be much more romantic and much better enjoyed sans kids.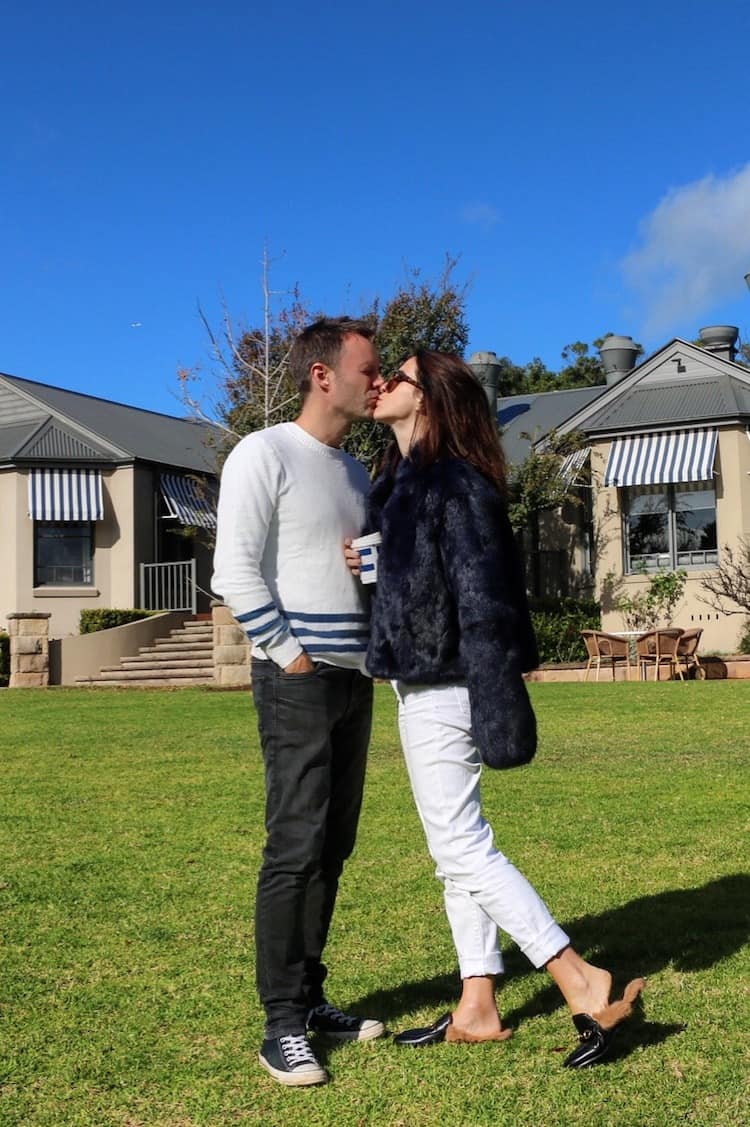 MIDNIGHT BLUE FUR COAT BY FWRD BY ELYSE WALKER
As for the beauty? I knew there would be a big bathtub so I packed a bottle of Jo Malone English Pear and Freesia Bath Oil and, once submerged, with a glass of wine in hand, I pop on one of Zoe Foster's GO-TO Transformazing Sheet Mask Skincare face masks which, with its vitamin C, niacinamide and Aussie actives Kakadu Plum and Tasmania Pepper Leaf, fixes my tired and dehydrated complexion in the most enjoyable of ways. In winter I always pack a full size body cream when travelling – I hate scrimping on lotion when my shins are lizard-like. My current favourite is L'Occitane Shea Jasmine Melting Butter. It's nearly solid, it's so thick and buttery and melts beautifully as you rub it in which I did languorously in front of the roaring fire. My beauty bag was also stuffed with Ultraceuticals minis – always a good option when you're travelling, and Subtle Energies Bliss Body Oil and Facial Oil (I am obsessed with their ayurvedic aromatherapy blends, they smell so incredible).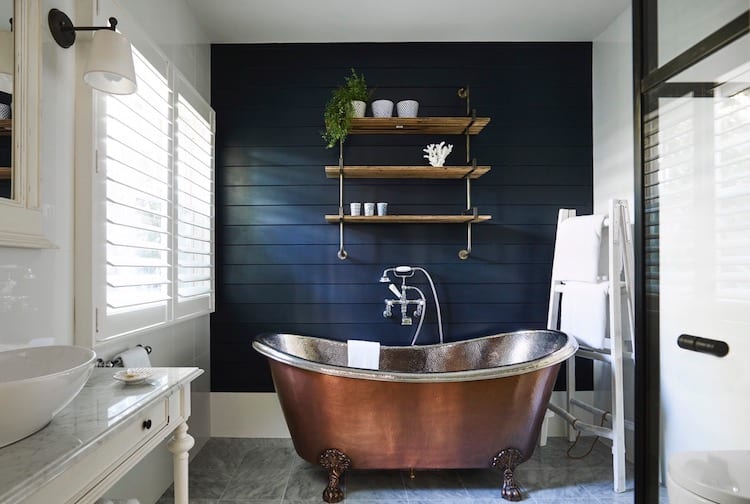 On the drive home we stop for lunch at the newly opened Saddles restaurant in Mount White. This restaurant is well worth a stop in if you're driving anywhere near it – the equestrian-inspired design (saddles made into stools, anyone?), seasonal, local produce and pretty billabong-view was a highlight. Our long lunch stretches into dinner time before we reluctantly hit the highway and cruise back into reality.  Even harder to part with was our newly adopted car. Now if we could just keep that long weekend feeling a little longer…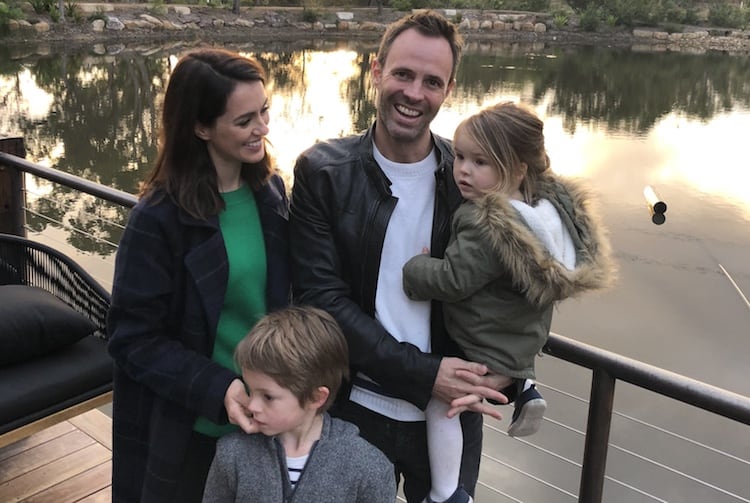 A FAMILY MOMENT AT SADDLES RESTAURANT, MOUNT WHITE
Story by Sigourney Cantelo. Imagery by Sigourney Cantelo and Bells at Killcare.