Damien and I have a few days off from the kids and a lot of cities to visit – three in four days, to be exact. Madrid is sandwiched between Milan and Dusseldorf in our itinerary and although it's a flying visit I'm excited – I've heard great things about this city. After the autumnal chill of Milan, stepping off the plane is a welcome relief - we peel off our heavy coats and open the Uber app to book a car from the airport. Let's do this….
4:30PM
Gran Hotel Inglés appears almost unexpectedly at the side window of our cab. We are squeezing down a narrow cobbled street in Las Letras – Madrid's literary quarter – and the building emerges, silent and sturdy in grey concrete with a polite terraced façade. It's new and old at the same time. Grand but somehow understated.
Inside tells a completely different story – it's warm and cosy, like a whiskey bar in the rain. The bar "LobByto" greets you immediately with dim lighting and ancient Greek tomes lining the wall. The pretty Spanish receptionist checks us in swiftly and sweetly, and sends us to our room care of an equally easy-on-the-eye Italian porter.
4:45PM
As soon as our porter closes the door I take a video of the room (before we mess it up) and run a bath, perusing the mini bar and setting up the mini Bose speaker (seriously the best investment, we take it everywhere). The bath is deep and perfectly poised by a window and Juliet balcony overlooking the quaint street below. I lather and slather the gorgeous L'Occitane Verbena amenities and sip on an aloe water to rehydrate from the flight.
5:15PM
I throw on a white tee, my leopard Par Réalisation skirt and a black turtleneck – enjoying the idea of not taking a big coat with me. Realising that I don't have an appropriate heel I settle on my Gucci Princetown slippers – not ideal but comfy on the cobbelstones nonetheless. I take my time applying a smoky eye using Chanel Légèrété et Expérience palette, some Diorshow Mascara, and a strip lash, because since my lash extensions fell out recently I've been feeling very bereft – and when there are no children to tend to doing my makeup is a glorious indulgence.
6:00PM
We hit the streets and wander through the Old town and up to CentroCentro building to the rooftop bar. It's pretty chilly up there but we wrap up in the blankets provided, have a glass of wine and FaceTime the kids who are staying with our wonderful friends in Dublin. You can see out over Madrid and it's the perfect first taste of Madrid. It would be fabulous at sunset but we're a little late.
IMAGE: INSTAGRAM @VARUNKTRAVEL
7:30PM
The walk to dinner is longer than Damien remembered and I'm getting hangry. The crisps we had with our wine barely touched the sides and I'm getting anxious as the restaurant we're going to try StreetXO (pronounced "Street Zo") has a notoriously long wait. We finally arrive at El Corte Inglés – an upscale department store and take a glass-fronted elevator past some stylish looking floors to the top. Sure enough, there's a long queue already snaking outside the restaurant. It's being patrolled by a surly looking security guard who nods us to the end curtly.
IMAGE: INSTAGRAM @CARCISNEROS
7:50PM
It's only been twenty minutes and I'm ready to leave. Damien is calmly dealing with work emails on his phone as I jump from foot to foot anxiously. Why don't they have a number system so one can go and get a drink at least? I'm even too agitated to go on Instagram. I just stare at the front of the queue as the minutes tick on.
IMAGE: INSTAGRAM @TINCHOLUKESCH
8:55PM
Still waiting. So hungry… So thirsty. This had better be bloody good. No one else seems bothered. They look almost happy to be waiting in line. What kind of craziness is this? I can't remember. Is this what life is like without children? Frivolous time wasting? Humouring ridiculous establishments with their draconian rules of entry?
IMAGE: INSTAGRAM @MUGGLE.PERSON
9:07PM
The people in front of us just got a drink from the bar next door. I duck under the barrier and am ordering a Mezcal cocktail faster than you can say, "Hello bartender!" It's my lucky night, my mixologist is clearly very accomplished and treats me to an awe-inspiring show of glass throwing and ice crushing. The result is incredible: a mezcal, chipotle and mango combination that is so good I suddenly forget how hungry I am. Lucky as we are next in line.
IMAGE: INSTAGRAM @ANTONIO_GARRIDO_DURAN
9:12PM
Finally – the stern maître d' (dressed in the standard issue StreetXO staff garb: a bondage-inspired chef's apron) ushers us into a tightly-packed room and seats us at the bar. The room is all red formica and mirrors with street-fighteresque décor and the sound of people sucking their chopsticks and murmuring in appreciation. Chef David Munoz is three Michelin-starred and this Asian tapas bar is his entry level offering. It's packed out every night, and as I discover, for very good reason. The Korean lasagna is next level and the steamed Bao club sandwich is totally excellent.
11:29PM
I'm so full but I see a noodle dish go by and decide we have to try it. Somehow we squeeze a fifth dish in and waddle out of the restaurant in a flavour-induced stupor. I'm a few rosés down, too. Hey, when in Madrid. The cab right back to the hotel is swift and hilarious. We hit the pillow pretty quickly as Damo has early meetings.
9:15AM
"Was that a SLEEP IN?" I wonder langorously. Stretched out in the most delicious bed – crisp yet silky 500 count Egyptian cotton sheets and a cloud-like topper. I barely know myself. I roll over and doze for another delicious half an hour.
9:45AM
I wander down to breakfast at Lobo 8 and am struck by the impressive offering. After barely containing my excitement at the buffet (the jamon and cheese alone would have been sufficient) I spot Laurent Perrier on the menu. I pair my breakfast bubbles with a truffled eggs benedict followed by a dessert of churros. Hey, when in Madrid…
10:45AM
I step into the spa a little early for my massage. It's dim but cosy with just a couple of treatment rooms and a beautiful spa. My therapist Cristina asks me to choose an oil from an arrangement of the elegant French brand Anne Semonin before her. I select the nourishing oil as I'm always drawn to lavender, and lie down to a superbly relaxing massage. I want to cry when it's over but there's no time, I have to throw my clothes on and race upstairs where the Uber is waiting to ferry us back to the airport. Hardly an immersion into Spanish culture but I've managed some food and beauty fabulousness in the most incredible hotel, so I'm certainly not going to complain. I know that Madrid is somewhere I definitely want to return to – as soon as humanly possible.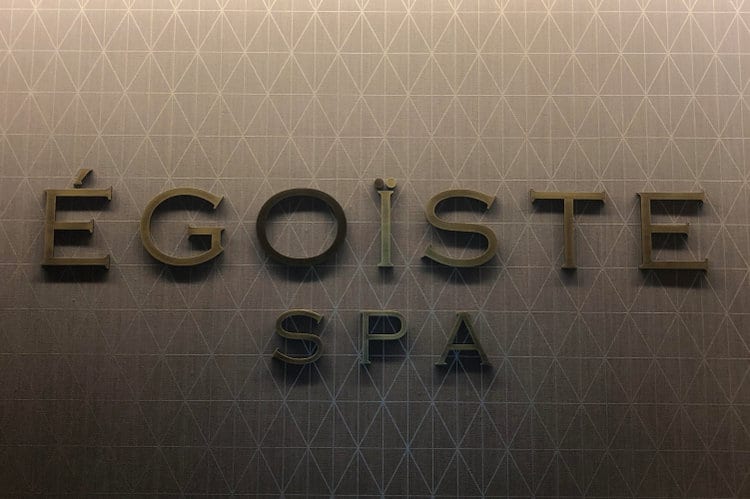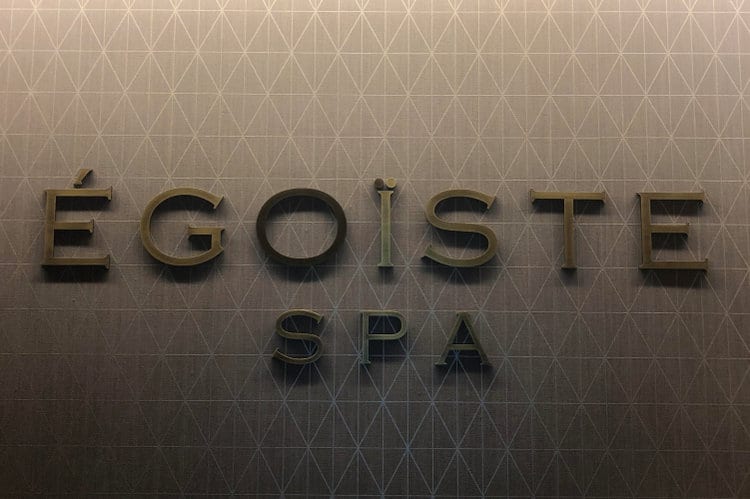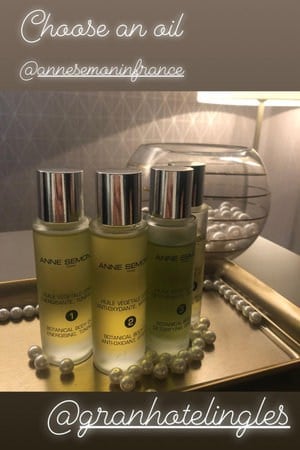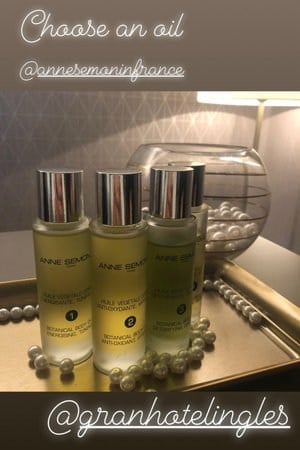 Story by Sigourney Cantelo. Photography by Sigourney and Damien Cantelo, and Gran Hotel Inglés.