With my husband Damien's 40th birthday looming, I started scouting around for a holiday house – somewhere close to Sydney that we could invite our friends to and host a beautiful long lunch. It was serendipity when I stumbled across Soul of Gerringong.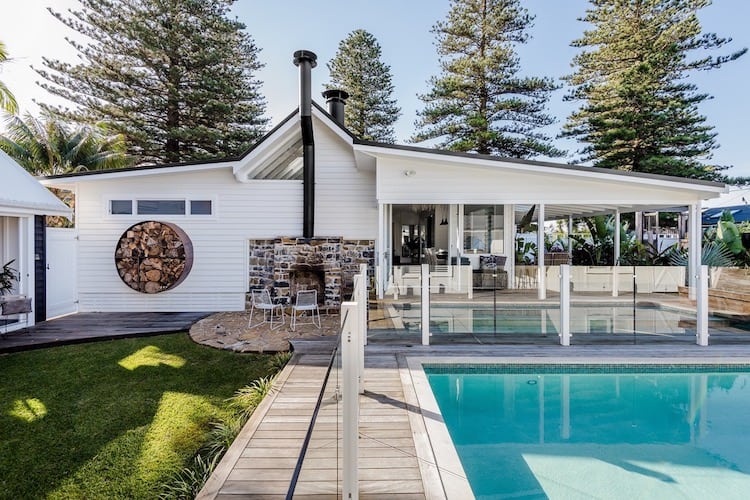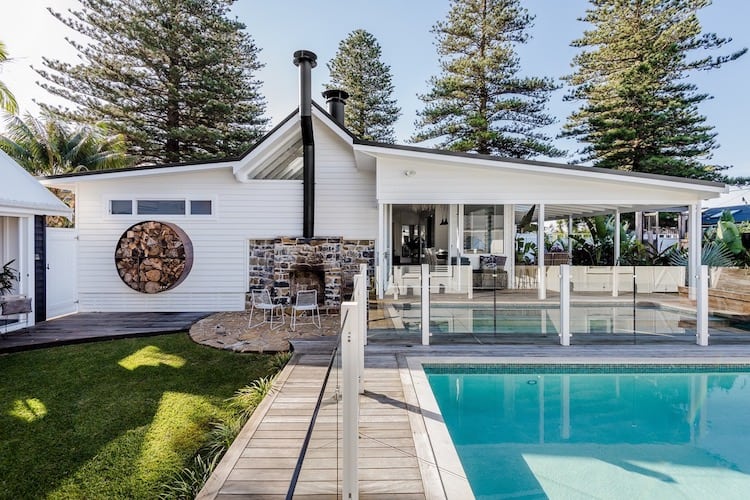 Damien and I were married in Gerringong over ten years ago so the picturesque South Coast locale has many happy memories for us. And this house is next level – think luxe coastal come Scandi-inspired interiors with not a design detail out of place. And with seven bedrooms each with their own ensuite, it's literally perfect for hosting events. I couldn't wait to plan a birthday extravaganza.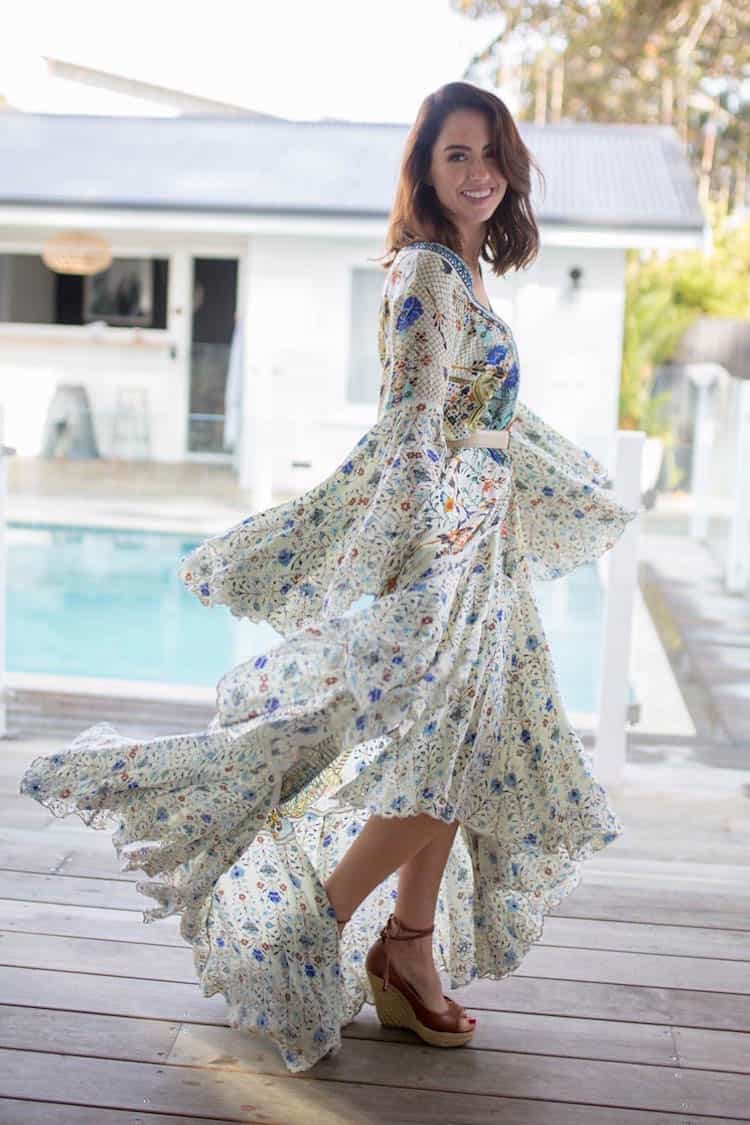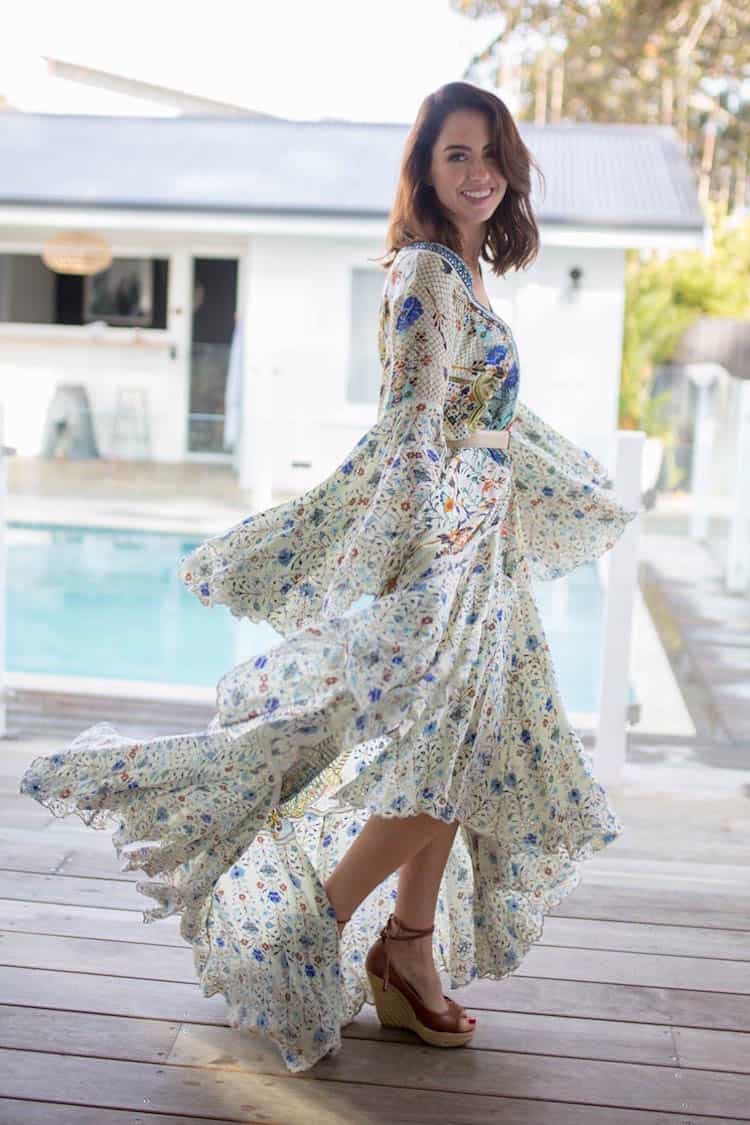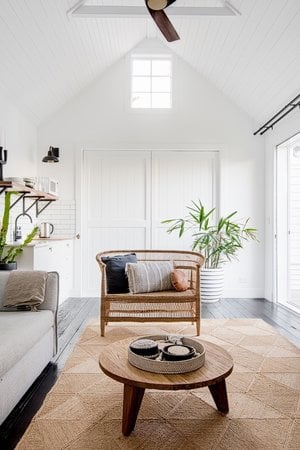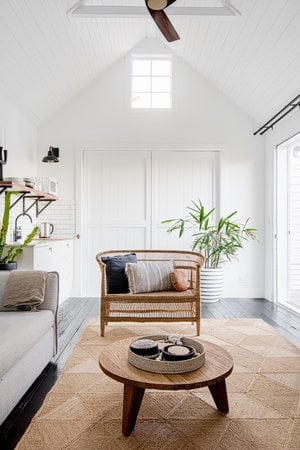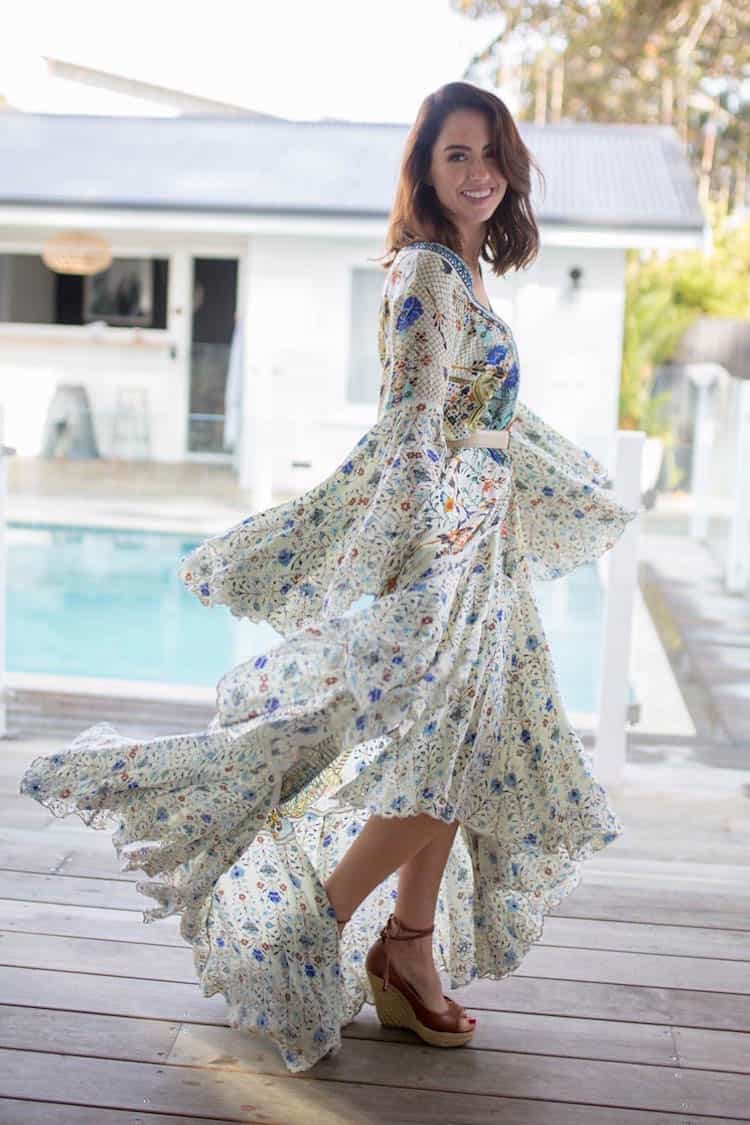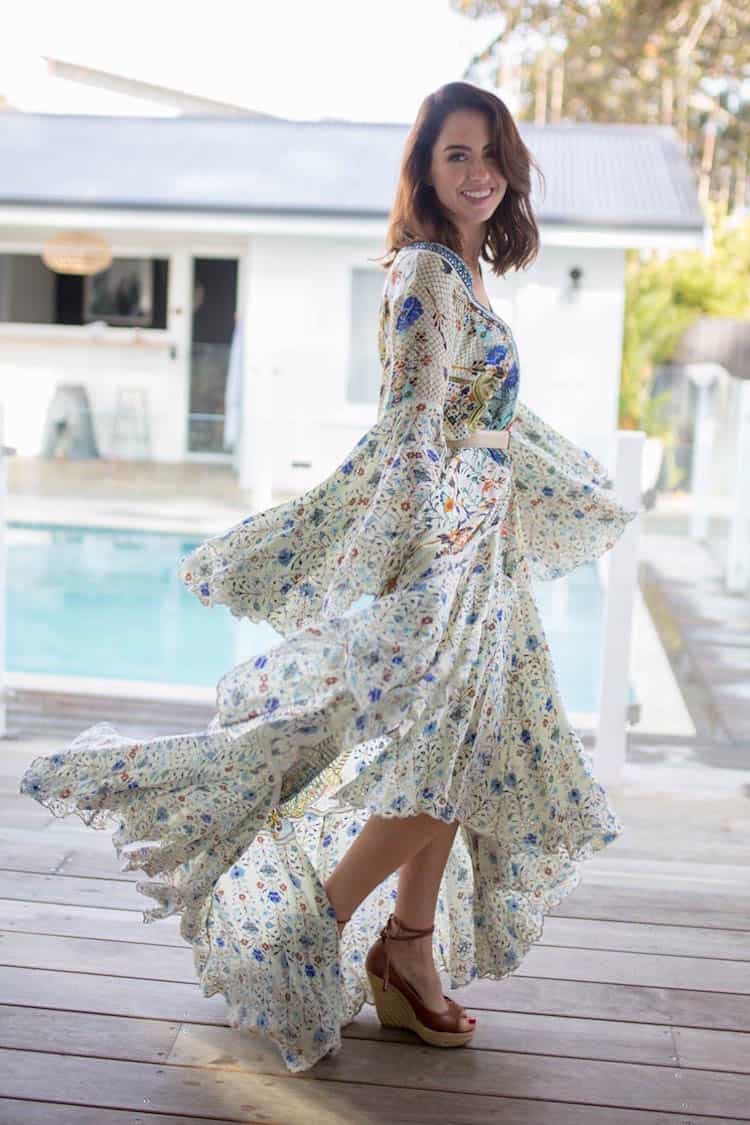 The theme for the party literally landed in my lap. I was speaking to Kate, who runs South Coast Experiences – a company that puts on memorable events in the area and works closely with Soul. We were brainstorming ideas and she said that they sometimes create a Bohemian Beach picnic, but given the time of year and the changeable forecast, they could decorate the house and the backyard instead.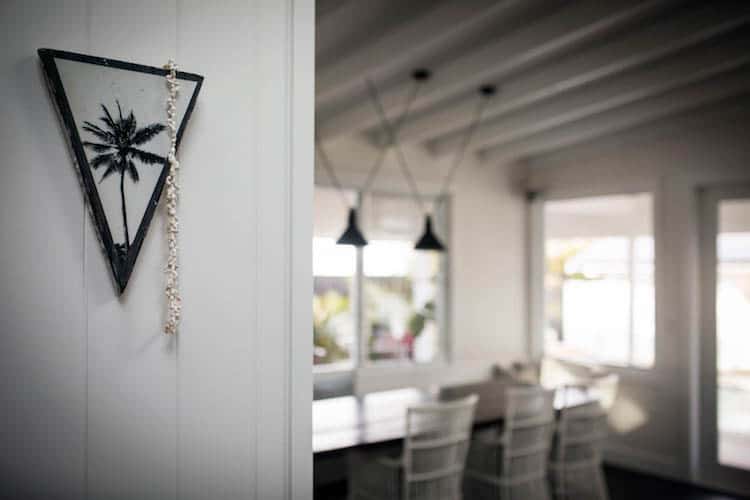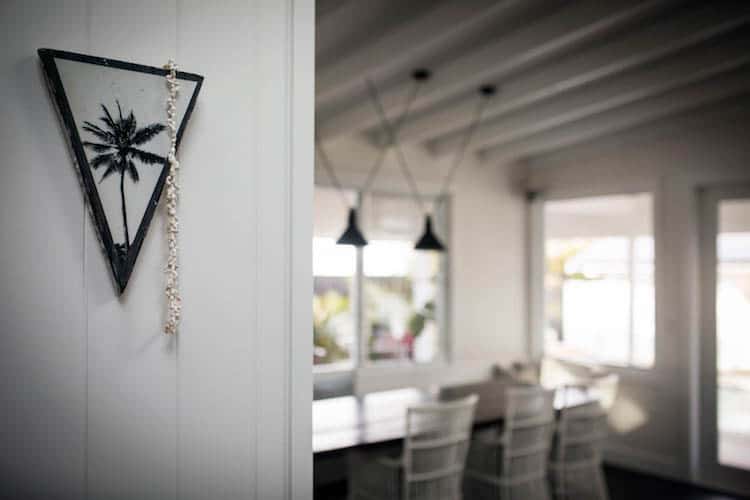 Then my girlfriend Colette, who is the PR Specialist at Camilla, offered to style us in the perfect Bohemian attire – luxe jewelled coats and caftans, wide-legged pants and flowing dresses – and so the Beach Bohemia theme was decided. Kate organised a delicious Moroccan-themed catered lunch through Dandelion & Mallow, I booked local photographer Peter Izzard to document it all, and the date was set!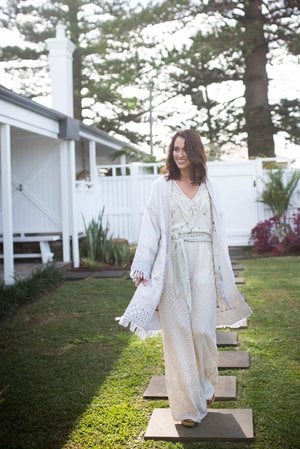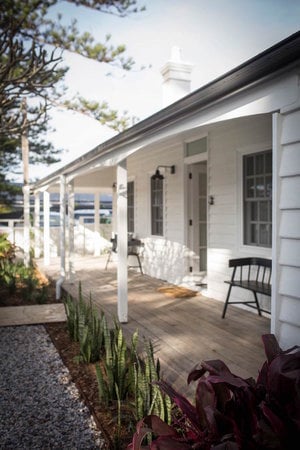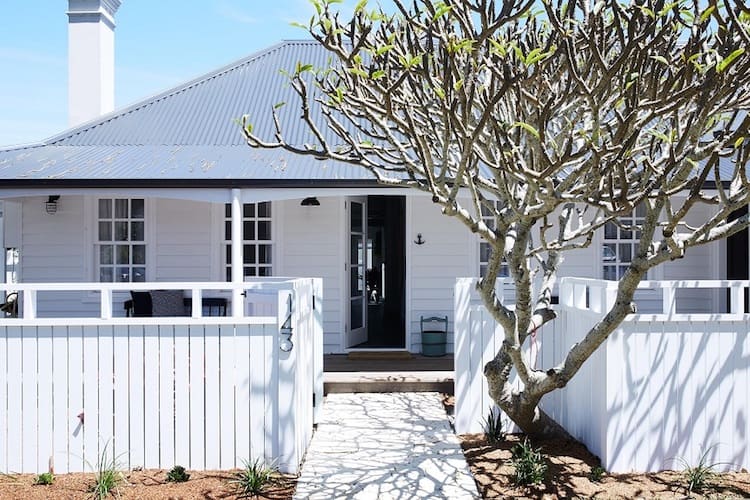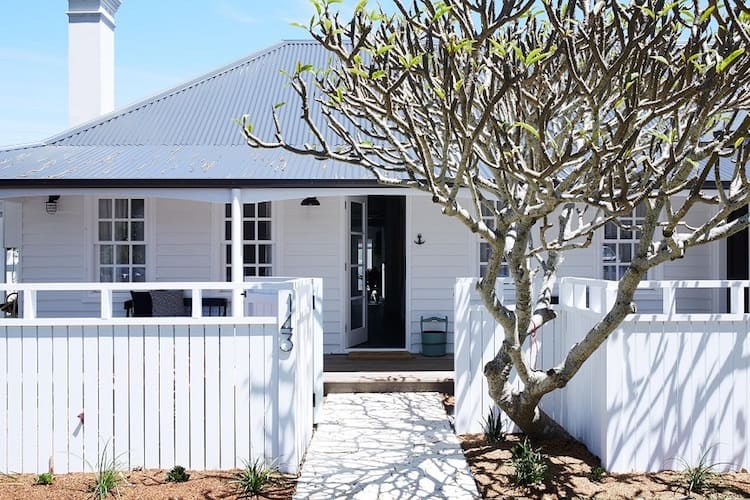 As we drive up to a simple white house there's little suggestion of the epic coastal chicness that lies within. As you step inside the lofty living space there's an instant feeling of space and calm from the fresh white walls, a vaulted ceiling, and enormous wood fireplace all framed by windows that look out onto the swimming pool, outdoor fireplace and additional living spaces. The barn and the cabana are each designed with their own individual flavour.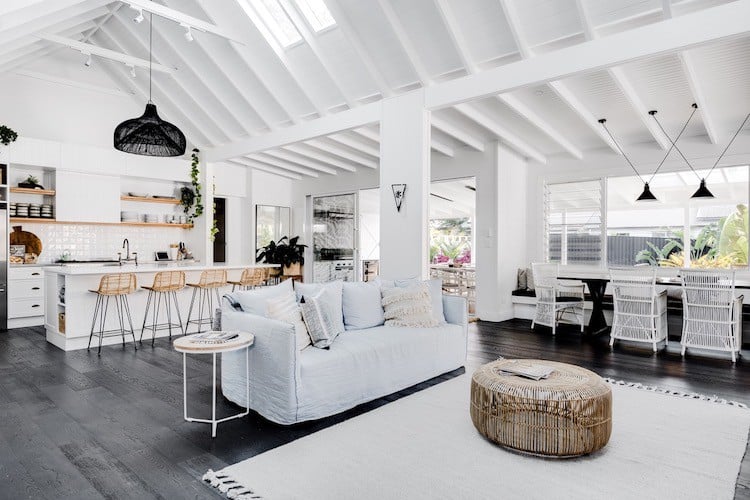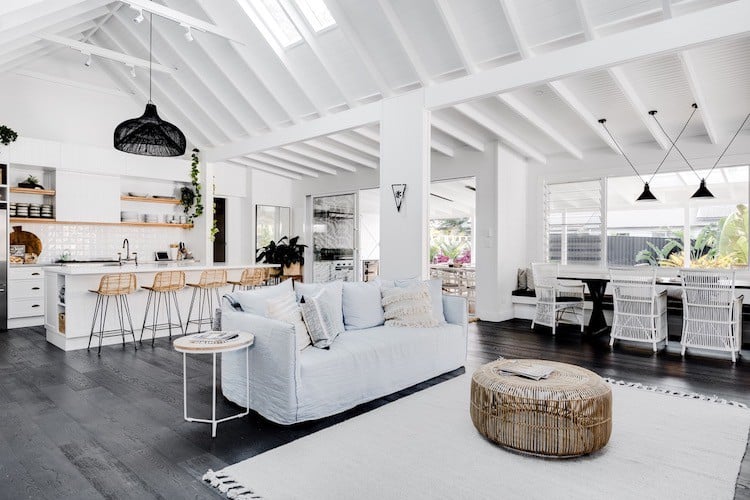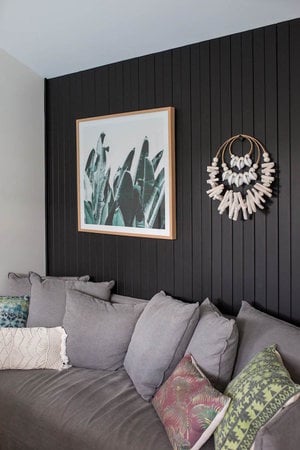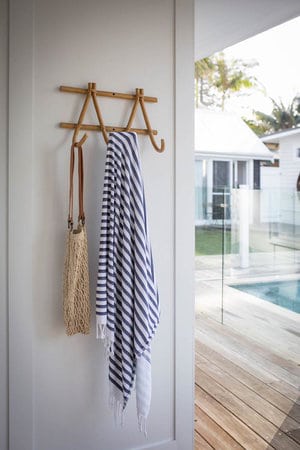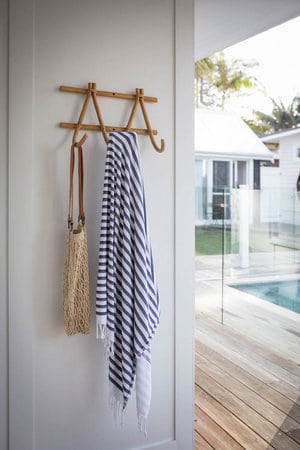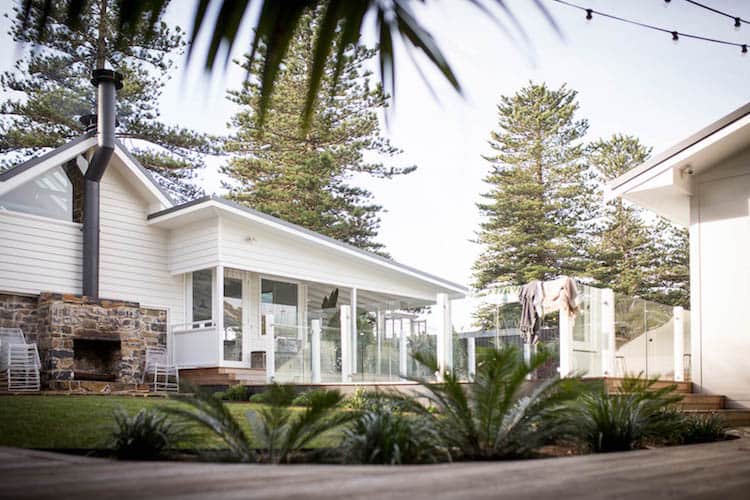 Throughout the house, coastal interiors are anchored with vast linen swathed couches, beds and Malawi chairs covered in textural cushions. On the kitchen counter is a DIY pop up bar that South Coast Experiences have created for us so we can mix their bespoke cocktail, A South Coast Sunset – vodka, lime juice, ginger, blood orange, maple syrup and club soda in salt-rimmed glasses.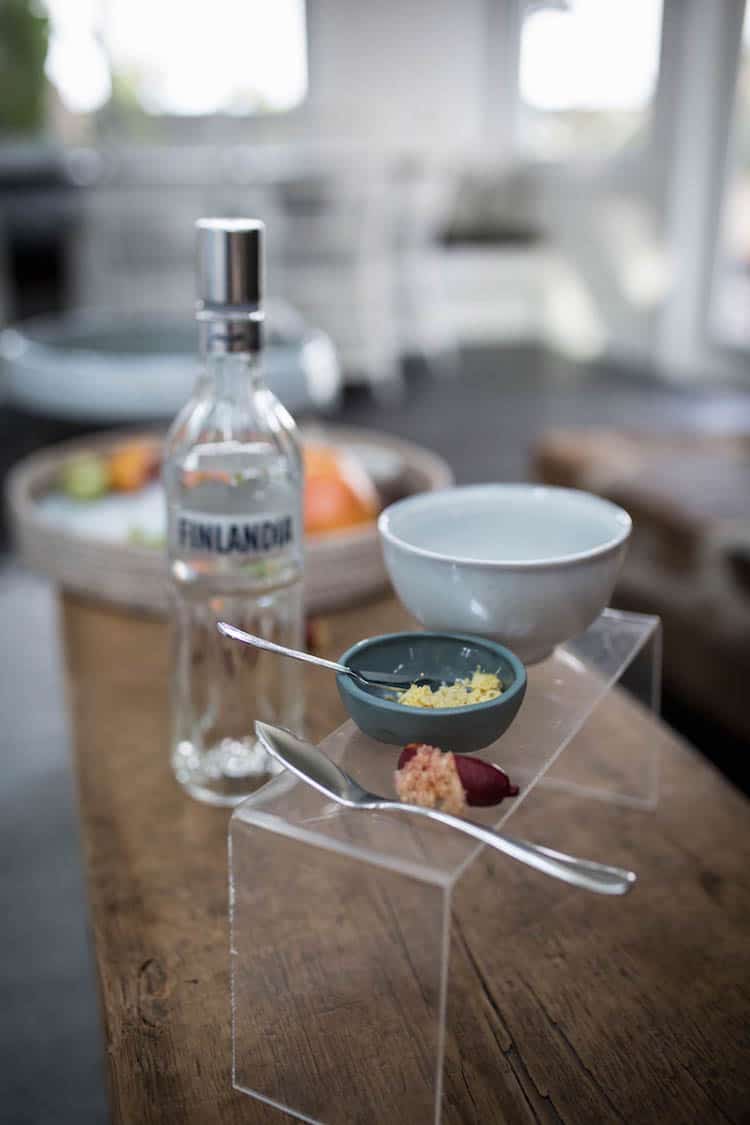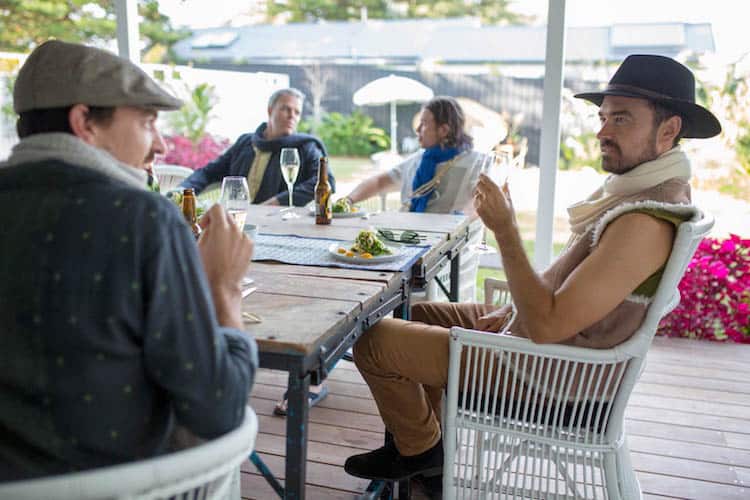 That evening we fire up the barbecue and cook a feast of fillet steak with truffle mustard, rosemary roast potatoes, grilled asparagus and a simple rocket salad before I retire to my room for some beauty sleep – oh okay, and to try out the deliciously deep cement bath and Turkish towels.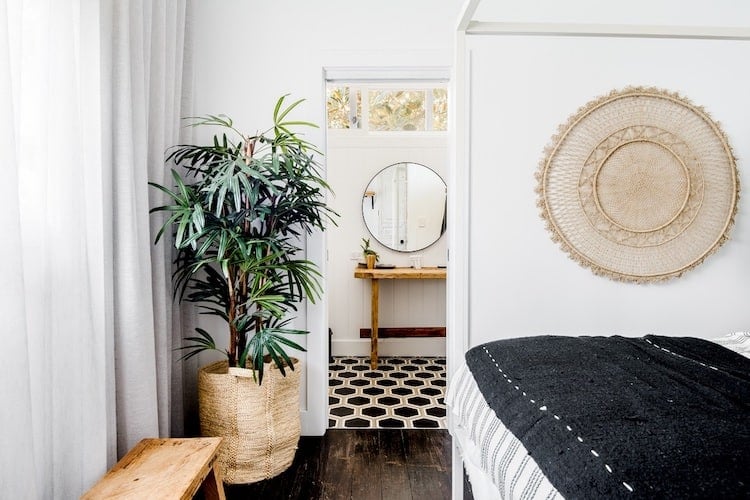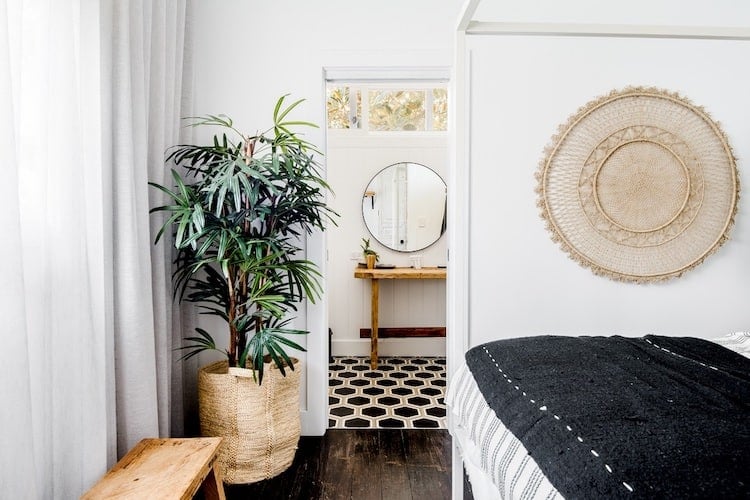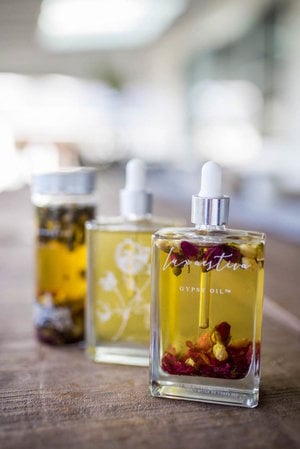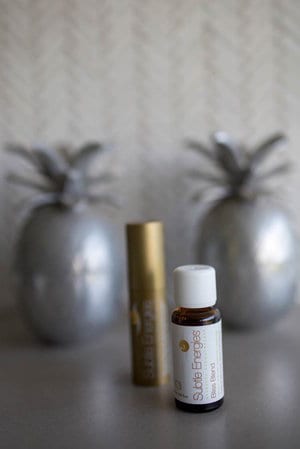 I've also brought with me a swag of bohemian inspired beauty products to really round out our theme. A few drops of Lux Aestiva Babushka Bath Oil followed by a generous misting of Subtle Energies Aura Space Clearing Mist and I'm feeling thoroughly relaxed. I make a cuppa (there are tea and coffee stations and fridges in every room) before snuggling into my king-sized Cultiver-linen covered bed and slipping off to dreamland.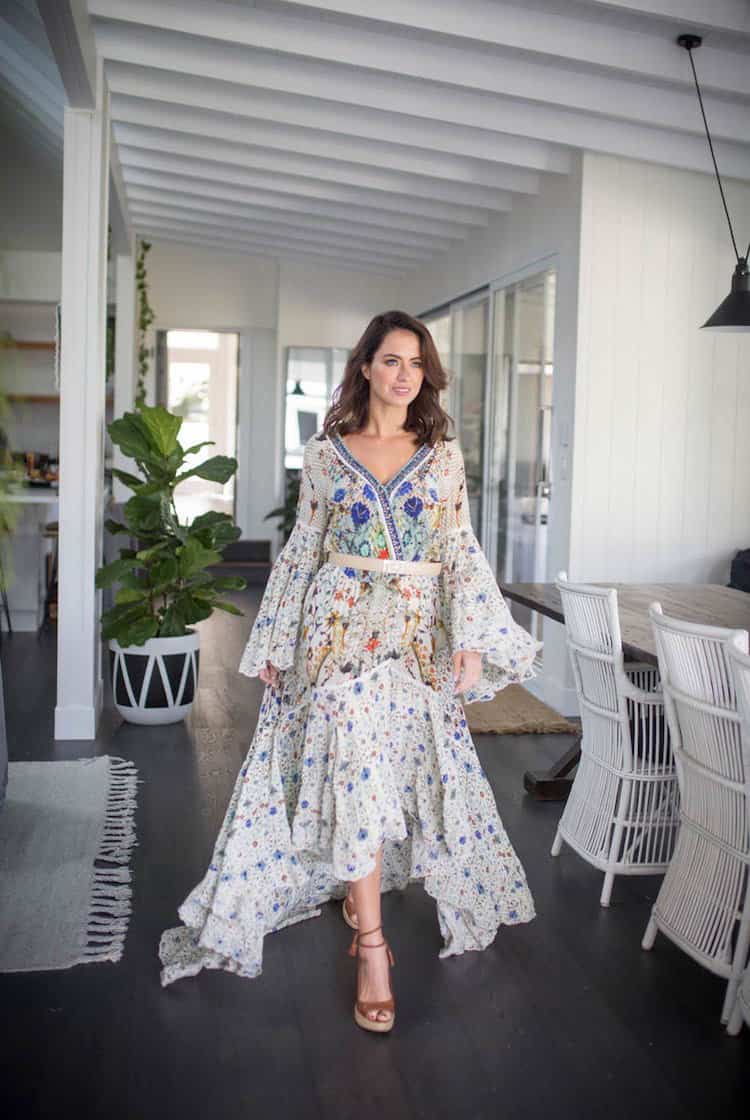 Kate is at the house the next morning styling up a storm – she's sourced a stunning peacock chair from The Rambling Rosebar, a Wandering Folk rug from Meet Mabel and more cushions and bohemia from Searching for Sage. Everyone emerges from their room in a technicolour feast of fabulousness and we assemble around the pool for cocktails and champagne.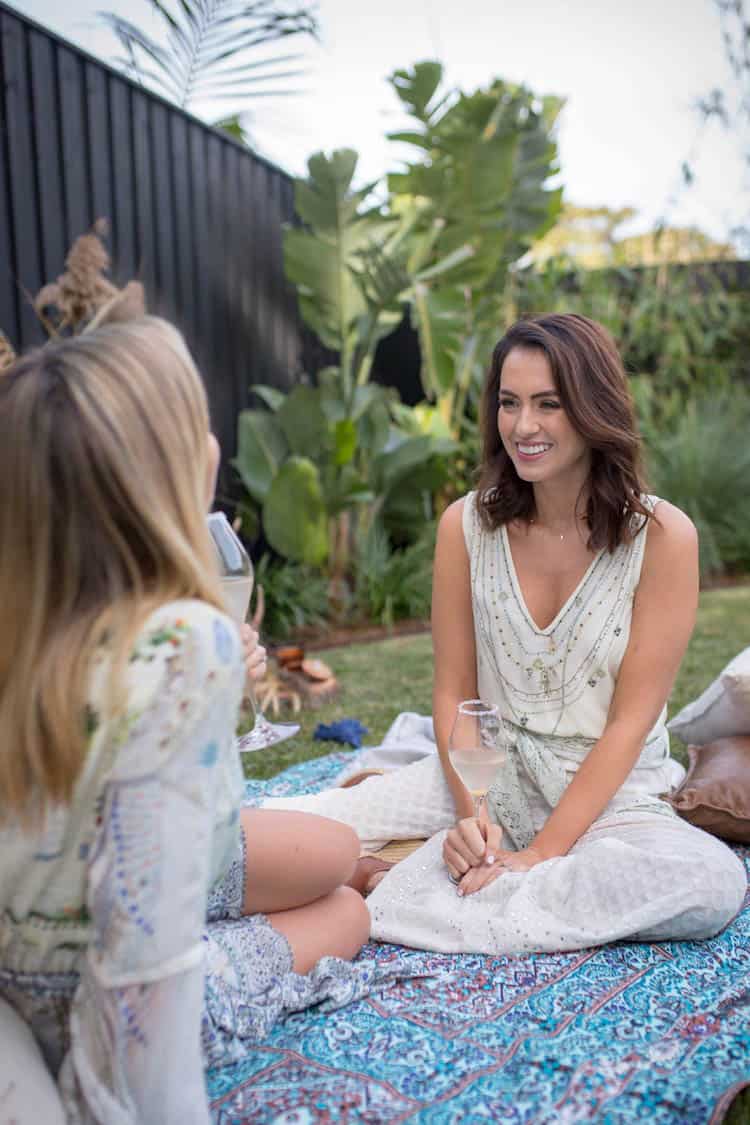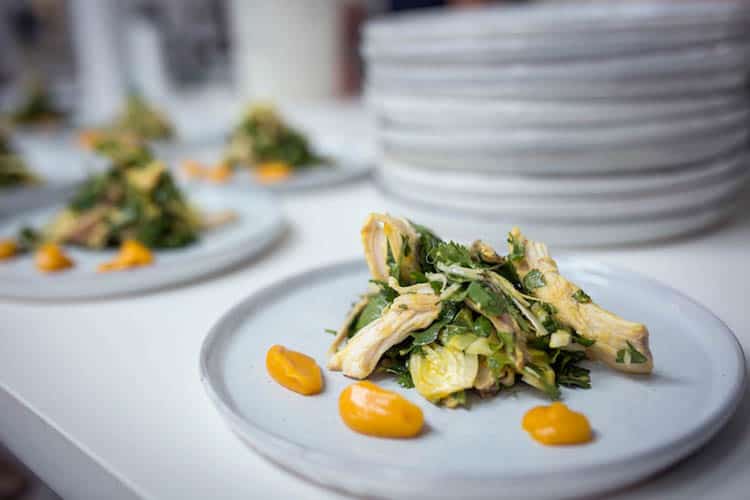 We take our seats for an entrée of warm chicken salad and Damien pours some special bottles of red we've been cellaring to go with the slow cooked Baharat lamb shoulder. There are rosemary potato discs and sweet potato fries with labne – with all of Damo's blokey mates in attendance, I've leant towards a more meat and carb-heavy menu, yet nothing feels stodgy. It's all super fresh, local and seasonal and oh-so-satisfying.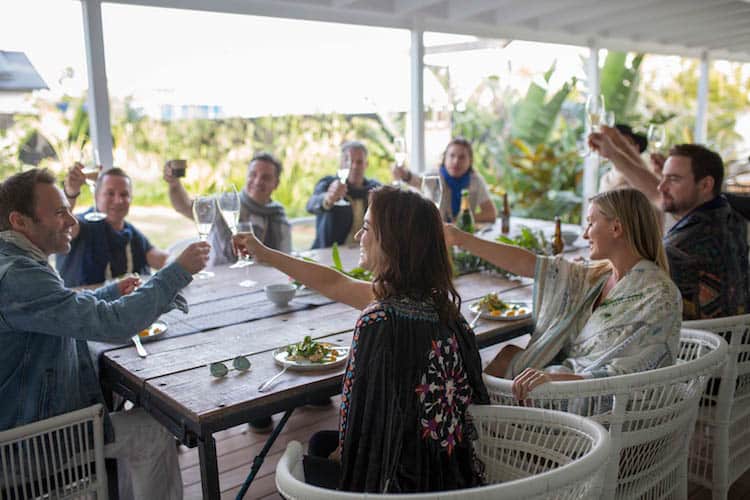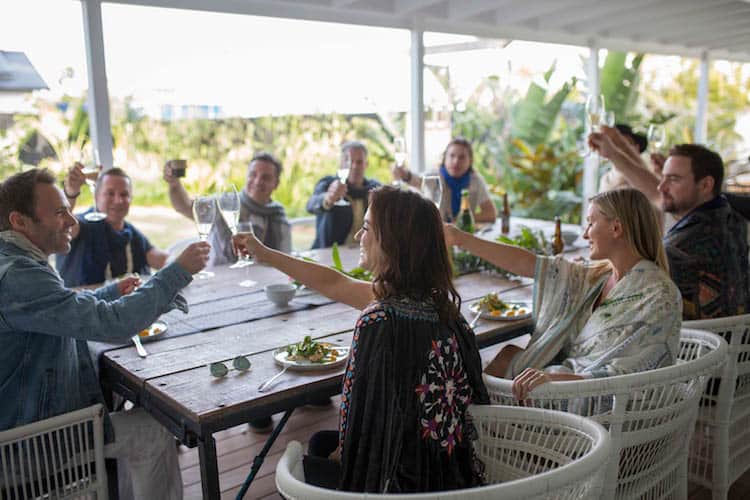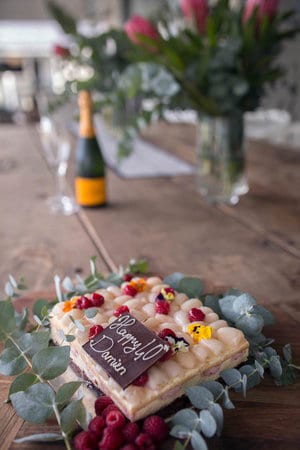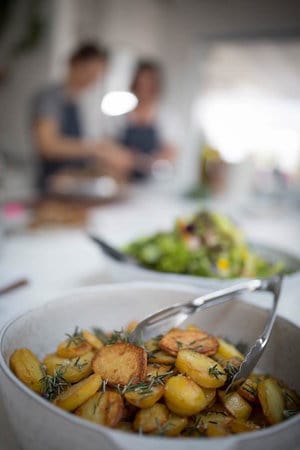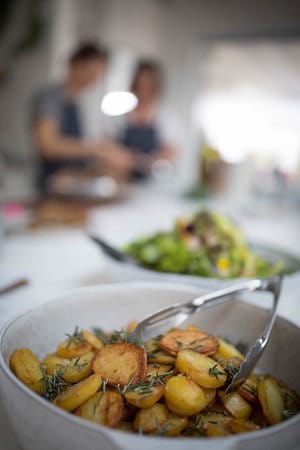 Dessert is a Lychee Raspberry cake from Black Star Pastry and more champagne, and the party continues just like any good party should with plenty of dancing, singing and drinking. It's particularly beautiful sitting outside around the outdoor fire as the sun sets, and later as the winter chill rolls in we retreat to the indoor fireplace, stoking it as the night descends.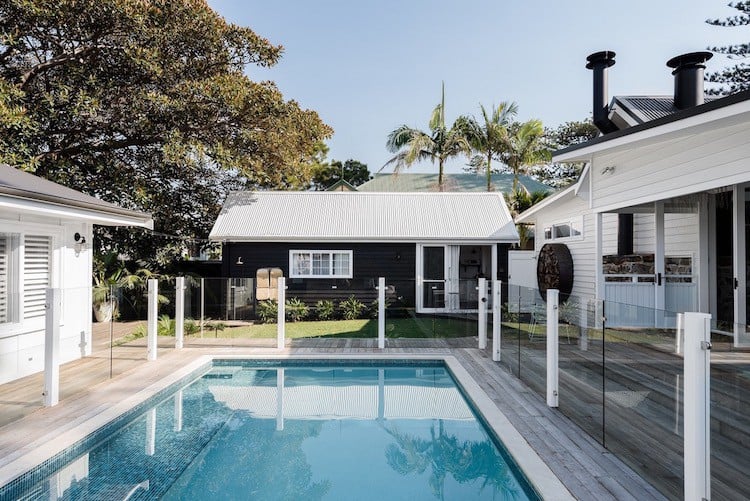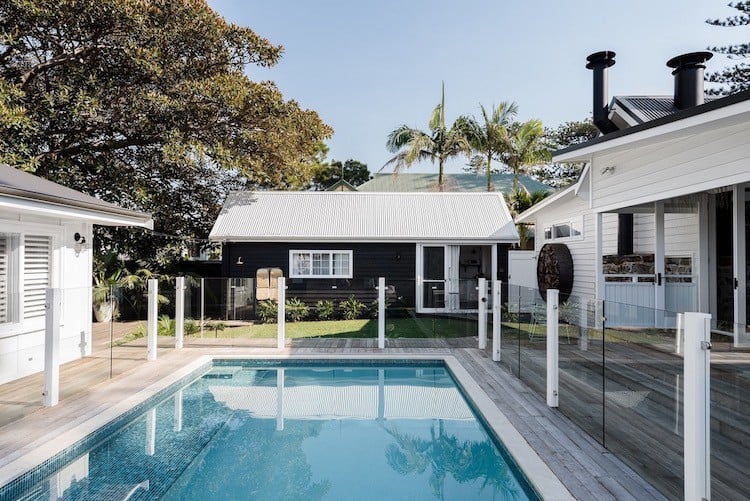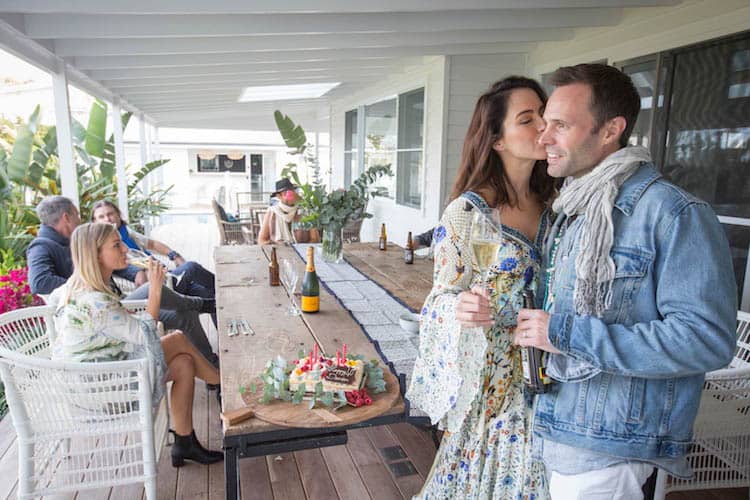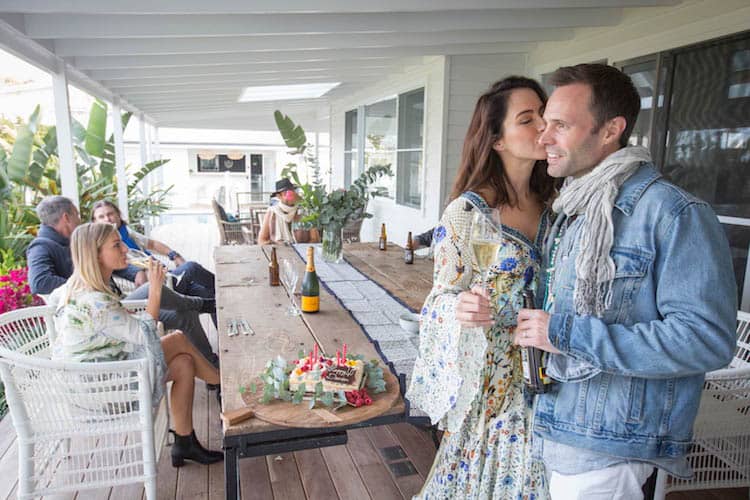 Soul of Gerringong is the ideal place to get away for a weekend or for a special event. It would be as spectacular for weddings as it would be for a family holiday, and the attention to detail in the design is what really sets it apart. If you haven't explored Gerringong, this is the perfect place to do it from as the beach and town are both only a short stroll away. Check it out at their official website or on Instagram.