Tucked away inside one of Sydney's most well-positioned high rise hotels, Chi, The Spa at Shangri La Hotel, Sydney offers a decadent and exotic escape from the urban jungle. Fusing Asian design principles with ambient lighting and high end, all-natural range Sodashi skincare, the spa takes on an other-worldly feel, while being conveniently located in the heart of the CBD.
Stepping inside the dimly-lit space I'm instantly transported to a spa retreat in Bangkok or Hong Kong. A large marble slab displaying stunningly-scented Lumira candles and Sodashi products invites a moment of calm discovery, while exotic motifs and bronze bells adorn the walls and surfaces. I'm led to a little relaxation nook around the corner to fill out my treatment card.
The spa, which has been open since 2010, is one of the few in the city to offer treatments seven days a week until 9pm. And, as I discover when I'm led through for my treatment, the rooms are humongous. There's a vast dressing room with a toilet and shower, where I change into my disposable underwear. I clock a comb and hair elastic (clever) as well as the standard robe and jewellery plate arrangement. Once robed up, I step through into the room and take in the deep infinity-edge bath and expansive space.
Since I'm 24 weeks pregnant and I have trouble lying on my back for long periods I've opted for a pregnancy massage instead of a facial, but the spa has recently added Sodashi's incredible Samadara Ultimate Age-Defying Facial to their treatment menu. The indulgent 1 hour, 45 minute bliss out is pretty special (I have tried it before) and includes a Rose Quartz crystal massage and gorgeous chakra experience.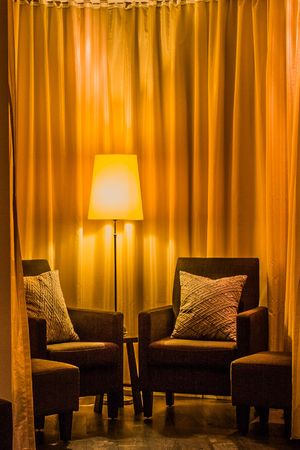 GENTLE LIGHTING ADDS TO THE AMBIENCE
T2 TEAS AND LUMIRA CANDLES MAKE GORGEOUS GIFTS
Today, however, I couldn't be happier to be having a massage – I'm starting to get all the wonderful aches associated with growing and carrying a tiny person, so practically dive onto the treatment bed with excitement. My therapist, Kristina arranges me carefully on my side with various pillows supporting the bump and proceeds to knead her way around each limb with long, luxurious strokes. When the hour and a half is up, I levitate out of the spa and almost get lost going back to my room.
Damien and I are escaping the grind for a night and have checked in to the hotel for a mini date night. Our Horizon Club room (which has recently been renovated) doesn't disappoint. I spend most of our stay transfixed by the view that stretches out over the glittering Harbour past the Bridge and Opera House and all the way to Manly Heads. There's something so calming watching the ferries and sailboats plot their frothy break-water course across the Harbour. The busy ant-like humans below contrast with the calm feeling you get from being so high above it all. It's a strange, omniscient, Eagle-like experience and I like it.  I can barely tear myself away but our room grants us access into the exclusive Horizon Club lounge, which offers complimentary drinks and canapes between 5pm and 7pm, so Damien head down to admire the view from a different vantage point.
If you want an escapist experience in the middle of the city, then the Chi, The Spa is an excellent choice. I love that they also offer full use of the gym, jacuzzi, sauna, sun terrace (where you can order lunch) and spectacular indoor pool for spa guests who have booked treatments for over an hour.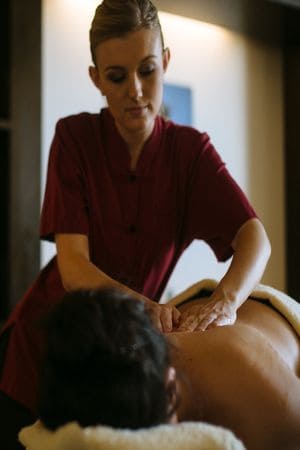 THE ULTIMATE TREAT AT CHI SPA IS A MASSAGE
Review by Sigourney Cantelo
CONTACT
Shangri La Hotel, Sydney
Level 2, 176 Cumberland Street,
The Rocks, NSW 2000
Ph: (02) 9250 6032
www.shangri-la.com/sydney
EXCLUSIVE OFFER
CHI, The Spa is offering readers 25% off selected 60 minute treatments, as part of their 'Friends of CHI' special. For bookings, call (02) 9250 6032 and simply quote 'Beauticate'. Exclusions apply, expires August 2016