For a seriously top shelf experience that will leave you glowing long after you leave, diarise a day at Crown Towers Spa. The opulent spa is the jewel of the five star hotel and is one of only three Australian resorts to offer luxe La Prairie treatments – facials and body treatments that showcase only the finest ingredients, from gold and diamonds to their most famous – caviar.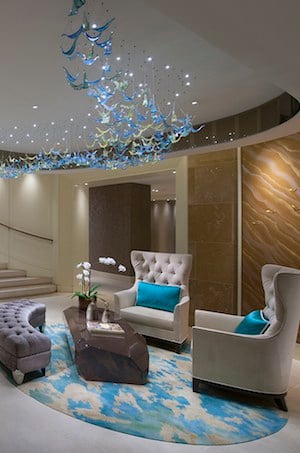 THE SPA USES DECADENT LA PRAIRIE SKINCARE
A few years ago the spa underwent a $10 million renovation – and it certainly shows. Once I've made my way to level three, there is a welcome change of pace. Stepping out of the lifts, I can spy an enormous indoor pool with daybeds and skylights through the glass windows. I continue my passage down a champagne-hued marbled corridor, lined with artwork and shimmering beaded pylons, my heels clicking through the vast, silent space.
Once inside the spa, it's all muted cream tones and sumptuous fabrications. A flock of glass blown butterflies flutter fantastically over the reception desk, and the walls are lined temptingly with gleaming La Prairie products.
I'm thrilled when I'm welcomed by my therapist is Sally – I've had facials with her a few times over the last ten years (she's been at the spa for fifteen!), and I know I'm in for a treat. She shows me through to the Indulgence room – a palatial private suite with a towering vaulted ceiling, two treatment beds, a private team room, Jacuzzi and Swiss shower. It's all gleaming marble and elegant teal and gold furnishings.
When guests book the room, they're given half an hour to wind down in their aqua playground, before the treatment starts. Sadly, given I'm pregnant, I'm not able to use either the steam room or the spa bath today, but I make a mental note to come back here with my husband post-baby. It would make a pretty special anniversary experience.
THE INDULGENCE SUITE BOASTS A PRIVATE JACUZZI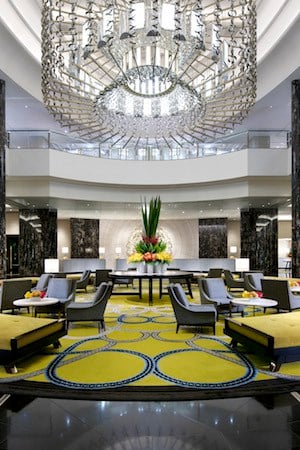 THE OPULENT RECEPTION AT THE CROWN TOWERS
Today I'm here to experience the La Prairie Caviar Body Treatment and Facial – a full body overhaul that goes for three exquisite hours. Over the next 90 minutes Sally smears, strokes and lulls me into an exceptional level of relaxation. Then we break so I can shower off the scrub. The Swiss Shower is – as Sally describes – much like a carwash, with jets pointed at different points all over my body. Let's just say I'm not sure I can go back to my sad single faucet experience after that.
After another 90 minutes of blisss involving more unctuous scrubs and caviar-spiked potions, I reluctantly dismount the treatment bed and don a super soft dressing gown to swan around the spa for a while. I'm shown through to the Aqua Retreat – there's a stunning mosaic-covered hamaam, an "experience shower" which looks a lot like my Swiss Shower and a Vitality Pool – which is huge spa bath, where you can congregate and bliss out in the semi darkness.
Sally tells me that it's a great option for hen's parties and mother/daughter treats as you can really stay the day, use the pool and even take a light lunch in the stunningly decorated relaxation area. There's also complimentary valet parking for all treatments over one hour. I'm lucky enough to be staying at the Crown Towers tonight and we're booked in for dinner at No 8 by John Lawson in the complex, so I decide to have a wash and blowdry at the basin, so I can keep all the La Prairie deliciousness on my skin. As I dress for dinner I notice an elegant champagne shimmer on my skin – the Caviar Body Souffle has tiny particles in it. My skin looks so fresh and juiced-up I can skip the foundation all together.
A day at the Crown Towers Spa (especially combined with a stay at the hotel) is the last word in luxury and just the ticket if you feel like a long, indulgent episode of pampering.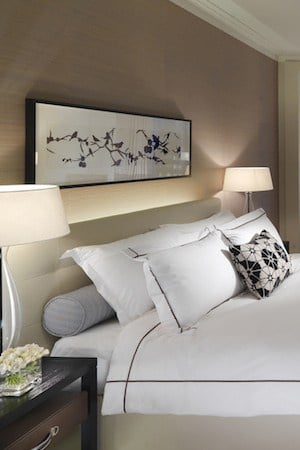 THE DELUXE ROOMS FEATURE CRISP KING SIZE BEDS