With its pristine blue and white palette and breathtaking art and decor, it's no surprise the Crown Spa Perth has just taken out the award for Best Resort Spa of the Year at the World Spa Wellness Awards. The jaw-dropping space - by lauded interior designer, Blainey North - was curated around a theme of light refracted underwater. Photographs of ocean scenes and shades of blue décor throughout are edged with crisp white borders that create a sense of calm order in the chaos of nature.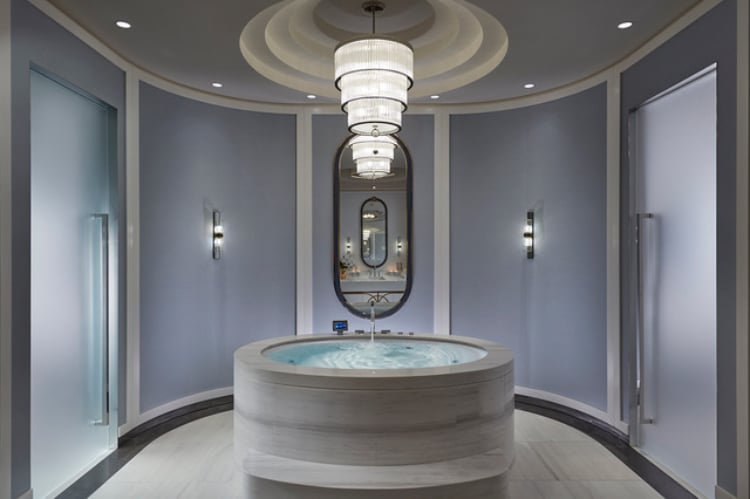 With Crown Spa Perth's reputation as one of the countries most luxurious beauty destinations, it seems perfectly fitting that today I should be experiencing only the most top shelf of treatments: La Prairie's White Caviar Illuminating Facial. I've always been an avid LP fan. The Swiss skincare line employs extravagant ingredients in fragrant and sumptuous formulations, so I know this is going to be special.
After the light and grandeur of the hotel, stepping into the reception of the spa I'm immediately soothed. Behind the front desk, an enormous lacquered image of an agate stone beckons you into an ethereal realm. There are no windows but it doesn't feel at all stuffy. The clever use of white, light and gleaming marble, and silver finishes draws the eye around the space hypnotically. Similarly mesmerising, circular motifs – on glittering chandeliers, furniture, rugs and Roman hot tubs – are repeated throughout the treatment rooms and in the men's and women's Aqua retreats, as a reference to the spherical vestibules in traditional Roman bathhouses.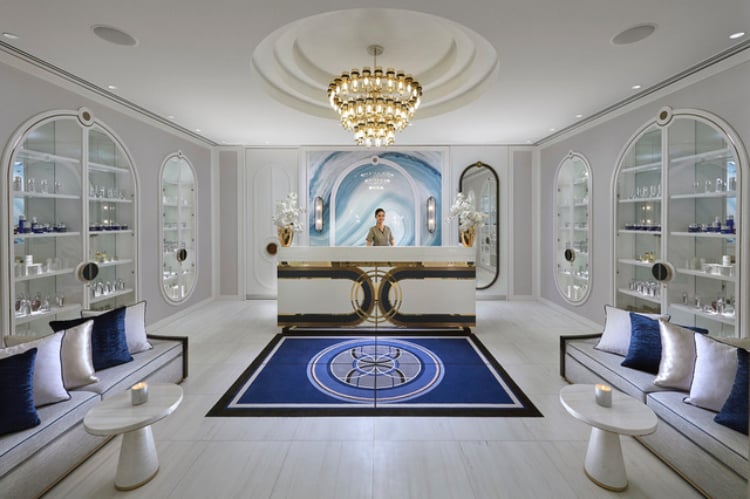 After filling out my form over a cup of herbal tea, my therapist Yvonne collects me and leads me through to the Couples' suite: an opulent yet serene space featuring twin beds and a majestic round tub. After I disrobe, she returns and tucks me into a fluffy white marshmallow of a bed. To begin Yvonne does a gentle hot towel massage around my shoulders and chest, and then rolls up the warm towel and feeds it under my neck, using it as a sling to lift and stretch the tension away.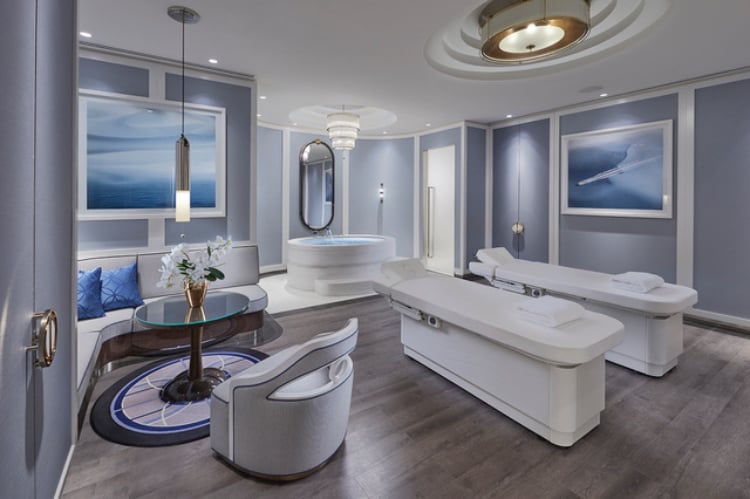 La Prairie has just launched two new cleansing products – a crystal Micellar water and the Supreme Balm Cleanser – and Yvonne tells me excitedly it's the first time she's used them in a treatment and can't wait to feel them on my skin. Happy to be of service, I submit to her rhythmic ministrations. The water smells fresh and glides beautifully to remove my foundation, while the balm melts to liquid silk on contact with skin, then transforms into a milk as she emulsifies it with a few drops of water. After the thorough double cleanse, she sweeps on Refining Lotion then pats on an eye cream.
Next up is the brand's famous 3-Minute Peel – a product that any beauty junkie worth their salt should try at least once. It tingles satisfyingly, proof that the contained AHAs are sloughing off weary skin cells and leaving a baby soft dermis ready for the onslaught of unctuous creams and balms to follow. And that they do – over the next hour my face is stroked, massaged and even gently pinched within an inch of its life. While the Swiss Cellular White Intensive Illuminating Mask is infusing, Yvonne moves diligently onto my hands, arms and shoulders. I feel myself undulating into some near sleep state as the month's tension slips out of my shoulders and puddles on the floor at our feet.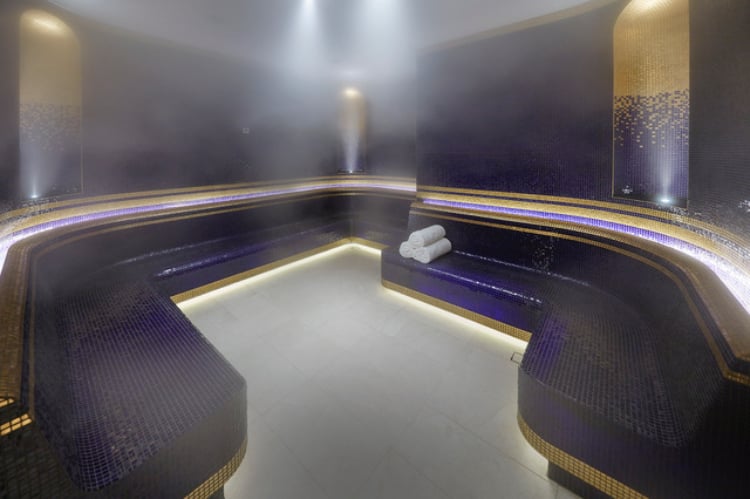 Only when Yvonne spritzes La Prairie Cellular Energizing Mist over me and the tiny grapefruit and verbena-scented droplets twinkle over my face am I roused from my reverie. Blinking in the low light of the treatment room, I feel like I'm emerging out of some kind of soft terry towelling-lined cocoon. The metamorphosis is complete. My skin feels juicier and more expensive than a kilo of Beluga caviar, and when I admire it in the spa bathroom, it gleams back at me smugly.
Now all there is to do is retire to one of the decadent daybeds by the pool and gaze out sleepily at the azure water and beyond that to the deeper blue of the Swan River. The luxury of time and a little planned idleness is the ultimate finish to what must be one of the country's most exquisite spa experiences.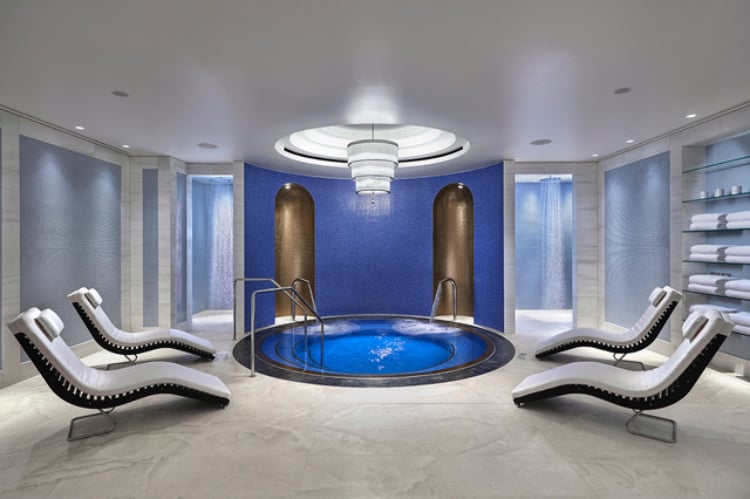 Story by Sigourney Cantelo.