The Spa at the Park Hyatt is located inside one of Sydney's most elite and luxurious properties. Boasting rock star views of the Harbour Bridge and Opera House, the stylish hotel on the edge of the harbour is often the first port of call for visiting VIPs and celebs who want a quintessentially "Sydney" experience. And the spa does not disappoint.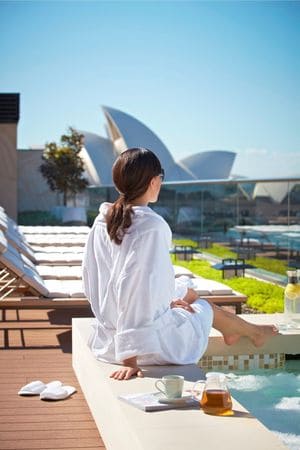 THE ROOFTOP POOL OFFERS EXCEPTIONAL VIEWS OF THE SYDNEY HARBOUR BRIDGE AND OPERA HOUSE
I have to admit I was pretty excited about reviewing this one. In 2012, the hotel and spa underwent a refurbishment that was rumoured to be worth $65 million. The investment is reflected in the tasteful renovation. The artworks and sculptures adorn the common areas and the restaurants, amenities and rooms are world class. But what I love most about the Park Hyatt is its sense of quiet luxury. Every detail, from the service to the décor, is about refinement and understatement.
It starts from the moment you drive in. Spa treatments are subject to complimentary valet parking for up to three hours (which is no mean feat in the centre of the city). I feel instant relief when a handsome bellboy opens my car door for me and another politely escorts me through to reception, who direct me to the spa.
Stepping inside the hotel I can detect a sophisticated perfume in the air, which I notice again when I step out on level 2. It's sort of woody, and leathery but fresh. I suspect it's vented through the aircon as there's no evidence of diffusers anywhere. It's this kind of attention to detail that is very welcome to an olfactory-obsessive like me.
The spa is tucked discretely around a corner on the same level as the rooms, so as you travel there, you get the sense that you are a hotel guest. Once inside the spa itself, it's all cream-on-beige-deliciousness. The calm colour palette continues into the treatment room, all temptingly touchable in natural textures like marble, flax, limestone and leather.
As I sip lemon myrtle tea, my therapist, Rama, tells me about the signature White Flannel treatment I'm supposed to have, when I suddenly remember to tell her that I'm pregnant. (note to self – tell receptionist at the time of booking next time!) Rama doesn't flinch. She disappears for a minute then comes back to offer an alternative – a pregnancy massage with a coconut scrub (the wrap in the White Flannel treatment isn't recommended for pregnancy). I can't think of anything better.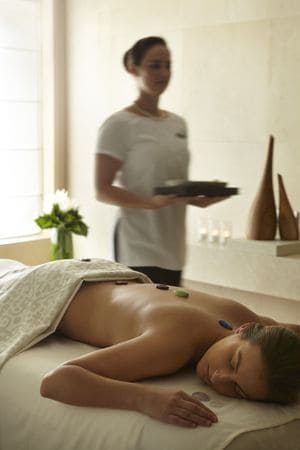 PAMPERED LIKE A HOTEL GUEST, THE SPA IS DISCRETELY TUCKED AWAY IN THE PARK HYATT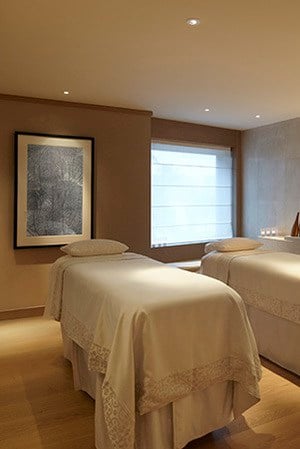 COSY PRE-HEATED TREATMENT BEDS AWAIT IN THE COUPLES ROOM
Rama leaves me to disrobe and note the covetable amenities – luxe Le Labo Bergamot 37 body wash, soap and lotion are displayed in the bathroom. I give them an appreciative smell. I lay down on the bed and note that it's been pre-warmed with an electric blanket. So far, so fabulous.
Over the next hour I'm scrubbed to a state of perfection. There are honestly few things as satisfying as being properly sloughed by someone else. In long, gentle strokes, Rama renovates all those areas I have conveniently forgotten about – behind my knees, between my toes and in the centre of my back. And the scrub, by Australian natural beauty brand Ikou smells sublime. There's no stinging salt – just lovely buff-worthy coconut husk and jasmine rice suspended in a deliciously hydrating body oil. Once we're finished she runs me a hot shower and disappears while I rinse it off, marvelling at my newborn-soft skin. I change into a second pair of paper knickers and slide between the fresh sheets on my treatment bed, ready to start another hour of luxury.
My pregnancy massage is utter perfection – Rama expertly kneads out my knotty shoulders and gently coaxes my back and glutes into submission. I want to cry when it's finished. After dressing myself in a near soporific state, I levitate out to the relaxation room and accept an organic berry tea and an oat cookie gratefully. I'm not at all surprised The Spa won best Day Spa, 2013 HM Awards. It's a top shelf experience in every way.
If you're a serious spa-lover then it might be worth considering the Spa Membership, which for $250 a year gives at 20% discounts on treatments, products and in the bar and restaurants, plus you're allowed access to the incredible rooftop spa for treatments over 90 minutes.
Review By Sigourney Cantelo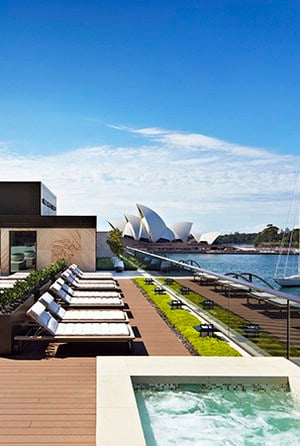 A SPA MEMBERSHIP GRANTS YOU ACCESS TO THE FAMOUS ROOFTOP POOL