Raw chocolate activist and author of Model Chocolate, Abigail O'Neill practices what she preaches. Not only does she eat copious amounts of chocolate, she also bathes in it, makes hair masks, face treatments and lip balm out of it. It must be working. The stunning mum of three positively glows with health and both inner and outer beauty.
Abigail opened her gorgeous home that she shares with her husband and children near Byron Bay. Here she shares her most fascinating all natural and incredibly sweet-toothed beauty recipes with us.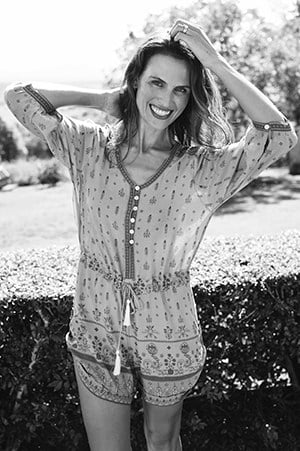 "I do all these weird things to myself.
They seem to be working, or at the very least they feel like they have a positive, meditative, nurturing essence to them. I make showering almost like a mini-day-spa. I'm addicted to exfoliating my skin, I'm currently using a lovely exfoliant by Byron Natures Gift.  Then I'll pop some 100% pure Sandalwood essential oil onto my face and just let the steam soak it in. I rub cacao butter over my skin in the shower as well, which helps it penetrate deeper into the skin. When I get out I always put on a lot of essential oils. I've just signed up to Young Living essential oils and I'm loving the benefits to my skin. I use quite a bit of Frankincense oil. It's a natural anti-aging potion; it's also excellent for pigmentation, which is a wonderful preventative measure, as I surf at least once a week. I also adore Rose and Jasmine oils – they work as the perfect perfume.
To get glowing naturally in five minutes or less…
I'll often use my Cacao Lip Balm to create a dewy natural glow by popping it onto my eyelids and cheekbones. That along with a bit of Ere Perez mascara, and a little splash of colour to the lips and I'm ready for castings, a day out or to entertain impromptu guests. As much as I absolutely love it as an expressive art form for photoshoots or to wear out on the odd occasion, I personally dislike make-up. One of the most incredibly exotic beauty experiences I've had was when shooting the 'body chocolate' images for my book. I created a raw chocolate body mask out of cacao butter, essential oils, spices, and coconut oil. It was ultra beautifying for my hair, and my skin felt like I'd been at the day spa for a week!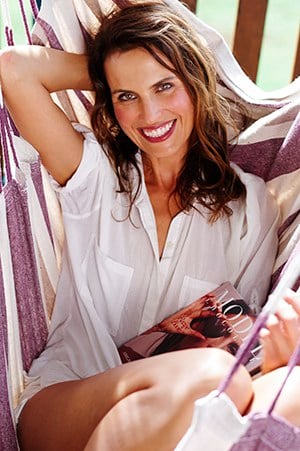 I love to take a chocolate hydrotherapy bath
Using my Lavender Cacao Bath Salts, (recipe in the book) once a fortnight for 45 minutes. If I haven't been to the sea in a while I might make up a Thalassotherapy bath by pouring in lots of seaweed, magnesium rich salts and essential oils of basil and mint as the water is running. If I really want to look gorgeous for an occasion I spend the day before getting sun along with lots of exposure to the ocean, and take in extra freshly pressed juices and greens, along with plenty of my raw chocolate of course! It works from within the body to maximise radiance on the outside. This means a more beautiful skin and body tone, sparkling eyes and also a better mood
I've always treasured natural beauty
I remember using pollen from my grandmother's flowers for eyeshadow, and bruised rose petals for blush as a child. I don't use anything unnatural on my skin now, either. That includes products labelled as 'organic' simply to market them to healthy-minded consumers. I'm obsessed with aloes. I smother my skin in fresh aloe vera from my aloe plants daily. Nature's moisturiser! Perfect coupled with coconut oil. I love bare, dewy skin and tousled tresses. My beauty look is relaxed, natural, and vibrantly healthy. I also love to smile a lot – I think that works wonders! My mother always taught me more about internal beauty than anything external. She taught me to love and respect myself and others.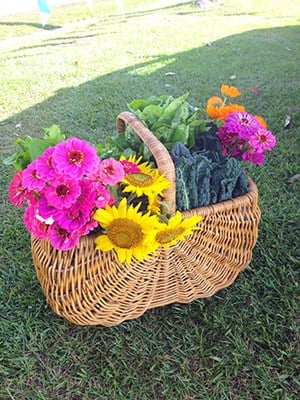 I have a bit of a red lipstick fetish
I'm using a nice natural one by Ere Perez that's as close to real red as I've found anywhere. My hair needs a little extra attention right now after lots of surfing! If I get a few moments on a Sunday afternoon I may indulge in my Hot Hair Oil treatment (from Model Chocolate), which uses cacao butter and essential oils to rejuvenate the hair. Lately though I've been using a natural deep conditioning treatment by Giovanni in place of regular conditioner – it makes my hair feel instantly smooth!
Nothing clears my mind like a wave
Surfing is my ultra relaxation zone. Afterwards I may even enjoy a little sleep in the sun, it's perfect! If I'm at home relaxing I'll walk barefooted around my property picking fresh organic fruit or flowers, or make delicious meals or raw chocolates for my family and friends, I love to entertain. I like to exercise with just myself and nature… I don't have any trainers. I love to walk, sprint a little, surf, practice yoga, anything I can do outside preferably. I spend quite a bit of time in the kitchen and office, so to escape into nature is wonderfully revitalizing and grounding to me.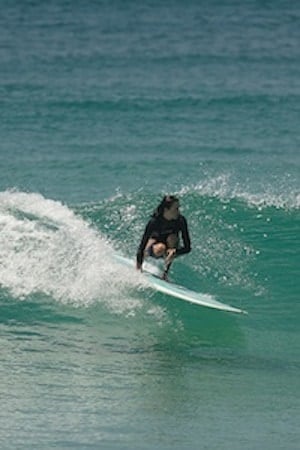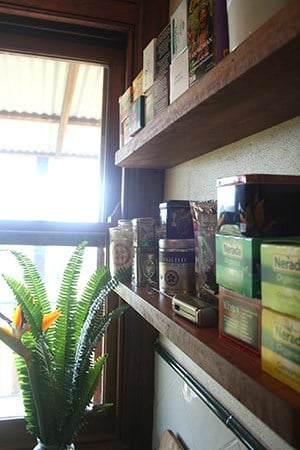 When I wake up I always drink warm lemon water
I follow that up with a Supersmoothie of some kind or lots of greens and poached organic eggs for breakfast. For lunch, a crisp garden salad or plate of fresh fruit, with raw chocolate and green tea. Dinner is always shared with my family and I like to make a delicious vegetarian feast! I always make lots of raw/vegan options as well. I'm definitely more focused on getting myself beautiful through a nutrient dense mostly 'raw' way of eating.
I supplement my diet daily with my raw chocolate creations…
Even up to six pieces a day. Try my Super-Berry-Slice as a beauty tonic, it's so rich in antioxidants it will have you glowing in a matter of days! Another couple of favourites for special occasions are my Berrylicious Raw Chocolate Cake  and my Raw Banana Caramel Pecan Pie.  Perfect for entertaining. I've been eating this kind of chocolate for about 5 years now and I've noticed it gives me more energy, helps to keep my skin nourished, my metabolism at its peak and my mood elevated. Raw chocolate is rich in essential fatty acids, vitamins, minerals and contains more antioxidants than any other single known food. I also love to fill my body with lots of raw organic fruits and vegetables.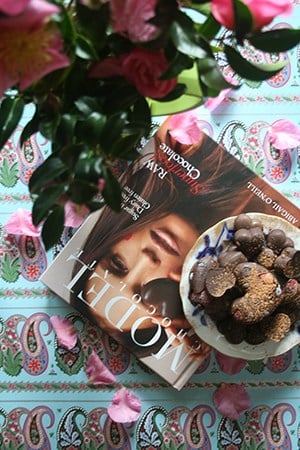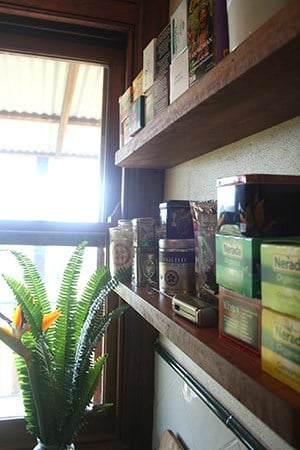 I'm an artist at heart…
and my chocolate creations have become that outlet for me. I'm forever creating new recipes. I never really thought it would become a profession, but I've always loved making delicious food and sharing it with friends and family. I've also always wanted to be a mum that part of the dream came about very early for me in life. I love the challenge of creating something that tastes out of this world, almost naughty, with nothing but 100% natural ingredients. I also take spirulina, raw brown rice protein, and lots of super foods such as chia seeds, coconut water, bee pollen, goji berries, cacao nibs, noni juice, kombucha, cacao tea. And I never, ever, have cheat days. It's a philosophy that works for me, after all, everyday I'm indulging in so much healthy delicious super-goodness that there's absolutely no room left for unnatural cravings!