Erika Heynatz is a self-confessed beauty junkie - years in front of a camera lens will do that to a girl. She's also warm, funny and has a flair for design. With an artist mother and a creative upbringing, Erika studied graphic design before crossing over to the world of performance art. Now, the model turned TV and theatre star has an extensive performance resume and an even longer list of beauty must-haves.
After hosting the first two series of Australia's Next Top Model, Erika left to focus on her singing career. More recently she has been treading the boards and honing her stage makeup with roles in musicals Legally Blonde, The Rocky Horror Picture Show and, this year, Singin' in the Rain. She also joined Australian TV institution, Home and Away, playing controversial teacher, Charlotte at fictional Summer Bay High. We caught up with Erika in her colourful and stylish Northern Beaches abode and discovered an impressive array of covetable cosmetics.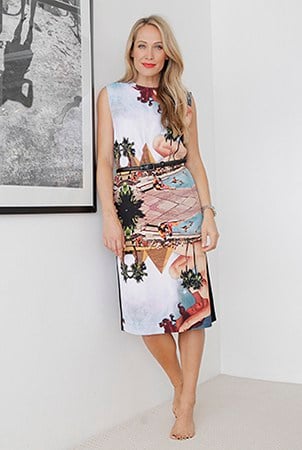 ERIKA LOVES THE RITUAL OF HAIR, MAKEUP AND WARDROBE WHEN PREPARING FOR A ROLE. DRESS BY ALICE MCCALL.
I've always wanted a creative career
I got into modeling in my final year of University. Modeling lead to commercials, which lead into television presenting & film acting, and finally into musical theatre. I love that my job gives me a chance to play different characters and the live performance element of it can be a real thrill, especially singing with others, that's a really magic feeling. I really enjoy the ritual of preparing myself for a role; hair, makeup & wardrobe become such transformative tools.
I studied graphic design
I majored in illustration. My mum's an artist, so from a really early age I was playing with paints, drawing and sketching. I've always been quite tactile and having moved into performing arts so much of getting into character for work is about creating – even as a fashion model – [it's about] presenting a façade of sorts.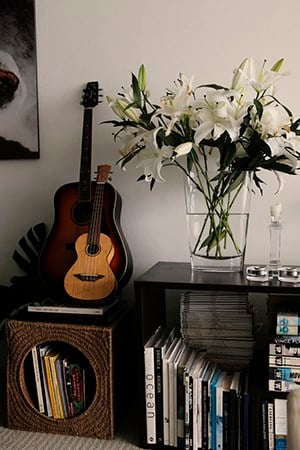 ERIKA APPROACHES ALL TASKS WITH A CREATIVE FLAIR.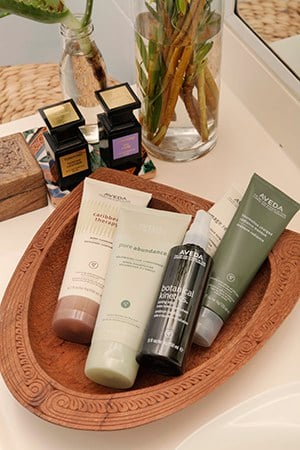 AN AVEDA DEVOTEE, FAVOURITES INCLUDE; CARIBBEAN BODY CLEANSER, VOLUMISING CLAY CONDITIONER AND BOTANICAL TONING MIST.
I'm an absolute product whore. I love it…
One of the benefits of working in the fashion and beauty industry is you get exposure to all of the latest stuff with makeup artists. A great primer is a must if I want the look to go the distance. Laura Mercier is fantastic. I would love to say that my look is simple & effortless but deep down I love to try new things and sometimes that means I'm slapping on five creams at night like a crazy woman just because I want to use it all at once! I am leaning more towards products with natural ingredients, fragrances & ethical production. There are some beautiful products now without all the chemicals that are just as effective.
I'm a self-confessed tanorexic…
I'm definitely a fake tan girl. I've been using Vani-T organic tan for years and it's the best tan I've ever used, I tend to do my own at home these days. A lot of beauticians use it now because it's one of the only organic tans. I had a great 'contoured tan' from Katrina Brown at the Bronzing Boutique once before a photoshoot that shaved off a few kilos and gave me a free 6 pack.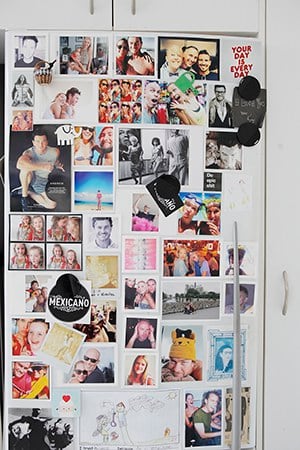 HER FRIDGE IS LADEN WITH FRIENDLY FACES AND HAPPY MEMORIES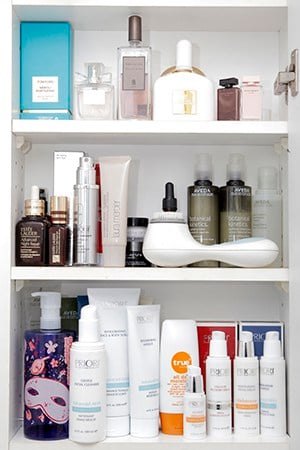 SKINCARE FAVOURITES IN ERIKA'S BEAUTY CUPBOARD.
Cleansing is so important to me…
I find that the chore of taking makeup off is really laborious. Especially when you're tired and you've just finished a second show over a four-show weekend, you just want your skin to breathe. I use a Shu Uemura cleansing oil but I've also found that Garnier Micellar cleansing water is amazing, you can put it over the top of a false lash and it takes all the glue off, everything, it just comes away and you can actually wipe it along the lash and it takes the glue off so you can reuse them and there's no residue. Then I've got a Priori AHA Cleanser and an Idebanone Moisturiser, they are a dynamite team for protecting and hydrating; they really nourish and target dark spots and wrinkles. And I use a Clarisonic, it has been a brilliant little addition to the regime. I have Priori Peels and Omnilux light therapy at least once a month with my facialist Joanna Newham in Avalon.
I'm a long time fan of Tom Ford fragrances…
I like anything that's Earthy and summery. Tom Ford Neroli Portofino is a really clean, beachy, fresh fragrance for summer. The bottle is really seductive as well. It reminds me of a Mediterranean holiday, I've just spent a month in Italy. I am also a huge fan of essential oils particularly lavender, rosemary, peppermint combined with massage. I love hot baths with Aveda Soothing Aqua Therapy salts.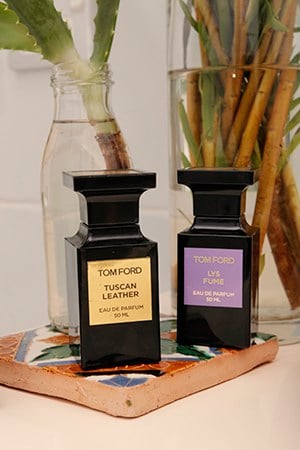 TOM FORD FRAGRANCES ARE AMONGST ERIKA'S FAVOURITE SCENTS.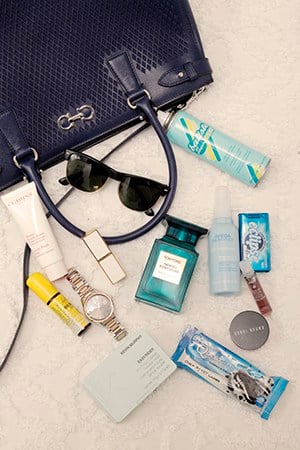 ERIKA'S HANDBAG ESSENTIALS; A SPRAY OF BATISTE DRY SHAMPOO, A SWIPE OF TOM FORD LIPPIE AND GOLDEN ACCOUTREMENTS.
Bronzer and concealer are the most important things…
They say mascara is as important as the air that we breathe. I use Clinique Lash Power, best mascara I've ever used. I can surf in that for three hours and the stuff won't come off. It's the bomb. I'm definitely a concealer junkie. I've got a MAC Pro Conceal and Correct Palette, it's got about six different choices.
I try to fuel myself with clean, unprocessed food…
Quest bars, they're the best, I like that there's no artificial crap in them and they have the best flavors. I recently saw nutritionist Moodi Dennaoui for a bit of a refresher guide on how to tidy up my existing diet.  As a result I'm still eating the same food but in slightly different combinations and at different times. I really respect his attitude towards food & training. I do lots of exercise, balanced out with some yoga and daily meditation. When I know I have a busy week and I will rely on fast food, I try to order the Eat Fit Food service, either the cleanse or the X-celerator program to keep me eating convenient fresh, lean, nourishing meals. I went for a run and a swim this morning, that's the best way to start the day. Skipping has become my go to for a fast cardio fix. I got hooked having used the rope in a musical theatre performance, and I was never fitter or leaner.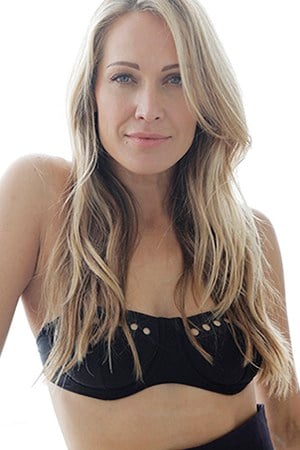 FIT FILLY; ERIKA KEEPS ACTIVE WITH RUNNING, SWIMMING, YOGA AND MEDITATION. BANDEAU BY SEAFOLLY.
HAIRCARE FAVOURITES INCLUDE REDKEN, KEVIN MURPHY AND SACHAJUAN.
I like bright, modern designs…
Borrowed is probably accurate description of my style for the most part!  I'm lucky that my favourite brands such as Salvatore Ferragamo, Ginger & Smart, Scanlan & Theodore, and Alice McCall really look after me when I'm working. Outside of that it's shamelessly decked out in sport chic. I love Alexander Wang. I wear a lot of stuff from Stylerunner.com because they have all my favourite multifunctional pieces from the best brands. I love good shoes and have a thing for beautiful watches.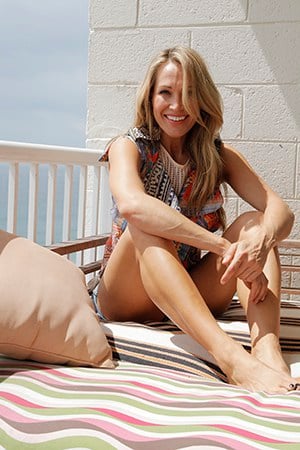 AN ECLECTIC MIX OF INTERNATIONAL AND AUSTRALIAN DESIGNERS MAKE UP THE STARLET'S BRIGHT AND CHEERY WARDROBE.