From television to film to broadway, Kim Cattrall has been in the entertainment spotlight for over 40 years. But, with a slew of awards and critically acclaimed nods under her belt, it's both strange and remarkable that when we see the statuesque blonde, two words come to mind: Samantha Jones. Her ballsy PR maven character of hit show Sex and the City (1997-2004) won us over with her no-holds-barred attitude to relationships and sex and is arguably credited to the neo-sexual revolution of single women in the late 1990s – one that is referenced to this day. Today though, she's judging Specsavers Spectacle Wearer of the Year comp and stars in hit Netflix Original black comedy series, Sensitive Skin as Davina Jackson – a woman who questions her choice to marry and hallucinates conversations with people (a far cry from Ms Jones). But, whatever character she plays, there's no getting around her perennial beauty – and so, Beauticate founder, Sigourney, sat down with Kim to discuss ageing with grace, writing your own rules on life and what she really thought of her SATC role...
"A character like Samantha was a long time coming.
I think that [kind of] sexuality had a bad name through the 1980s and [SATC] was sort of coming out of that. It was like a reawakening. Her brashness was delectable, it was contagious almost, and we needed this character to come into our unconscious to rattle us up a little bit. It was permission to say 'Yes I like having sex, and I don't have to be serious about a guy. I can do this on my own terms, I don't have to look at society and say I'm going to work within what you deem acceptable. I'm going to write my own rules'.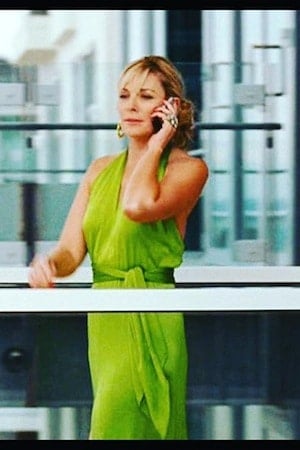 "I LOVE YOU, BUT I LOVE ME MORE" - SAMANTHA JONES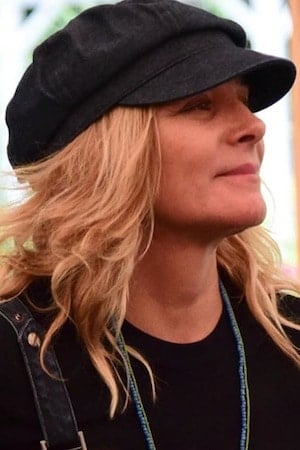 KIM PREFERS A SIMPLE AND PARED-DOWN APPROACH TO MAKEUP
Less is more, I don't put foundation underneath my eyes, just concealer.
I stay clear away from powders, and just use very soft colours [with makeup] as well. I like Christian Dior Airflash Spray Foundation. I like to spray it on a brush and use it on my face. I find that when I use less makeup, look less made-up, I look healthy and fresh. But one of the big clues of me getting older; I prefer softer, less harsh, lipstick. I'd rather do a lip stain.
I have sensitive skin…
…which is so extraordinary because my new series is called Sensitive Skin. But that's a different kind of sensitive skin… I need to hydrate a lot. I need to drink a lot of water and I don't go outside without [sun] protection. I was never a real sun worshipper in my youth, thank god – a lot of my girlfriends now, when they were younger, were going out and putting on baby oil and frying all day. That was never something I enjoyed. I spent a lot of time in theatres acting or on sound stages, some dark rooms. So maybe that turned out [to be] in my favour.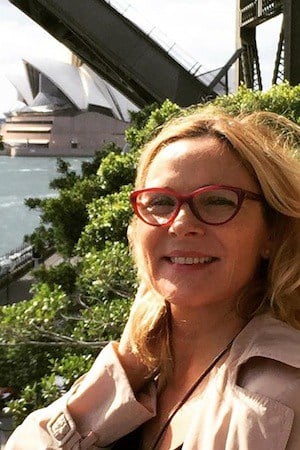 NOT JUST A CLEVER SHOW TITLE... KIM'S SKIN IS SENSITIVE TO THE ELEMENTS. BUT SYDNEY WAS KIND TO OUR CANADIAN-NATIVE GUEST.
SIGOURNEY AND KIM AT THE SPECSAVERS EVENT IN SYDNEY
I mostly work with and use Murad products…
…which are made by a dermatologist. I just want to calm the redness down and drink lots of fluid especially when I'm traveling. Throughout the day I tend to use a [face] spray, just a light mist of water to keep skin hydrated and clear.
They say you should never tell who your colourist is…
…or you'll never get an appointment. So, I'll just say, I go to this fantastic gal in New York, who I've been going for a long while. If you're going to dye your hair, go to a colourist if you can afford it. Men and women tend to dye their hair one colour, but nobody's hair is one colour.  My advice would be to literally lighten up [hair colour].
KIM CREDITS A BELIEVABLE AND PROFESSIONALLY-DONE HAIR COLOUR IS KEY TO HER BEAUTY PHILOSOPHY.
KIM AND KIM: SHE STANDS NEXT TO HER SPECSAVER AD
I very much like Thermage – it's not invasive and there's no downtime.
It tightens and stimulates the collagens, not just in your face, but throughout your body. I've had it on different parts of my body, it's not painful at all. And throughout the year, it just gets better. They're stimulating the muscle and the collagen and that's kind of letting the body do what it should do naturally as suppose to imposing chemicals. I wish it was less expensive, but that will come with time. Hopefully that will get price-wise a little more comfortable for a lot of women to try.
I've really developed a passion for swimming…
I don't ever really hurt myself and I feel that I'm getting every muscle exercised. I like what it does with my breath, slows me down. I have small flippers, which I really like in the pool. A friend of my friend in New York City has a saltwater pool, so no red eye. It's lovely and very calming. I try to go everyday if I can. I [also] do PhysiYoga (Physiotherapy and yoga fusion), but more just yoga now.
POOLSIDE IS DOWNTIME FOR PERENNIAL BEAUTY
THE SHOW RESPONSIBLE FOR MANY A FASHION WIN MIGHT BE AT AN END, BUT KIM'S LOVE OF THE SARTORIAL HASN'T WANED.
Glasses now are so much a part of fashion…
I think that what you decide to put on your face is should be very personal and reflect. Not just what your prescription is and the fact that you need them, but also your mood and style and part of your personality. It was like the last part of the outfit that made it complete, and of course playing Samantha Jones it was a lot of choice, very loud and fun. I have many styles that I like and many colours, I started wearing glasses when I was ten years old, I didn't have anywhere near the selection that's out there right now."
Story by Rikki Hodge-Smith; Interview by Sigourney Cantelo; Images from Instagram