As one of the country's most recognisable faces of news, it's hard to imagine that Natarsha Belling's career trajectory was a bit of an accident. Hard and breaking news journalism was always her passion, focusing heavily on rural Australia issues, but the position behind the desk came at just 21 when she was in the exact right place at the right time, and never looked back. Now, in a twenty year tenure at Channel 10, Natarsha has a familial familiarity with all who have ever checked in to watch the biggest breaking news stories of recent times. Sharp, incredibly clever and striking to boot, we were keen to catch up with the busy mother-of-two (to Harrison and Hugo) to talk the aesthetic pressures of women in news, the makeup tips she's picked up after decades in front of the camera and the one skincare product she swears by...
"My 'big break' came at the ABC when the newsreader got a migraine, and they came up to me and said 'We need you to read the news!'
It was the lovely Rosemary Church, who now works for CNN in Atlanta. The backup reader they had wasn't available and I was there cutting a story. I'd been there for 18 months. I said, 'What?!' But, it has kind of been an attribute that I have always had, that I say yes without thinking of the consequences. I was just 21 and my arms were shaking so much they had to do a close up. After that, Rosemary would take me and give me tips every night.  I've been at Channel 10 for twenty years next year, so obviously I started when I was ten haha."
Once, I was with my youngest as a newborn and a woman stopped me and said, 'I thought you were Natarsha Belling, but you can't be, she's quite pretty'…
I had a newborn and a toddler and we were going to a little country town's local show, I was lucky to get out the door in just plain clothes and I'd had about an hour of sleep. I didn't have any makeup on and really, that speaks volumes. I'm a passionate female journalist and it takes you a long time [to succeed], but often people will make a comment about what I'm wearing, how my hair is and I even have people giving me tips! Like, 'Oh I didn't like that lipstick you wearing…' I often just very politely say, 'Thank you so much, you can call the wardrobe department.'
I used to suffer from terrible breakouts, like, terrible…
If I don't use really good skincare [I breakout], I think it's probably the result of so much makeup at work. I was suggested to use Dr. Spiller and I've just found that it's just brilliant. I don't really use a specific body moisturiser, but I do use my face cream and add extra moisturiser, whatever I have, to it and use it on my body. I remember the performer Bob Down being really adamant about cleansing his skin, and it's something I have really picked up. I use the Dr. Spiller body cleanser on my face, it's more of a scrub. I do that once a week, it has a eucalyptus fragrance and immediately picture myself in a bush, then I use a toner and a moisturiser.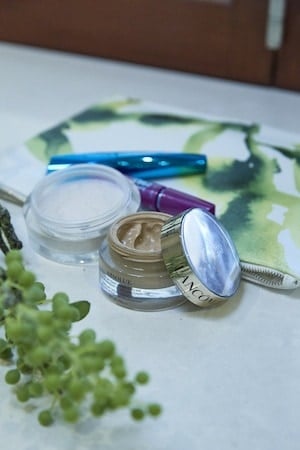 My makeup secret is makeup brushes…
I love the way they can make a difference to blending and eyeshadow, it's amazing. Good makeup brushes, that is. When it comes to makeup, I love MAC eye shadow. I don't wear a lot of makeup when I'm not at work. And I use the good old Max Factor mascara and Rimmel Wonder'full Mascara. My boys have both got the most amazing natural eyelashes, boys always get them! I wear Lancôme Absolue Precious Cells Foundation, I first bought it years and years ago, I absolutely love it. It gives such flawless cover.
.
Makeup artists are true magicians, I have the greatest admiration for them, especially when you're really tired, they do create miracles.
A great concealer and flawless foundation, I think that is really important, and I've learned a lot of tricks. Often if I'm at work I'll come home, take all my makeup off, and if I have to redo my makeup for an event, or a work event or commitment, they've taught me how to do a great smokey eye. And trying to put on eyelashes myself… It's physically impossible. It's pretty hysterical watching my husband trying to put them on me. We don't get very far.
I don't ever style my own hair…
I used to have it 'boy short'… I'm actually very lucky that it's naturally straight. But, it's changing. After I had the boys, I don't understand this because the majority of people lose their hair, my hair grew twice as thick. All I put in my hair is the Wella Luxe Oil. I put that on in the morning just before work with wet hair.
I love a good fake tan…
I usually get a professional spray one day a week at Bronzalicious in Neutral Bay. I use Salus body scrub to prep. I remember my husband and I went to Italy once, the first time away without the kids. We were gone for two weeks and came back and I didn't fake tan at all and the kids said to me, 'Mummy what did you eat?' And when I asked why he said, 'It's made you go all white!' But my husband loves me without a tan!
The first thing I do in the morning is have an espresso and wait for the coffee to kick in. I can't even face the day without it.
I read all the online publications, usually The Herald to start with, and Twitter is really important if something is breaking that morning. I usually have my phone on set, especially when we do rolling coverage, it's really important thing with breaking news. I'm usually up at 5am and try to go to bed at 9:30, but when there's the kids' homework, assignments, sports and all the bits and pieces, it's hard. I can get exhausted, but I love my job. I'm trying to get better. Arianna Huffington wrote a great piece that I love on the importance of sleep. Sleep deprivation is a form of torture."
Story by Rikki Hodge-Smith; Interview by Sigourney Cantelo; Photography by Myles Pritchard; Hair and Makeup by Jessica Diez.