If the name Natasha Liu Bordizzo isn't already familiar, it soon will be. It took just one audition – her very first, mind you – for the Sydney-born Italian Chinese actress to land the lead role in Netflix's Crouching Tiger, Hidden Dragon 2. The 23 year-old's star is set to rise even further with the release of The Greatest Showman this month as well as Hotel Mumbai and Chinese film Detective Chinatown next year. Her looks are striking, yes, but her talent is even more so – Bordizzo is also a black belt band one in Taekwondo. So when given the opportunity to meet her and nosey through her bulging makeup bag, well, we couldn't say no.  Here, she talks about growing up mixed race, why less is more and the unorthodox beauty treatment her mum swears by for flawless skin.
"I was scouted at Sydney's Central Station.
I was in university at the time doing a journalism/law degree and wasn't enthusiastic about following up on the opportunity. My agent quickly decided that I was much more interested in the idea of acting [than modelling], particularly since it tied in with my existing love of writing and a niggling curiosity for film-making. The week after we met I went to my first audition and a week later I was on a plane to New Zealand, having booked the lead of my very first film – Netflix's Crouching Tiger Hidden Dragon 2 ­– from that first audition.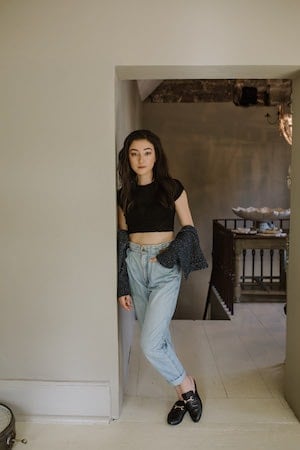 I think part of me has entertained the thought [of acting] since I was young…
… but it was eventually quashed by my more calculating side. It's the same side that recognised the improbable success of an actress of mixed Chinese heritage in Hollywood. Little did I know, whilst growing up, that the movement towards diversity on film would soon be brewing.
My approach to beauty is super minimal.
Part of it is growing up in Sydney and being heavily influenced by that salt-haired, freckled, fresh beauty that is very minimal in makeup. I definitely subscribe to that. Another reason is because I'm of mixed Eurasian descent, it's really hard to find makeup that is perfect for my skin tone and look. And finally, because my work requires me to have so much makeup (sometimes I'm filming six days a week with a full face of makeup for 12 to 14 hours a day). My own approach to beauty has just become skin recovery and trying to put on as little product as possible to give my skin a break.
Assuming it's an off duty day, I'll just dab some concealer here and there if needed.
Right now I'm using the Glossier Stretch Concealer – it's really compact and handy since I just use the tip of my finger and I find it blends really well. Then I'll fill in a bit of brow with Anastasia Brow Wiz in Dark Brown and finish off with a touch of blush and I'm good to go! If I'm a little shiny I'll use the Chantecaille HD Perfecting Powderwhich is incredible. For a special night out, I'll use a Becca highlighteron my cheekbones and under the eyebrows.
I find this cleanser really refreshing and gentle enough for the morning when I haven't got makeup to remove yet. Then I'll typically use a serum. Right now, it's the Aspect Dr Vitamin B serum. Finally, I'll end with whatever moisturiser I'm using which right now is a priming one from Glossier. Of all the products I use, I rotate moisturisers the most. I'll take my makeup off with Bioderma in the evening.
At night more often than not I'll skip moisturiser to do a mask.
I've gotten really addicted to masks lately because they really are another level of moisturising for your skin. Right now I'm using a collagen-based mask from Korea that an aesthetician friend recommended to me.
My mum literally sticks sliced pieces of leftover fruits to her face… especially berries.
I make fun of her for it and yet her skin is incredible, so who knows? She also massages her face a lot, just with her hands, to improve circulation and reduce water retention. I bought a beauty roller recently in China that is meant to do the same thing. I've thought about it a lot recently – we always love getting body massages and yet we often neglect our faces.
I see this beautiful woman called Fumi [Yamamoto of Zen Facial] in Bronte for jetlag and digestion.
She is a facialist as well, but she helps me a lot with jetlag. I use the oil she gave me for clarity in the morning and the other one is for sleeping. I swear to God it works like crazy. I put a little onto my lip and on the pillowcase. When I'm on a flight, I rub a little bit onto the seat and it helps me go to sleep. The clarity one is for the morning or if I'm going through an afternoon slump and I need to revitalise a little bit.
I use the Headspace app and try to meditate most days for at least 10 minutes.
I also use a book called 'The Five Minute Journal' from the company Intelligent Change every morning and night to start and end my days on a grateful note. Reading the news every day relaxes me too because it puts everything in perspective. So often we get wrapped up in our own universe."