For Olympia Valance, showbiz is in her blood. The half sister of Holly and step-daughter of Mondo Rock's Ross Wilson, it would appear the exotic beauty was destined for a shiny path of fame and success. But, the spotlight has never been her ambition (a spattering of school musicals made up her acting CV) and, in retrospect, this seems a bit odd for the rising star. The Neighbours star and part-time model is playful, funny, beautiful and diminutive in stature, but she's anything but small. Fiery with that Mediterranean gusto, she has a veracity that is both refreshing and engaging. We caught up with Olympia about her aversion to any shoe of the flat variety, the niftiest pimple trick from a very unlikely source and a glimpse into the beauty life of this Australian Greek Goddess.
"I kind of just fell into acting.
I did some musicals at school, but other than that, nothing really. Someone who worked at Neighbourscontacted me and said, "Look we've got this role coming up, I don't even know if you act, did you want to go for it?" I was like, whatever! I went for the audition and it was a really intense four-stage process. And I got it!
But acting has been in the family…
…with Holly and then my step-dad [Ross Wilson] is a singer. As a kid, you always look up to your older siblings and want to be them and do whatever they do, which I have done really. She started off doing a bit of modelling, then acting, like me – but I won't sing.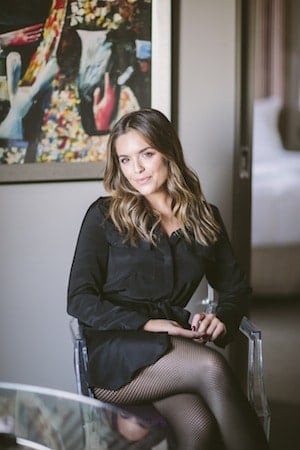 My mum bought a stone for me when she went overseas…
…and got it made into a ring and I love it more than anything. [When] I see it I see my mum. I never really met my grandmother on my dad's side, she died when I was really young. But, she said to my mum, 'Make sure you give this to Olympia'. Mum never trusted me with it, so she only literally just gave it to me [recently]. It's got seven stones in it, my lucky number – I was [born on] the 7th of January, so it's really special.
Mum and I look identical.
Our faces, even our body shapes, everything about us is so similar, so I know what works on me from her. A red lip works. She always says, 'Can you just put some colour on your lip?' And she's right, because colour does look good on our lips. Even though it's fashionable to be nude. She's always said, 'Put some gloss on, put some colour on for God's sake!" That's one thing she has right.
My skin doesn't work well with thick makeup.
It really goes into my pores. So mum introduced me to M.A.C Face and Body Foundation, it's the only thing that works on my skin because it's breathable and sheer. It's really dewy and natural. I put a translucent powder, sometimes a heavier one with some colour in it, then their Mineralize Skinfinish which I love. Anything with a bit of shimmer – I love shimmer. I use very nude tones for my eyes. I love Charlotte Tilbury Colour Coded Eye Shadow and Tom Ford Cheek Color, but I don't like looking too over done during the day. For night, I add a nude M.A.C lip liner and I put it all over my lips. It's more of a matte finish but if I put a gloss over it, it's more done up.
I've actually just changed my whole skincare regime.
I started getting some pimples on my forehead, which I hadn't had since I was a kid. At Vic Dermal Group, they gave me a whole new skincare line, MD Formulations and Ultraceuticals, and I haven't had any problems with it. I always put sunscreen on my face as well now. Sometimes I put a Vitamin A serum on at night – maybe once or twice a week – and that rejuvenates skin and gets rid of pimples. I've found that really helps, but if you over do it your whole face peels off. If I do have a pimple…
…I have a really thin eyebrow pencil and draw a dot on the pimple…
…so it looks like I have freckles. I learnt that from drag queens. I was watching this tutorial and they said if you've ever got a pimple or want to emphasise a freckle or mole, just draw a little tip on it – it looks so natural.
I get my brows threaded.
I'm big on the threading. I get my brows done at Brow Theory probably once a month, but during that time I have to maintain it myself. I get my hair done by Lauren McKellar at Edwards & Co. – she is just amazing. I get nails done every two weeks because I have to have them exactly the same for work, for continuity. I get facials at Vic Dermal Group in Kew.
I'm Greek – I have hair everywhere!
My face, arms, I'm talking everywhere. I spend thousands of dollars on hair removal. But it's real, so I get my whole body lasered at Australian Skin and Laser in South Yarra.
It smells expensive and sweet and delicious. I'm big on baths and I love bath bombs – Lush have some great ones. I just love buying new ones and seeing what they do – some bubble, some bomb. I normally do it before bed to unwind – I put some music on, light a few candles and have a bath bomb.
Being Greek, it's like I am a bottomless pit…
I have friends that just don't eat, and I always think, aren't you starving?! I'm starving from the moment I open my eyes. It's embarrassing, everyone else is still going and eating politely – and I'm like an animal. But I'm pretty good with my diet. I used to follow a really strict Paleo diet, now I'm more flexible because I just can't be bothered more than anything. I eat really well during the day but the main thing I have to worry about is my portion control
But, I try and steer clear of bread…
…just because every time I do eat it I put on weight. I love it – it's my weakness. Generally in the morning, I have eggs and avocado. Lunch will be a tuna or chicken salad I'll make, and then dinner is whatever is going, whether it's a roast or cacciatore. Mum taught me a lot about food. Even when I go over – she lives next door to me – she's all about superfoods and smoothies – Maca, chia, spinach and kale.
I do F45 every day.
Well, most days. It's easy for me with my work schedule, I can book in whenever I'm free. You're in and out – it goes so quickly. You walk out of there and think I'm done! I'm completely addicted, I've fallen in love, and I couldn't imagine doing anything else.
My style is forever changing.
It's very mood dependent, and whether I can be bothered wearing something uncomfortable or comfortable. Viktoria and Woods is one of my definite go-to designers because it's so versatile, you can dress something up and you can totally dress it down. I wear one of their big jumpers or a bit coat over my Voodooleggings, it's easy. I always love something high-waisted and I tend to wear long – it elongates my body, I wear a maxi all the time. I also wear a lot of Max & Co. I love nudes, but I also love a lot of pattern and colour, and I love wearing patterns with different patterns – love a good clash."