With wit, beauty and brains, it's little wonder Sylvia Jeffreys successfully climbed the competitive ladder of news journalism; going from a local news script assistant to holding her own alongside breakfast TV big guns, Karl Stefonovic, Lisa Wilkinson and, since Lisa's departure, Georgie Gardner on Today every morning. Now, married to Karl's brother, Peter, and enjoying the spoils of hard work and determination, we sat down with the blonde darling of Aussie TV to talk a truly traumatising fashion loss and how she's ready in 20 minutes flat…
Sylvia wears jumpsuit by Rebecca Vallance.

Sylvia wears dress by Ginger and Smart

Barre Pilates, yoga and running keep her fitness in check

Charlotte Tilbury, Invisible Zinc and Nars are all part of her makeup kit

Sylvia has a few blueberry peels lined up at The Clinic Bondi to get her skin wedding ready
"My favourite Prada cross-body bag was just stolen…
…on my European trip when our hire car was taken. It was a gift from Pete. All of my cards were inside, but I was more devastated about the bag though, obviously. My Celine sunglasses and Tom Ford Jasmine Rouge Perfume were taken as well. It's so hard to find that Prada [bag] online so I might have to find a different one. Turns out I wasn't covered for the possessions in the vehicle because of some fine print loophole so I'm pretty devastated.
SYLVIA IS CAREFUL WITH HER FAVE LUXE ITEMS NOW AFTER HER PRADA WAS STOLEN IN EUROPE
SYLVIA HAS HER HAIR AND MAKEUP DONE IN STUDIO, SO IT'S JUST SKINCARE AND A SHOWER IN THE MORNING- ELEMIS AND RATIONALE ARE HER PICKS.
I give myself 20 minutes to get ready in the morning.
I shower and change, that's it. I spend 20 minutes at work reading the papers. It's like cramming for an exam every morning. I flick through the Daily Tele, The Australian and SMH, and then I go online look at news.com and just flick around to get a feel for what they're leading with. We look at Buzzfeed, Twitter and things like that as were also covering Internet trends.
I'm up at 3:15am and in the office at 4am.
I set two alarms two minutes apart and I always hit snooze. I never put my phone on silent so work knows to call me if I'm not in by a certain time. It's only happened once when I broke my phone and set my alarm on my laptop, but I left the screen closed! I woke up at 4 and was ready in record time. I go to bed at 8:30pm at the latest. Pete normally comes to bed not long after me; sometimes he'll watch a little Netflix.
CHARLOTTE TILBURY IS SYLVIA'S GO-TO WEEKEND FOUNDATION, WHILE THE HEADPHONES MUFFLE PETE'S NETFLIX WHILE SHE SLEEPS.
SYLVIA WASN'T NATURALLY INCLINED TO MAKEUP WHEN SHE WAS YOUNGER
My brother told me to wear makeup…
Makeup was something I discovered very late in life. When I was working behind a bar at 21, my brother said 'Sylvia it's time to start wearing a little makeup'. I looked like I had just come off the netball court. I couldn't be bothered, but now I have access to everything in the Channel 9 makeup room, I've developed an interest and can appreciate a good product.
EVO ICON WELDER IS SYLVIA'S PICK FOR STYLING WHILE ON-SET
KRISTIN FISHER DOES HER BROWS, AND GOT SYLVIA HOOKED ON THE LIBROW SERUM. MODELCO IS PERFECT FOR TAMING ROUGE HAIRS.
I over-plucked my eyebrows when I was 15…
…  and I had this spot that never wanted to fill. Now I go to Kristen Fisher for my brows. I'm also about to start a few blueberry peels at The Clinic  in Bondi Junction to start my pre-wedding regime. I have tried a few other treatments but I'm terrible with appointments.
Stacey McPherson comes to my house to do my tan.
She uses JBronze and worked closely on the development of it with Jen.  I used to be brown all the time growing up but now I'm scared of the sun. I love Solar D sunscreen as it's 50+. I love Invisible Zinc on my face. It's also great coverage for the weekend. I don't have to wear any other makeup, so it suits my lazy makeup habits to a tee
GROWING UP IN THE SUNSHINE STATE MEANS SYLVIA KNOWS THE IMPORTANCE OF SUN PROTECTION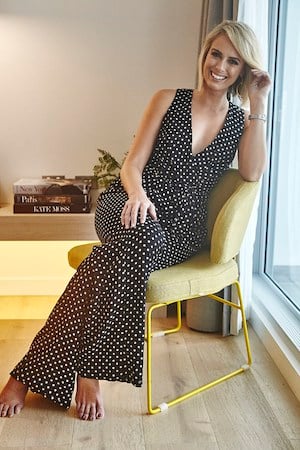 SYLVIA WEARS JUMPSUIT BY REBACCA VALLANCE
My exercise motto is: Do as much as possible.
I try and go as soon as I'm finished the show because that's when my energy levels are highest. I do a lot of barre pilates now at Barre Body. I also do Power Living Yoga in Bondi or Bondi Junction. I love running; I just did the City to Surf. I used to swim competitively when I was young but not so much anymore, I do still own five pairs of Camilla swimmers though!
My diet is pretty regimented…
… from Monday to Friday, anyway. Weekends I let loose and have a bit of pasta. I'm not strictly anything 'free', although I'm not great with dairy, so I keep it minimal. I try to steer clear of bread but it's hard. Sugar is something I've reduced in the last year. Once I get on a roll with sugar, my addiction gets stronger and stronger so I really have to pull it right back. It makes such a huge difference to my energy levels.
WEEKENDS SYLVIA INDULGES A LITTLE DIET-WISE
SYLVIA KEEPS ENERGISED FROM A 3AM WAKEUP WITH PORRIDGE AND SEEDS
A QLD company called Good Mix supplies our on set breakfast because they fed us at a shoot and we all got hooked!
I have porridge with soaked seeds, they're so healthy. Instead of trying to get something sweet, I'll have a spoon of peanut or almond butter or a piece of cheese because it feels satisfying but I don't feel the need to keep having more. If I'm really craving something sweet, I'll have medjool dates at lunch. I also snack on a little bit of fruit as well.
I have Ecoya candles in every corner of my house.
Pete may love them more than I do. They add so much warmth to every room and it's such a simple and effective decorating tool without any effort. I love the French Pear . I love interiors; I'm working on our place right now. We have a super king bed from AH Beard . It's perfect for two people who don't get a lot of sleep – it's seven army rolls to get to Pete! Sheridan  does linen for super kings so when they're on sale I pounce.
ECOYA CANDLES AND COFFEE TABLE BOOKS ARE A CHIC WAY SYLVIA DRESSES HER AND PETE'S HOME
SYLVIA'S TRAVEL ESSENTIALS INCLUDE HER COLLECTIONS OF MONOGRAMS FROM THE DAILY EDITED AND MON PURSE
QT hotels are our home away from home…
…I stayed there for my 30th in Bondi as a special treat. I love QT in the city, too – the restaurant is amazing. Pete has had a shave at the barber there. They're such a great unique range of hotels."
Interview by Sigourney Cantelo. Story by Emily Algar. Images by Titus Pengelly.