After spending the afternoon with RESCU.com.au founder and beauty business dynamo, Bahar Etminan, it's clear that as well as practicing what she preaches - 'expert tips for a fabulous life', her website's tagline - the French-born Iranian-blood go-getter has her finely manicured fingers on the beauty pulse. The effervescent mother-of-one, who exudes glamour and has a penchant for opulent exotic scents, welcomed us into her home to talk all things skincare, beauty and bankruptcy scares.
Forever beauty-obsessed, Bahar even did an MBA thesis on beauty.

Bahar's carefully curated beauty stash

Bahar entrusts her tresses with visits to Joh Bailey and Dessange salons

Bahar's beauty bibles

Bahar landed her first luxury job at Gucci at only 23

A few of Bahar's favourite skin saviours

Bahar prefers classic scents such as Chanel No. 19, Diorella and Diorissimo by Christian Dior, Guerlain's Shalimar

Bahar takes advice from mentors and friends John McGrath, Alex Perry and Joh Bailey

A sneak peek into Bahar's superfood-laden kitchen
Emphatic, vivacious and expressive, Bahar Etminan is one of those women who you instantly feel comfortable around. The endearingly candid brunette shared with us her top beauty and skincare secrets, a copy of her new book Rescu Me! and a sneak peek of that enviable DVF collection.
"At 24 years old I was a general manager
My first big luxury brand job was when I was 23. I was the sales and marketing manager for the distributors of Gucci timepieces at the time, and then I became the General Manager of the company. It was when Tom Ford had just joined Gucci and an incredible time. [It was] such a great opportunity to work with a brand that was taking over the world. When I was 27 I got headhunted by Estee Lauder to be the brand's General Manager of Bobbi Brown and Origins, I was the youngest ever general manager that they'd had in Australia. Most of my staff were younger than me so there were definite challenges!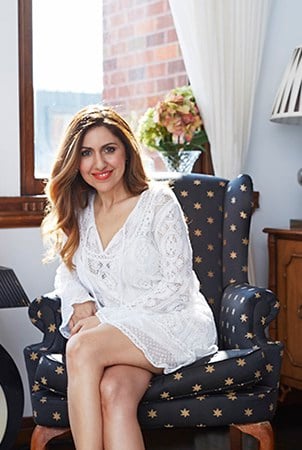 A LADY OF LUXURIOUS BEGINNINGS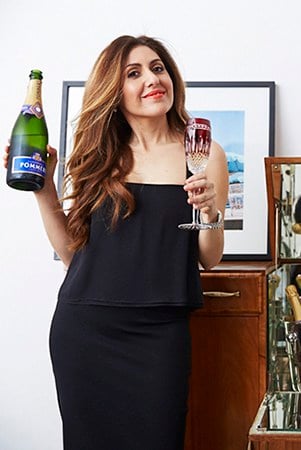 THE BEAUTY ENTREPRENEUR CREDITS HER SUCCESS TO HER CONFIDENT DISPOSITION. BAHAR WEARS MODE SPORTIF TOP AND SKIRT.
I was naive, I made lots of mistakes because I wasn't aware…
… I had that crazy confidence of youth. I always had that sense of 'if you're good enough, you're old enough'. John McGrath always said 'you're only as good as your skill set, not your age.'
I've always found men to be amazing mentors
My boss at Gucci was amazing, he was such a mentor to me. He had a daughter who was my age and always reinforced 'you can do it, I believe in you, I trust you'. I've only had one female boss and she was really offended by my existence. She felt I hadn't earned the right for my position as I joined the company in a senior role and when she was my age she was joined the company as a secretary.
John McGrath taught me a lot about quality, he didn't in any way tolerate mediocrity. Also Alex Perry and Joh Bailey gave me really good advice, especially during challenging times when I was on the brink of bankruptcy with Brandmakers.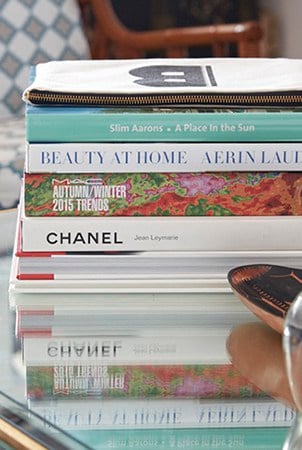 WAITING TO BE PERUSED: BAHAR'S COLLECTION OF BEAUTY BIBLES
BIRKIN AND CHANEL - THE GLAMOROUS BUSINESSWOMAN HAS A KEEN EYE FOR SHARP DETAILING
When I was 28 I started a beauty distribution business
I had left Estee brands and moved to Paris to study French but I ended up starting Brandmakers. I began by contacting the people behind French beauty brand Caudalie and set up meetings with them. I then called up Paul Zahra who was the manager of cosmetics at David Jones and I told him that I'd gotten this brand Caudalie for distribution in Australia and asked would David Jones be interested? He took it for nine stores. So I came back and did the launch at my house, I had all the buyer and strategy meetings at my dinner table!
I almost went bankrupt
When the GFC hit, I lost half a million dollars in foreign exchange in a week across three currencies. I had to basically wind down my business to pay back the bank. I lost over $460k because it costs money to pay out all the contracts, all the people, everyone, staff, brands, everything, factories, leases etc, and I didn't want to go bankrupt so I paid everyone out. I had to double mortgage my apartment at Woolloomooloo Wharf, which I'd nearly paid off. I had to work my arse off, eat pie for dinner and live discreetly.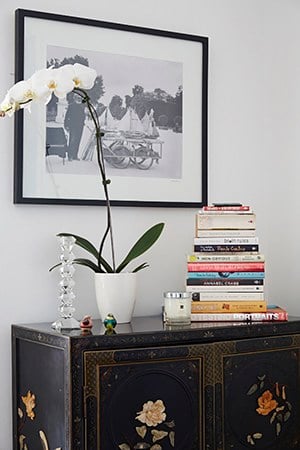 LUXE LIVING ROOM ESSENTIALS FOR THE STYLISH MUM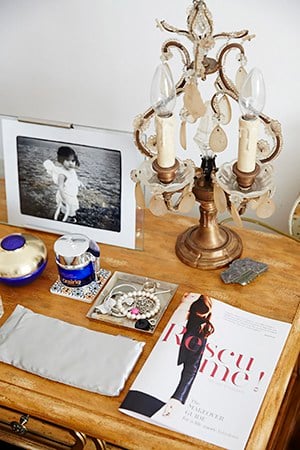 RESCU ME! BAHAR'S FIRST BOOK LAUNCHES IN OCTOBER
I just wrote my first book, Rescu Me!
It will come out in October, can't wait. It's a makeover guide for a life more fabulous! Whether you crave a full on reinvention or just need extra sparkle and glam in your life, my book gives you practical advice and insight from experts in their fields – health and wellbeing, fashion and beauty, relationships, and finances and career.
I'm a bit lipstick obsessed
Honestly, I think I own EVERY single Tom Ford lipstick that he's ever made. I do have a good collection! I'm not really into eye shadow but when I do wear it Bobbi Brownalways. I also like a balance of matte and shimmer finishes.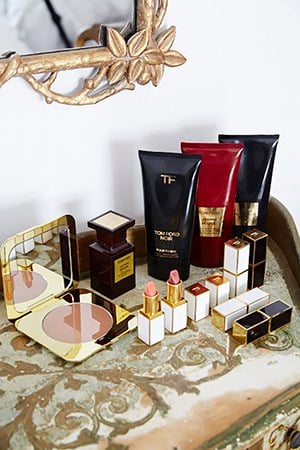 TOM FORD EVERYTHING. BAHAR IS LOYAL WHEN IT COMES TO MAKE UP
THE FOUNDATION WARDROBE, ER CLUTCH.
I have a 'foundation wardrobe'
I have a foundation wardrobe because I like different coverage for different occasions. I'm really loving the Nude Air foundation by Christian Dior at the moment. I think the less make up you wear, the more younger you look. Oh and I love Bobbi's Serum Foundation.
I have this new foundation that I found, Oxygenetix, it's like a breathable, medical foundation. It's absolutely fantastic, the colour is amazing – it makes your skin look beautiful. Plus you can wear it after you've had any kind of treatment or facial.
I also love good ol' M.A.C's Face and Body Foundation. It's nice and sheer and doesn't make you look caked on. The less pigment, the better for me!
Benefit's Boi-ing is great too, it's industrial concealer. Great for if you've had a late night up with your child.
God's best skincare invention is…
Dr Lewinn's [Eternal Youth Insta-perfector] Blur Cream. I'm crazy obsessed with it. I wore it every single day of my holiday – by itself instead of foundation. It actuallymakes you look perfect. It's lovely and is a great primer as well.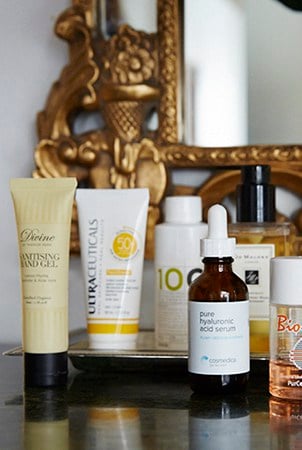 SKIN SAVIOURS: ULTRACEUTICALS AND BIO OIL ARE AMONG THE AUTHOR'S FAVES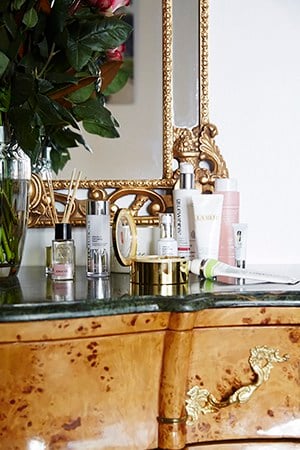 BODY CARE ESSENTIALS: LA MER, GUERLAIN, SISLEY, TOM FORD AND CLINIQUE ARE BAHAR'S FAVES
Dr Joseph Hkeik is my neighbour.
He. Is. The. Best. Human. Ever. What he told me about the anatomy of ageing makes so much sense. I'm 41 and this is the best my skin has ever been. I've never had as many compliments about how I look. I really trust him because he has the subtlest approach. The first thing he did is put me on a steady 'diet' of Ultraceuticals MD. Vitamin A and brightening serums. It's the best. It changed my skin. I've had Botox just around my eyes and my forehead because I'm very expressive. I love it, I'm so happy with it.
I don't wash my own hair.
I haven't washed it myself since I was 18! I go to the hairdresser once or twice a week if I'm exercising. It never gets greasy and I don't brush my hair or put products in it. I find that the more stuff you put in your hair, the more you mess it up. I've been going to Joh Bailey since I was 22. He's a lovely man. ALL of their salons know how to do my hair. I also get my nails done there – Joh Bailey is like my pit-stop. I get my colour done at Dessange because I love their French balayage. They're gorgeous and they are SO professional. They do the best balayage because they invented it.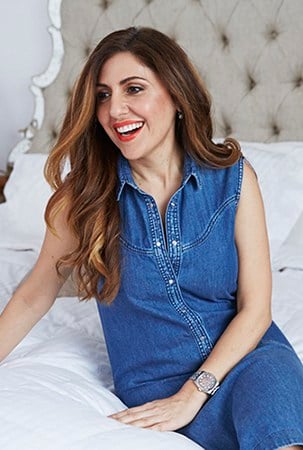 BOUNCY BALAYAGE IS BAHAR'S MANE LOOK. BAHAR WEARS A MODE SPORTIF DRESS.
SENSUAL SPRITZES: BAHAR LOVES A RICH, OPULENT SCENT. BAHAR WEARS DRESS BY DIANE VON FURSTENBERG.
I'm actually really pasty
People think I'm naturally olive, but it's just fake tan. I use St Tropez, it's very subtle which I love. And Jen Hawkins' JBronze Instant Illuminiser blends so nicely, you can't even tell. It smells fabulous and people comment on how nice your limbs look.
Fashion-wise, I buy nearly everything online and have started to dress more casually since having Lily and working in publishing. Clients and agencies are not so dressed up so it's made me wear more casual chic separates  than dresses that I only wore in the past. I also shop once a year for denim, high end designer brands, handbags and shoes, homewares and linen when I go to the U.S. Locally I love Australian designers and swim so tend to shop at David Jones.  I do love an H&M binge at GPO when in Melbourne. For evening and cocktail I'm an Alex Perry girl. I think so far I have 15 Alex Perry dresses not counting my two AP wedding dresses!"
ELEGANT DRESSING TABLE DETAILS