Appearing in front of the lens of Steven Meisel, gracing the catwalk for Chanel and working behind the lens for the likes of Louis Vuitton, Candice Lake has truly reached the upper echelons of fashion in just about every dimension. On a pit stop visit back to Australia as an ambassador for MGallery by Sofitel's Inspired by Her Initiative (which tailors hotel stays to female travellers) the now-Londoner showed us around her glamorous suite at The William Inglis Hotel - a MGallery hotel and shared her approach to beauty and that elusive work/life balance. We got the lowdown on her favourite Sydney boutique, the one makeup product that changes her face, how she shifted from modelling to photography and how she makes her whirlwind career work with her young family.
"Modelling was the amazing vehicle that got me into photography…
I had always wanted to go to art school when I was younger, although somehow I ended up studying law. A couple of years into it, I fell into modelling and everything else went out the window.  I met the most extraordinary people and experienced things I never would have had access to otherwise.  It taught me accelerated life lessons. On a shoot for Harpers Bazaar a few years into it all, I asked the photographer if I could assist him on his next shoot. That was how I began transitioning to the other side of the camera, while gaining my Fine Arts Bachelor degree.
Having children and wanting to enjoy that precious, limited time with them, while also being in the middle of building my brand, is incredibly challenging.
I found balancing the two aspects of my life very conflicting, both personally and professionally.  In my son's first year he travelled everywhere with me so that we were never separated, and I only took on jobs that were really important to me.  At the time it really was difficult, but it ended up being a positive experience that helped me to assess my professional direction.
My career has had some incredible highlights...
As a model, some of them include  seeing my first Ralph Lauren and Versace campaigns when I was starting out, working with Alberta Ferretti to make my wedding dress and having this process covered in US Vogue, and walking in the first ever Fashion Rocks show at the Royal Albert Hall with all the supers. As a photographer, some of  my most special achievements have been having my university graduate exhibition covered in Vogue and shooting campaigns for brands like Louis Vuitton, Cartier and Jimmy Choo.
Finding work/life balance is really hard, and having help is key.
For the first year of my son's life, I tried to do everything (including working and travelling) by myself with no help, and I found I was constantly conflicted and felt overwhelmed Now, my main aim is that whatever I am putting my energy into, I am giving it 100%. So we have a wonderful nanny now, which means that I can focus completely on my career during the day, and then when I am with my children they have my full and undivided attention. I realised after that first year of trying to do it all that it's ultimately about quality and not quantity of time together. Once I accepted this, our family life was a lot richer.
The most important lesson I have learned professionally is to always do what you're afraid to do.
If something seems easy, it means you're not pushing yourself hard enough. Ultimately, to create something out of nothing is incredibly difficult. When people say to me 'your job is amazing'… I don't think they necessarily realise the insane amount of work that goes into it. Being your own brand is the most empowering thing, but it is an incredible amount of work.
I have a love affair with colour...
and I wear a lot of bold statement pieces mixed with classic staples.  I tend to wear pieces that I feel comfortable in that still allow me to experiment a little.  I think that is key – having fun but not diverting totally from your style.  Because I wear such bold pieces I love to keep my hair and makeup minimal, with natural 'I just rolled out of bed' hair and little to no make up, except for a shock of red lipstick.  Oh, and I do have a weakness for accessories… I I just popped into the amazing Parlour X to see my dear friend Eva and bought a pair of Balenciaga shoes!
When it comes to beauty I am pretty much a minimalist...
although I am becoming more obsessed with skincare as I get older. My skin is incredibly dry and my biggest issue is hydration (possibly because of my raging coffee addiction!)  I try to use as many organic products as possible, which was something I started really thinking about when I was first pregnant. I'd say 50% of what I use at the moment is organic, though I'd like to shift that number higher.
Every day I wake up and drink 600ml of room temperature water to get myself going.
I'm very water-focused, actually. For someone with such dry skin, I really shouldn't have as many showers as I do, but I love them, and baths… my husband jokes that I occasionally get out of the bath to partake in life and then I jump straight back in again! That means I have to oil up my body every time.  I am really into dry body brushing for the amazing effects on your lymphatic system, so I do that pre-shower.  Then as soon as I get out of the shower I cover myself in sweet almond oil or Rodin Olio Lusso.  And I add a body moisturiser on top, which might seem a bit excessive, although the air in London is so dry I think it's necessary.
My face changes dramatically when I wear makeup as I am so fair...
…with white eye lashes and eye brows, so when I put on makeup it's like putting on a mask of armour.  While I adore the transformative nature of makeup, ultimately I love a dewy bare face. In the shower I wash my face with an oil-based cleanser. I used to be terrified of cleansers and toners as they dried out my face, but then a makeup artist introduced me to Rilastil and it changed everything. Afterwards I throw on a serum – I rotate through a lot of them – and then an eye cream, a thick moisturiser and an SPF 50+ face sunscreen. If I don't have an event, I won't put on any make up.
I absolutely love Tom Ford products.
There is just something so luxe about them.  I have used his make up for years!  If I pencil in a brow with his brow sculptor, my entire face changes. It's the same with contouring. The lovely Tom Ford team often comes over to do my makeup for events and I always feel so amazing afterwards… so I basically went into the boutique and bought the entire collection.
My hair is quite easy and I'm pretty low key with it day to day...
although I'm incredibly high maintenance when it come to cut and colour.  I go to George Northwood in London forthose.  I searched for about four years to find someone in London who was amazing and finally I found Roi, who all the London celebrities go to (so he's bloody hard to get into!)  He's always got hilarious stories to tell so it's like going in for a cut and a laugh.   In London, I just wash my hair and let it air dry. When I'm at the beach it goes incredibly frizzy and wild, although I really love that at as well.  I try not to put any heat on it unnecessarily, and use a Kerastase mask as my conditioner.  My hair is dry so I only need to wash it once or twice a week.
My mum always instilled in me to never touch my face.
It seems like a simple thing, but it can be hard to do and I still never ever touch my face unless I have just washed my hands.  My mother's skin is alabaster and she never went in the sun, and always plastered zinc on our entire face (which was as great for picking up boys as you can imagine – actually, perhaps this was her cunning plan all along!)  I too never ever put my face in the sun, even with sunscreen on.  I am obsessed with the heat and sun, but I always have on a long sleeve shirt, hat and sunscreen… 'slip slop slap' really stayed with me!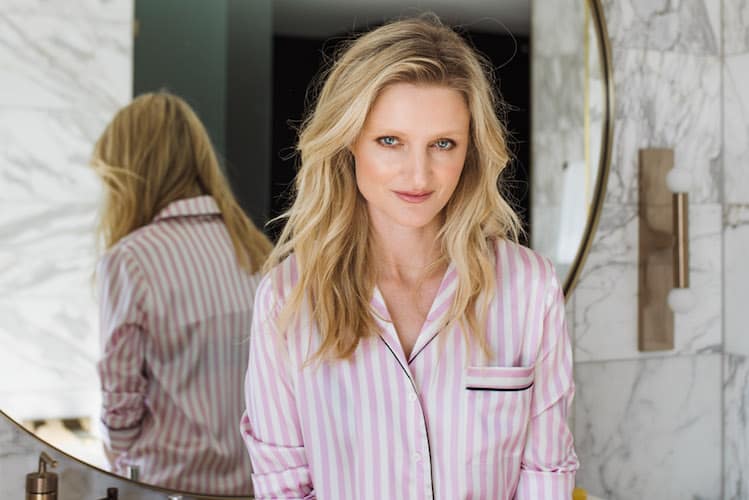 My biggest beauty influences have been the incredible makeup artists I have worked with over the years.
Pat McGrath told me to never touch my eyebrows – so I never have. Steven Meisel said 'your nose is your greatest asset', which was so good to hear after growing up very self conscious about it. Turns out the very thing I hated as a teenager gave me an incredible career! Every makeup artist I come across has a tip that I take away with me.
I am trying to learn to love the ageing process...
I think, growing up as a young model, so much of who I was was built around what I looked like, and it is a bit of a process letting go of that.  I never thought it would be hard, so it has been quite confronting seeing the changes that are due to aging. I hope I can learn to love every line and wrinkle and see it as a map of my experiences, but getting there is definitely tricky!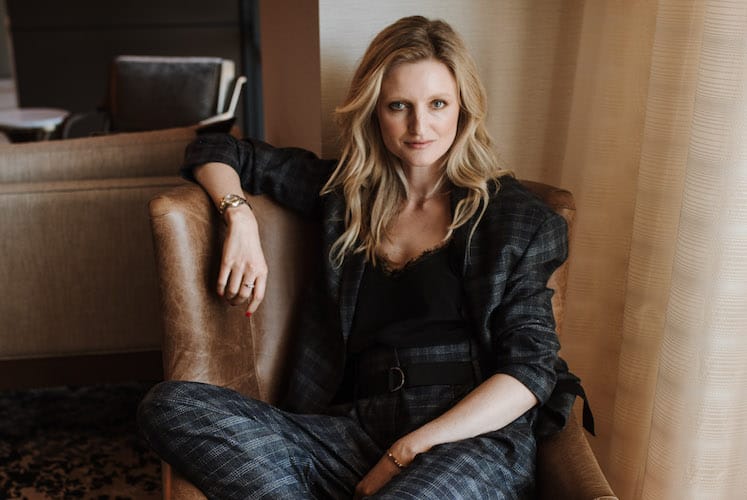 I am incredibly healthy at home and we eat really well.
My husband and I made a conscious decision to not give our kids sugar, and to ensure they were really nourished by everything they ate. We buy locally and organically, and are aware of how privileged we are to be able to invest in eating this way. We feel it is so important that our kids know that carrots grow in the ground and for them to actually grow them and watch the entire process. Also, making sure they would eat everything was a selfish decision, in that we wanted to take them to restaurants that never handed them a kids menu!  They eat Indian dahl, lentil pies, fresh fish with ginger… we make a real effort to all eat the same food and eat together, so no one is substituting anything and we all eat really well.
I despise the current state of affairs when it comes to beauty.
I love the Kardashians as businesswomen, but what they represent culturally really disturbs me.  Girls as young as teenagers think it is socially acceptable, and even necessary to get injections, fillers and plastic surgery. It is so incredibly sad to me that these beautiful young women feel the pressure to all look basically the same, with plumped up faces and lips.  Also, the amount of makeup these girls cake on to contour their faces to be like these celebrities… it just all really saddens me, and I question the long term effects these trends will have on these girls as they get older.  That's why I love brands like Glossier, who talk to young women who want to embrace their real beauty, with any amazing imperfections. We need to see more of that!"