There's something special about finding a piece of jewellery you love. If buying a piece for yourself or for someone else, it's personal. For jewellery designer, Charlotte Blakeney, tapping into that bespoke feeling is her forte, even while catering to the masses of fans she has garnered with her fine jewellery brand, By Charlotte. Her Paddington boutique boasts delicate bracelets, necklaces, rings and, of course, her signature lotus flower design. Inspired by exotic lands, tropical beaches and the desire to make a woman feel beautiful, her designs have become a treasured trademark of It Girls everywhere - including Miranda, Rosie and Georgia May. Once a makeup artist (so we know she knows her stuff), Charlotte's attitude to beauty is just like her jewels: simple, classic and natural. Decked in her free-spirited bohemian style, she invited us into her tranquil Sydney home and confided the products she favours, her thoughts on skincare (she's obsessed!) and the heartache and joy of becoming a new mama.
"I had a very long and emotional journey to motherhood, I feel so blessed to have our little bub in our lives.
My partner, Ryan, and I struggled for six years to conceive a baby. The journey of 10 rounds of IVF and three miscarriages was definitely very hard. The miscarriages were devastating to us. Trying to stay positive and strong while also running a business and keeping my relationship together was just impossible at times.
After our nineth round of IVF, Ryan and I had a long discussion and finally decided to try one last time. In October 2017 I gave birth to our beautiful daughter, Estelle. She has brought so much joy into our lives!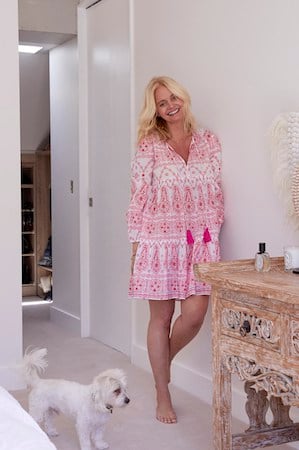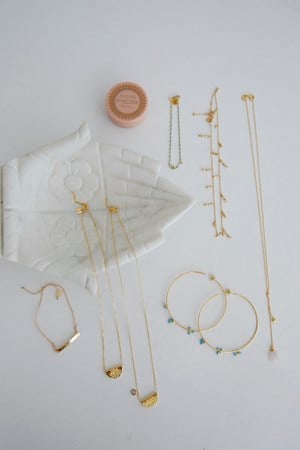 The right piece of jewellery can really make someone feel amazing.
I have always wanted to design my own jewellery range. My passion began when I was younger, playing around in mum's jewellery box. I'd adorn myself with all the Indian-inspired pieces and coloured gemstones she had. It was just a matter of time before I made it happen. I just always loved making women feel and look beautiful.
My obsession with skincare will never die.
I was a freelance makeup artist for 19 years and I was well known for making skin look glowing and flawless. I'm a firm believer of using exfoliators with AHAs, regular microdermabrasion treatments, collagen masks and plenty of hydration inside and out. I love visiting the team at Heber Davis for my skin treatments. I have AHA peels and microdermabrasion and go to The Beauty Room in Darlinghurst for facials.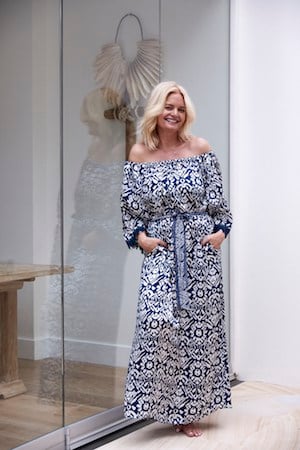 I like to keep my everyday routine simple.
Every morning I cleanse and exfoliate with Dermalogica Microfoliantfollowed by my fave daily moisturiser, Embryolisse, then Actinica 50+sunscreen. I'm big on staying out of the sun and keeping my skin protected at all times. You will never catch me without a full-brimmed hat when I'm at the beach. I use a hydrating mist during the day and at night I polish and cleanse with a Clarisonic brush. I use an extra-strength Dr Dennis Gross Peeling wipe every night followed by Ultraceuticals Ultimate C15+ Serum  and Ultimate Bio Repair moisturiser. I also am an avid user of Bio-Oil. It's the best for preventing stretch marks. I used it all though my pregnancy and have continued to since. The trick to well-hydrated skin is also 3 litres of water, especially while I'm breastfeeding.
My beauty style is natural and effortless.
A gorgeous looking makeup application starts with polished, hydrated and nourished skin. I use a tinted moisturiser and cream peachy pink lip and cheek tint from The Base. I love The Base's philosophy: fresh and natural – just a better version of yourself, really. Kevyn Aucoin makes the best eyebrow pencil – I do a light stroke only through the brows to thicken and define. I then curl my lashes with Shu Uemura's eyelash curler and apply Maybelline mascara. Curling my lashes is a must, it really opens up the eyes and gives me a fresh look. I put a smudge of brown liner inside and around the rim of my eyes and use Nars Laguna bronzer to give me a healthy glow. I then finish with a slick of Rosebud Salve on the lips.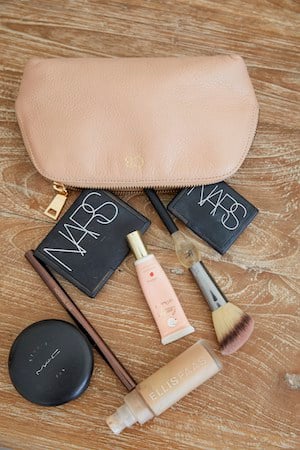 I am not a fan of the gym…
…but I do love taking Pilates classes. I find that Pilates makes me feel more centred and energised to go on with my day. I also love going on long walks with my daughter and puppy around Centennial Park to keep fit.
I really love practicing meditation.
 It has been a great help with my anxiety and minimising my stress levels. I also enjoy going to yoga retreats to disconnect from technology and daily worries. Every night I have a bath; I just find it to be the perfect way to unwind. I mix in some rose salts, or my pregnancy calming oils to aid in my relaxation.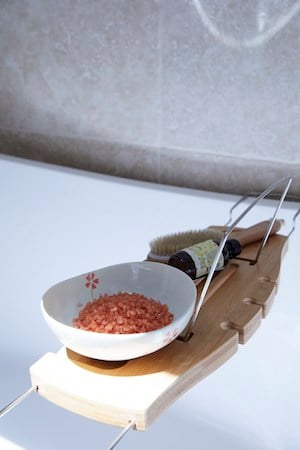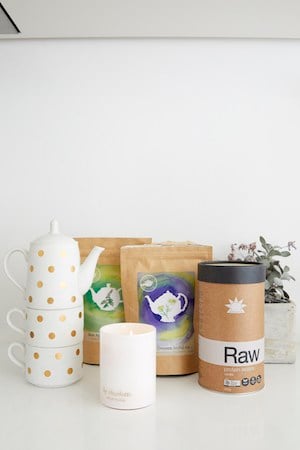 I'm a big believer in having a well-balanced diet…
…so that means I can occasionally indulge in my sweet treats from Just William Chocolates on William St. In summer I start my day with granola, yoghurt, honey and fresh fruits. During the warmer months I like to eat light meals like fish and salad. I love making my barramundi tacos with yummy guacamole on summer nights. When I'm not breastfeeding, I love to enjoy a gorgeous pinot gris with soft cheeses and olives. I'm nurturing my body with veggies and salads and lots of protein to assist with breastfeeding. Also my Elixir smoothies are a must every day to keep my energy levels up."
Story by Velvet Garvey; Photography by Myles Pritchar