Jane Birkin's doe eyes, blunt bangs and tousled hair are synonymous with the "I woke up like this" aesthetic that has inspired generations of women, both in France and abroad. In a sea of starlets that were perfectly polished and never seen sans makeup, Jane was novel - not afraid to go bare-faced or to flaunt messy bed hair. Whilst her effortless allure and relationship with Serge Gainsbourg have long taken centre stage, there is another side to her that is often overlooked. We aren't as familiar with the despair and self-doubt that plagued her, and the tenacity and perseverance she displayed in overcoming her life's many hurdles. Jane has long also been a provocateur: indeed, the British model, singer and actress catapulted to fame in France with a song (Je t'aime… Moi Non Plus) so irreverent that the Pope banned it and the BBC censored it. In honour of Jane's 72nd birthday, we're taking a look back at her most poignant moments, and the beauty secrets she'll never sway from.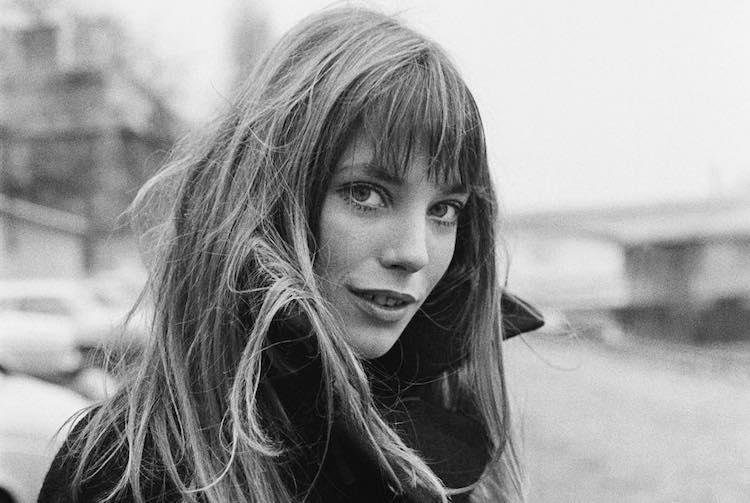 "I'd rather live on my own than live with a face that looks at me with the wrong eyes"
At 17, Jane made her first foray into cinema, where she met James Bond composer, John Barry. Jane and John began a tumultuous romance; against her parents' wishes, they married in 1965 when Jane was 18, and she became pregnant with their first child in 1967. But the marriage wilted in 1968, following John's infidelity. Jane left with "no money" and a battered self-esteem, blaming herself for his extra-marital dalliances: "I was sad, because I thought I hadn't been sexy enough to keep him."
"When you start recognising that you're having fun, life can be delightful"
At an audition in London, a director found her self-deprecating humour refreshingly charming and so sent her to Paris to audition for a film called Slogan. Jane barely understood French at the time, instead relying on phonetics alone to guide her through the audition. Fresh from her divorce from John Barry, Jane sobbed uncontrollably throughout – yet despite the language barrier and tears, she got the role.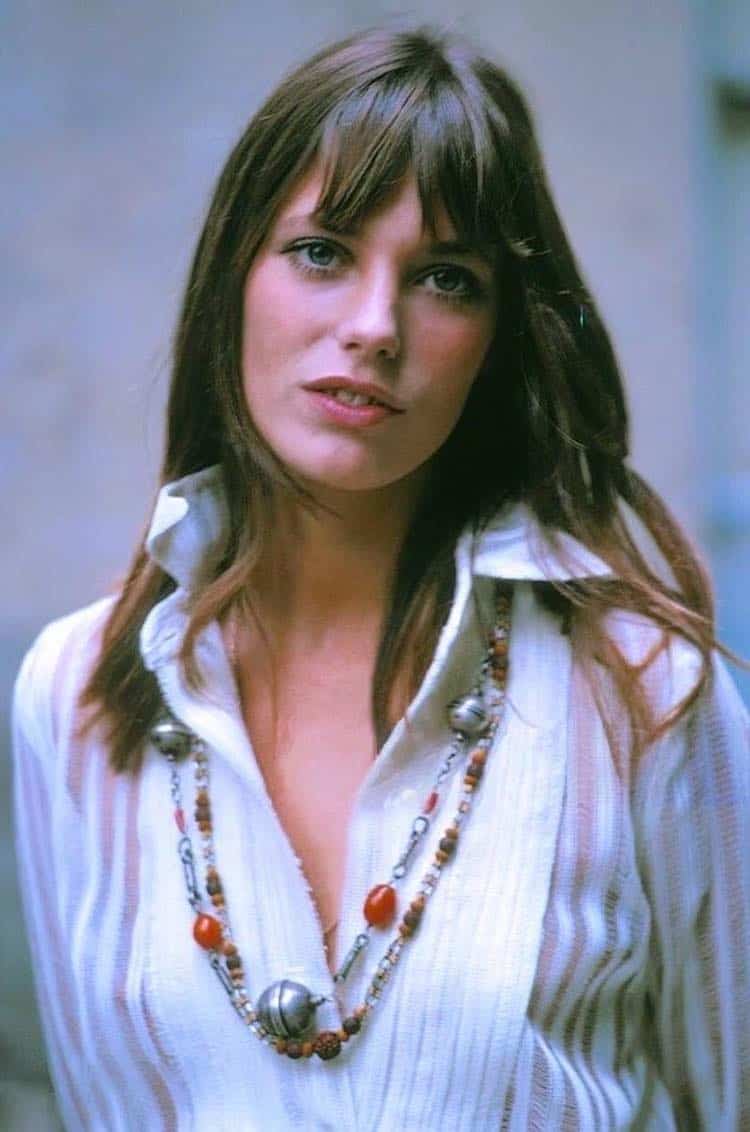 "I did it for the joy of someone who thought I was beautiful. I did it for the fun – the pleasure"
The audition introduced her to the revered French musician Serge Gainsbourg. They went on to become the ultimate power couple in 1968, playing by their own rules; Jane remembers dancing with Serge at bars until the sun rose, and coming home just in time to make breakfast and take their daughters to school. The couple preferred to sleep during the day, and nonchalantly wore t-shirts and jeans to fancy nightclubs, or opting for pyjamas as outerwear. After twelve years together, Jane and Serge parted ways in 1980. Jane was subsequently involved with film director Jacques Doillon.
"There's always good in bad situations"
In 1991, Serge died and three days later her father followed. Despite the double tragedy, she masked her despair and went ahead with her concert tour. But behind closed doors she was consumed with grief, and unable to speak about anything but the deaths of her loved ones. And then Jacques ended the relationship – but she never blamed him: "Jacques had left me… probably because I would sing from morning till night, 'I've lost everyone I love.'" Despite these tribulations, Jane rebuilt herself and sought the silver lining amidst the deep despair. "When my father died, I discovered my mother really, which shows that everything has its good side. I discovered what an extraordinarily generous person she was."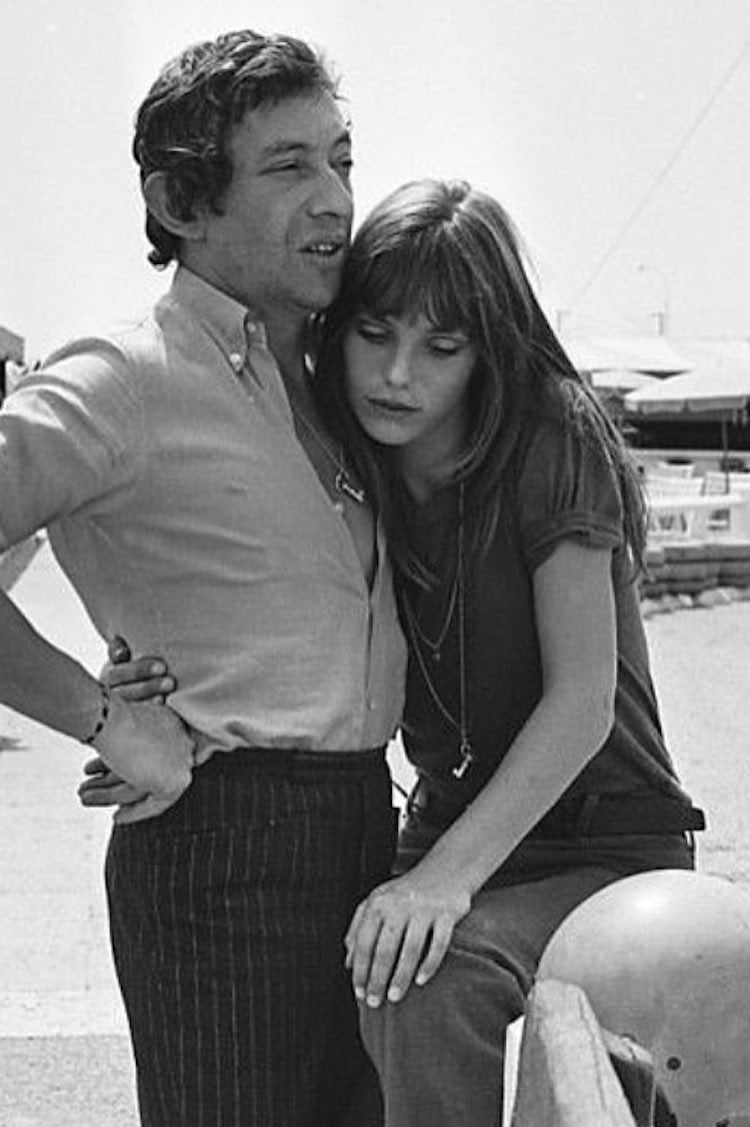 "If I couldn't hand over a bit of my time to look after somebody else in difficulties then I didn't think I was worth my salt or bacon or both"
In 1995, she deep-dived into philanthropy after witnessing harrowing images of women and children suffering as a result of the Bosnian War. Jane visited the impoverished nation to combat and cast a light on human suffering. It was the start of a lifelong mission that saw her work extensively with Amnesty international to give a voice to the marginalised. Jane continues to donate her yearly royalties from Hermès's Birkin, the bag named in her honour, to a charity of her choice.
"Keep smiling: it takes ten years off"
Not unlike her trademark, pared-back sartorial style, simplicity is key to Jane's approach to beauty. Every morning she swears by splashing her face multiple times with cold water for a rosy luminosity. To soothe sunburns and chapped lips, Jane reaches for the cult Elizabeth Arden Eight Hour Cream, while she loves Caudalie's Vinexpert Crème Bonne Mine (Ed. note: not available in Australia) for her moisturiser. Her holy grail multi-use product is Embroylisse Lait-Crème Concentré, a cream she has sworn by since her early 20s; she uses it all over her body and her face, often calling it the only product she needs. She's a fan of German natural skincare brand Dr. Hauschka, with both their lip balm and deodorant featuring in her everyday must-haves. To minimise under-eye puffiness, she's been known to use cooling eye patches – although she admits to now thinking them useless, saying, "I now think that puffy eyes in the morning are rather beautiful."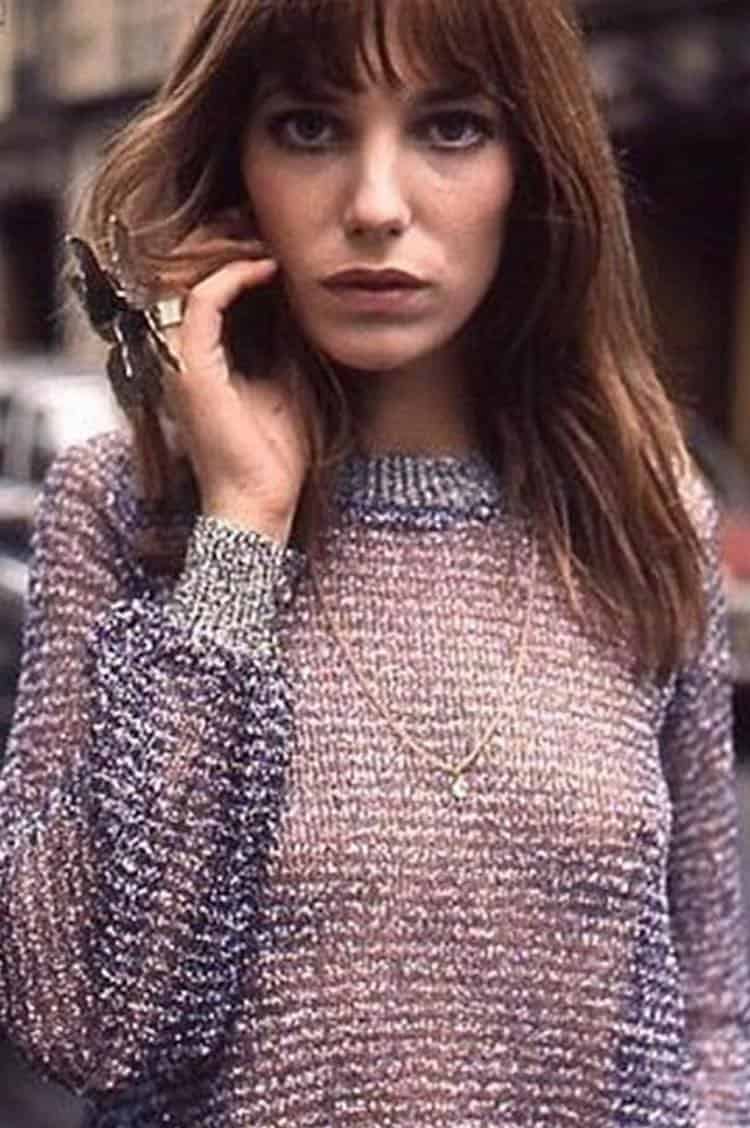 French Vogue editor Emmanuelle Alt says, "French girls still have the Jane Birkin culture. You can go just like that, without makeup, without managing your hair"
To this day, Jane remains loyal to her iconic minimalist look, preferring to wear makeup only for events. Indeed, her makeup philosophy is all about "less is more" as you age: "There comes a time when you're better not to put too much on." That said, she still has some tried-and-tested makeup favourites: she uses Givenchy Matissme foundation to even out her skin-tone and MAC Soar for lips, which she doubles up as a cheek stain. For eye makeup, she likes Chanel's Ombre Premiere 24 in Chocolate Brown as an eyeshadow, but that's all, saying, "I hate mascara."
"I was never particularly into high heels, and always go back to my old Converse with the sheepskin linings that I put in myself"
Despite being the inspiration behind the Hermès Birkin Bag, one of the world's most coveted status symbols, Jane's style is laidback and charmingly androgynous. Alongside her beloved Converse sneakers, she cites Agnès B silk shirts, and Saint Laurent ties as wardrobe staples. "I only wear boys' clothes because we've got a pretty good chance of being as pretty as a boy," she shared. "The competition is dreadful when it's other girls!"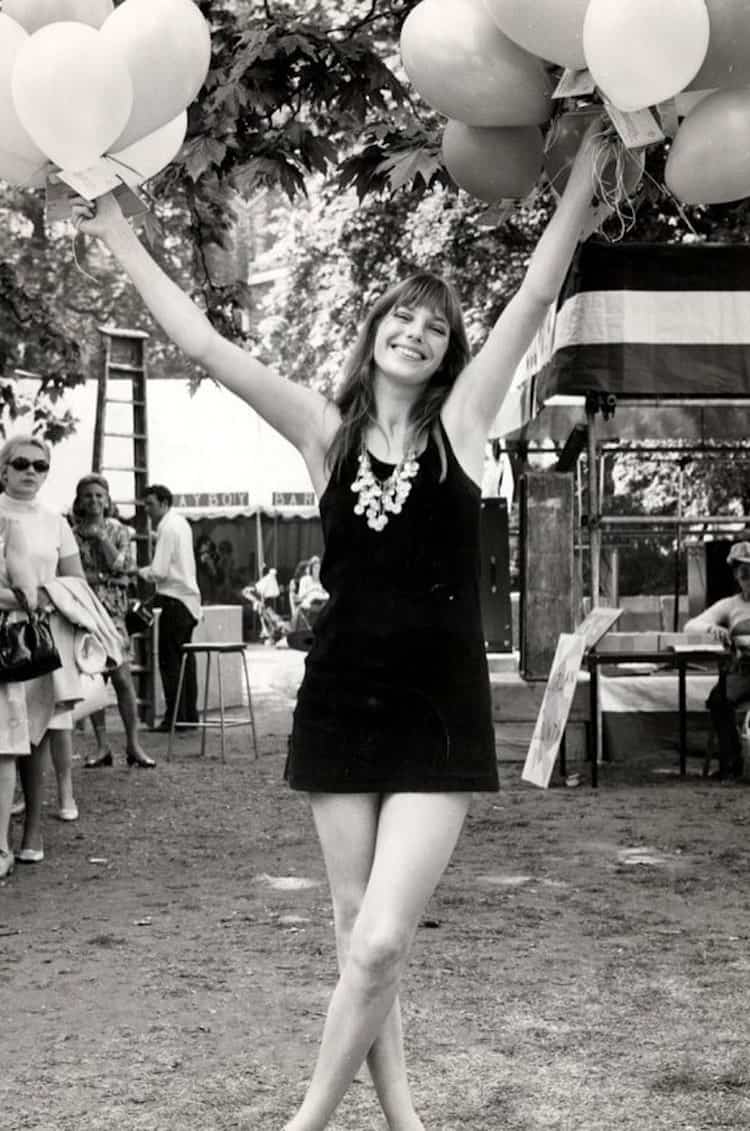 "I feel as if my skin is three sizes too big and needs a tuck. I haven't had the courage: I'm afraid they might make a mistake"
Whilst celebrities are no stranger to nips and tucks, Jane has always defied convention, so it's no surprise she's forgoing surgery in favour of more natural options. Instead, she opts for 10 minutes of facial yoga a day to tighten and tone her skin.
A testament to her enduring appeal, Jane is still gracing covers of magazines, having recently appeared on the cover of Vogue Paris, sharing the spotlight and guest editing the issue with her two daughters, Lou Doillon and Charlotte Gainsbourg.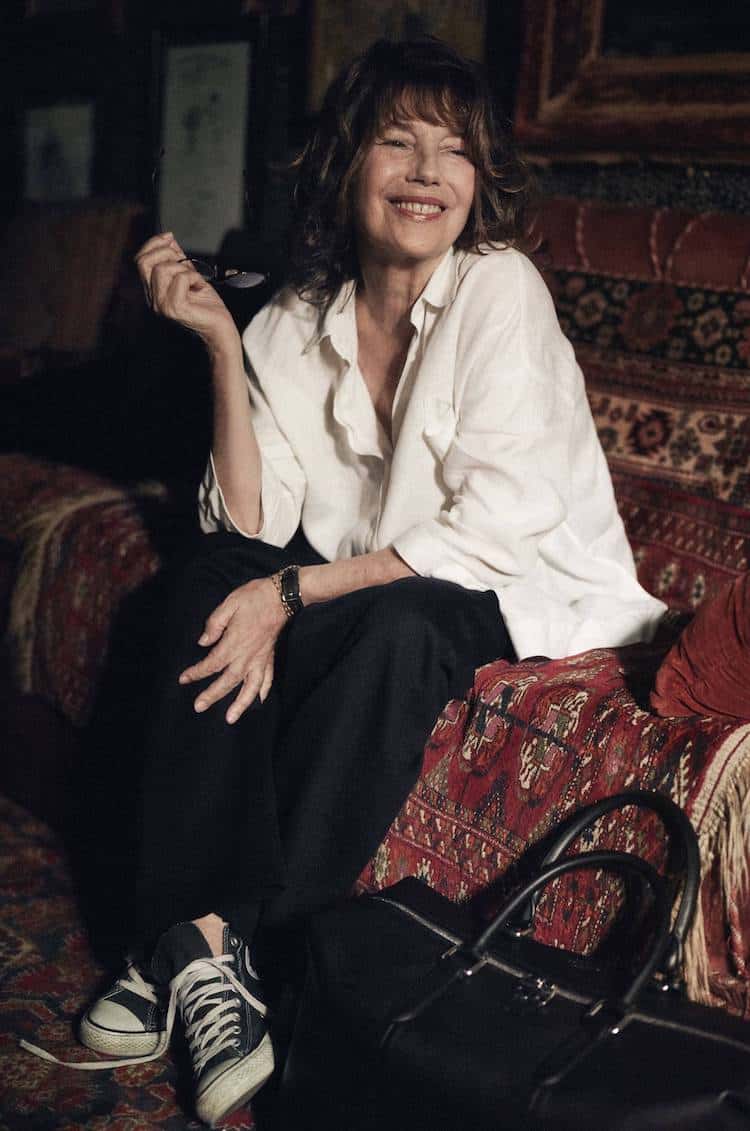 IMAGE: INSTAGRAM @SMYTHSON