Kerrie Hess's ultra-feminine illustrations have been commissioned by everyone from Net-A-Porter to Tiffany & Co, so it's fair to say this lady is known for her good taste. Inviting us into her light-filled Brisbane home – naturally, the perfect backdrop for her art – Kerrie shared her tips for how she maintains that glowing, peachy complexion, and how living in Paris has influenced not only her approach to fashion but (best of all) helped her reframe how she feels about ageing.
"I have been illustrating and drawing since I was little but it was not until I was 18 that I started to really take it seriously.
I moved to London to start my first job, doing both graphic design and illustration, but I realised fairly quickly that illustration was more my passion. I made the move to full time art and illustration at 19. I didn't know anyone at the time who also did this so it was quite daunting. One of my first commissions was with Vogue Australia and I think that gave me the confidence to really keep going. That was over twenty years ago now.
When it comes to my work, I love that everyday is different.
Travel and events at the end of a project are often involved, but in all honesty I am happiest being in my studio, painting. I have a ten year old son, so I try and not be away for work too much. I am working on an exhibition of original works in Sydney at the moment and I feel so lucky when I am able to have that time to work on original pieces in combination with jobs that involve fashion and beauty brands. As an artist, it's the balance that makes me feel happiest. Painting illustrations for my print shop is also a big pleasure, because ultimately there is often something more special about working on a piece that will be displayed in someone's home, than on a billboard for a luxury brand.
Since living in Paris, I think I have become more discerning about buying new pieces and I avoid anything too trend based.
I only have a small number of bags, for example, and while I did recently purchase a new one from Dior, it was one I had had my eye on for over a year – and it's now the one I use everyday.
I am all about the fabric of a piece feeling great on, as much as how something looks. I love neutral classics and printed silks in summer. Valentino shoes are something I have trouble resisting. That said, I also bought the most amazing grey faux-suede trench coat from Zara for 59 euros when last in Paris and it's one of my favourite things right now. I really prefer to buy fewer things in general and stick only with the things that you really love. I am happier when I don't have too many things.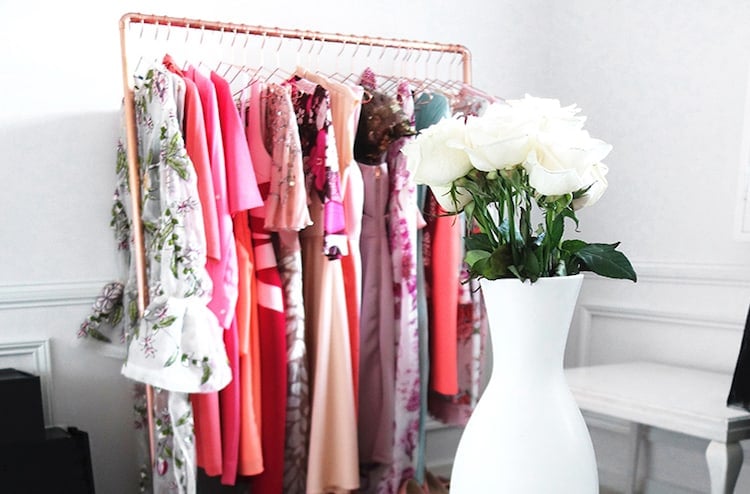 I have my everyday skincare and makeup products down pat.
I cleanse with QV facial wash – it's so simple, I really love it – then apply Clarins Extra Firming Day Cream. I then use Giorgio Armani Designer Lift Foundation and Maybelline Age Rewind under eyes, which I absolutely love. Blush is usually Nars Orgasm or YSL blush. Either Benefit Coralista for eyelids, or beige tones from the Urban Decay Naked Eyeshadow Palette (Ed. note: discontinued). I like Lancome's Grandiose Mascara for lashes – I discovered this mascara while working for with Lancome on their packaging, it's the best. My favourite daytime lipstick at the moment is Dior Addict Lacquer Stick in Palm Beach. In the evening after cleansing I like to use Lancôme Génifique serum or Go-To Face Hero, all over my face and neck.
If my makeup has to last until the evening, I always use a primer like Make Up For Ever Radiant Primer in Peach, which is great if my skin is just looking dull, too. And then, most importantly, I spray my face well with Smashbox Photo Finish Primer Water as a setting spray once makeup is complete. These two items are the absolute best things to keep makeup from melting by the end of the day.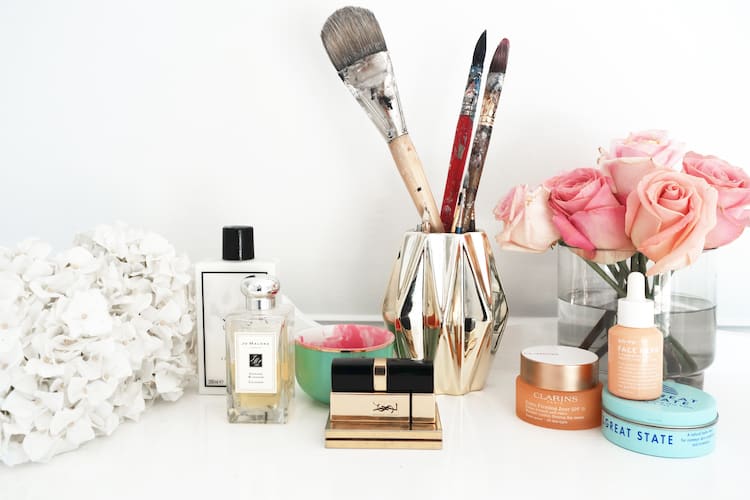 I always aim for my beauty look to be natural and (hopefully) glowing.
I like to still be able to see my skin through foundation and not have my makeup be the first thing that you notice about me. Being pale, I tend to go for peachy tones in general.
I prefer to keep it simple in terms of makeup. My favourite colour palette is rosy cheeks, peach eyeshadow and neutral lips for day. And if I have the courage, just a bold red lip (I adore Chanel Rouge Coco) and mascara for evening. A little tip for serious lipstick that I like to follow is to put a slick of The Great State balm underneath, which is a more natural alternative to the well-known pawpaw balm.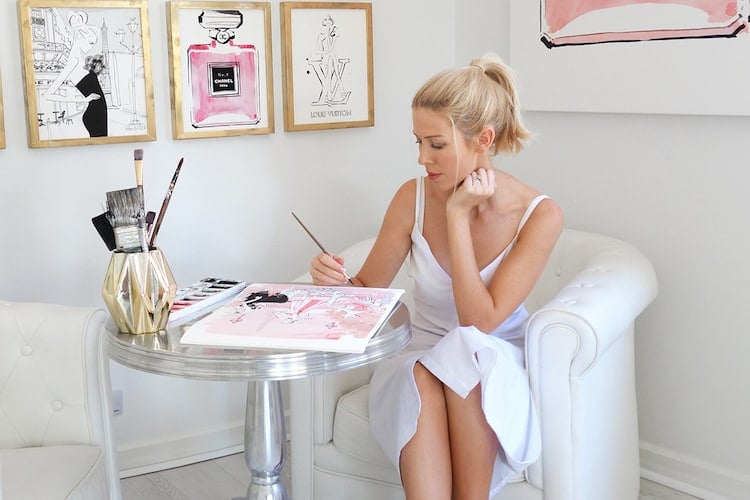 In all honesty, the best thing my mum always taught me about beauty was how she never said anything negative about her appearance.
Mum always took that time each evening for her cleansing and moisturiser, and often wore lipstick, but aside from that, she rarely mentioned beauty. She completely accepted herself as she is and I think that's an incredibly powerful message to your children.
I absolutely adore women who have grown into their own beauty gracefully. I happened to do some work with a charity recently and had some appointments with Dame Quentin Bryce. I have to say, as well as being warm and intelligent, this woman is just so graceful and beautiful. That is the kind of beauty that I admire.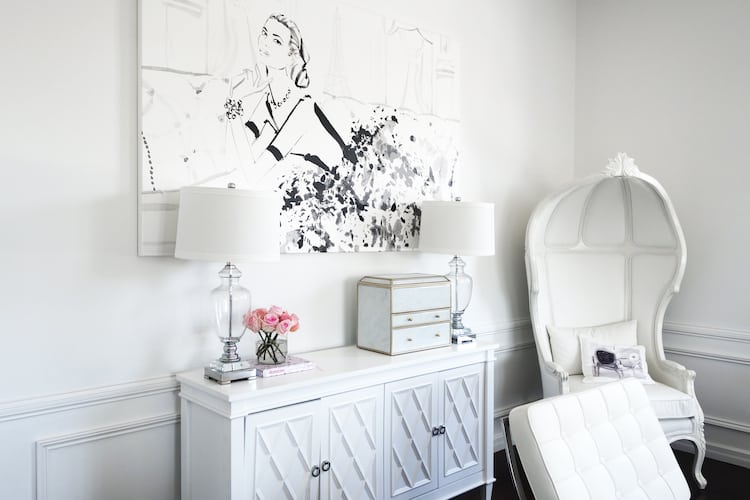 Having blonde hair is not always the easiest to deal with. I've found it all comes down to using good products.
Kérastase Serum Thérapiste Dual Treatment is my favourite hair serum to apply to just-washed hair. Otherwise I just try to give my hair a break from styling whenever I can. This is what messy buns are for.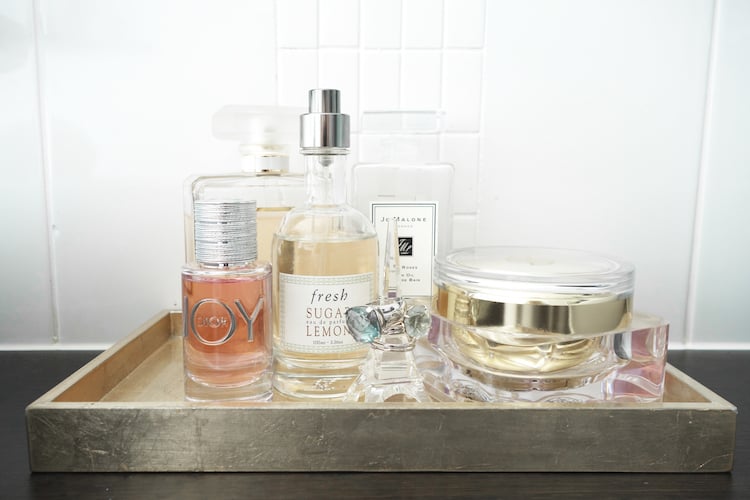 I do find painting relaxing (luckily, as it's what I do most of the week) but outside of this, yoga and Pilates really do help me switch off.
I do one session each of Pilates and yoga each week, and walk everyday. I like to keep it simple but try and move in some way. Just trying to make sure I have time off my phone from around 8pm each night is also helpful, otherwise I lose the time in which to have a glass of wine, disconnect, read a book or have a bath without technology. I love to add a few drops of bath oil, either Chanel No. 5 or Jo Malone Red Roses, to my evening bath, as well as a scoop of Epsom salts.
I also try and start my days in the right headspace by thinking of five things that I am grateful for every morning when I wake up, rather than immediately checking my phone. This helps to make any small bad things that happen during the day easier to handle.
If I have time to get a salon treatment done, I am all about massage.
When I need to really switch off, I will book in for an hour at my favourite spot, Healing House in Teneriffe. Every so often, I also find microdermabrasion is one of those treatments that is both pleasant to have done and works wonders when your skin is feeling dull. I love to get the lactic acid brightening facial at The Skin Clinicians in Hawthorne. I had this done a week before my wedding late last year and it was so gentle but made my skin glow and pores tighten.
When it comes to what I eat, I follow the 80/20 rule.
I tend to eat healthy food most of the time, but add in small indulgences when I feel like them (for instance, I just had some dark chocolate!). I don't drink soft drinks, and tend to prefer brown rice over white, dark bread over white sliced, and so on. I always cook veggies with a little scoop of butter and pepper and salt rather than boil them, as I am more likely to enjoy them that way. I also love a healthy substitute for something that is traditionally not the most healthy. I make my 'apple pie' by cooking fresh apple slices with a touch of butter and sugar, then serving them with a sprinkle of apple granola and a scoop of vanilla greek yoghurt – it's the best. And on those days that I am craving french fries, I have them and just enjoy them. Life is too short.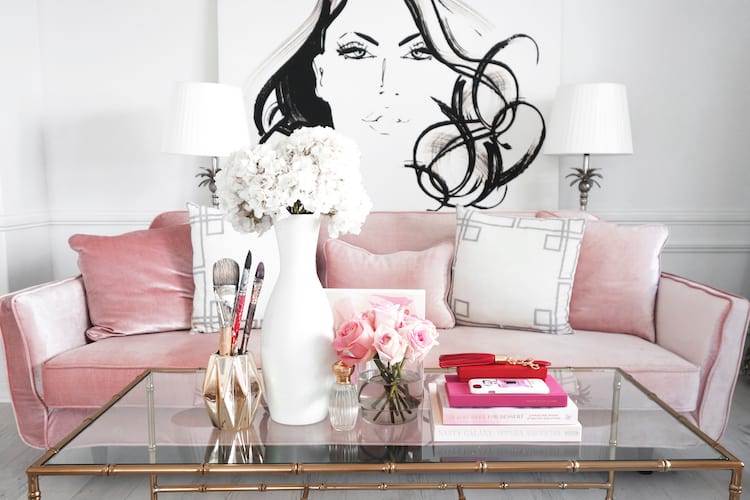 This Rosé Champagne has always been my favourite and it was such an honour to create a special package together. I always think that a little champagne from a beautiful glass puts you in the perfect mood for celebration. I found the most gorgeous gold-rimmed vintage champagne coupe glasses recently in an antique store in Brisbane and love to use them for serving champagne. They add a little element of The Great Gatsby to any special (or not so special) occasion that calls for bubbles. I am all about finding pleasure in the little things and stopping sometimes to just enjoy the moment.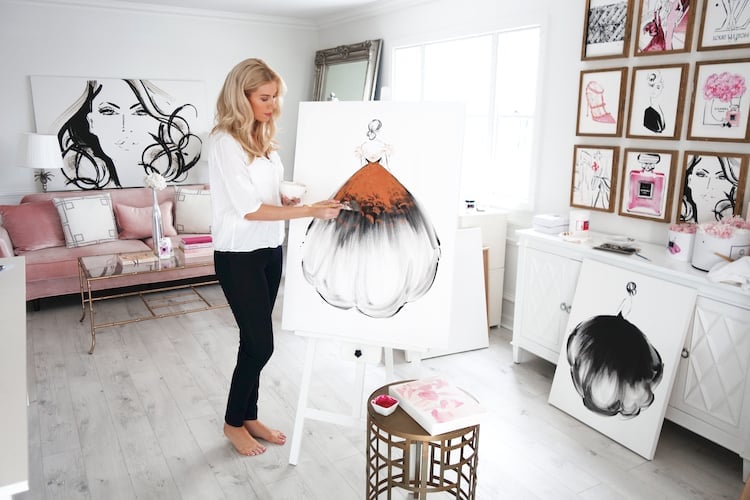 I definitely noticed during my time living in Paris that 'women of a certain age', as the French say, have this fabulous attitude that I'm not sure exists elsewhere.
I used to notice these older women strutting down the street in heels and leather pants with so much confidence. Yes, there were lines on their face, but they wore them well – with red lipstick and no apology. I definitely took something from that. Look after yourself (another French thing is to never feel guilty about getting a facial), but accept getting older. It's a balance. I am certainly happier as I get older. I think as women today, we are so much more confident as we age."