There was a time when those behind the beautiful faces were just that, in the background. But then, over the years we've seen the rise of the makeup artists and hairstylists finding themselves front and centre, with a long line of hopeful clients dying to have them work their magic. These days, brow stylists are the rockstars of the beauty world, and Kristin Fisher is up there with the best. With beauty always her calling in life, Kristin has been catering to the arches of people like Jesinta Franklin, Elle Ferguson and model Elle Morris for 12 years and is showing no signs of slowing down. After experiencing the beautiful aesthetic of her Double Bay brow salon, we were eager to visit Kristin in the Inner West home she shares with her husband, Chris and kids Lila (4) and Eddie (2), to talk about her deep beauty roots, the lessons she learned from her mum and the one beauty trick she wishes all women knew…
"I have always been passionate about cosmetics and all things beauty.
I used to tweeze my friends eyebrows at lunchtime when I was at high school. Eyebrow shaping was in me from a young age. I have never questioned my job, I left school and went straight to beauty college.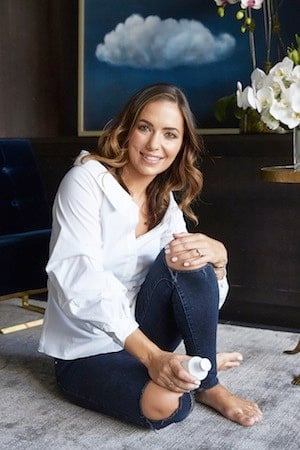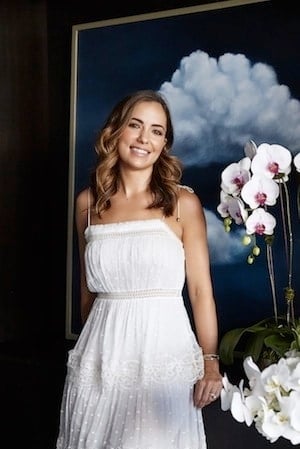 When I was at beauty college we were learning how to do Brazilians…
Without saying too much, the poor girl doing mine had to go and get our teacher to help out, which resulted in her cutting the wax off me with scissors. SCISSORS. I really wasn't even that hairy! But I have never forgotten it. All of the students had to leave the room and the principal even came in to help. It was a hilarious disaster.
My mum started buying my sisters and I good skincare from a young age.
I remember thinking we were sooo fancy when we were at boarding school because I used Clinique and Estee Lauder make up. If you met my mum you wouldn't think she was 60 – her skin is so beautiful and supple and is the product of using great skin care – no needles. She's a hairdresser by trade and has perfectly blow-dried hair every day. This is precisely why I can't style my own hair – imagine growing up and having a live in hairdresser – as if you'd bother to learn to use a hairdryer or GHD. She taught us to look after our skin and that a blowdry can make any outfit look chic.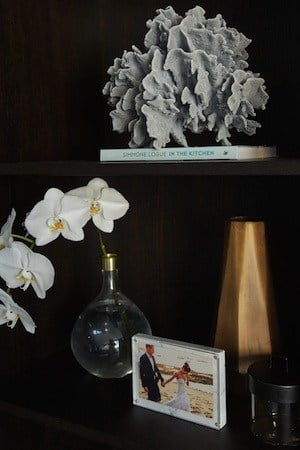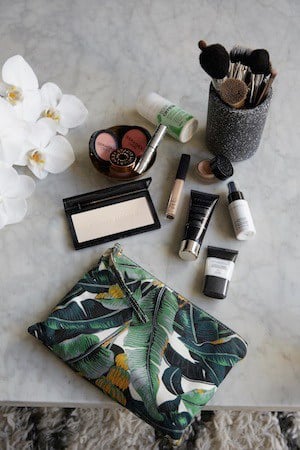 Rationale has changed my skin…
… and has given me the confidence to go make up free almost every day. When I started using it, I had to get my head around only cleansing my skin once a day. I also go there once every couple of months for a facial. They are heavenly and I leave feeling like a new woman. My morning regime starts with me rinsing my face with warm water, then applying 2 serums and an SPF 50. The first serum is a calming serum, and the second is a vitamin C serum. I then apply my sunscreen and that's as far as I usually get in the morning as I'm always racing to day care then onto work. On the odd occasion I have time to apply makeup, I wipe on By Terry Sheer Expert Foundation, dab on Stila cream blush in 'Gerbera' and a lick of mascara. I get my lashes lifted and tinted every 6 weeks in the salon and have groomed brows (most of the time) or use Benefit Brow Zings Kit Number 3. With clear skin, I don't feel the need to always wear make up.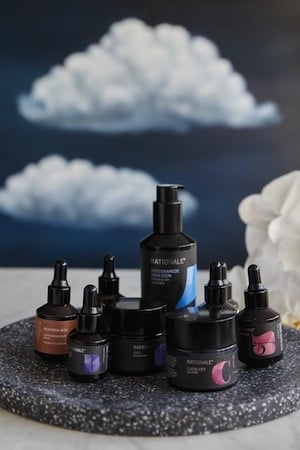 I have never been one to deny the fact that I've had botox.
I bloody love the way my forehead is so smooth after having it done. That being said, I hope I have the willpower to stop when enough enough. I think I do… I hope I do! My mum is completely natural and I think she is so incredibly beautiful so if I can age half as well as she has I will be happy. I tried filler for the first time in a crevice beside my mouth not so long ago and also loved that. It was subtle but again, I never would want to over do anything. I really would love to grow old gracefully. Again, watch this space – ha ha!
My hairdressers hate this…
But I have used Pantene shampoo and conditioner for years – and I love it! I use Oribe dry shampoo and a yummy smelling hairspray from DryBar. I get my hair coloured and cut every two months and get it blow dried regularly as I simply cannot do my own hair. I love that you can really boost your confidence by wearing make up, or having glowing skin, or that beautifully styled hairdo. I love that you can change your entire look with beauty. I felt frumpy with my second pregnancy and I remember feeling like I needed a change. I walked into my hairdresser and said "give me a lob". She did, and I loved it! It made me feel so chic! And at 37 weeks pregnant, that can be quite difficult.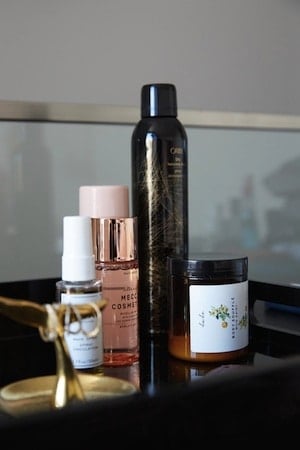 I am yet to find a spa in Sydney that I love.
But, whenever I travel or stay at large hotels, I always always always go to their spas. It's my thing. I will book in for a half day of treatments and relish every second of it. Friends of mine are opening a day spa in Double Bay directly above my salon next month and I can't wait! It's called Bump Dayspa and will cater to pregnant women but is also for non-pregnant women. Which is good for me, because it would've been quite drastic if I'd gone and gotten knocked up just so I can sneak up and have a massage on my lunch break. Side note: I never have a lunch break.
I get asked what I'm wearing often when I'm wearing it. It is so light and fresh. I wear BYREDO Gypsy Waterand Bal D'Afrique in the cooler months, they're so yummy. And I use this crystal deodorant my younger sister got me onto – it's been the best thing for my underarms. I never ever get body odour and my underarm skin is never aggravated. I highly recommend making the switch to crystal or natural deodorants.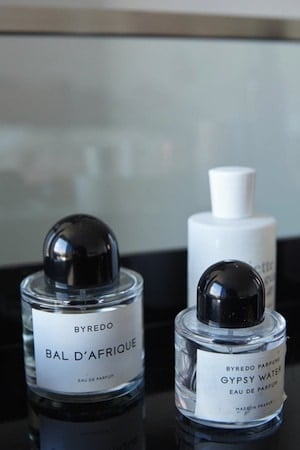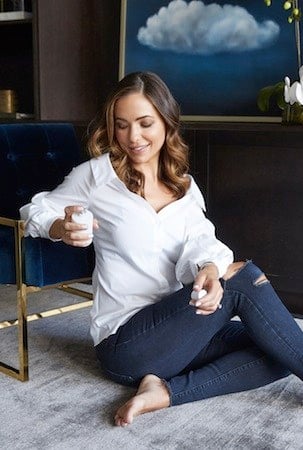 I get hangry if I'm not fed every couple of hours.
I eat a lot and quite frequently. I always have. My fave salad is the chilli chicken salad from South Dowling Sandwiches and I love the poached eggs and hash browns for breakfast from Little Jean in Double Bay. As a working mum, I have welcomed Uber Eats with open arms. We have some fantastic restaurants in our area delivering good, hearty meals that are great for families with young children and not your typical takeaway. We often order from Three Blue Ducks or Fratelli Fresh – why would I bother cooking!! If it's a non working day however, I love to cook. I have a special slow roasted maple lamb shoulder recipe that is DELISH – I serve it with creamy Thermomix mashed potato and Jessica Sepel's Crispy Moroccan Brussel Sprouts and its always a winner.
My husband owns F45 in Surry Hills…
… so I train there when I can but logistically it can sometimes be a bit tricky for me. He is the fittest person I know and has the world's most beautiful body. I admire him so much, I just wish I had his passion for exercise! But on a regular day I go to BeFit in Double Bay with the trainer, Ben, which is ten metres away from my salon – yes, I still find excuses not to go even when its practically on my doorstep! Ben Ezekiel, the owner, is so patient with me and really looks after me. I think Chris (my hubby) is secretly happy he's handed me over to Ben. I complain. A lot."