Paloma Rose Garcia is one of Sydney's worst kept secrets. The stunning hair stylist's name is whispered among some of Sydney's hippest girls (including Margaret Zhang, Kym Ellery and Jessica Gomes) and as a Redken spokesperson and co-owner of Oscar Oscar Salon in Paddington, Garcia is a master at effortless, 'cool' girl hair. She, herself, is a walking advertisement for that low maintenance, I-was-born-like-this approach to beauty. She shared her secrets when she opened the doors to the stylish inner-city home that she shares with her fiancée Akira, four-year-old son Teddy, and the newest addition to their family, baby Charlie.
"I am passionate about great, effortless, natural hair…
…and that's our aesthetic in the salon. We want to enhance women's natural beauty. I work hard at installing a down-to-earth and friendly vibe in the salon. I want to give someone their best hair possible, working with what is there naturally. I believe we were given our hair type and texture for a reason. I wanted to do hair since I was a young girl. I started sweeping floors at a local salon every Saturday when I was 13, and it all progressed from there.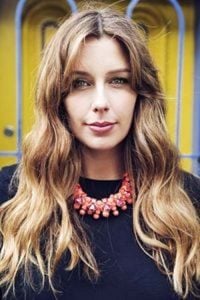 To be able to help boost someone's self esteem is such a gift.
I also love managing my team of 14 creative souls, assisting them with professional and personal growth. I have dabbled in editorial for magazines like Vogue, Russh and Sunday Style and runway hair for Shakuhatchi, Flannel, White Sands and Oroton but my true passion and drive is my team and my business.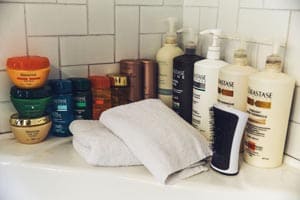 I am definitely a wash and wear type of girl!
I use either the Kerastase Oleo range (for curly hair) or Shu Uemura Moisture Velvet (great for dry hair). I always use a shampoo and mask in the shower (I don't bother with a conditioner), then a leave in product to help define my curl and reduce any flyaways – either a cream or oil leave in or mix the two depending on the weather or what my hair is up to at the time. I always blowdry my centre parted long fringe with a round brush to create a bit of polish around the face. If I want to look more polished for work or have an event on a will use a 1 inch curling tong. For a beachy look I alternate the direction of the curl on each section, if I want more of a glam S bend look I do it all going back off the face in the same direction.
When it comes to beauty, less is more. Especially as I am approaching my thirties. I used to be more experimental with my hair and make-up growing up. As you get older you stick with what works for you. Skin care has always been really important for me.
My stepmother educated me on how to look after my skin…
We used to do mini facials at home when I was 13 – steaming our faces over hot water and herbs with a towel over our heads! My father used to laugh at us and think we were nuts. We would stand at the traffic lights patting under our chins so we never got a double chin, and she always taught me to apply facial moisturiser in an upwards motion. She introduced me to all the classic perfumes such as Chanel #5, Samsara and Opium. She taught me to see beauty in a classic way.
I wash with Dermalogica Special Cleasing Gel face wash every day and Dermalogica Skin Prep Scrub Exfoliant twice a week. I apply Environ Vitamin A & C serum along with Environ Eye Cream, then I moisturise with Dr spiller – it's the best water-based, non-clogging moisturizer. I also use La Mer Moisturising Gel Cream and Eye Balm Intense cream which is yummy and rich. For the body I wash in the shower with Aveda Rosemary & Mint body wash, then moisturise with Kiehl's Creme de Corps or Alpha Keri Body Lotion, and if I am really dry Aveda Calming Body Oil.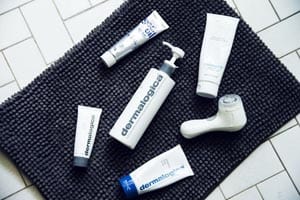 I am pretty minimal with makeup.
I hate too much coverage on the skin. It's meant to look like skin, not a cake! I use a touch of Giorgio Armani Luminous Silk lasting silk under my eyes, if I'm looking tired then a small amount of Jane Iredale Pure Pressed Mineral powder. It's light in coverage, which I love. I then use Nars Laguna Bronzer and Orgasm blush. I love these two products! I have a few Nars bronze shimmery eyeshadows like Isolde that I throw into the mix, and a YSL mascara. If I do a red lip its either M.A.C Ruby Woo or Lady Danger. I love the M.A.C and Shu Uemura makeup brushes. A good friend of mine is a fantastic makeup artist and she teaches me all the tricks: contouring the cheekbones, and blending the bronze eye shadows into the socket of the eye with the right make up brushes, it makes you look like a pro. And using red lip liners to match the lipstick makes the world of a difference!
Beauty treatments are my biggest indulgence…
Because I own a salon I always look at spas and see how other businesses are doing things. I see Dee at the Clear Skin Clinic every four weeks for a good cleansing facial and peel. I have been seeing her for seven years and she is very honest and straight to the point, which is what I love about her. I go for a massage every month either at Venustus in Paddington, the QT spa or Aveda day spa in Paddington. I have been having weekly massages now at the end of my pregnancy, which is heaven! I get my nails done every fortnight, Shellac or normal polish with a gorgeous client Natalie Jacobson who comes to the house or I go to Paddington nails. Gabriella at Salon X is amazing at eyebrows and facials, I go to her every five weeks. I also go to Foot Haven in Bondi Junction for a one hour foot massage/reflexology if I have been working a lot. I take my eye mask and ear plugs and meditate, its great!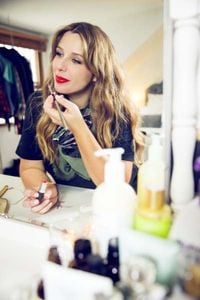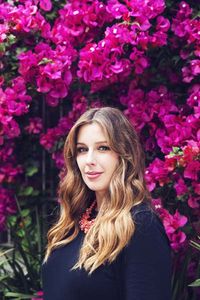 As for exercise, Akira and I had just got into cross fit…
…outdoor training before I got pregnant. We were doing it outside with a trainer and friends and all the kids would play together, which was great. Whilst being pregnant I have done lots of pre natal yoga to help with the birth and walking around Centennial Park.
Akira has a tacqueria called Alvarez & Sons in a bar called Tio's in Surry Hills. It's a family run authentic street food mexican taco shack! He specialises in 12 hour slow cooked meats for tacos and has Pork Torta's on his menu which are like a mexican burger (think pulled pork, chipotle mayo, fresh cabbage and coriander on a soft bun)
At home we try to cook everything ourselves…
We buy organic produce from the Marrickville markets every week, which is always inspiring. Our son is such a great eater. Even if we have something naughty like cake or muffins I much prefer it to be home cooked. In saying all this the reality of us both having our own business and two kids, means we do eat out too! We love go for dumplings or Pho in Chinatown. And kid friendly restaurants such as Porteno or Fratelli Fresh's Sopra.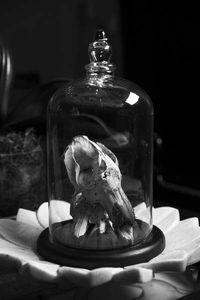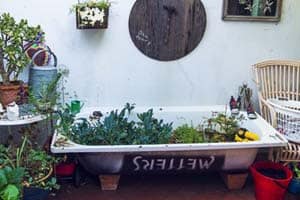 Akira found this old bath tub on the side of the road and suggested it becomes our new veggie patch. He drilled holes in the bottom for the water to drain then planted lots of herbs on one side and I put kale on the other. It grows so easily.
Our son Teddy picks the kale every morning to put in our smoothies…
I take fish oil for my joints as I am conscious of looking after my wrists, especially with work. I try not to go overboard on supplements and just get everything we need out of food! I would love to practice yoga more for myself but you can't do it all!"
Words by Sigourney Cantelo; Photography by Jake Terrey; Hair by Paloma Rose Garcia, Oscar Oscar Paddington; Makeup by Regina Gao.