Sibella has a knack for collecting and curating things that has built her a career as one of the country's most notable interior stylists. A one way ticket to New York City in her early twenties was the beginning a globetrotting career that saw her working with powerhouse brands like Bergdorf Goodman, Jo Malone and Saks Fifth Avenue. Most recently she hosted Restoration Australia, a showcase of her knowledge of Australian history and heritage architecture. She has also transformed some of the most well known venues in Sydney in collaboration with Justin and Bettina Hemmes including Hotel Palisade, Mr Wong, Palmer & Co. and Ms.G's, creating spaces that are both bespoke and unique.
Since becoming a mum to her beautiful daughter Silver, Sibella has slightly curbed her gypsy-like wanderings, but her bowerbird tendencies are still going strong. She welcomed us into her treasure trove of a store The Society Inc, which has shelves heaving with her cleverly curated collections of curiosities. She also had with her her bag of most treasured beauty items and she divulged to us her minimal beauty regime that is as well edited and dictated by a love of beautiful things as the rest of her life.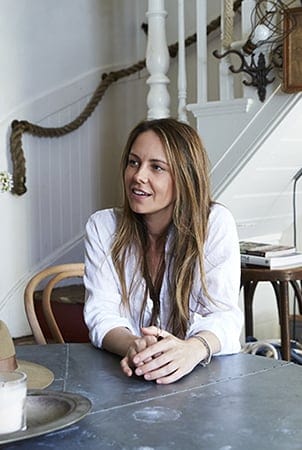 SIBELLA KEEPS HER MAKEUP TO A MINIMUM
"When I'm working I don't want to be too done up.
You're not supposed to be perfect when it's 40 degree heat with a thousand flies and you're working with tradies. You want to be real. For the TV show I would do my own makeup. At first, I was like 'You don't have a makeup artist?' but then I was like, 'Oh it's really nice that you don't.' Because, we were shooting in the middle of nowhere, with being a little undone, you have a really lovely rapport with the people. If you've got a good foundation, it doesn't even matter anyway! I like Giorgio Armani foundation and I like YSL Volume Effect Faux Cils for mascara.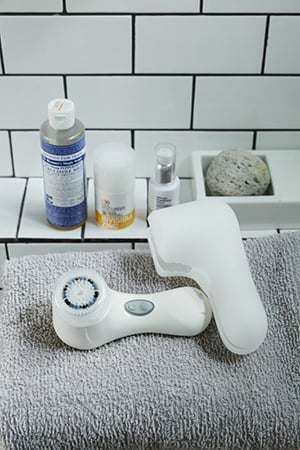 DR BRONNER'S SOAP, INVISIBLE ZINC, ULTRACEUTICALS AND CLARISONIC ARE AMONG HER FAVOURITES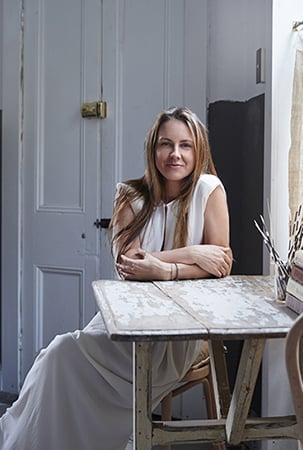 SIBELLA KEEPS A STANDING FACIAL APPOINTMENT AT JOCELYN PETRONI
My skin glows all day when…
I see Jocelyn Petroni. I've been seeing her every three weeks for about twelve years – since she first started her business. I'm just booked in for the year for that, but when I'm traveling I can't go. I just let her do whatever she does, I don't ask questions, and it's amazing. We do it early in the mornings, at about eight. Then my skin glows all day.
My favourite scent is rose!
Rose scented anything! Two fragrances that I love are Coqui Coqui and Acqua di Rose by Aedes. I'm just working on my first candle, and it's based on my great grandmother's bottle of Attar of rose, which is from the late 1800s. It's so beautiful. I went to Elise from Maison Balzac, and she made it for me. It's my own label. I'm so thrilled with it.
My favourite beauty destination?
Coqui Coqui is amazing! There are four residences that are tied to the perfume brand in Mexico and they're all amazing. They have a really good spa in Tulum, but the one where the actual perfumery is is in a tiny little town in the Yucatan. There is just one room where you can stay and it is beautiful.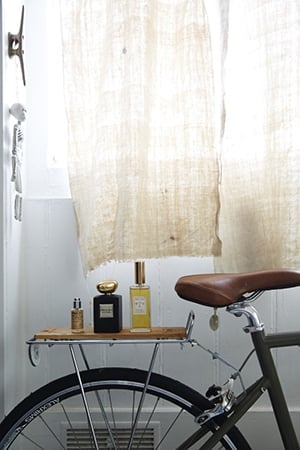 SIBELLA'S FAVOURITE SCENTS - READY TO RIDE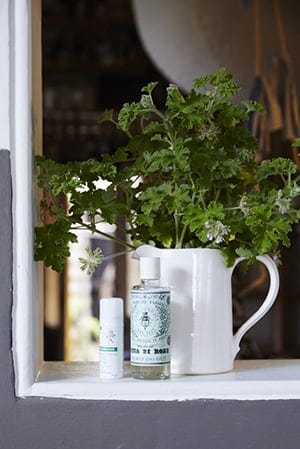 A TRAVEL SIZED KLORANE DRY SHAMPOO IS A TRAVEL ESSENTIAL
I'm not fussy about hair…
I use the beautiful LuxeOil by Wella, it's the best. I go to anybody at Valonz. I'm not fussy. Though I actually just went to La Boutique for my current colour. I get my hair blow dried there, but I switch who does my colour and cut. It depends where I am at and how I am feeling. I use Paul Frank & Co Dustfrom Valonz it's really nice and fine too. It's very misty and it doesn't get dense and sticky. I use whatever shampoo and conditioner, I'm not fussy about it. I always use Mason Pearson bushes. They're just beautiful.
My favourite beauty destination?
Coqui Coqui is amazing! There are four residences that are tied to the perfume brand in Mexico and they're all amazing. They have a really good spa in Tulum, but the one where the actual perfumery is is in a tiny little town in the Yucatan. There is just one room where you can stay and it is beautiful.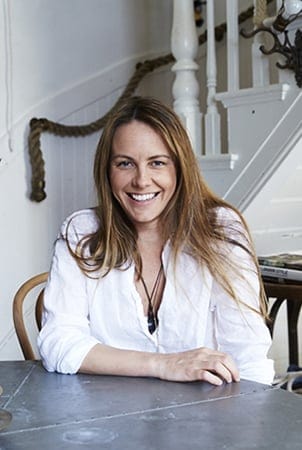 MEXICO'S COQUI COQUI RESIDENCES ARE HER STAND OUT BEAUTY DESTINATIONS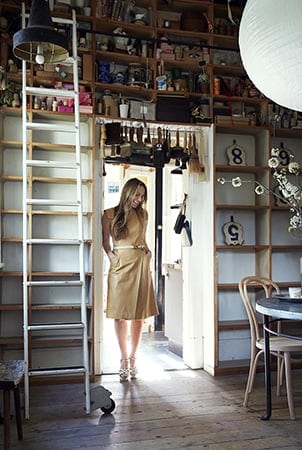 SIBELLA WEARS COLETTE DINNIGAN AND HERMES
My mother was very beautiful
She did three degrees, travelled the world and was a teacher. But she had four kids under the age of six. She changed her career and she was an expert on textiles, particularly for central Asia. Then went on to do lectures and write about it and all that. She was a lot more academic than I am. Mum always loved beautiful things and always had beautiful perfumes. Like when Poison [by Christian Dior] came out, it was so 80s! And then the classics, like Chanel No 5. But they used to do a lot of trips through Asia and it was big to get Duty Free, so she would come back with like six sunglasses and she would wear bright pink lipstick with matching toenails and fingernails in a Diane Freis dress. Her style was very colourful, and when she was older she just wore Brigitte Singh, who was an English Indian textile fashion designer that works in block prints. They were very, very fine prints.
I've always had this knack for collecting things
I have all sorts of stuff. It started with shells. I was down south last weekend for my birthday, and there's this one shell I've been obsessed with since about age two, from where my grandparents live. We were down in Berrara and this shell was on the seashore, and I was like, 'oh gosh, I used to spend hours collecting them.' But since I do so much product development and design, we have everything at our fingertips. I collect as much shelving, labels, boxes and drawers as much as I collect things. So everything has a place – I can remember where everything is. I've gotten good at cataloguing stuff. Because I'm so good at where things are from/where I bought them/who I was with, most items have a story.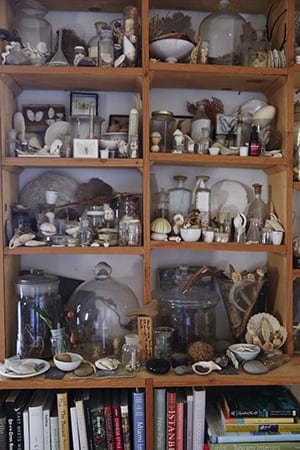 SIBELLA'S SHELVES ARE BEAUTIFULLY STYLED AND CURATED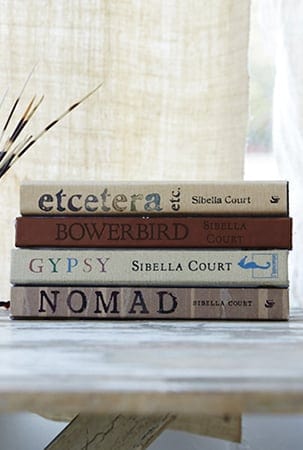 FOUR OF SIBELLA'S BOOKSFOUR OF SIBELLA'S BOOKS
You have to be very strict…
If you're writing books and doing everything in-house. I did that with all my books. I loved writing books. I did five, so I'm not doing anymore. When I wrote my first book I just wrote it and then read it. Before I had my daughter I had already made the decision that I wasn't going to write any more books. I wanted to do other things. Five was enough! I want to do film – there are a lot of things still to come to life! I'm ready for other things. I'm trying to squeeze in the TV show first. It was a hundred and forty days of shooting. It's SO much footage.
I have such a good relationship with florists.
I have been working with Sean Cook for years and Saskia (Grandiflora) since she started. I occasionally go to the flower markets for fun but if I want something specific, I go to a florist. Otherwise, you need to be a little more flexible.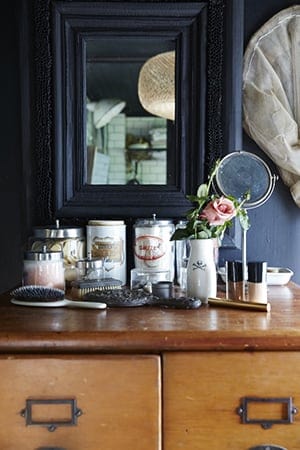 VINTAGE MIRRORS AND CANISTERS ON THE DRESSING TABLE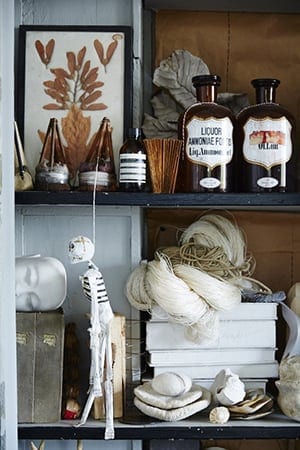 APOTHECARY JARS AND OTHER CURIOSITIES LINE THE SHELVES
I have a history degree and research it all the time.
My reading on a recreational level is history books. I read about everything – histories, art, exploration, anything. I particularly enjoy reading about the 1850s. It was a big time of social change, religion was getting questioned, the world was getting explored, the average man was seeing things that he hadn't seen before with things like The Great Exception, The Crystal Palace, Cabinets of Curiosity. There was all sorts of stuff happening – Origin of the Species, The Royal Society, new lands being discovered and conquered. It was a very interesting time.
There's a little beacon in Sydney…
It's the Hotel Palisade, which was built in 1915. I recently worked on it and it's super modern. For me, the design experience was sort of past to the present. So downstairs you walk in and it is 1915, and as you go through all the rooms you get old to new, and then when you get to the top it's all modern. It's still handmade, but it's all quite modern. It opened in October 2015.
THE KITCHEN BOASTS A SPECIALLY COMMISSIONED HANDMADE SINK AND SPLASHBACK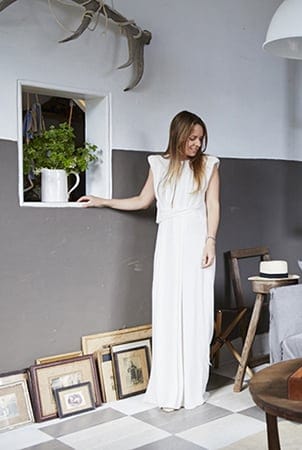 SIBELLA KEEPS HER STYLE CHIC WITH FRESH WHITES
My favourite travel destination is…
Oh my god. That is really hard. Every place is so considered. I think about where I want to go, why I want to go, what I want to do there and I like researching it. Galapagos was amazing. Ecuador, Scotland, everywhere. I tend not to travel to the same place over and over again. I do the big cities – I lived in New York for a long time and I'm constantly going back there and I often pop into London, Paris, and Milan for fairs. But I try not to go back to places over and over again. I always want to go somewhere different! We're planning a trip at the moment to Petra in Jordan. That's going to be very, veryexciting. I like to get inspiration. We had this very city-centric trip booked last October that we had to cancel. I was so pleased because it was Berlin, Copenhagen, Paris, you know. Travel for me is my inspiration for my job. I'm not just trying to go to places where they're already all finished. I want to go where a rock formation might give me an idea or the colour of the sand might be an inspiration for a palette for me, or tribal jewellery – other things that aren't a finished product. I travel to inspire things that I do. Otherwise it's just a replica and that has no integrity."
Story by Rikki Hodge-Smith; Interview by Sigourney Cantelo; Photography by Myles Pritchard; Hair and Makeup by Isobel Claire