Busy mum and fitness phenom Emma Seibold is the creator of Barre Body, a ballet and yoga-inspired workout method housed in seven stunning studios across Melbourne and Sydney. Her post-bub conditioning workouts brought her an in-shape bod and a passion for this new creative, yet effective full-body workout.
Emma invited us into her beautiful Bondi home that she shares with husband Matt and her two young children, Xavier and Isla, to share the secrets to maintaining a successful business, a realistic beauty routine, and a body enviable to even the most dedicated of mums. She spills on her favourite healthy foods and her much-needed relaxation rituals to keep her feeling -and looking – her best.
"I tend to focus on a 'work-family-self-learning-friends-love' balance,
rather than a 'work-life' balance which suggests that the two might be equally important. That balance is paramount in my life now. For the first three years of Barre Body, I prioritised work and worked very, very hard. Now that we are more established and have an amazing team supporting and building the business, I am striving for more balance. The most wonderful thing about working for ourselves—myself and my husband Matt—is that we get to set our own schedules and make decisions about where we want to take the Barre Body brand based on a holistic view of our life and desired lifestyle.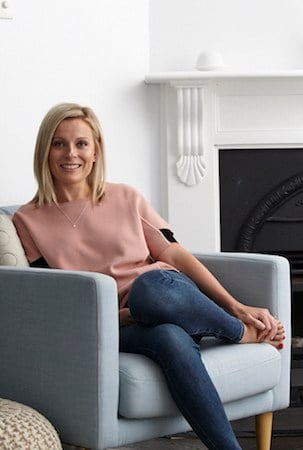 After I had my first bub,
Xavier in 2011, I started incorporating ballet conditioning exercises into my yoga practice. I couldn't believe how it transformed my body to one that was in even better shape than my pre-baby body. It made me feel strong and balanced and I loved the creativity and flow of blending yoga, pilates and ballet into one full body workout. We opened the first studio in Melbourne in February 2012 and haven't looked back since, having just opened our seventh studio in Sydney CBD.
My beauty look is simple, fresh and quick
My two children, Xavier and Isla Rose, take up a lot of my day so I don't have time for anything too involved. As soon as I get a moment, often not until Isla has gone down for her morning nap and Xavier has gone off to daycare, I cleanse my face (Ella Baché Lait À Démaquiller), put on a serum (Ella Baché Hydra Repulp), moisturise (Ella Baché Fruit D' Eclat a la Tomato Bio), then my MAC Studio Sculpt foundation and concealer or NARS Pure Radiant Tinted Moisturiser. It sounds a little involved, but it takes about five minutes. I apply some NARS Laguna Bronzer, NARS Blush in Orgasm and mascara. I use a Benefit Brow Pencil in Light to fill out and define my sparse eyebrows and Youngblood luminous Crème Blush in Champagne Life as a highlighter to freshen up and fake a glow! I don't have time for involved lips or eyes so mascara is it. I have also been using MTS LashPep recently to give my eyebrows and lashes a boost. Once a week I exfoliate properly with Ella Baché Gommage Délicat and apply the Ella Baché Energising Crème Masque if I have the time.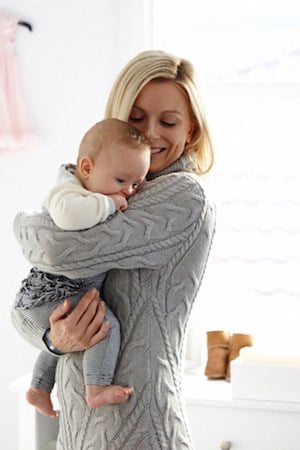 I just love teaching
as it gives me an opportunity to share the energy by which the brand was created. I also love connecting with and inspiring (I hope) our beautiful team of teachers. I try to move daily and incorporate exercise whenever I can. I walk as much as possible, I teach barre and yoga classes at Barre Body, I practice yoga and barre at home and try to go to classes when I can. Movement makes me feel good so I do it as often as possible. I find it really helps to schedule your fitness – book and diarise classes and make them a priority as otherwise fitness is often the first thing that is neglected when one is busy.
Up until I turned 35, I was very, very lazy with my beauty regimen!
I have always eaten really well and drank lots of water, but I have not been kind to my skin with regard to sun exposure. Why didn't I listen to my mama?! Now that I am a little older and wiser – I want to invest in my skin. Now I have a full skin-care regime—I love Ella Baché for this as they prescribe the right combination of products for your skin—and I try to fit in treatments when I can. I grew up in Melbourne and I LOVE the Peninsula Hot Springs. I am obsessed with water and love nothing more than a soak in a deep outdoor spring.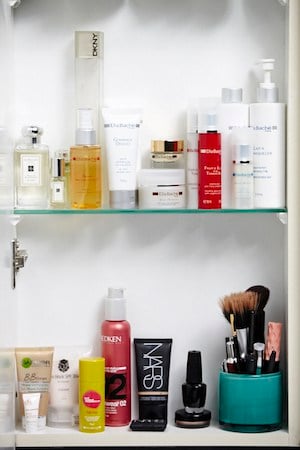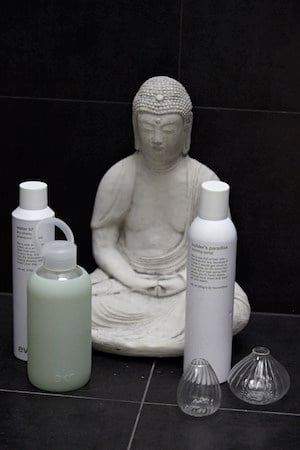 Discovering dry shampoo literally changed my life
as my hair is quite oily. I only need to wash my hair every three to four days now otherwise it's just a quick squirt of dry shampoo. I love EVO Water Killer – my beautiful hairdresser Siobhan Clohesy in Melbourne gives it to me. She is so good that I have my Melbourne studio visits on a five week schedule so she can colour my hair while I am there. She's also a very good friend so I love my time with her. It really helps to enjoy your time at the hairdresser if you want a fresh colour all the time! I use a L'Oreal Silver Gloss Protect System to maintain the ash tones and I can't live without Redken Heat Styling Thermo Actif. Every so often, I do an at-home keratin treatment called Le'Venage Organic Split Ends Repair. It should be monthly, but I don't really have the time.
My beautiful mama is 70,
though I'm not allowed to tell people that – she gets very cross, and looks like she is 55. She is so beautifully preserved that I only hope that I have inherited her aging genes. She tried to teach me to stay out of the sun or wear 30+ and I only wish I listened sooner! I'm hoping to avoid all the treatments like botox, collagen and fillers and just accept myself for who I am. I think it's a slippery slope once you start on the path of "fixing" things. I want to try to love myself, my face and my body and not get caught up in external self-improvement. That said, who knows!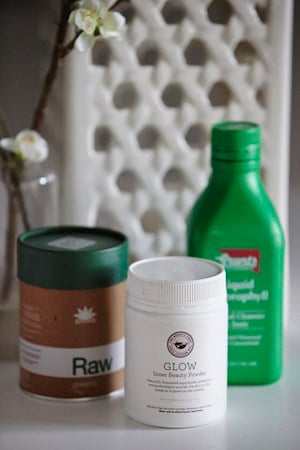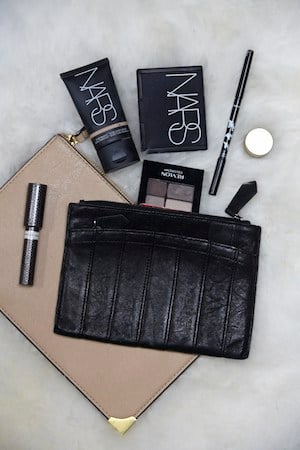 Jennifer Aniston is a big influence for me,
from a style, beauty and fitness perspective as she appears so natural, is passionately devoted to yoga and fitness –and she looks damn good—and advocates eating well, getting lots of sleep, and drinking lots of water. I love the simple approach. Lots of yoga and barre, lots of hydration, and a healthy dose of self-love; the nice kind. I feel most beautiful while I'm on holidays. Relaxed, rested, natural and with a healthy glow. When I'm at home, I relax with yoga and meditation. Being a busy mum running Barre Body, there isn't a lot of time to truly relax so I try to squeeze in moments when I can. My latest ritual is to try to get on my yoga mat, even if it's only for two minutes, every day to move a little and do some meditation.
I advocate eating well
—not too much and mostly wholefoods—90 per cent of the time and avoiding foods that bloat you. I'm a big fan of Michael Pollan's Food Rules – eat food that is not packaged or processed and that your great-grandmother would recognise as food, mostly plants—predominantly plant-based foods and some meat if that's appropriate for you—and not too much. Eat mindfully, slowly and don't overeat. It's pretty simple, but it works beautifully for me. I take iron as I don't eat meat; also Metagenics Ultra Florarestore probiotics and prebiotics, both supplements and foods like sauerkraut, kim chi and pickled foods; and I take a BioCeuticals InNatal pregnancy/breastfeeding multivitamin to make sure I am getting everything I need.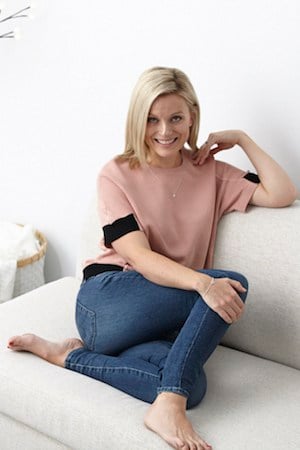 I have a VERY sweet tooth and try to indulge it healthily…
with home made bliss balls, my favourite chocolate brownies or sugar-free chocolateby Lee Holmes from Supercharged Food. I also love tea – I was an ambassador for the Tetley #80secondsofmindfullness campaign and fell in love with the decaf pomegranate green tea flavour. I love Chlorophyll in my water (I use the BKR glass water bottle – so many gorgeous colours available from Barre Body) and add superfood powders to smoothies and baking—my son loves green cookies!
There are quite a few things that I don't like about my body,
but I'm trying not to focus on them. Instead, I prefer to focus on the things I do love. I love my eyes. They are big and blue and make me feel beautiful. I don't love my belly after babies as I have a hernia and abdominal separation, but I'm trying to focus on the positives and feel gratitude for healthy babies rather than give energy to the things I don't like. It's very freeing just to accept oneself, flaws and all."