In the financial world, glamour can be quite a rarity. Unless you're Canna Campbell. The savvy financial adviser with a penchant for Prada is blonde, blue-eyed and clad in designer gear, evading the dryness that often goes hand in hand with economics. However despite her most glamorous façade, Canna is anything but superficial. Having started her own financial planning business in 2007, SASS Financial, she also began SugarMamma.TV, an educational platform where she shares her knowledge on spending and saving via video. The mum of one – to Rocco, 2 and a half – practises what she preaches; offering financial advice to clients, media and her followers, with a strong focus on women (particularly those who wish to spend the last of their loot on Louboutins).
On a steamy Sydney day, Canna opened the doors of her terrace and let us peek inside her Paddington abode. We pilfered her beauty routine, learnt of a naughty hair habit and even gained some top tips on how to manage your dollars, alongside Dior.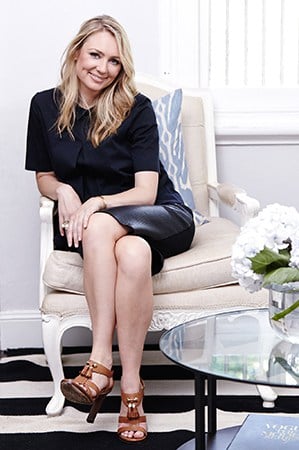 SAVVY SHOPPER; A PAIR OF GUCCI SHOES SHE BOUGHT ON SALE
"The stress of money is very ageing…
…and has a huge impact on relationships and your career. Sometimes people have to accept certain jobs they don't want just because of the financial situation they're in. Or, they may want to break away and start their own business but can't afford to. But, if you learn to understand money and use it to your advantage you can create a more powerful and exciting financial future for yourself, with a lot less stress. That's what I'm really passionate about.
My whole philosophy is about enjoying life, having a really good balance and when you do make a luxury purchase you actually enjoy it.
There are no feelings of guilt, remorse, embarrassment or shame. Life's too short to have that, [so you should] think it through before you go and buy it. There's so much focus on health; you spend money on having a personal trainer, on getting nice massages and beauty treatments and they're all about self-love. But, it's also about taking care of yourself financially as another form of self love; nurturing yourself, being responsible, being a powerful person on this planet and making the most of your life.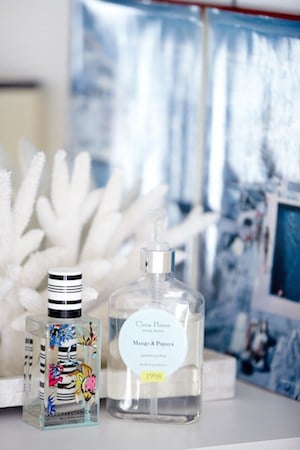 BALENCIAGA FLORA BOTANCA AND CIRCA HOME ROOM SPRAY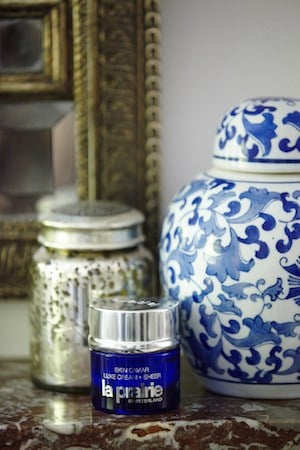 MINAMALIST MAMA; YOU WON'T FIND CLUTTER IN CANNA'S BEAUTY SPACE
I have a minimalist approach to my products.
I feel very suffocated by opening up cupboards and being overwhelmed by too many products. I won't replace something until it's finished, so you won't find two sets of sunscreens or three night creams. I like space; it's easy for getting ready in the morning because I have Rocco and two dogs. I only buy what I love, value and appreciate.
I always cleanse twice…
…and the good thing about this is you don't need much product. I lather it in my hands before I put it on my face, you don't lather it on your face. That's what the consultant at Verve taught me – never lather things on your face, get a nice juicy foam and then put it on your face – the cleanse is much more effective. And the smell, it's actually a really nice way to wind down. Another thing I'm obsessed with is body oils; every night I apply a body oil. It's so relaxing before heading to bed. It's almost like a spa treatment. I'm really enjoying using the Mecca Body Oil and anything that appeals to the senses.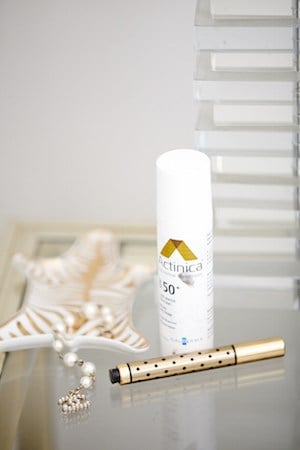 GILDED DELIGHTS; YSL TOUCH ECLAT, ACTINICA SUNSCREEN AND A TOUCH OF CHANEL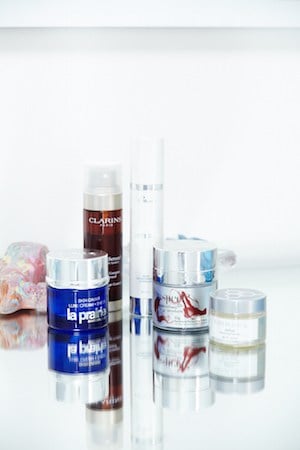 LUXURIOUS CREAMS APLENTY WITH LA PRAIRIE, ASPECT AND COSMEDIX
For skincare, I invest in good quality skin products.
Particularly cosmeceuticals products because I think it's worth it. I can see the value in them, cosmeceuticals are prescribed. I'll go to Verve in Woollhara and they'll look at my skin, analyse, and let me know what products are worth using. I like the Aspect and Cosmedix. Actinica is amazing – it's the strongest sunscreen you can get on the market, and works almost like a primer as well. At night, I like a nice rich cream like the La Prairie, it just absorbs in and it's so luxurious. But, I'm not afraid to go for the lower-end stuff. I went to Priceline with Chloe Morello and she introduced me to Le Tan, I love it. To save money, I love to spray myself – I have my own spray tanning machine.
I buy most of my cosmetics from Mecca.
I often get my makeup done at Mecca when I do my videos. I also watch Youtube [tutorials] to watch how to do certain things because I like to learn and be able to do my own makeup too. For that special occasion though it's definitely worth it – once you have your makeup down, you go oh yeah this looks different! For daytime, I don't like to cake makeup on in front of clients – like I've spent too much time in front of the mirror instead of reading The Fin! It's natural – foundation, blush, mascara, a little bit of eye shadow and a lip gloss. I love glosses – they're quick and easy to apply, Chanel are my favourites.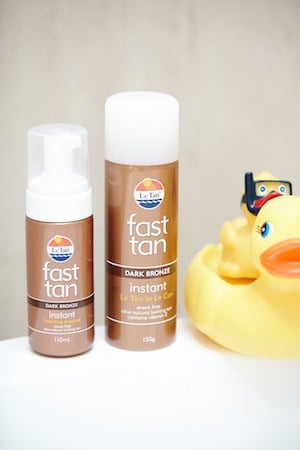 POLISHED AND NOT TOO PRIMPED IS THE WAY DU JOUR FOR CANNA , MIXING HIGH END BEAUTY WITH A FEW SUPERMARKET PICKS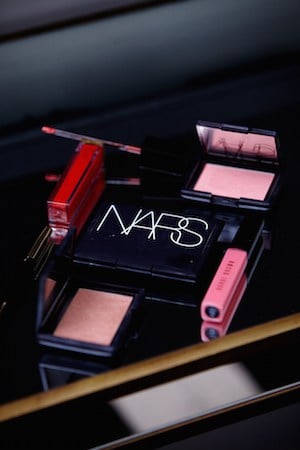 BLOCK COLOUR; HER FAVOURITE NARS BRONZERS AND BLUSHES
I will not leave the house, no matter what, without mascara…
…so I burn through mascara quickly. This Maybelline Great Lash is my one go-to and it's like seven dollars! Chloe Morello got me onto this L'Oreal False Lash and it's also really good. For foundation, I normally use Eve Lom but I just got this Ellis Faas today. I found with the Eve Lom I went though it really quickly. All of a sudden it was gone and I could see heaps of product but I couldn't get it out, which is annoying. But this Eve Lom Mineral Base Powder Foundation I've been using forever and lasts for ages and seems like I'm not wearing makeup. The Laura Mercier is a good primer and the Hourglass Ambient Palette I tend to wear at night. I love Nars for fantastic bronzer and blushes, Deep Throat and Unlawful.
I love eye shadows but I'm not highly skilled at it…
…so I steer clear of the colours because I'll look like a clown. I tend to go for naturals that are easy to blend and good for when you're in a hurry, you can't stuff it up. I think having good brushes is really worthwhile. It makes applying makeup so much more enjoyable, like an artist. I have a mix, but it's predominately Real Techniques.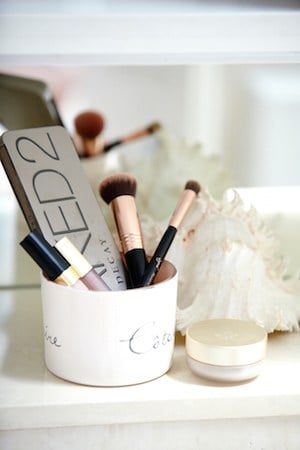 BEAUTIFUL BRUSHES AND EYE SHADOW PALETTES PEPPER HER BEAUTY CUPBOARD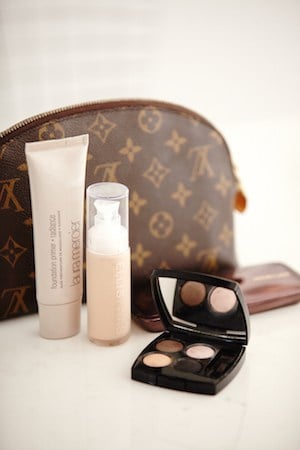 THE LV AND HER MAKEUP MUST HAVES; CHANEL EYE SHADOW QUAD, ELLIS FAAS FOUNDATION, LAURA MERCIER PRIMER AND HOURGLASS PALETTE
If I travel, once this LV case is full – that's it, I'm done.
If I have to travel interstate for the day, this Chanel eye shadow quad is great because it still has the natural colours and I don't have to take the large one. So [I prefer] mini versions, then you're not weighed down. I always keep samples because they don't take up room and these little tubs are fantastic. Mecca do these for me; they put my products in little containers.
I used to be so naughty with hair, I used to go to the equivalent of a Just Cuts!
Then finally I invested in a really good hairdresser in Darlinghurst on Liverpool St, Kimmy Ralph's, he's amazing. He actually analysed my bone structure and my layers were too short for my face, it was making my face appear wider. He didn't want to take too much off and wanted to let it grow. My hair has been so much healthier since. He got me onto Sachajuan and my hair improved literally in the first couple of washes. It was really dry and wiry before and this has been a really great product. When I've had a massive workout, I'm really sweaty and my hair is greasy and revolting Neutrogena T-Gel Daily Control is great for any itchy scalp that I've got and it's refreshing – and it's cost effective!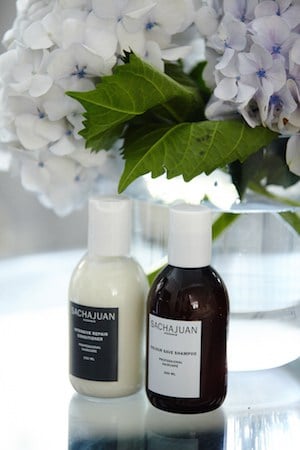 HER HAIR SITUATION IS SORTED CARE OF SACHAJUAN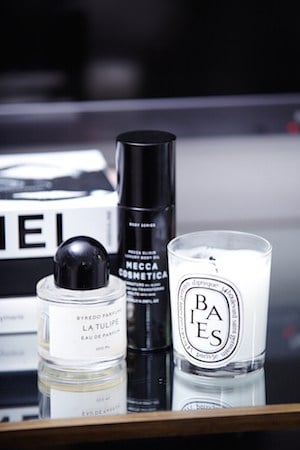 LOVER OF LA TULIPE; CANNA ALWAYS RETURNS TO HER BYREDO FAVOURITE
I technically only wear one scent…
…because I find when people know me, they know my smell – it's an identity. I only wear Byredo La Tulipe. I have the roll-on too which I travel with. It's incredible, and people actually comment when they hug and kiss and embrace you and go, 'That's your smell.' It's so nice.
I love buying beautiful candles.
That's probably a luxury where I don't have much self-control. There's something quite sacred about lighting a candle, relaxing and having it burning gently in the background. I think it's worth buying good candles because they burn for longer, the scent is a lot stronger and lingers. I find with candles, like my Diptyque candles, their packaging is so beautiful I don't want to get rid of them. So I use them as containers or vases for flowers. It's a nice way of keeping a memory too. This is an inspired room spray, I'm Inspired, and I spray it in my home office to help me gain focus and concentrate. It's a nice way of cleaning the energy to start the day, it's uplifting.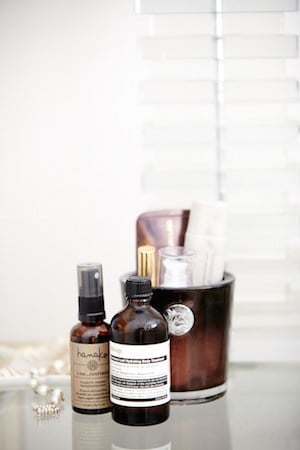 RECYCLED CANDLE JARS ARE A GREAT THRIFTY TIP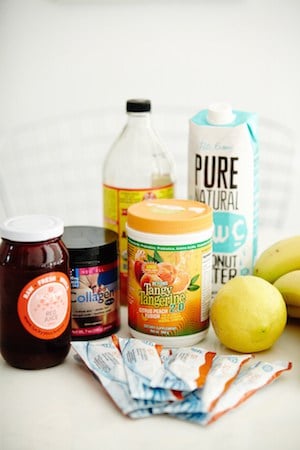 HEATH NUT; AN FRESH ARRAY OF JUICES, VITAMINS AND FRUIT
I make a green smoothie with kale, lemon, banana coconut water.
I break up the kale and put it in the freezer. I also put natural iron supplements in and sometimes I mix it up with Super Collagen which is good for hair and skin. I also have pure Vitamin C powder with water which my son has as well. I get my supplements from iHerb and the shipping is so cheap. When I'm in a hurry I'll buy the Lucky Cleanse juices. I'll normally do five days with a green smoothie, a juice or sometimes I'll have Apple Cider Vinegar with a little bit of water – I love salt and vinegar chips but on its own is a bit much! I have a massive sweet tooth – I'm really naughty with sugar, but I try and be really healthy.
I fast two days a week.
It's intermittent fasting which I've been doing for three years. It's similar to the five and two [diet], so I will go for about 17 hours, twice a week. I'll have an early healthy dinner on say Sunday, then I'll only have water or an almond milk cappuccino, and then I'll have my first meal at 11 o'clock the next day. I find I have so much energy and an amazing focus – it's incredible. You feel like your body is finally catching up on processing everything. Apparently we spend 80 per cent of our energy digesting our food, that's why when we eat a big meal  – we feel so exhausted and lethargic. [Fasting] recalibrates you – I love it. You don't do the two days in a row though.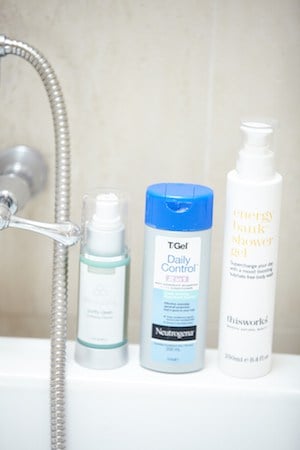 CHEAP THRILLS; THE T-GEL IS CANNA'S SAVIOUR FOR A SWEATY SCALP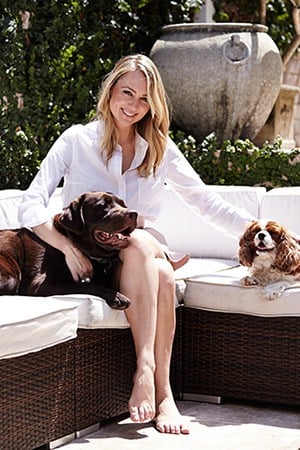 LIGHT AND BRIGHT; CANNA WEARS SHIRT FROM COS
I can't function without exercise.
I become incredibly frustrated. I go for a run to Bondi with my dogs and I'll go for a dip in the ocean. I love to run, that's where I get my best ideas for clients and videos. I feel clean and recalibrated and sweat out any toxins from indulgences on the weekend. When I've gone for a good workout,  [I feel like] I've respected my body and the next food I put back in my body tends to be a lot healthier. Also, if I exercise on a Friday afternoon, I tend to be a lot healthier all weekend because I'm feeling high from that. I'm also a member of Virgin Active; I run on a treadmill, that's my favourite thing to do, and I try and do interval training to a beep with burpees.
I'm a big fan of laybying, rather than putting something on a credit card.
Some of my girlfriends have half of Sydney on layby! It means you're not getting in debt and you pay it off, and not actually taking it home until you've paid it off. I think it teaches a great discipline, and often a lot of the stores have a six-week policy so it forces you to stick to it. A lot of shops also won't let you put credit towards it, so you actually have to use debit, which is really good as it keeps you debt free. I will never say to someone, no you can't buy those shoes. That's not what I'm about. Buy what you love, value, appreciate and use. Then it's worth buying.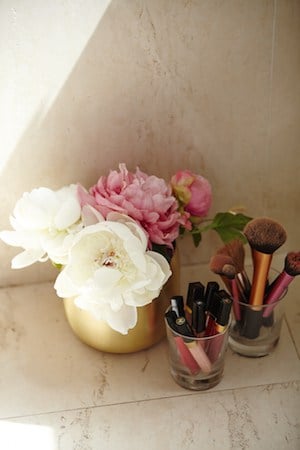 LIP GLOSS LADY; CANNA LOVES TOM FORD AND CHANEL LIP GLOSS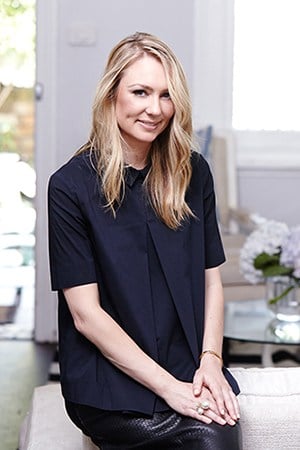 STRIKING SOLHOUETTE; CANNA ROCKS A COS SHIRT
For work, my style is very polished, structured and classic.
I don't like too much detail; [I prefer] clean necklines, quite sophisticated and refined. Then for weekends, it's a lot more casual, more boho chic, in that I'll wear torn jeans with a fitted t-shirt tucked in and messy hair. It's more about being really comfortable and not worrying if my child smears Nutella all over me!
I invest in quality pieces.
If I buy something I make sure it's really well made and it's a classic piece that I can dress up or down. A lot of my structured work pieces I can mix and match with some of my casual pieces to get the most out of my wardrobe. I focus very much on a capsule style wardrobe because I don't like having a lot of stuff – I find it very suffocating and overwhelming. Also, everything I buy I make sure I wear. I think it's a waste of money when something sits in the wardrobe with the tags hanging on, it's sad. That's the whole thing about what I do."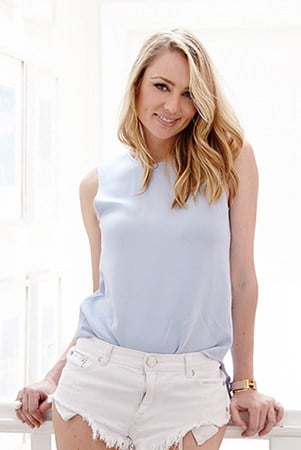 CANNA MIXES HIGH END WITH HIGH STREET, WEARING SCANLAN AND THEODORE TOP AND ONE TEASPOON SHORTS