When not one but two of us here at Beauticate are convinced that stylist, publicist and entrepreneur Hayley Bonham is the missing Olsen sister, you know we must be onto something. Sure, it could just be the razor-sharp cheekbones, huge green eyes and effortlessly tousled flaxen locks, but when you notice her love for relaxed chic (very The Row) and a killer instinct for sniffing out the next big thing, you'll agree there must be some secret shared DNA. We met up with Hayley in her beautiful Sydney home where we chatted about her natural yet disciplined approach to beauty, and her plans to turn her brand new luxe co-working and events venue, La Porte Space, into an empire.
"I don't like wearing a lot of makeup and tend to use mostly light coverage products on my skin – I think it's about letting your skin shine through.
I'm completely obsessed with RMS and dab on "Un" Cover-Up in shade 33 where I need it. I usually get my lashes tinted, because I don't like wearing mascara in general. When I do use it, I prefer using brown mascara, as a makeup artist friend of mine said it works really well with green eyes. I never wear black mascara. There are a few great organic brands that I'm liking at the moment. I also like to wear brown eyeliner, often NARS Kohliner in Sorrento.
For brows I love Kevyn Aucoin brow pencils and I finish with Chantecaille brow gel – I also see Kristen Fisher who creates beautiful and natural brows. If I want more coverage, I reach for NARS Sheer Glow Foundation in Barcelona. I've been wearing it for five years and I love it – it's just really glowy, dewy and super light. If I need some extra colour I will use my NARS Laguna Bronzer or dab on some RMS Lip2Cheek on my cheeks and lips.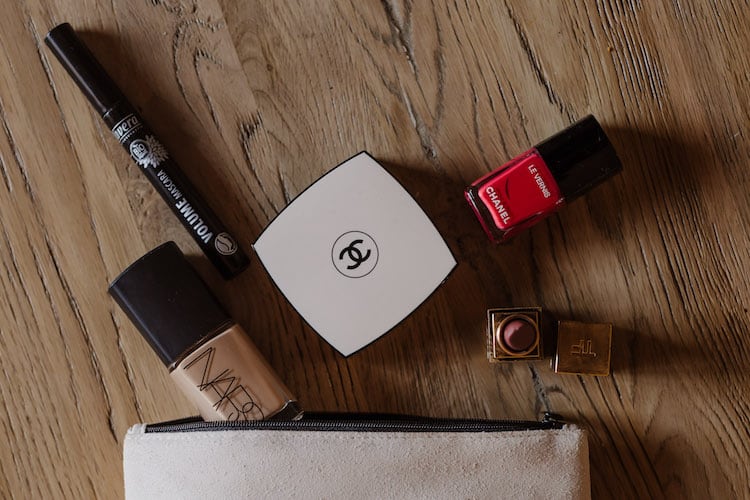 I have been using Rationale skincare products for the past year and my skin has transformed; I honestly couldn't live without them.
My aunty had been raving about them for about five years, so I had dabbled in it, but I hadn't picked up the full system. Then working on shoots I found a lot of makeup artists really advocated the brand. At first I was a little bit apprehensive about using so many steps and thought maybe I wouldn't have time to do this, but then I ended up trying it for two weeks and it completely changed my skin.
Each morning I splash my face with cold water to stimulate blood flow, then I apply my Immunologist Serum and Super Antioxidant Serum, and I use my jade roller to help the product further absorb into my skin as well as assist with lymphatic drainage. Rolling also helps sculpt your cheekbones and around your jawline, if you're feeling a bit puffy. It smooths everything out. Then I apply the PhotoDynamic Day Cream and Beautiful Skin Super Fluid SPF50. I work quite late, so I try to keep my evening routine simple. I cleanse my face with the ProCeramide Cleanser, followed by the Catalyst Serum and DNA Night Cream. It usually takes me five minutes, max.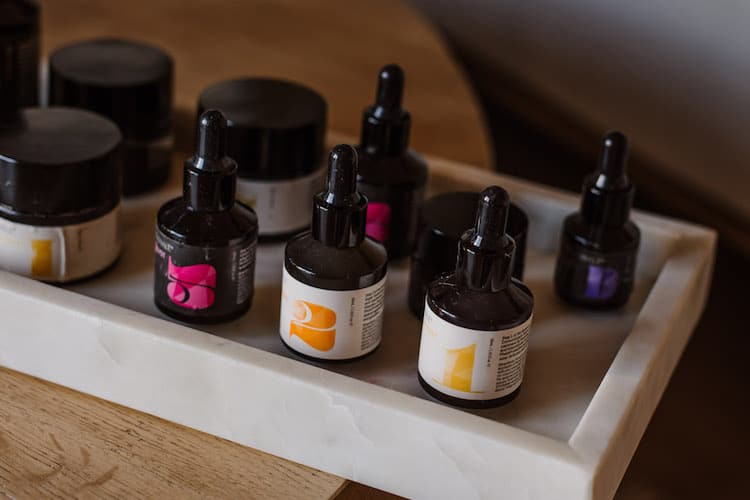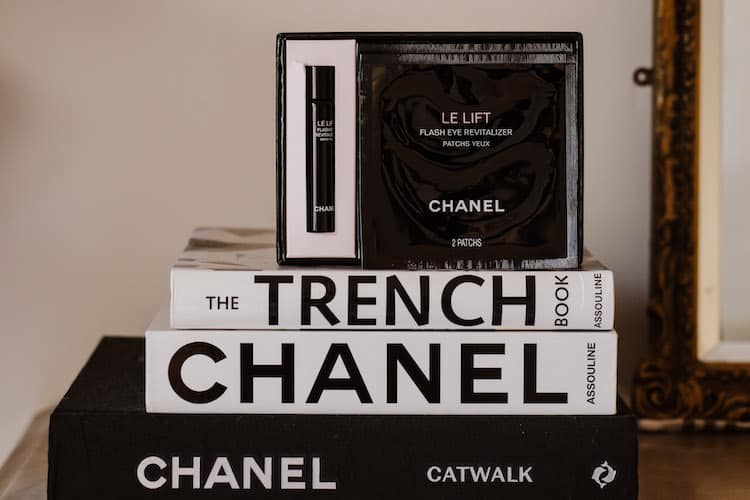 If I could only use one product forever, it would have to be fragrance.
I started a fragrance brand (Maison D'Amore) with my best friend Nadia Rosa four years ago, as we are both infatuated with scent. It is just a big passion project for the two of us. We ended up connecting with an amazing perfumer in Paris who does a lot of work for Byredo and Diptyque. I gravitate so strongly towards fragrance because it evokes memories, and you can become someone or something different when you're wearing a different scent.
I generally go between two Le Labo scents, Santal 33 and Thé Noir 29, and I also wear either Byredo's La Tulipe or Gypsy Water for something more feminine. Each day before I walk out the door I will spray one of these fragrances, depending on my mood and the weather.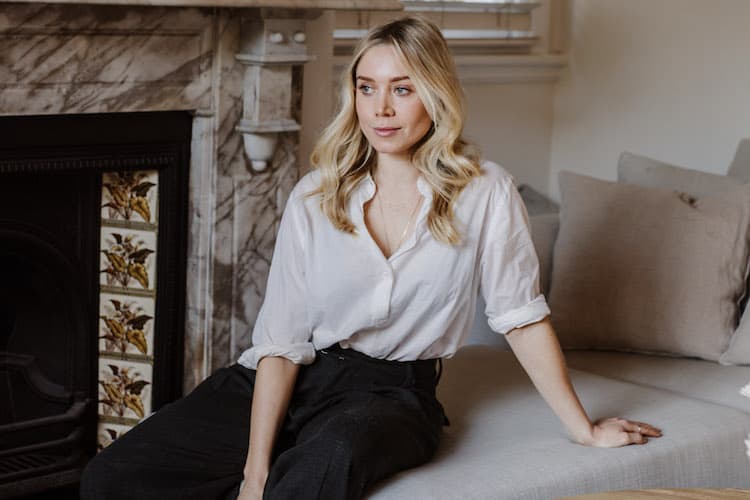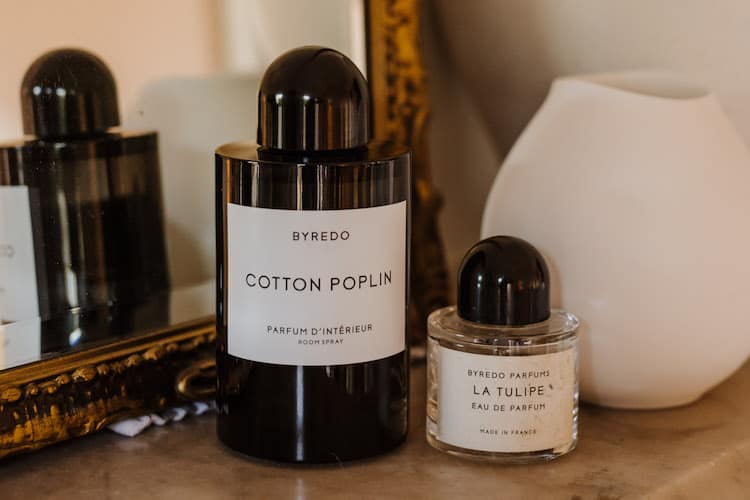 The overseas travel I did as a stylist reinforced to me that there were no working and event spaces in Australia that bridged the gap between lifestyle and functionality, like there were in Europe.
My first job in the industry was 12 years ago at Sass and Bide, in international sales. From there I'd developed a very keen interest in styling and wanted to branch into PR or into the magazine world, and ended up moving into PR for a few years. I assisted a whole bunch of stylists for a long time. Then about seven years ago I signed with Vivien's Creative, after which I was doing a lot of my own stuff. In between all of that, a lot of clients who I had built relationships with were asking me to do some freelance PR with them, so that's how BONÉL PR came about. We look after a lot of Parisienne clients, so while travelling there and working out of beautiful spaces, we realised there was a real opportunity to create something similar in Australia. Everything here was very much a blank canvas, or very corporate and clinical.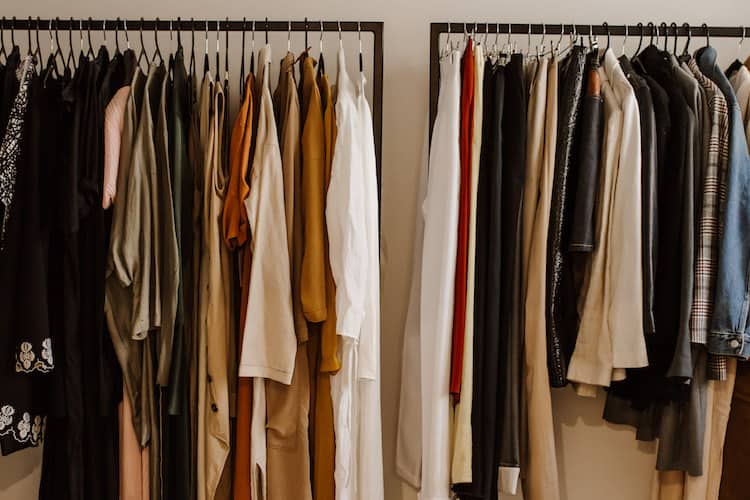 After turning 30, I started looking at beauty from the inside out. I have been on a plant-based diet now for a year and half and it's just life changing.
I eat a little bit of fish but no other meat, and no dairy. It's been hard, but it's crazy how much better I feel for it. I tried a million different things and went to different naturopaths, before finally finding a great GP with a holistic bent. My immune system just kept getting really beaten down and I couldn't figure out what was causing it. It's tricky to work out because we all just think 'well, I'm so busy', but maybe it's actually because I'm busy – that is, maybe my tendency to be on the go all the time is part of why I feel unwell.
I start each morning with a glass of warm water with apple cider vinegar and a squeeze of lemon, then make a smoothie with The Beauty Chef Glow Powder,  leafy greens, alkaline water, hemp seeds, maca and some frozen banana.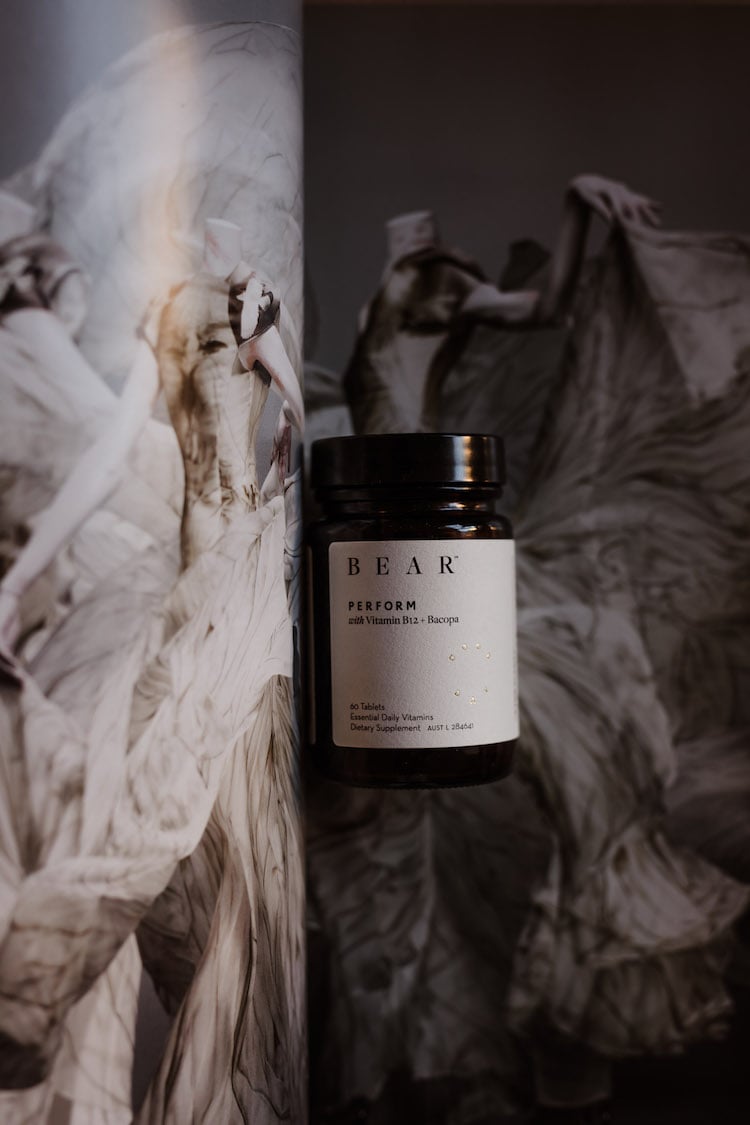 I love Pilates. I've been doing it twice a week for over a year and obviously since opening up La Porte Wellness it's just become so convenient.
I also walk everywhere in the morning. I've found that exercising how I used to doesn't agree with my body anymore. I've tried the F45s and all that sort of stuff and I wasn't really that into it. I think it's because of my diet, because I'm eating super healthily – I just feel like being more gentle on my body.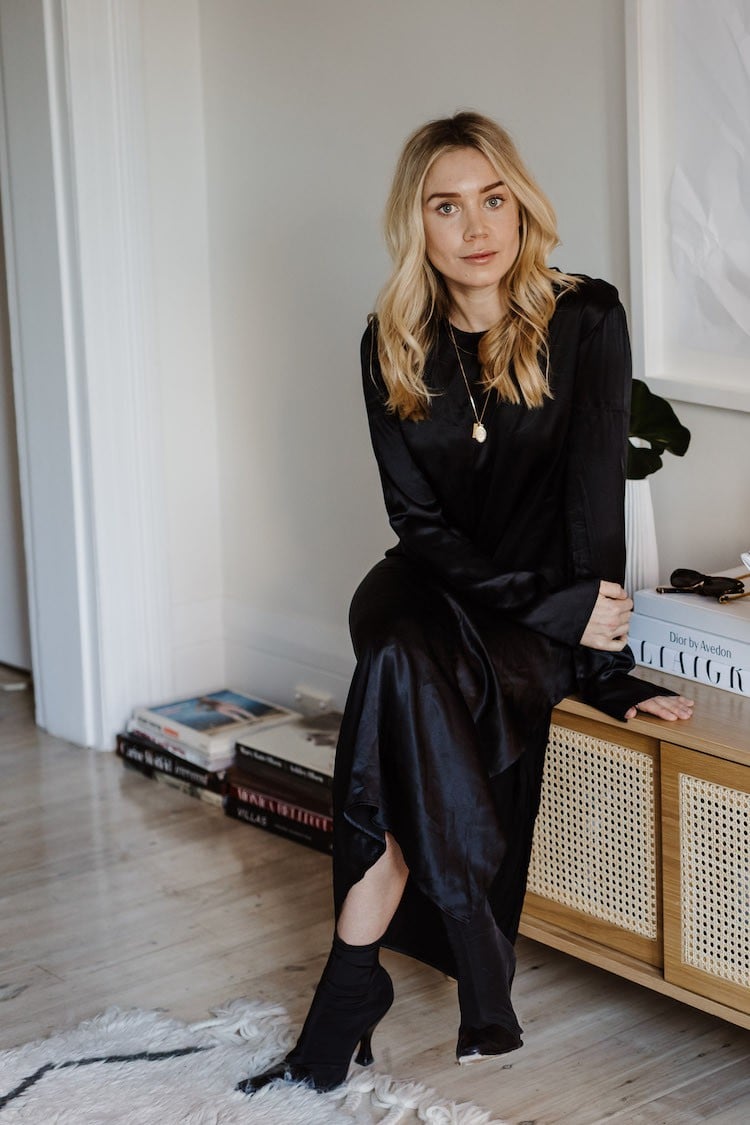 I try to get a facial once a month, either with Rationale or Fumi in Bronte, who Jessica Gomes goes to.
It's nice seeing Fumi in between doing a more topical facial. I tried lasers once and for me, with my skin being a little bit more sensitive, I wasn't a fan. I tried Fraxel, which was way too intense for my skin – my face became insanely inflamed and swollen. I also started getting these weird bumps on my skin. I think I was misguided and a little too young to do that.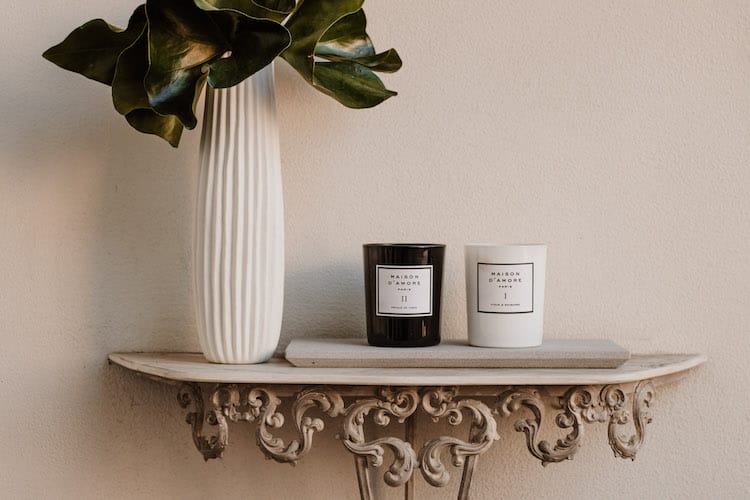 I let my hair dry naturally so it goes quite wavy, and then just tong it through.
I see Di at Koda Cutters for my cut and colour, she's amazing. She's been a friend for a really long time. I see her once every three or four months. I have a natural undertone, so she doesn't do too much to it. She just lightens it to give me a freshen up and then I use Oribe products, which are so good. And then not much else – I'm pretty low maintenance with my hair.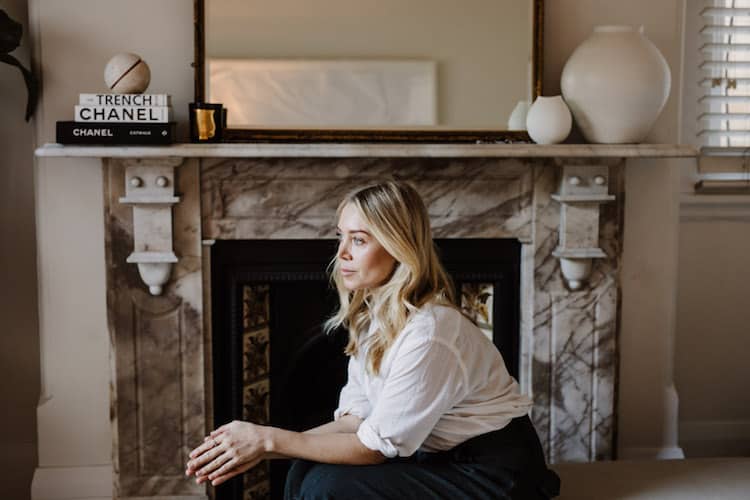 I met my partner Rory a long time ago, when I was doing the PR for his brother's brand. He's been the driving force, always saying 'there are great things coming your way'; he's very supportive.
He manages the business side of La Porte. Having worked in the industry for such a long time, we really feel such a great amount of support from all of our peers. It's been lovely to go on this journey, where we're working with people on a totally different level. Before, I think there was a mentality that PRs or creatives couldn't necessarily work well under the one roof. We have plans for more La Porte venues, it's just about finding the right space. We are actually in the midst of signing off on our next space in Sydney, which is exciting. Melbourne is definitely on the cards, and we also have our pop-ups during Paris Fashion Week.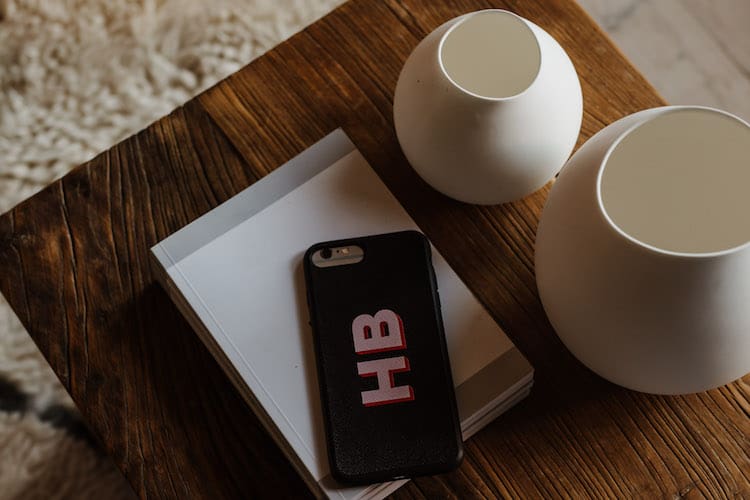 Rory is really amazing at taking an idea I've had and helping me activate it, which is great as a lot of the time I can come up with 50 things in a day.
That's kind of what happened with La Porte Wellness. It was just a conversation we were having – I was saying, wouldn't it be great to have all these things available in one location, and not have to worry about going to 10 places for your different exercise classes, infrared saunas, that sort of thing. We are definitely going to develop this concept further, and are considering a co-working beauty space with all of the very best under one roof – and yes, with ample parking!"