Very few women glow quite so convincingly as nutritionist and model Jacqueline Alwill. With a thriving whole foods catering business, Brown Paper Bag Nutrition and a busy schedule as a consulting nutritionist, this mum of one favours a simple beauty routine that lets her inner radiance shine.
Jacqueline opened up her lovely Bondi home (and pantry) to Beauticate, sharing her best health tips, how to use food as medicine and the ways in which her mother and sisters inspired her love of beauty.
JACQUELINE IN HER BONDI HOME
Health is always something I wanted in my life
I was working as a media strategist in Sydney, but lunch times I would be out running and training work colleagues, I'd bring healthy treats for others into work to share, was constantly reading nutrition books and articles. The more thought I put into it; the more I was drawn to making the shift from corporate life to retraining in nutrition and health. I decided that personal training would be a great way to support myself whilst I was studying Nutritional Medicine. I love giving people a chance to renew their health. People seem to think it takes a lot more time to be healthy. Time is our greatest gift, and our health our greatest asset – we just need to figure out the best way to make them a winning team.
My two sisters epitomise beauty to me
I've always looked up to them, and loved how they helped to sculpt my attitude to beauty along the way. Mum has always taken pride in presenting herself immaculately. Hair, skincare and simple but elegant make up.  I remember as a child, tucking myself into my parents' bed at night and watching her ritual of massaging her hands with Clarins Hand Cream. It was such a lesson in the gentle soothing nature of physical touch and caring for yourself, in the humblest of ways.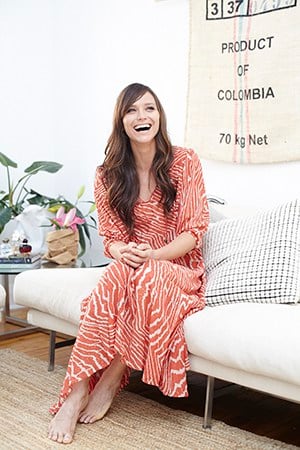 THE NUTRITIONIST TAKES INSPIRATION FROM HER MOTHER AND SISTERS
JACQUELINE FAVOURS NATURAL SKIN CARE PRODUCTS
I love natural, fresh looks
They inspire me most. Helena Christensen inspires me. Her beauty is timeless and graceful.  I love a dust of bronzer and curling my eyelashes a little to give things a lift. Other than that my make up is very modest. When I was fresh into motherhood, I kept my routine extremely basic; moisturise in the morning, cleanse and moisturise by night. Now that my little man is a touch older and we can chat as I am doing things I have given more time to my beauty regime. He's pretty fascinated by it and asks all sorts of questions, 'Mummy why do you put white paint on your face?' When I do a mask. He loves gently applying my blush to my face. It's truly divine. It's rare that I'll wear any kind of foundation during the day so if there's a night out I'll apply Giorgio Armani Foundation and depending on my mood bring out a rich red lipstick and some Napoleon eye shadow.
NIGHT OUT ESSENTIALS INCLUDING LIPSTICK, GLOSS AND A GOOD DOSE OF EYE CREAM
SOFT SAND RUNNING AND OCEAN SWIMMING ARE SOME OF HER FAIL-SAFE BEAUTY ROUTINES
My hair is quite long and during summer I'll go swimming at Bondi almost every day so I have to be careful not to dry it out too much with salt water. I always feel most beautiful after a run in the soft sand and dip in the ocean. This will always make me smile, and a smile is the most beautiful thing anyone can wear. To wash, I've been loving Toni and Guy Hair Meets Wardrobe For Fine Hair. My hairdresser, Kylie at Element in Woollahra has been so wonderful with giving my hair the lift it needs, not to mention the most sensational head massage. The best facial I've had to date, and continue having, is at Mani-Cure in Camperdown. My beauty therapist, Nerida, does energetic healing whilst other treatments are working their magic. She's sensational.
Mornings are my favourite time to exercise
Especially if I can sneak in a sunrise. I have a little boy so I have to rise early to sneak in my morning meditation before he wakes and we ready ourselves for the day. We'll have lots of cuddles and eat breakfast together. Breakfast is different every day for us including vegetable omelettes, smoothies, quinoa porridge, Acai bowl, chia pudding – you name it. After school drop off I'll exercise and then be straight into work. I'll exercise five times per week minimum with a mix of running, swimming at Bondi Ice Bergs, circuit conditioning at Lifecycle Fitness Bronte, walking, cycling and big sessions of stretching. Meditation is a big part of caring for my body too. I recently renewed the approach to my practice with The Broad Place and now practice Vedic meditation twice each day. It helps relax my nervous system like nothing else I've experienced and has a huge impact on my clarity and living.
JACQUELINE NEAR HER HERB AND VEGETABLE GARDEN
THE NUTRITIONIST PREACHES A DIET OF EVERYTHING IN MODERATION
I don't subscribe to any one diet
The best thing I can do for my body is to simply understand what and how it needs to be nourished but still enjoy a little treat. I love red wine and a cheese board. My approach is to always maintain a balance in the way you live. I love juicing. I'll integrate it into our week when I can with the go-to being carrot, beetroot, celery, cucumber and ginger. My fridge is always filled with lemons, rocket, hummus, berries, quinoa, coconut oil, spices (lots of them), nut butter, tomatoes and avocado. We're lucky enough to have a garden of fresh herbs to boost our meals when ingredients are running dry in the fridge too. I nourish myself first and foremost with diet. In the mornings I'll take a probiotic such as Metagenics Ultra Flora Restore, but generally eat sauerkraut, which is rich in probiotic also with at least one meal each day. Superfoods are important in my nutrition, I truly believe in and have experienced the benefits of integrating them in my diet on a regular basis.
I love riding my bike to Bondi Beach
Watching sunrise over the water and jumping in the ocean. Bondi Markets on a Saturday has such an incredible array of food and fresh groceries from local and organic farmers, the energy there is magical, and Brown Paper Bag once had a regular at Bondi so it sits pretty close to my heart. Porch and Parlour do sensational breakfasts, The Bucket List has an awesome afternoon vibe to hang out with friends, Jed's still makes the best Acai bowl in town and my local café Shuk captures the morning sun with a seriously delicious shashuka. Other than that the beauty of Bondi is that the beach is our playground, so if anywhere is most frequented by my little boy and I, it's definitely the beach.
JACQUELINE ENJOYS CYCLING AROUND HER BONDI NEIGHBOURHOOD