On the eve of Lindy Klim's wedding with Adam Ellis in Tuscany, we spoke with her at her beautiful home in Bali and found out she is living proof that life begins at 40. Busier than ever, she is mum to Stella, Rocco and Frankie (who she shares with ex-husband Michael Klim), and as of December a fourth addition, baby Goldie, with brand new husband Adam Ellis. Just in case she may have a spare moment, she has also embarked on an exciting new design adventure with her very own label, Rama Voyage, and continues to successfully juggle family and career while jetting between Bali, Australia and Europe. We chatted with the newlywed and found out how being a new mum in a different decade has shifted her approach to beauty, her thoughtful take on the pros and cons of changing your surname when you remarry, and what she loves most about her family's joyful tropical existence.
"Aside from my initial panic at the thought of being a 40-year-old mother of a newborn, it has been one of the most liberating experiences in ways I never imagined.
I feel a lot more comfortable in my skin this time around. I have allowed myself the space to really appreciate my body and what it has been able to do for me. These days I am definitely not as hard on myself. I'm finding real beauty in being as natural as possible. I no longer want to hide, cover and camouflage imperfections but rather accept them for what they are. There is a life to be lived away from the mirror.
In terms of beauty, nothing much has changed since having Goldie.
Having great skin is the most important thing to me and while that could have taken a back seat, I think it's imperative to make time for the things that matter to you. As mothers and as women, we often put everyone else first and tend to forget about ourselves. It's empowering to not feel selfish when you take those moments to invest in yourself. If that means locking yourself in the bathroom for 15 minutes each morning to take care of your skin, then you do that. To be strong and available for everyone else, we have to remember to take care of ourselves in the process.
The one thing that always stays the same no matter where I am in the world is my approach to skincare.
I always make sure my skin is taken care of and looking fresh. Diet and exercise play a big role in this and of course we all need a little added help from time to time. My go to skincare products have been La Mer for a long time now and the strict regime really has its benefits. Their range of products are the only ones I have ever used where I can see real changes taking place with my skin. The results really speak for themselves. La Mer has taught me about the importance of beautiful skin.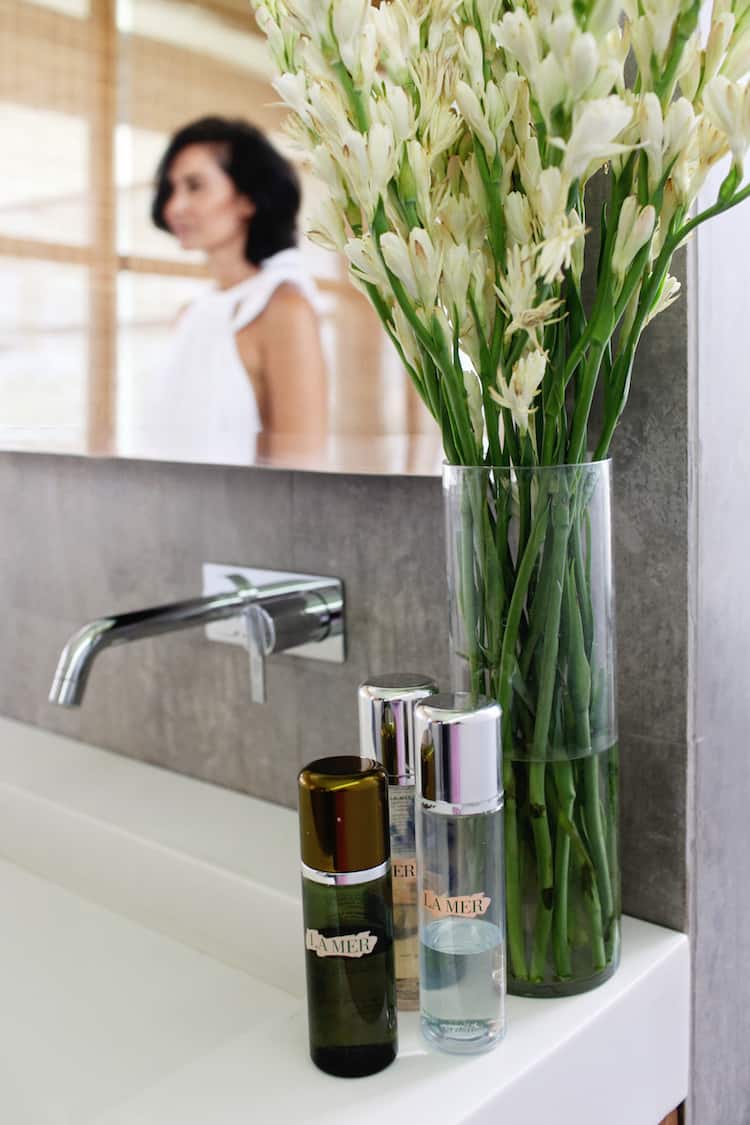 Portrait of a Lady has been my signature perfume for the last 10 years and I don't see that changing.
When I'm in Bali, I do tend to swap this for Bois Noir by Robert Piguet – I feel as though the scent lasts a lot longer on my skin in the heat.
I used to go to Diptyque in France all the time to stock up on their candles. I have yet to come across any other brand that can compete. Ambre and Baies are my favourites.
It's true that beauty is passed down from mother to daughter. It's about doing things now that your future self will thank you for.
I watch Stella's approach to skincare now and feel confident in her choices. Granted, we have had a few run-ins with hair removal creams being left on too long… but these are lessons only Stella can learn!
In terms of makeup, I like to do as little as possible but still feel a bit polished.
I never wear lipstick so this Charlotte Tilbury Lip Cheat pencil is perfect for me. I outline my lips with it then just add gloss. This way I still get the shape and fullness without the heaviness.
I absolutely love this Elis Faas foundation because it's the right amount of coverage for me and the colour is perfect for my skin tone. I call it the 'no foundation' foundation.
NARS has been a favourite of mine for years and like most people, I opt for the blush in Orgasm. It's worth every bit of praise it gets. The Hourglass bronzer has been my staple for a long time because it's not too shiny. RMS products are so easy to use – I like products that are quick and easy to apply, and for this one I just use my finger to apply.
And I love The Daily Edited and use their personalised pieces both for storage and travel.
Splitting my time between Bali and Australia really is like I live two different lives.
I feel really fortunate to have a lifestyle in which I can indulge in the best of both worlds. I love the carefree lifestyle in Bali. When I'm there, my beauty routine consists almost solely of Mecca tinted moisturiser and my wardrobe is just denim shorts, shirts and lots of Rama Voyage. Slides are non-negotiable.
When I'm in Australia or Europe I relish in the opportunity to get dressed up.
For me it's really about mixing designer pieces with Rama Voyage and lots of denim. I love to travel and really draw inspiration from some of the best-dressed women from around the world. I love injecting that into my collection and personal style.
I absolutely love shoes! You can never have enough.
These jewelled pumps by Aquazzura that I bought from Miss Louise in Melbourne are definitely a favourite.
I recently got my first pieces of Louis Vuitton luggage. I got them with Goldie's initials so I can pass them down to her.
Whether or not to change one's surname is such a difficult subject and one that I am taking a long time to think about.
After it's all said and done, it's more than choosing whether or not to carry your ex-husband's name. Essentially the name becomes a part of you, your children and your history. It's a name that has grown with you. I have been Klim for almost 12 years of my life, and it's how people know me professionally. Aside from this identity crisis that can come with one relationship ending and a new one beginning while I still retain the name from the old one, it really comes down to my children's feelings about it. My children and I have had lots of conversations in the past about me reverting to my maiden name and they have always resisted this change. They were worried they would feel like we weren't a family anymore. I can absolutely relate to how they are feeling, as growing up my mother changed her name when she remarried which left me the only child in the family without that same name. So not only did I look different, but I also had a different name! So with my own family we keep this conversation open and in time perhaps I will change my mind… especially now that Adam and I are married.
Oh my god, the kids are obsessed with Goldie!
My family really feels complete now, being the six of us. Anybody who knows Adam will tell you that he has this natural ability to relate to children, which is why he has come into our family so seamlessly. We feel so blessed to have Adam in our lives and to see him experiencing all the joys of being a parent to a newborn is a wonderful thing.
I do have to admit that four children is a lot, and life has become even more hectic, but I wouldn't have it any other way. Some days I crave a moment of absolute silence (as any mother can relate to) but the days I am away from them, I crave their company and personalities endlessly.
I feel so fortunate to be able to live in Bali and raise our family here.
My older children go to an incredible school called the Green School. This is the world's first sustainability-focused green school. I truly believe that this form of teaching and environment is what is best for my children, and being able to live with the freedom that Bali gives us is so important to me. It helps me feel grounded and connected to what really matters.
Story by Zoe Briggs, photography by Rowe Timson. Lindy wears clothing from her new label, Rama Voyage, throughout.