You don't start your own PR firm at 23 without a serious amount of energy and determination, and Montarna McDonald has both in spades. The recently-engaged CEO of The Audience Agency tells us what she loves about her fast paced world (yes, everything) and that when it comes to beauty she believes in two things – products that give good glow, and a great hairdresser.
"I got into PR through a mix of education and experience – but mainly experience.
I started out interning to learn the ropes, then worked casually through uni and full time in agencies when I graduated. It was an incredible stroke of luck that the communications industry went through this huge transition towards digital news and social media right at the start of my career. I saw how radically this would change things, so after some amazing jobs and experiences I went out on my own to create an agency that embraced this new phase.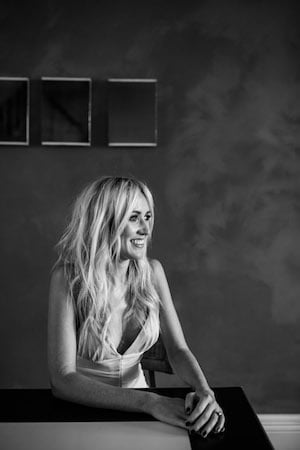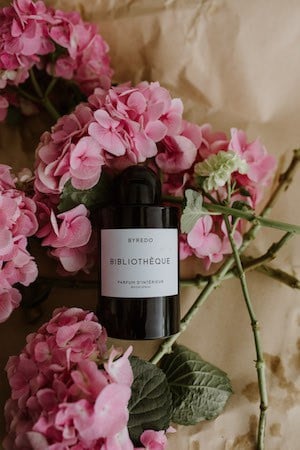 I love the constant hustle and buzz that comes from working in this industry.
What some people might find draining I completely thrive on – working across time zones with global brands, back to back editor visits in our showroom, week after week of event planning in party season, the madness when a media exclusive is locked in…I feel so lucky to have found my niche in life.
In terms of personal style,  I strive to look like I haven't tried! 
I'm eclectic veering more towards the masculine side (although I'm not afraid to bust out a romantic girly look from time to time), and mix high fashion with daily basics. My favourite designers are always changing but current loves are Re/Done Denim, Chanel, Albus Lumen, Christopher Esber, Posse, Lucy Folk and Celine. My favourite items at the moment are a pair of Celine pearl earrings my fiancé gave me for Christmas. He secretly tracked them down overseas as I'd said I wanted to wear them to our engagement party, so they really mean the world  (… and yes, he's a keeper!)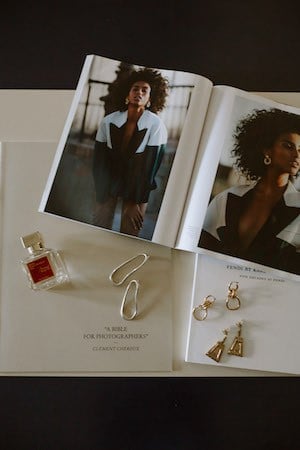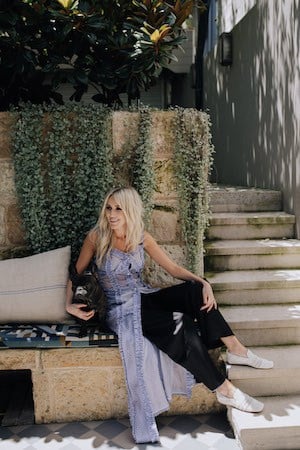 I have a fairly routine approach to beauty.
If I find something that works I'll stick to it – at least until I get bored with the results or someone I trust suggests something better! So I'm a bit of a one-trick pony, apart from when I work with my amazingly talented friends on shoots or events – then I'll happily sit in the makeup chair and let them shake things up to a create a totally different look.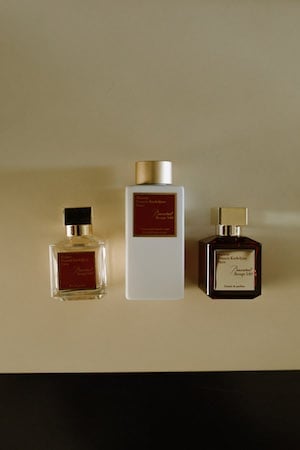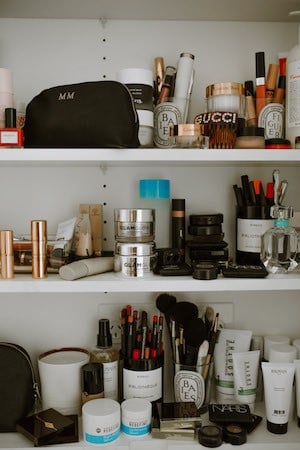 I've had a weekly appointment with Tarryn at MOB Hair in Bondi Beach for at least the last eight years.
Tarryn makes sure my blonde locks are as healthy as possible. She uses Olaplex when colouring my hair and makes sure to never over process my colour or overlap my re-growth. We use a leave-in treatment by Kevin Murphy, Immortelle, before the blow-dry to protect my hair from the heat tools. And we finish with Kevin Murphy Body Builder on the roots and a spritz of Oribe Thick Dry Finishing Spray for that lived-in look and to break up the curls. Tarryn is my hair wizard – we laugh that I don't ever know what she is doing to my hair on any given day. I just roll in at the same time every week and sometimes she's giving me a treatment or a cut, other times it's colour or just a blow dry. But I know I'll always walk out feeling fabulous, and that there isn't a day that goes by without someone complimenting me on my hair!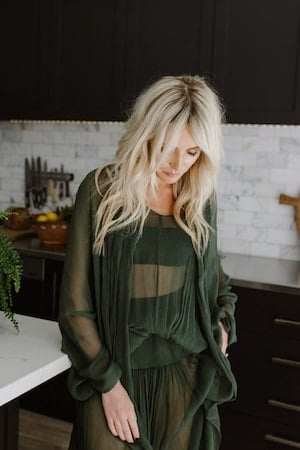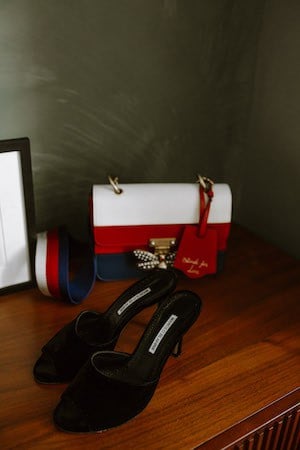 My look is lived in with a polished edge.
It's constantly evolving but the fundamentals are chic, groomed and effortless. I'm always looking for the next step I can take to keep it fresh. Although, in hindsight, I've had quite a few embarrassing beauty moments.At the time I always thought I was cutting edge! That's a scary thought moving forward…
I like to have a consistent routine for beauty treatments.
Every fortnight I have a spray tan at Tan Temple in Bondi. I've gone to them for as long as I can remember and I love them because they have my colour nailed and they always do a great job. I get an eyebrow shape and tint at Beach St in Paddington because Giulz just gets me and my lust for a dark, thick brow.  I go for regular manis and pedis at Paddington Nails because its local and quick – I get so bored sitting through these and just want to be in and out ASAP. If my face needs it, I love microdermabrasion at Beauty Express in Potts Point.
My attitude towards aging is to take care of myself now so that I (hopefully!) age gracefully.
In my opinion, some of the most beautiful women and men in the world have really ripened with age.
My new year's resolution is to find my exercise passion, as I'm preparing for my wedding later this year.
I'm yet to find something I can stick to regularly. I loved training with Chris Feather at 98 Riley St and I also have loved my stints at Physicore in Paddington, as well as yoga at FLOW. Juggling exercise with everything else I do is something I struggle with, and not being a gym junkie, I actually feel quite intimidated going to gyms so I usually avoid them.
I think it's important to take care of your body inside and out.
I exfoliate a lot because I'm always tanning. I use a mixture of Aesop and Frank body scrubs and the Tan Temple tan removing soap on a weekly basis. If I'm feeling run down one of my favourite tricks is to fill a hot bath and use the Cold and Flu Soak Herbal Formula from the C.O. Bigelow collection that a friend put me onto for when I have a cold. There is nothing better – my fiancé Nick and I go through it so quickly. In terms of food, I try to eat vegetarian good if I can at dinner time to reduce bloating, and I take probiotics daily too for the same reason. I don't stick to this religiously, but I try to be conscious of it as it makes me feel so much lighter.
If I'm feeling overwhelmed or stressed I love to take a bath, listen to music and have ten minutes of zen time.
My favourite way to relax, though, is to spend time with friends and family. Nick and I are very social, so whether we're out and about or hosting everyone at our house, if there's wine, food, music and laughter I'm in heaven."
Story by Zoe Briggs, Photography by Alice Mahran, Hair & Makeup by Mia Hawkswell.
In Association with The Audience Agency.