I first met Zoe when we were both baby beauty editors, gleefully attending events together. Zoom forward over ten years and she has had a most stellar career, going from Beauty Ed position at Cosmopolitan, then Harper's Bazaar, to writing six books, launching a makeup app and finally releasing her very own skincare line Go-To. And she's not done yet.
We caught up with the hilarious Zo and begged her to come clean about her own skincare routine and how she carefully honed her product line. The pics of her amazing home (and Meowbert, her cat) come care of our friends over at The Grace Tales – photographer Julie Adams and editor Georgie Abay, who also captured Zoe with her husband Hamish Blake and new bub, Sonny (before little Rudy was born!) – check the full story out here.
ZOE WITH HER CAT MEOWBERT
"I don't think of myself as a beauty aficionado
Have you seen the girls on YouTube? They're about 80 years younger than me and know five times as much. I started out in beauty with atrocious eye shadow skills and terrible eyebrows. Oh, come on: it was 2004; we all had terrible eyebrows. The job was beauty editor at Cosmopolitan, and aside of the overwhelming sense of fraud shadowing me, it was a god damn dream.
Being a beauty editor is…
such an unbelievably fun and privileged job – until I launched in I couldn't believe such a fantasy profession existed. You dress up like you're going to a party each day, and you go to fancy functions all the time, and you're constantly offered new hair and skin treatments, not to mention all the shiny makeup and skin care and nail polish and hair styling tools that arrive for you every single day, which you can test at your desk and legitimately call it work.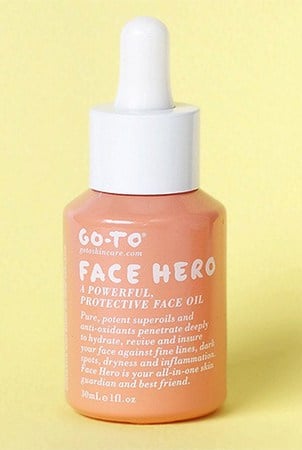 GO-TO FACE HERO IS FULL OF NOURISHING OILS
TOM FORD BLACK ORCHID IS ONE OF ZOE'S FAVOURITE FRAGRANCE
My every day look is disco gangster…
with a whisper of Parisian flapper. ("Stay at home writer/mum.") I remain a loyal fan of the early '90s taupe eye and full brow…and try to keep it modern with (in a perfect world) fresh, glowing skin and dewy, flushed cheeks. [When it comes to beauty] a simple routine/look and be good at it. We travel a lot, which compounds my need for simplicity even more. Go-To fits this need for concise, meaningful cosmetics perfectly, which was no accident.
My own beauty routine goes like this…
I cleanse my face, apply a pigment inhibitor (Aspect Pigment Punch) then apply anti-oxidants, namely my new Go-To Face Hero, which is jammed with nourishing, restorative, protective oils and of course, potent anti-oxidants. Next is a moisturising physical sunscreen (O Cosmedics Mineral Pro) then Smashbox CC cream or Napoleon BBB cream. Some Laura Mercier concealerall around the eye, a wash of Bobbi Brown cream eye shadow in a soft brown on the lids, then Kevyn Aucoin Volume Mascara, because tubular mascara is the way always and forever. Revlon Brow pencil in dark blonde through the brows, Benefit Cha Chaon the cheeks and maybe a bright lip crayon, but also, maybe not. A great tip: At night, cover up an angry pimple with brown eyeliner and make it into a beauty spot. Don't fight it, pop it, or painstakingly try to conceal it, just make it something sexy and cool and Cindy Crawford the shit out of it.
THREE OF THE PRODUCTS ZOE SWEARS BY FOR LONG FLIGHTS (SOURCE: INSTAGRAM)
THREE OF THE PRODUCTS ZOE SWEARS BY FOR LONG FLIGHTS (SOURCE: INSTAGRAM)
As for hair…
I wash and 'set' my hair every 3-4 days because I'm lazy and hate how clean hair looks and sits. I wash it at night, then use L'Oreal Professional Volume Lift Spray mousse or ghd root-lifter (breastfeeding stole all my texture), before blasting dry with a Parlux using a Denman all over for volume. In the morning, it's heat protector and then I go haphazardly over with a curling wand (a wide Babyliss barrel or ghd's creative curl) for movement and texture. I finish with volume powder and/or dry shampoo for grit. I add in more of these two guys each day until I have to, by law, wash again.
Growing up, I was a huge fan of Sun-In.
Loved it. Made my hair go ciggy-butt orange but I thought it accentuated my Tencel jeans and Colorados perfectly. Please note I am aware that this reference is less funny now that the '90s are cool again. My mum was an all-natural bird, and still is. She was the one who got me onto rosehip oil and coconut oil and was into kale and wheatgrass 100 years before anyone else. I was so proud telling her Go-To is entirely devoid of synthetics and nasties. She's a fan. (Or else.)
FRESH PINK ROSES ADORN ZOE'S BEAUTIFUL HOME
ZOE'S GORGEOUS TUB WITH A SIDE OF GO-TO PRODUCTS
For beauty treatments…
I alternate between resultsy facials (AHA peels), at Me Skin and Body in South Yarra because the owner Brooke knows her shit, and relaxing facials (specifically the Sodashi Thermal Infusion) at MADE beauty space in Hawthorn cos I love the girls there and I love Sodashi.
When in Sydney, I go to Jocelyn Petroni for my Omnilux, manicures and pedicures, and my longstanding facialist Natasha (0422 650 773) in Double Bay for phenomenal facials and waxing. I have my hair done by Jaye Edwards (Edwards and Co) in Melbourne, and Barney Martin in Sydney. I am psychotic about my brows, only Lien from Ultimate Brow Shape is permitted near them. I love Aurora or ISIKA spa at Crown Metropol for massages in Melbourne, (Spa QT when in Sydney), and I never go to Sneaky Pete's Spray Cave for my spray tans anymore.
I love prints and patterns and brights
in both interiors and clothing, and pops of delight. I'm deeply attracted to happy colours, art and clothing. I had our dining chairs customized with neon powder coating, bought the fruitiest, funnest Loom rug in stock, and we cover our walls with exuberant art and photography. Occasionally I'm asked by certain people I'm married to if I can maybe hold back a bit, so I hurl in some grey or white or black in to maintain balance/distract him.
A PARROT ALONG WITH FRESH FLOWERS LIGHT UP THE ROOM
GO TO IS A TIGHTLY EDITED ROUTINE OF ESSENTIALS
The idea for my range Go-To…
…may never have sprung up if a friend in the skin care business didn't suggest it in 2012. I'd just spent an hour trying to bully her into doing a multi-purpose body oil in her range, (this product now exists as Go-To Exceptionoil), and look, maybe it was just to get me off her back, but she said since I had insight into what women needed and wanted in skin care, and could communicate that in a simple, fun way, why not do my own line? (I hear that's how Lancôme started too.)
I underestimated how much time I'd need…
for creating the formulas, and testing them super thoroughly, and getting the texture just so, and nailing the fragrance (by far the trickiest bit). It's a blessing and a curse having been a beauty editor for so long, and having tried so many products… I'm confident I know what skin needs to function well and look great, and I know from years of feedback what women like and don't like and what baffles them, and I know EXACTLY what I want in a product, which I arrogantly didn't believe existed yet, so I decided to build it from scratch using some magical checklist in my head and an extremely talented biochemist named Pete. It's incredibly fun. But since I'm a spectacular control freak, I think I make it harder than it needs to be.
CLOSE UP TIME WITH MEOWBERT
A RECENT PHOTO OF ZOE BY JENNIFER STENGLEIN.
I'm thrilled with the products.
They work, they feel and smell terrific and most importantly, women are getting VERY, VERY GOOD RESULTS.  I've had some phenomenal feedback, women with rosacea and psoriasis and eczema getting these life changing results. Now that Sonny is getting older and offers reliable nap times, shit has got a whole lot easier, because I have dedicated working hours where I'm like a robot on Red Bull. Switch off time comes at 7pm when he goes down, and we make dinner and have a wine and watch our Survivor, Broad City, House of Cards, Veep etc."