It seems that Carrie Bradshaw isn't the only one famous for her thick and tousled beach-blonde mane, petite frame, and completely healthy obsession with killer heels – enter makeup and spray tan extraordinaire Filomena Natoli. With over ten years experience in the beauty industry and a lifelong appreciation of all things glamour, it's no wonder this talented makeup artist has a client base some only dream of.
We discovered what inspires Filomena when we visited her in the beautifully curated home that she shares with her husband and two daughters.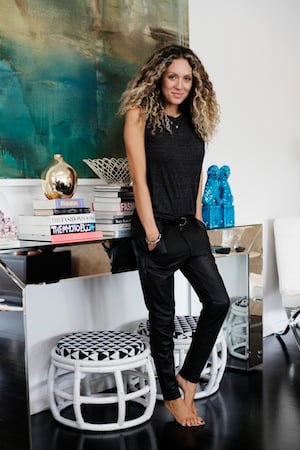 FILOMENA WEARS ISABEL MARANT TOP AND SMITH MADE LEATHER PANTS. ARTWORK BY SCOTT PETRIE.
I used to collect postcards of Marilyn Monroe…
when I was 11 and that was when I really fell for the idea of beauty and glamour. At 16 I had my makeup done for the Year Ten formal and it was a bit of a light bulb moment – I was like "yeah I want to do this". I completed my makeup course straight out of high school and went from there.
I couldn't pick just one thing that I love about my job
I love aesthetics and I love creating beauty. I get to work with so many creative and talented people that most of the time I feel like I'm playing not working. I'm very fortunate that I love what I do. I love the idea of looking after yourself and looking your best, I think it's amazing that we have so many products and techniques available to suit individual needs.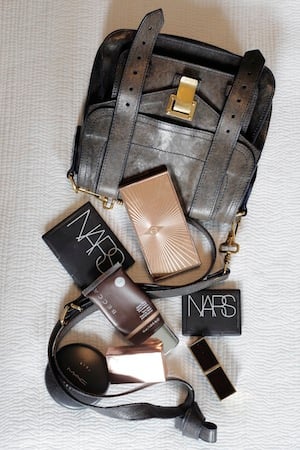 IN FIL'S PROENZA SCHOULER MINI PS1 BAG: CHARLOTTE TILBURY, NARS, BECCA AND M.A.C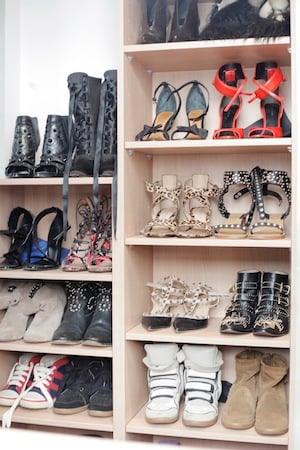 My personal style is natural, confident, and eclectic
I like to mix high fashion with everyday staples and I definitely favour sexy silhouettes. My beauty look follows the same ethos – "done but undone". My contour, highlighter and lippie are my best friends. For a night look I absolutely love my Charlotte Tilbury highlighter duo – I even use it on my eyes. I also love the Charlotte Tilbury Gold Bar. When I'm out I like my skin to look luminous and I just can't go past a well-contoured cheekbone! I really like a worn-in smudgy eye in warm tones – I smudge MAC Costa Riche eyeliner to really bring out the green in my eyes as well as a little white gold metallic glint near the tear duct to make them pop even more.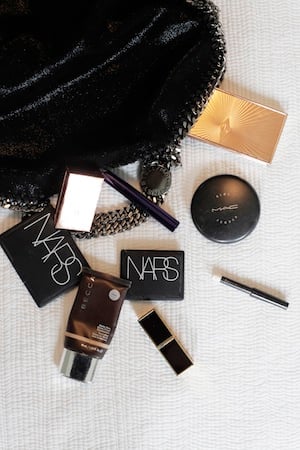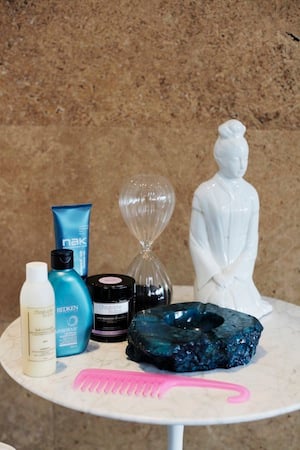 My hair is a big part of my look
and I actually only wash my hair once a week and plait it at bedtime to maintain a nice wave in my curl. I use an in-shower treatment like Redken Smooth Down or All Soft and Kerastase Masquintense. I like to use a violet conditioner to keep my blonde ends clean and creamy; my absolute favourite is Christophe Robin Baby Blonde. I always use a leave-in conditioner in my hair, which is usually a mixture of Redken Curvaceous and Smooth Down that I apply using a wide toothed comb. After this I try to let my hair dry naturally, however with my busy schedule I sometimes sit in front of my gas heater to speed up the process… Very unorthodox I know, but it works!
I rarely get my hair cut
but when I do I see Matt or Paloma at Oscar Oscar. I only trust Monique McMahon from Que colour with my tresses. My mother is religious when it comes to beauty and taking care of herself. I remember her having facials often, along with blow outs and manicures and pedicures every week – which she still does to this day! Now that she's older she doesn't have to do much with her skin, which is probably due to all those years of regular facials.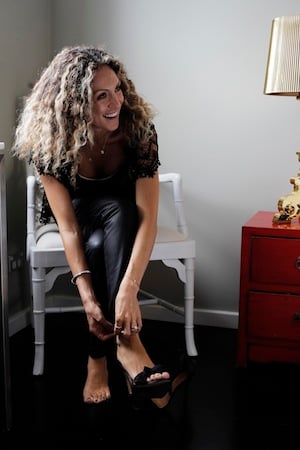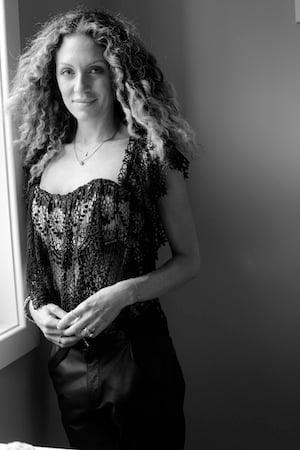 I'm happy with the way I look being in my early 30s
Not that I want to sound conceited, but I'm really comfortable in my own skin and I think being a mother might have something to do with that. I feel equally beautiful dressed up rushing out with my man on a Saturday night and getting around and about during the day in jeans and a t-shirt. Icons like Michelle Pfeiffer, Bridgitte Bardot and Blondie definitely influence my style [they were] petite women who were still extremely sexy and that really resonates with me.
I listen to my body a lot
– when it needs to be exfoliated, when it needs to be moisturised, when it needs to be left alone. I mix between sugar, salt and coffee scrubs to keep my skin smooth and silky. I am loving the Frank coffee scrub at the moment and I like to make sure I'm buffed and polished before my loving husband gives me a spray every second week. I've taught him well, his technique is actually really good and it comes out perfectly every time! I also love using the Tahitian Monoi Oil, it smells and feels exactly like summer.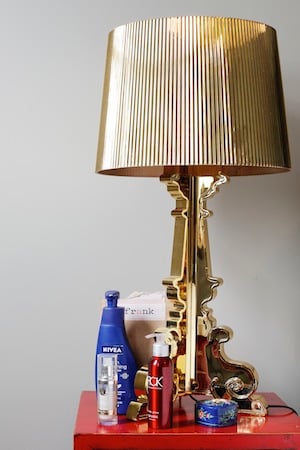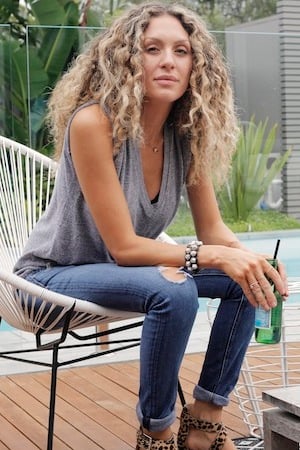 While I am pretty flaky with exercise
I make sure I cook a homemade meal every night for my family no matter how busy we are. I buy mostly organic and believe it or not my kids actually don't mind kale! I don't take any supplements or vitamins; a balanced diet seem to be working fine. I love to cook with my girls, which probably goes back to my Italian background. I love chilling at home having friends over with the kids running around, wine, pool, food, music and lots of laughs. If you don't have a sense of humour you're not invited!