After years of stalking the runway with her supermodel alumni (Cindy and Helena are still her besties) it was no surprise when Gail Elliott started her own fashion label. Launching with a line of silk slips in the nineties (which were, naturally, gifted to her model pals), Gail's line Little Joe Woman quickly took off.  Now, nearly 15 years later,  she has relocated to Bali to continue working on her label, open a boutique, and run her online store. She invited us into her stylish villa that she shares with husband Joe Coffey and revealed a beauty routine that is as comprehensive and knowledge-filled as one would expect from a model who has shot with everyone from Meisel to Testino.
"I was extremely fortunate to enjoy a successful 24-year career as a model…
…but I had begun to feel a need to express my learnings and fashion thoughts and feelings creatively. Having worked with so many of the most creative and powerful fashion designers, photographers, magazine editors, stylists, hair & make up artists and models in the business as a fashion model myself, I came to appreciate quality, luxury and how beautiful clothes make a woman feel.
Little Joe Woman appreciates luxury, she's chic, she prefers quality over quantity, she's subtly sexy, she's a busy person, she enjoys travel and loves life…just like me!
My first designs were very simple little silk slip dresses and camisoles. Pieces that I needed for myself and couldn't seem to find in stores at the time – there were many vintage pieces out there but the fit or fabric was always wrong. My mission with Little Joe Woman is connect with women.
I still travel often…
Living in Bali I use a light facial moisturiser and like the one from Dr. Spiller which is a blue lotion and feels hydrating and fresh. I've discovered the Environ eye gel which I'm told contains a tiny amount of Botox (which I'm sure can be helpful!) but I'm also told you need to use it for at least 3 months for it to show any effect. I still travel often…  so I like to use something a little heavier on my skin, the La Mer Renewal Oil is perfect, which I pat into my face, hair, body and nails. For everyday I use the La Mer body serum which is moisturizing but light and gives my body a nice glow. And finally a generous spray of Joseph of London perfume or Chanel No:19 perfume or Penhaligon's Victorian Posy perfume.
I'm kind of a natural girl…
I don't wear much make up when I'm not working. I never wear a red lip, always a Nars 'Belle De Jour' nude or MAC 'Japanese Maple' nude. I cover any slightly 'red' areas around my nose with RMS 'Un Cover' which seems to suit all skin tones. I've used Maybelline's Colossal mascara in black for as long as I can remember. It has the best full bristle brush and doesn't flake or clog and stays put until you remove it. I use Tom Ford's Illuminator Powder in translucent and apply it with a big brush all over just to give  nice glow – I don't try to matt my face. Lastly, I like the Benefit Eye Bright pencil in a pinky / cream that I use on the inside of my eyelids to make my eyes 'pop' and look healthy.
There's nothing nicer than a fresh, straight, blow-dry and clean glowing skin, a sweep of mascara and brushed eyebrows.
I love the Como Shambala shampoo & conditioner products – I guess living in Bali and travelling often around Asia, it's easy for me to purchase at their hotels when staying there. Penny Frances Apothecary has a Jasmine parfum, Fleur De Lunethat I use in the ends of my hair that takes out any frizzy's and makes it smell great. I use Klorane Dry Shampoo to give my roots a plumping and love a good blow-dry which makes me feel polished and confident.
I'm not a trend driven person…
but am always obsessed with leopard print, fringe, leather and lace. I like slick and cool leather pants, t-shirt and a silk blazer… black & white or a Chrome Hearts or Balenciaga leather jacket when I'm in a city in winter but also like the gypsy, haute hippy, rock-chic, boho luxe style of dressing particularly now that I live and travel in Asia. I wear mainly my own clothing brand since I design for myself and my customers but have a great collection of handbags from Hermes, Balenciaga and Chanel as well as Gianvito Rossi shoes that I love.  I prefer quality over quantity.
I don't mind aging and feel stronger, I'm more confident and comfortable with the way I look now than I did in my 20s. I know my strengths, I'm not trying to impress people…
Besides eating well, getting lot's of sleep and hydrating, I take care of my body by having a full health check-up in Bangkok at a hospital called Bumrungrad, every two years. The full check takes seven hours and if you need to see a specialist you can do so immediately without having to wait two weeks until one becomes available, like in most western cities. Besides that, I do a Pilates class twice a week at Sunset Pilates at The Joglo in Brawa, Canggu. I've also been taking The Super Elixir, a highly specialised alkalized greens daily supplement powder with vitamins, minerals and trace elements.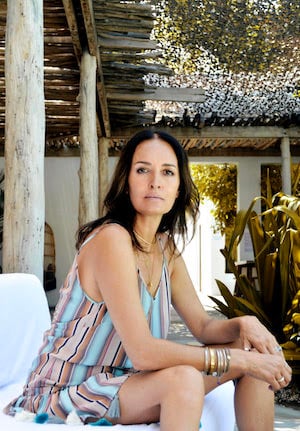 I feel most beautiful when I'm relaxed and lounging around our villa with my husband and our dogs…
I like to read, take a long bath,  tend to my orchids, cooking with a glass of wine relaxes me – every evening when I get home after work at my design studio I cook for my husband and I. We also enjoy watching our favourite TV series or movies curled up on the sofas with our dogs."
Story by Molly Gay. Images by Myles Pritchard, Tash Serena & Gail Elliott.