This year the world has been captivated by the fresh-faced beauty and streamlined fashion of Meghan Markle – but it's not hard to draw parallels between the new Duchess of Sussex's sartorial choices and those of another elegant American, whose style has been emulated for nearly 60 years. Jacqueline Kennedy's tenure as the First Lady of the United States was brief, but it cemented her as a beauty and style icon for decades to come. While John F. Kennedy was one of the most beloved and charismatic presidents to ever occupy the Oval Office, outside of her husband's shadow Jackie had a cultural legacy all of her own. A connoisseur of the fine arts, she fostered a thriving artistic scene within the White House, inviting creatives and poets to mingle with seasoned politicians at her social gatherings. Even throughout the grief and fear that followed JFK's assassination, she continued to live a life of dignity and poise. In honour of what would have been her 89th birthday this week, we are celebrating the life and style of Jacqueline Kennedy Onassis.
After graduating from Miss Porter's Boarding School in Connecticut, Jackie attended the prestigious Vassar College where she studied history, literature and French – all disciplines that would inform her appreciation for the arts for years to come. In 1951, after graduating from George Washington University, she started working as an "Inquiring Camera Girl" for the Washington Herald, responsible for interviewing subjects about the pressing issues of the day. During her time as camera girl, she began earning her political stripes, photographing future president Richard Nixon and attending the Eisenhower inauguration. It was also during this period that she would meet one of the newest senators on the D.C. scene, John F. Kennedy.
"I'll be a wife and mother first, then First Lady" 
There was no denying the magnetic presence of the Kennedys, and nowhere was this made clearer than at their wedding in 1953. With the bride and groom hailing from high society families – and both being quite easy on the eyes – it was an event many were keen to witness. Taking place in the idyllic countryside of Newport, Rhode Island, the wedding welcomed around 600 attendees, boasting senators, diplomats, and prominent public figures amongst the congregation. Beyond invited guests, the nuptials also attracted some 2000 members of the public waiting outside, eager to give their good wishes to the newlywed couple. The wedding's impact on the fashion landscape of the time was not unlike that of a modern royal wedding. Designed by Ann Lowe, the new Mrs. Kennedy's dress became an instant classic, with many women across America emulating its portrait neckline and full skirt for their own weddings. This would only be the tip of the iceberg when it came to Jackie's sphere of sartorial influence.
While there is no denying she was a striking figure in the White House, her beauty went beyond just the physical. Although quiet and introverted by nature, she thrived with the public prominence that came with her position and wielded her influence as First Lady to promote causes close to her heart. One of her greatest legacies from her time in the White House was her involvement in the 1961 restoration of that historic residence. Engaging renowned designers and antiques experts, Jackie's renovations were sympathetic to the original style of the building, yet were also refreshingly modern; her televised tour of the newly renovated White House even scored her an Emmy win.
Jackie had a deep love of the arts, which she proudly supported whilst First Lady. When planning official dinner parties, Jackie always made a point of inviting artists, poets and Nobel laureates to socialise with politicians and diplomats, cultivating a vibrant cultural scene within the walls of the White House – and beyond.
"Pearls are always appropriate"
While Jackie's political influence was considerable, perhaps her most enduring legacy has been as one of the greatest beauty and fashion icons of the 20th century. One glance at certain items – a bouclé twin set, a Cartier Tank watch or oversized round sunnies – immediately conjures up mental images of the lady herself. Her legendary bouffant became a staple hairstyle of the 1960's that women across the globe eagerly copied. Although Jackie took great measures to ensure her hair stayed healthy and glossy, even she had the occasional bad hair day – she was a mere mortal, after all. Her solution? Her iconic silk headscarves, perfect for taming hair that just won't behave. To protect her hair overnight, she insisted on silk pillowcases to reduce frizz and to smooth her brunette tresses. Her makeup artist Peter Lamas (who also tended to the likes of Grace Kelly, Elizabeth Taylor and Audrey Hepburn) recommended she use essential oils on her dry ends, to deeply hydrate and undo years of sun damage.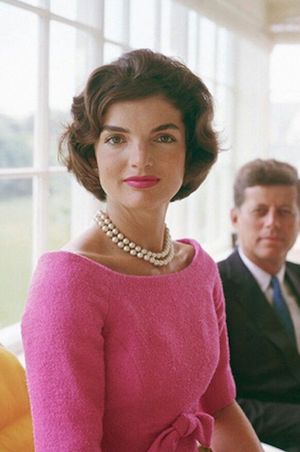 "I am a woman above anything else"
Jackie's flawless skin was maintained thanks to a set of go-to products she couldn't live without. Her cleanser of choice was Erno Laszlo Dead Sea Mud Soap, packed with dead sea salt to gently exfoliate the skin without stripping natural oils. She swore by Erno Laszlo Phormula 3-9 Repair Cream, rich in botanical oils and marine extracts, that was also a firm favourite of Marilyn Monroe. To perfect her base, she loved Elizabeth Arden Flawless Finish Foundation, which could withstand the humidity and heat – perfect for her lavish trips to Greece as wife of Aristotle Onassis.
One of Jackie's most striking features were her almond-shaped eyes, which she lined with white eyeliner to open her gaze further. And as the finishing touch to her look, Jackie's choice fragrance was Krigler's Lovely Patchouli 55 – a leathery and amber scent as elegant as Jackie herself.