Jasmin Howell is quite the over-achiever. The petite fashion and travel blogger not only snaps beautifully styled photographs in far-flung places for her blog, Friend in Fashion, she is also a jewellery designer and digital marketing strategy whiz. Her label, By Jasmin, comprises a range of beautiful fine jewellery gilded in gold and silver and inspired by her nomadic lifestyle. She is also head matriarch of digital strategy company Mama Zuzu. The meticulously presented Jasmin is as sweet as she seems; gracious, funny and with a discernible eye for style and all things beautiful, including her healthy (albeit costly) Chanel habit.
Jasmin recently invited Beauticate into her sleek apartment in Melbourne's Docklands, where we pried open her bag of beauty, fawned over her jewellery range and got hit with our own case of wanderlust.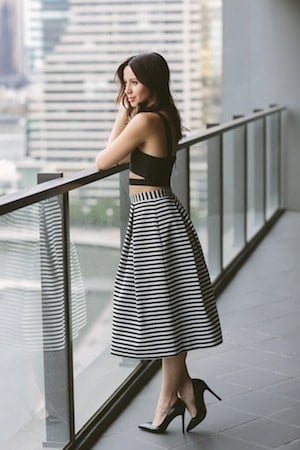 JASMIN HAS A BEAUTIFULLY FEMININE FLAIR
"My husband and I are adventurers.
We like to explore. I get itchy feet.  We went to Cabo and got married – just us. It was amazing. I had a friend who's a dressmaker and I said to her, make me a [wedding] dress, any dress. I sent her my measurements and I said I don't need to see it, just do it. I met her in Palm Springs and I loved it – she made me two; one was the dress and the other was just a beautiful dress, it fit like a glove and it's just so special to me now.
I'm not a makeup girl at all
At school I would never ever wear makeup. Having said that, I do have a lot of beauty products. Normally  I'll be on a shoot and someone will put something on me and I'll be like 'that's amazing what is it?' then I'll go buy it! That's why my collection is very eclectic; I have every different brand, but I do know ones that I really love; Armani for foundation – that's my favourite. Nars I really love as well because it's not too thick and heavy, I've got a lot of freckles too and it's really light. I just use tinted moisturizer for everyday to brighten up a little bit – I love that. I love Nars lip pencils – like obsessed! They're so good – they have matte ones and gloss. In terms of nail polish, OPI.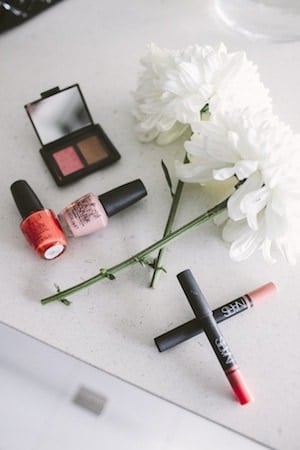 THE BLOGGER FAVOURS OPI FOR NAILS AND NARS LIP PENCILS IN TEA ROSE AND CORAL
SKINCARE SAVIOURS LIKE ESTEE LAUDER AMONGST FRESH FLORALS
Now I'm starting to take a little more care of my skin
I'm getting a bit older so I feel like I need to start! I totally feel the pressure [and am thinking] maybe I should make an effort, so now I use everything. At the moment, I'm using Estee Lauder Advanced Night Repair at night, I've heard a lot of people use it. I love anything for eyes; normally in summer time I'll put eye gels or creams in the fridge then put them on and that really seems to work quite well.
I'm all about anything that feels nice and light
I got these products called Arcona from Sephora and they are amazing! The daily exfoliator, the Golden Grain Gommage, is really gentle and brightens your skin and smells amazing! It is actually the best product and smells so beautiful – I'm obsessed! So I cleanse one day, then exfoliate the next, and then the other two you use one at night, and a [daily] moisturiser. It's one of those products you actually see a difference straight away. There's a clinic on Swan St. in Richmond that I go to – Jesus that sounds dramatic it's not a clinic – I went in for a facial! They have developed their own line of product, Neo, which is so good.
JASMIN'S SKINCARE ROUTINE RELIES ON ARCONA AND LOCAL BRAND NEO
HAIR CARE INCLUDES SACHAJUAN, EVO AND KERASTASE
I have over-plucked brows, it's torturous.
My latest favourite product is Anastasia Beverly Hills Brow Enhancing Serum, to thicken my brows and help them grow.  It's an amazing product! It's clear, you paint it on two times a day and I think it's working, I can actually see a difference and I'm the biggest sceptic! I'll try everything but nothing ever seems to work – but this is amazing. And I love BB creams, CC creams, anything that's really light. Bobbi Brown has a beautiful product. The Mecca Cosmetica Primer is an amazing product too – it's a primer but it brightens, like an illuminator, so that wakes me up.
When I put my face on I do a combination of things…
The primer, the tinted moisturiser, another illuminator, the Nars Laguna and bit of the Giorgio Armani foundation – mix it all up – and then put it on! I don't know if other people do this or this just an invention I made up but that's the only way I'll do it. I find if I just put one thing on, it's just too flat, if I mix everything, I have glow, I have some shimmer, I have a bit of coverage – I can't do just one product!
JASMIN'S CLEVER COMBINATION FOR A FLAWLESS FACE
MARC JACOBS LIPSTICKS, LE TOUR EIFFEL AND BY JASMIN'S GOLDEN WANDERLUST PENDANT
I love collecting travel books
That's one of my passions. I travel a lot and I like to pick up a little memento from all the places that I've been, but I always like to look for something a bit different, whether it be a photographer that I've just come across in a particular country or just things that are captured a little bit differently than your traditional kind of travel books. This one I picked up in Tokyo, and it's a Japanese photographer photographing Paris, which is one of my favourite cities.  I just love his photography. The only traditional kind of guidebooks I have would be my Louis Vuitton Travel Guides – every year they come out with new ones.
I love to collect Chanel
That's my vice – not a bad vice – just a very expensive hobby! I picked up my very first in Paris, at Chanel's original store on Rue Cambon, the classic Chanel 2.55 – so that was very special for me and then it kind of triggered the obsession! I'm very weird about it, I kind of look at them as collectors items, so I look after them so well, I have them in their original packaging just because I think it's a memento – but I should probably use them! I put a different kind of value them. This one is my newest one, but I'm still kind of drawn to the classic styles. I love luxury brands for their essence, not what they adapt into, like Louis Vuitton everyone hates on it because there are so many fakes and it's just cheapened the brand so much. As a traveller, I think back to what it was originally made for, and it was for all the travel luggage, and I love the story behind, so that's why I love to collect key pieces like that.
CHANEL ENTHUSIAST; THE LOVELY BLOGGER HAS A LOVE AFFAIR WITH THE FRENCH HOUSE
JASMIN IN HER MINIMALIST PAD
I wouldn't throw away the boxes!
I was travelling for six months and I had one suitcase the entire trip and I would buy and collect all these things as I was going and I had to get rid of boxes and it was torture! My husband was like you can't keep all the boxes; you can't fit anything in your bloody suitcase! And I was like, "But the boxes! It's half the appeal!" I lost a lot on the way which was very sad – it's still a sore point, let's not talk about it!
I'm into personalisation
Monogramming, name things, I just love it! I think it's just so special. So anything that's got my name on it, I'm sold. I'm not much of a fake tanner, so only if it's for an event or a shoot, I wouldn't do it everyday. The mess thing is my issue, and it coming off, and the smell. The St Tropez isn't bad in terms of the smell, I think that put me off for so long. I'm very much a natural girl when it comes to anything. If I do want to tan, I'll do it safely in the sun, I won't crisp up, just a little bit of Vitamin D.
A STATE OF WANDERLUST; PRETTY PALMS FEATURE IN JASMIN'S JEWEL CREATIONS
A PRETTY PINK SEA; MILK & CO AND MIU MIU BOXES
I love Milk & Co and that it's Australian made
It just feels so beautiful; it actually leaves your skin glowing. I don't know if that's placebo or what! But my skin is actually glowing. If I look half as good as Lindy after using it then we're sweet, we're done! I love that they're both putting their name to it – they live and breathe it. I love to support people that are doing great things.
Simple things like flowers and candles transform a room
These Bougie D'Apothicaire candles containers are handmade from a blacksmith in Paris and they're so beautiful. I never used to be a [candle fanatic] but I think it adds such a nice touch to the house. Having a scent to your room is so elegant and I think it's overlooked so often. So once I started I was obsessed! Now my husband is like 'stop with the candles!'
SNAPS OF JASMIN AND HER HUSBAND AND BEAUTIFUL CANDLES ADORN HER HOME
THE CHIC BLOGGER WEARS DION LEE
I try and go boxing two to three times a week
I've got a personal trainer and we're developing our own boxing bootcamp, so soon people will be able to do the workout that he's developed for me. So you can train like a fighter, but a really hot chick girl fighter! Whenever I put a fitspo picture up or me going to the gym I find that people will comment 'what do you?'' and I'm not even super fit or anything! But I am into boxing – if it's good enough for Victoria Secret it's good enough for me! I've tried everything, yoga, Pilates, I've done it all, nothing really stuck, but boxing is the one thing that really caught my attention; it's quick, fast and energetic. I'm addicted – if I don't go I get withdrawals. I missed a week for fashion week, I was like 'argh!' Then when I went back into the gym, I was so sore – you lose it really quickly.
Sweating is so good for your skin!
It's pretty gross when it's happening but I feel like after it's good – I honestly believe it! I think it just makes you feel good as well. If I could work out all day, every day I reckon I would. If I didn't actually have proper jobs or a proper life that would amazing!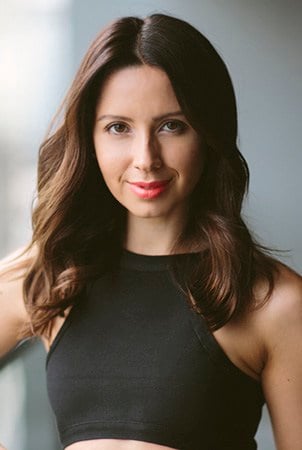 THE RADIANT JASMIN IS A BOXING FANATIC
BATHTUB ESSENTIALS INCLUDE SACHAJUAN HAIR CARE, CANDLES AND A FRESH AGAVE
It's hard [with diet] because I travel a lot…
So trying to maintain any strict regime goes out the window pretty quickly! I'm not about dieting, per se, just more making healthier choices where you can as opposed to limiting anything. Even with this bootcamp we're developing it's more about a holistic wellbeing rather than trying to be super skinny because it's just not realistic. I'll go to an event and I'll have a glass of champagne. If I was on any kind of proper diet you wouldn't be able to do that. It's more about building health and fitness into a realistic kind of plan, otherwise you fall off straight away. You do your eight weeks or whatever it is and then you binge! Just have a salad after and you're all good – you're totally back on track!"
Story by Chrisanthi Kaliviotis. Photography by Neiyo Sun. Hair and Makeup by Jasmin Howell.