As the author of several guides to healthy eating and wellness (including her most recent book 'Beauty Food'), Lola Berry sure knows her stuff about what to put on – and into – your body to look and feel your best. Here, she shares her favourite method for reviving blonde hair, her must-have addition to any serum and her secret supplement for glowing skin.
"I'm a big believer in trusting your intuition.
I think you should follow your heart and focus on what you love the most. It's how I live my whole life, and how I found my career path. I think we get caught up in our minds a lot about what we think is the right thing to do, or we get hung up on others' opinions. But, at the end of day I think you know what's right in your heart. We have to tap into the feeling of 'I really love this'. It's less about the mind and more about the feeling.
I've always been a health nerd.
I became so fascinated with whole foods and the impact they can have on the human body, that I dove into the deep end and began studying it properly. Luckily a lot of my friends are really into it too, so when we all go out together we're happy to eat at the same kind of place!
I am really into masks right now.
I especially love a pink clay mask at the moment. it's a powder that I get from a naturopath at these hippie health markets I go to, and i just add water. I also love Peter Thomas Roth's masks, especially their gold mask, and I also really love their cucumber eye masks. Sometimes I'll just make my own though, using mashed avo, raw cacao and honey.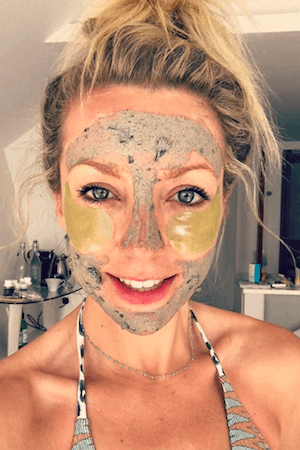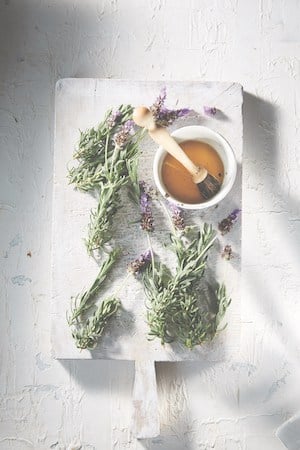 I'm in the water a lot so I have to take care of my hair.
I put an olive oil treatment through my roots down to my mid-lengths once every two weeks, then I use a purple shampoo from my hairdresser Biba to help lock the blonde in.
My favourite beauty tip is to add individual lashes!
Generally I like a minimal, natural look, but sometimes I do love getting dolled up. The lashes just make your eyes pop! Even though I'm a trained makeup artist, I never put them on myself, it's just a treat when I'm getting my makeup done for TV or a shoot. When it's just me, I love using a brown liner on the water line to really open up the eyes. Right now i'm using the Jojoba Eye Pencil in Earth by Ere Perez.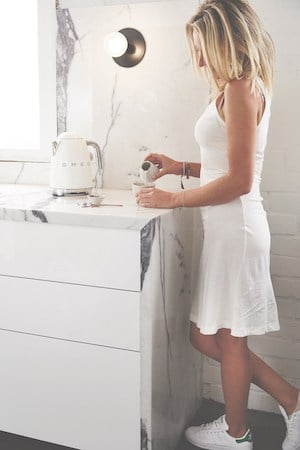 I still get insecure – of course I do!
I'm a girl who loves getting frocked up and feeling beautiful, but I definitely also get nervous about how I look. Learning to really love yourself, to love who you are, is what helps. There's some magic in that. I feel the most beautiful when I'm doing what I love. It's when time stops and I'm so happy within my heart – that's true beauty.
My number one way to take care of myself is to get out into mother nature.
I love walking, swimming and meditating outside. I'm also a vinyasa yoga teacher, so my practice is important to me.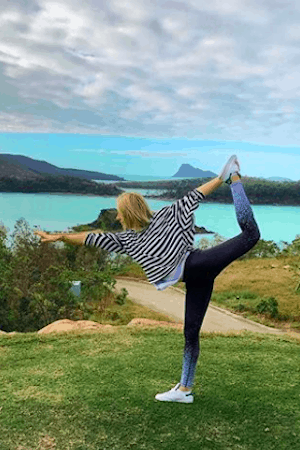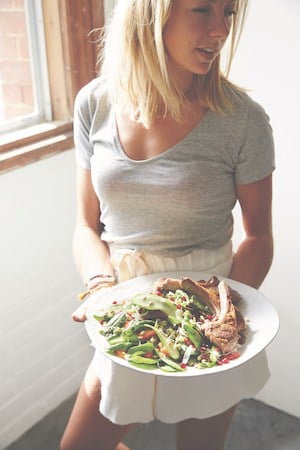 My best tip for glowing skin is turmeric.
I also take fish oil and probiotics every day. A diet based on whole foods is also really important. A typical day for me would include a green smoothie for brekkie, snacking on nuts and raw chocolate. Lucky for me my friends make my favourite, Pumpy Jackson (and one block has less sugar than a carrot!) I'll have quinoa salad for lunch, and dinner is usually avo and salmon or eggs and avo salad. I do have a sweet tooth so I like to finish up with some kind of raw vegan treat. I definitely have times when I feel like I want to indulge in the type of food that doesn't make me feel good, but I've learned that for me it's just not worth it. If I feel like that now, I call a friend and go out for a beautiful brekky. That way I have a great, energy-dense meal but with someone I love, and then I can enjoy it and not freak out about it. Blow outs for me are usually triggered by sadness, so I make sure to really look after my happiness and spend time with people I care about."