Five years ago, Rozalia Russian started posting mirror selfies to social media and answering questions from strangers who just had to know where she got her latest wardrobe addition. Flash forward to now and the style star has her own blog, over 200,000 Instagram followers and partnerships with brands including David Jones and Adairs. We spoke with Rozalia Russian in her stylish Melbourne home about her open-minded attitude to ageing, her dream wardrobe addition and how seriously she takes her skincare. 
"My personal style is quite masculine and relaxed. On a day to day, you won't really see me wearing anything too girly.
I like to support Australian designers where I can and think that we have some of the very best designers the world has to offer. My go to designers are Viktoria & Woods, Ellery, Rebecca Vallance,  Dion Lee, Camilla and Marc and White Story. In terms of International brands, I love Attico, Max Mara and Jacquemus. On my list of must have items is a Camel Max Mara coat. I know it's going to be a major splurge but it's such a timeless piece that I will wear and have in my wardrobe for a very long time.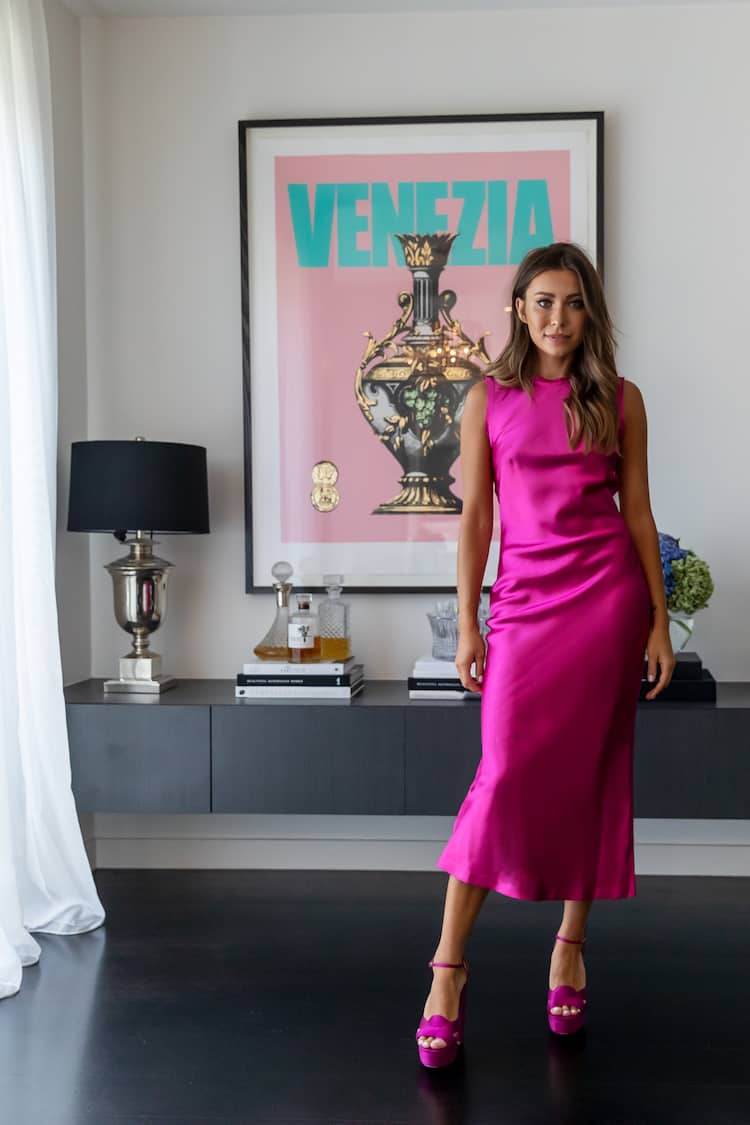 Rozalia Russian was a full time student of the Australian Ballet until I was about 15.
Mum really wanted me to be a professional ballerina as I was naturally built for ballet. (Here's a little toot toot – I was actually the first student to ever be accepted into The Australian Ballet without auditioning – I was attending one of their summer classes and they spotted me and asked if I would like to join the school). I came to find that it doesn't matter how naturally gifted you are at something, if your heart isn't in it, it will always have an expiry date. I eventually decided to leave and finish my VCE elsewhere, then did advertising/marketing at uni.
So I never really knew exactly what I wanted to do other than it would probably be creative. Like a lot of business owners, I basically just fell into my profession. I joined Facebook to connect with friends and share photos, and it wasn't until I started getting countless questions about my outfits that I started taking notice of the power of social media. I would take a quick photo of my outfit before heading out, upload it and then answer questions on where my shoes, dress, bag etc. were from. Five years later, I am still shocked and humbled that people are still interested in what I am doing and wearing!
I am a very loyal person and that extends to my beauty products. Once I find something that I love I stick with it. I have quite hormonal skin so it has been a case of trial and error for me in finding the brands and products that work. I am definitely a big believer that less is more and that it is so important to invest in good quality skin care.
My bathroom cabinet isn't overflowing with products because I love nothing more than doing a massive clean out and only keeping the products that work for my skin. I would also rather splurge on one amazing product that I know will give me the best results instead of buying lots of cheaper products and hoping that one of them will work. I do spend a lot on serums and creams but I think skin is the first thing you notice on a person so it's worth making a priority if you can.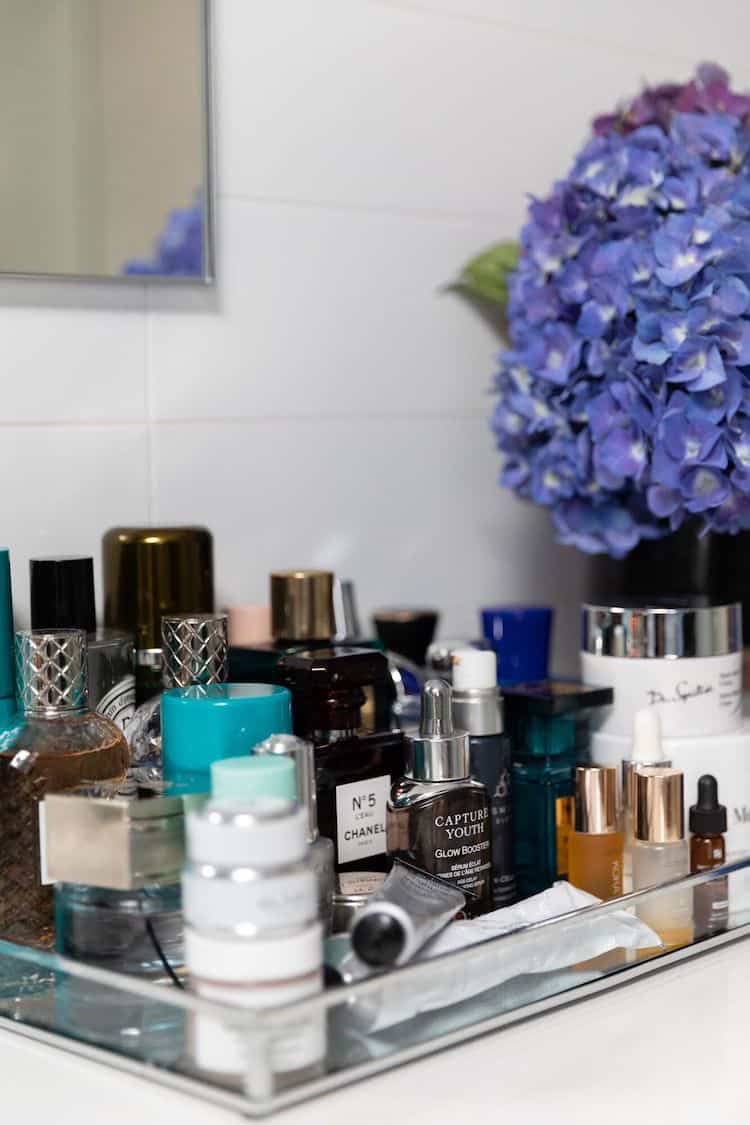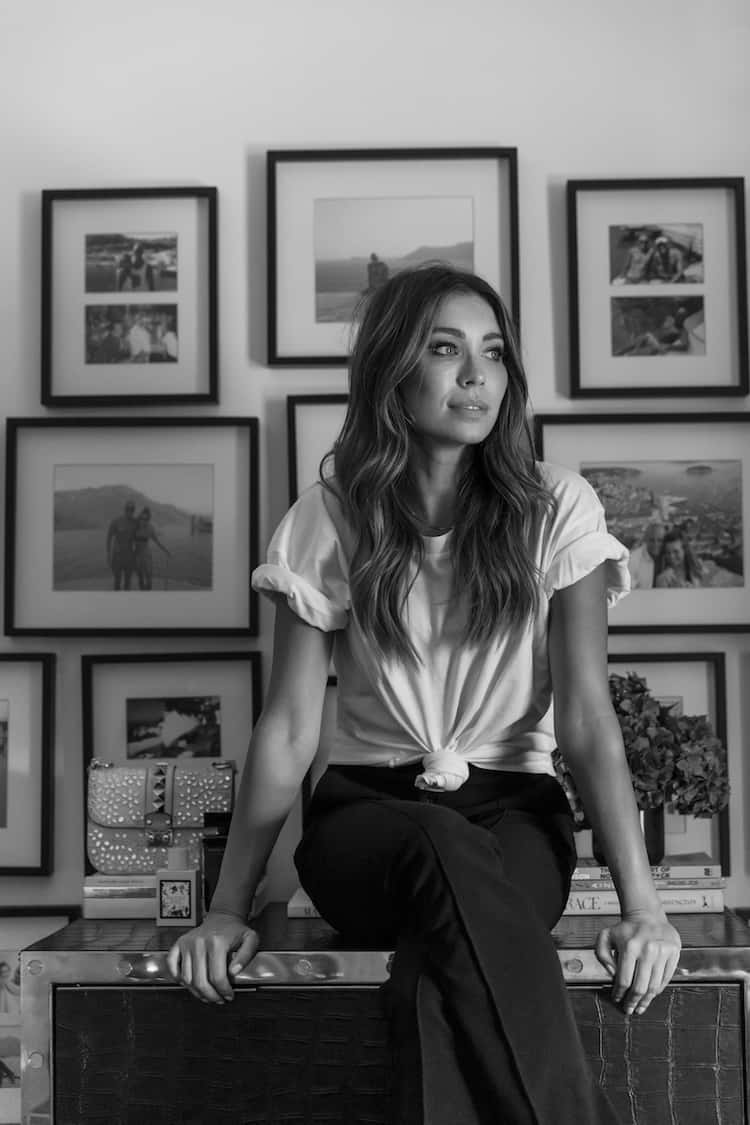 Rozalia only has two beauty looks – either super relaxed, or super glam.
When I am at home with the kids or head into my office for work, my morning beauty and makeup routine takes about five minutes. However, when I am working on a shoot or heading out to an event, then I will go for a full glam look that takes about an hour to do. There is no in between!
I always like to start my makeup by mixing a highlighter in with my primer and also with my foundation. This gives your skin such an amazing glow, and means my foundation never looks too heavy or cakey.
I use either Giorgio Armani Luminous Silk Foundation or the new L'Essentiel foundation from Guerlain, followed by a little concealer from Urban Decay. When we were growing up my mum worked three jobs a day to support us, so when she was able to buy beauty products, she taught me how to use products in multiple ways. For example, I will use the Guerlain bronzing powder on my forehead and cheeks and will also use the same bronzing powder as an eye shadow. I find using the bronzer on my eye gives me a really nice, natural, everyday look. I then fill in my brows using the Amy Jean eyebrow pencil and use the same pencil to line the top of my lids and do a little flick. Then it's the Benefit brow gel to brush my brows up and keep them in place, finish off with some mascara and blush and I am ready to go.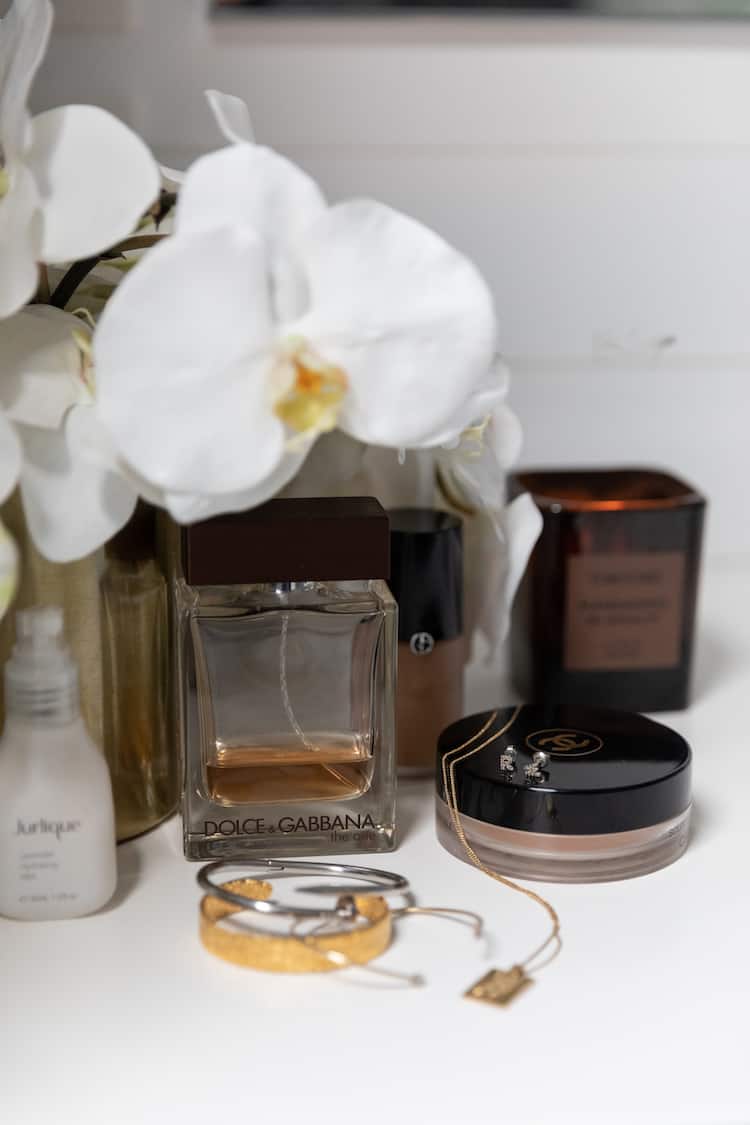 For a night out, it is all about a bronzed glow for Rozalia Russian.
On my body I love using the Tom Ford Soleil Blanc Shimmering Body Oil as it gives you such an incredible all over glow (and it smells like coconuts and summer). For my face I love the Tom Ford Shade and Illuminate palette, as it has an incredible contour shade to give your face a beautiful bronzed look, and then a highlight shade for an amazing glow. When I was a teenager one of the products we loved to experiment with was the huge old Natio bronzing palette that made us all look like disco balls, so I guess this is the much more grown up equivalent!
I am actually hopeless at doing my own hair. I can do a sleek pony and that's about it.
I am so lucky that my hairdresser Hermiz Daniel has a salon a five minute walk from my house, so I will often pop past his salon on my morning coffee run. I will wash and dry my own hair and then once or twice a week I pop past his salon and he can style my hair in ten minutes for me. I have tape-in hair extensions done by Emily Hadrill and I feel like that's what helps my hair hold the style.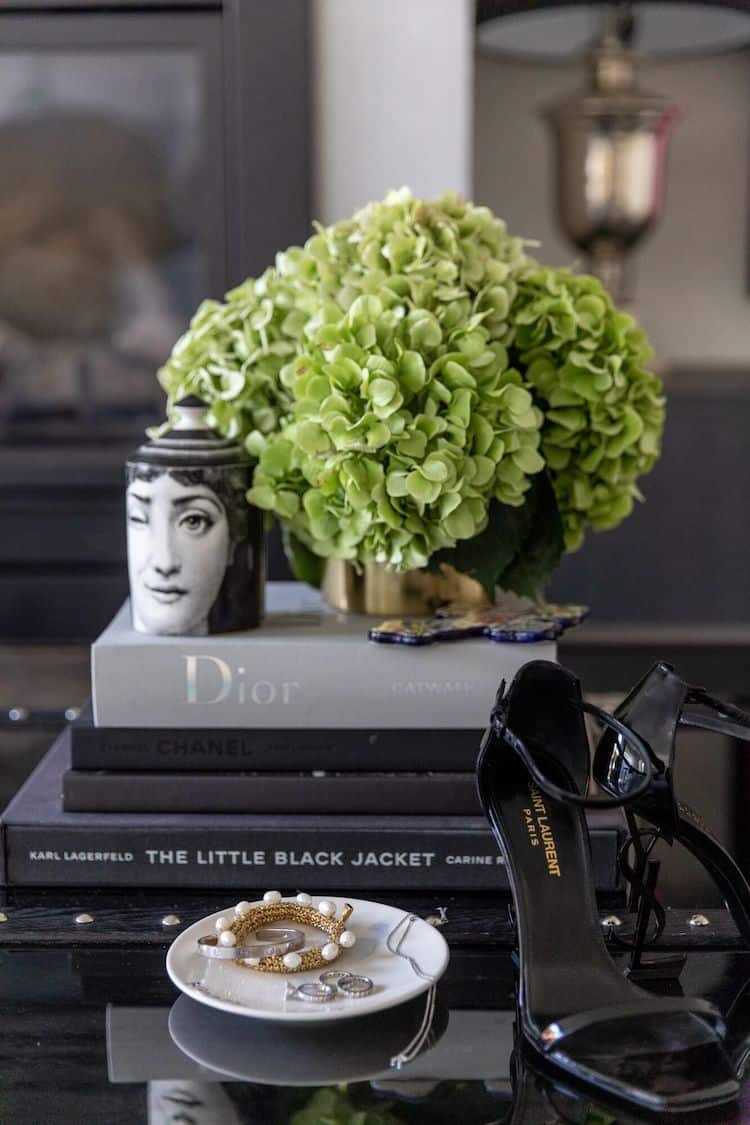 I invest a lot of time and money into my skin as I have quite hormonal skin and suffer from congestion. I see two different skin therapists who are amazing and have cleared my skin right up – however, if I don't stay on top of it then the congestion comes back.
One skin therapist I see is just around the corner from my house and she specialises in extractions and a good exfoliation. I also head to The Skin Boutique in Elwood for laser and LED light treatments. I noticed when I turned 30 last year that the quality of my skin was starting to go downhill, so I spoke to my skin therapist at The Skin Boutique and she said it was time to me to ramp it up and start using lasers. The treatments I have use Laser Genesis, which is a non-invasive, heat-based laser that boosts collagen production. The results definitely aren't instant, so you need to persist. For me it was after about six treatments that I noticed a difference and my skin tone and texture improved dramatically.
I also have my eyebrows feathered tattooed by the amazing Amy Jean. She first did them for me about three years ago and I have them redone with her once a year. That has really been a game changer – I feel like my makeup routine is so much quicker because I wake up and my eyebrows are already done.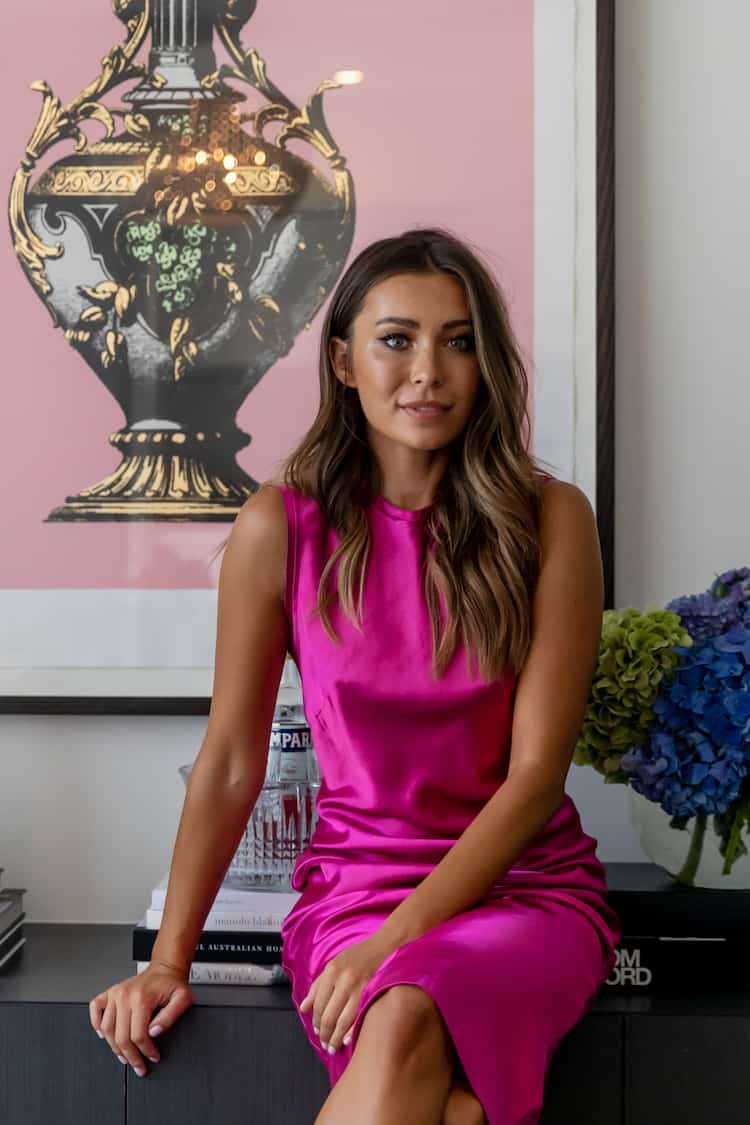 Believe it or not, my favourite feature would have to be my stomach.
I have had two kids and two C-sections and have been working my bum off to get back into shape. Pilates has been amazing for my core. My stomach is stronger and more defined than it was before having kids. It was a goal I set for myself after having kids and I am proud of how my hard work is paying off. That doesn't mean I love everything about my body. After breastfeeding two kids, let's just say, unlike my stomach, my breasts haven't bounced back.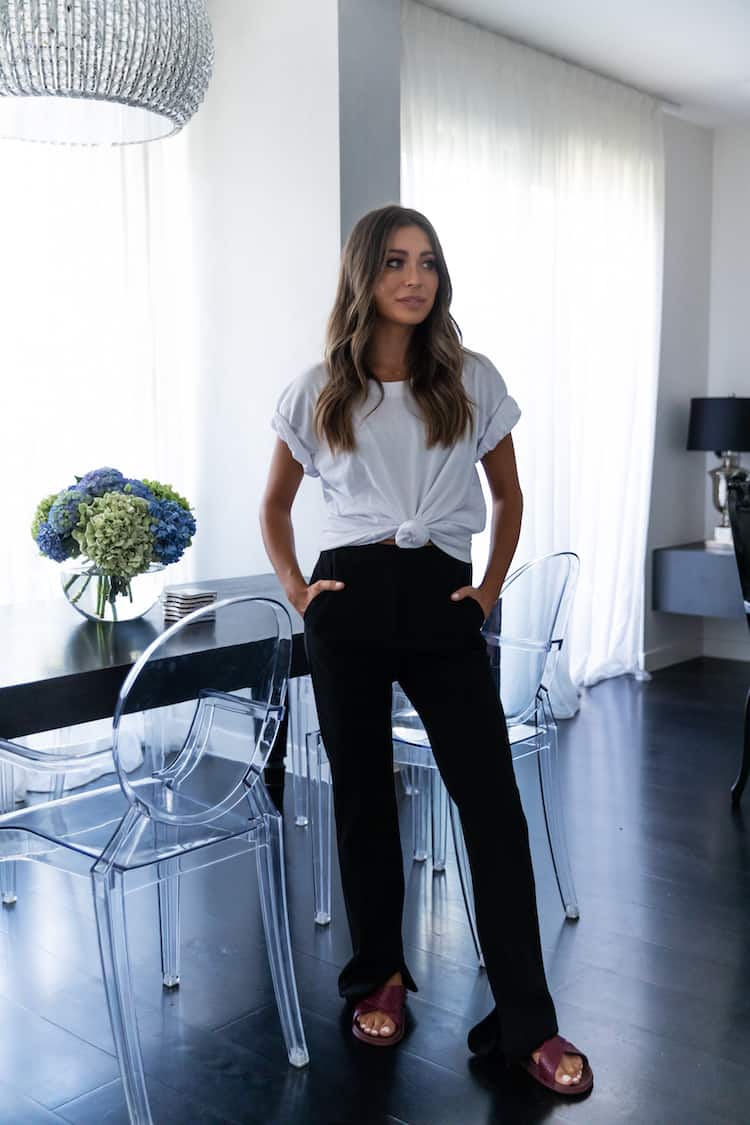 I think ageing is such a personal and sensitive subject.
I definitely think that if you want to age well it means looking after yourself by making sure you eat healthily, drink plenty of water and live an active lifestyle.
I also believe that if you want to have a little tweak, whether it be Botox or filler, than I am all for it as well. I think women are judged on their appearance way too much and if you want to help slow down the signs of ageing with a little Botox then go for it. At the end of the day it's not affecting anyone else, so don't worry about what other people say."